Chicken meatballs and orzo soup
This delicious chicken meatballs soup was a win win at home, super soft chicken meatballs, in a loaded veggie soup base and orzo added to. This soup was loved by my two year old and ten year old! A delicious and wholesome meatball soup for the whole family loaded with veggies and nutrition, what's not to love about it!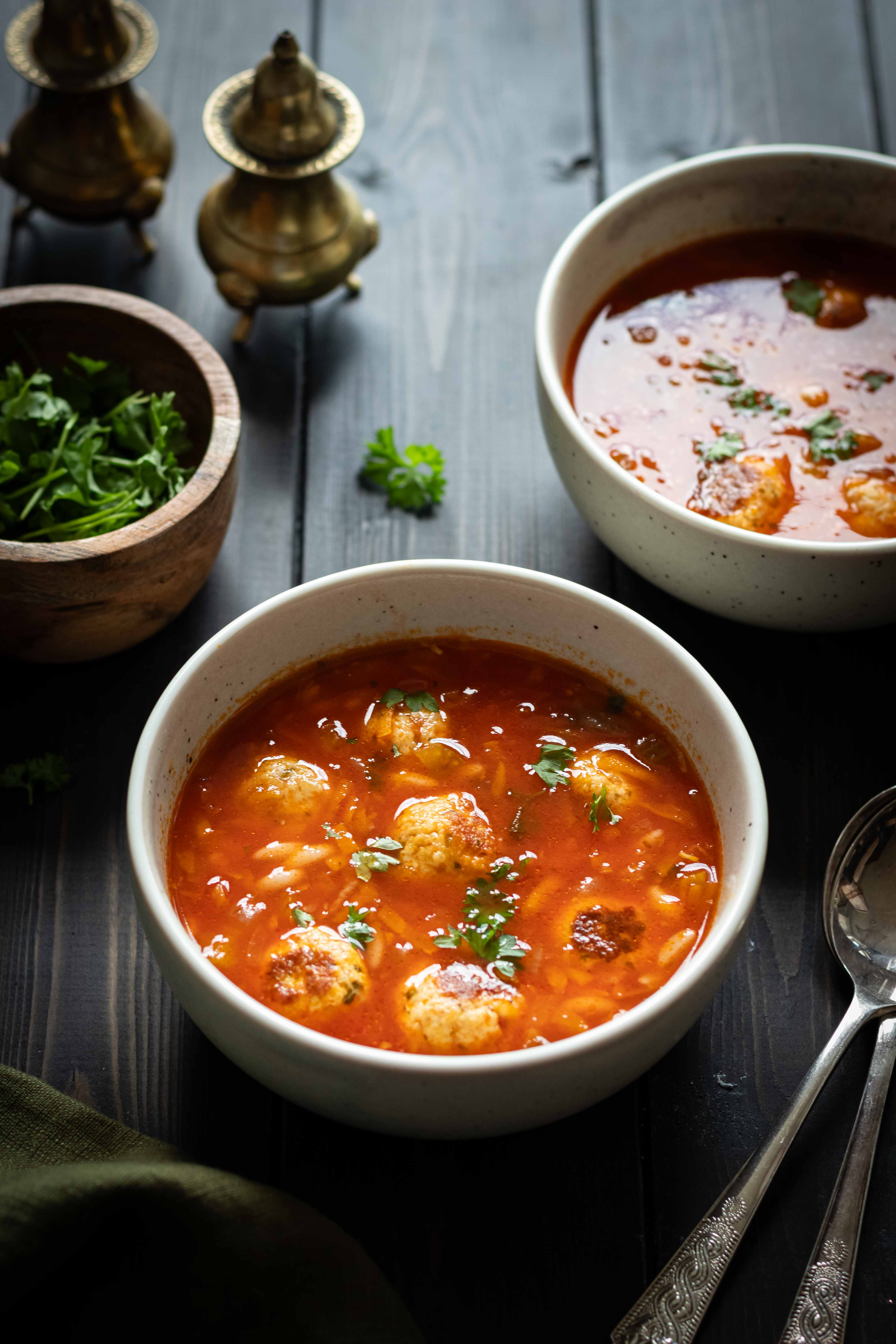 This recipe is super easy to make, the cooking time might be longer but once done it's a big batch, you can freeze it for later or eat it two days straight like we did and none of us were bored ;)
The secret of super soft chicken meatballs is
1 - making your own mince using good quality chicken breast, yes! You wouldn't know how easy it is to make your own chicken mince just by blitzing your chick breast in a food processor, you can use it for any kind of recipe you want, takes only few seconds and it's done!
2 - Added panko breadcrumbs, using fresh breadcrumbs makes your meatballs so soft and juicy, I used panko you can even use fresh breadcrumbs even better!
3- You wouldn't believe this one, I added grated courgette into my meatballs, and yes it makes a hell lot of difference. You can even add grated carrots.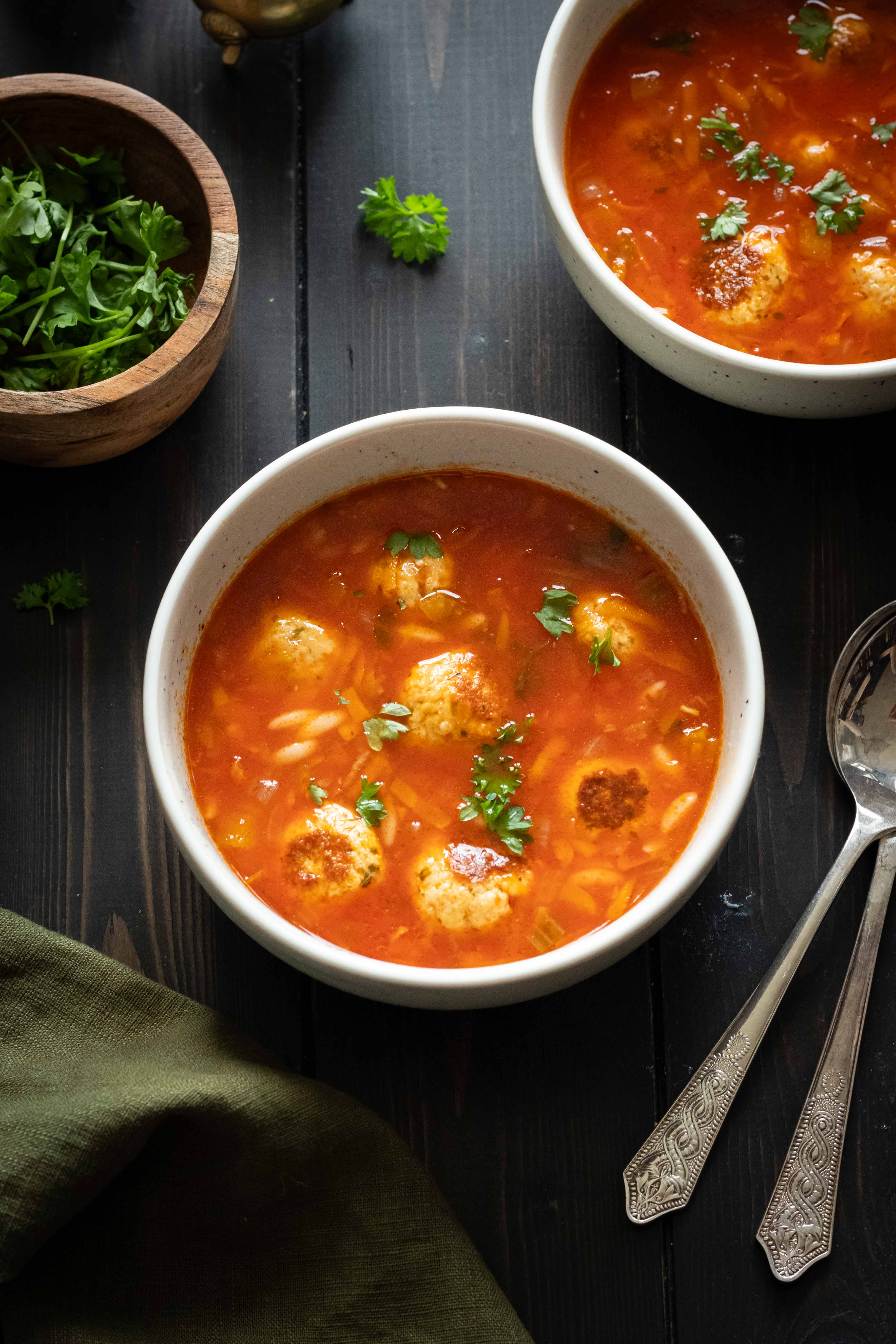 The meatballs are so tasty by itself you can have them with some veggies on the side too. You can even make a big batch and freeze them comes in handy for when you need them.
I added extra veggies for the soup base but you can do without it, but adding extra veggies is great for those with fussy eaters. The soup is tomato based, it's so yummy and delicious, you can do it without the tomato base too but trust me this is way better.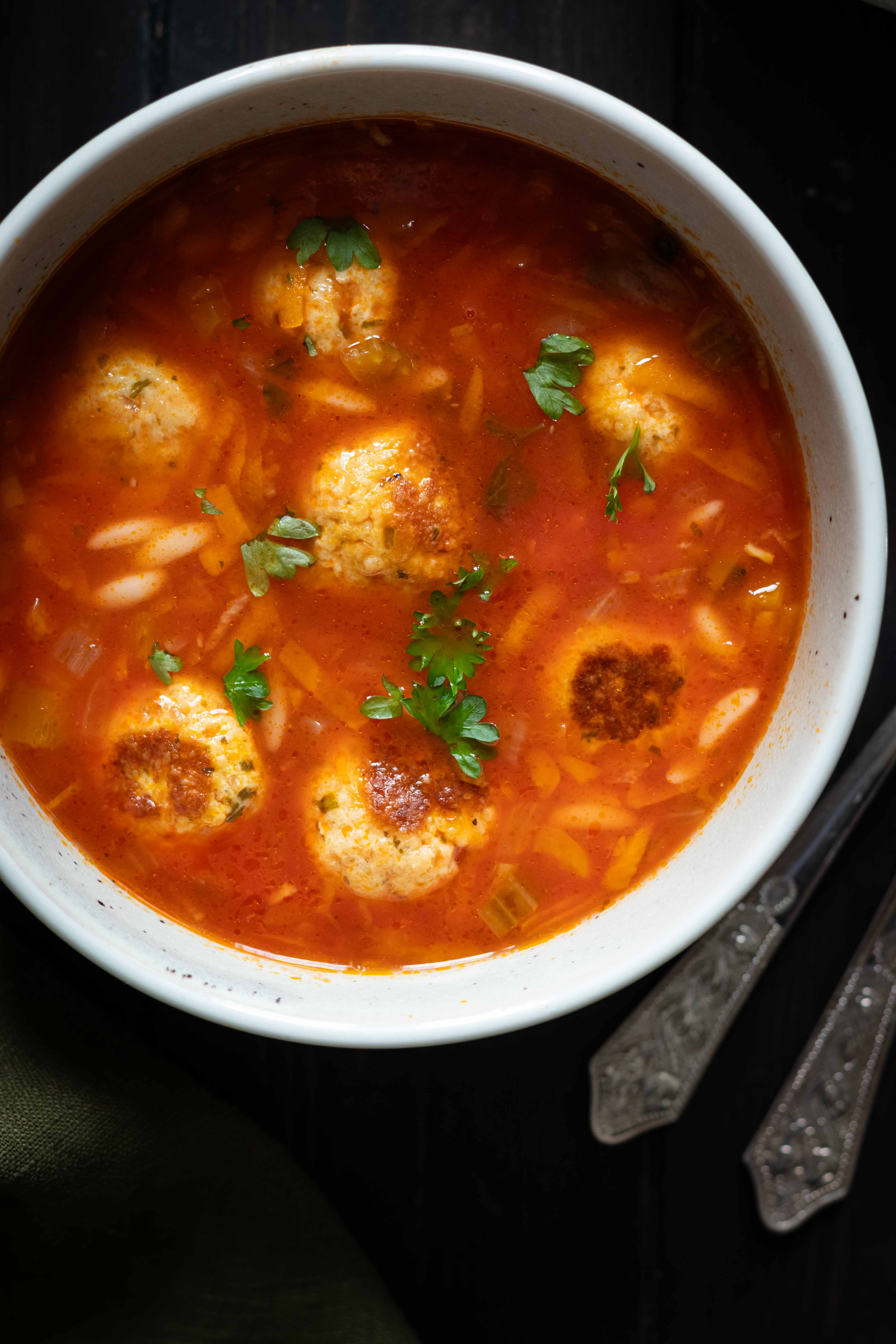 You can mix and match any dried or fresh herbs of your choice, whichever is there in your cupboard/ fridge, I used my fresh basil from my garden and dried Italian herbs which I had at home. Feel free to add any herbs of your choice.
You might also like
Chicken and veggies pasta soup - Cold and flu buster
Zupa Buraczkowa -Polish Beetroot soup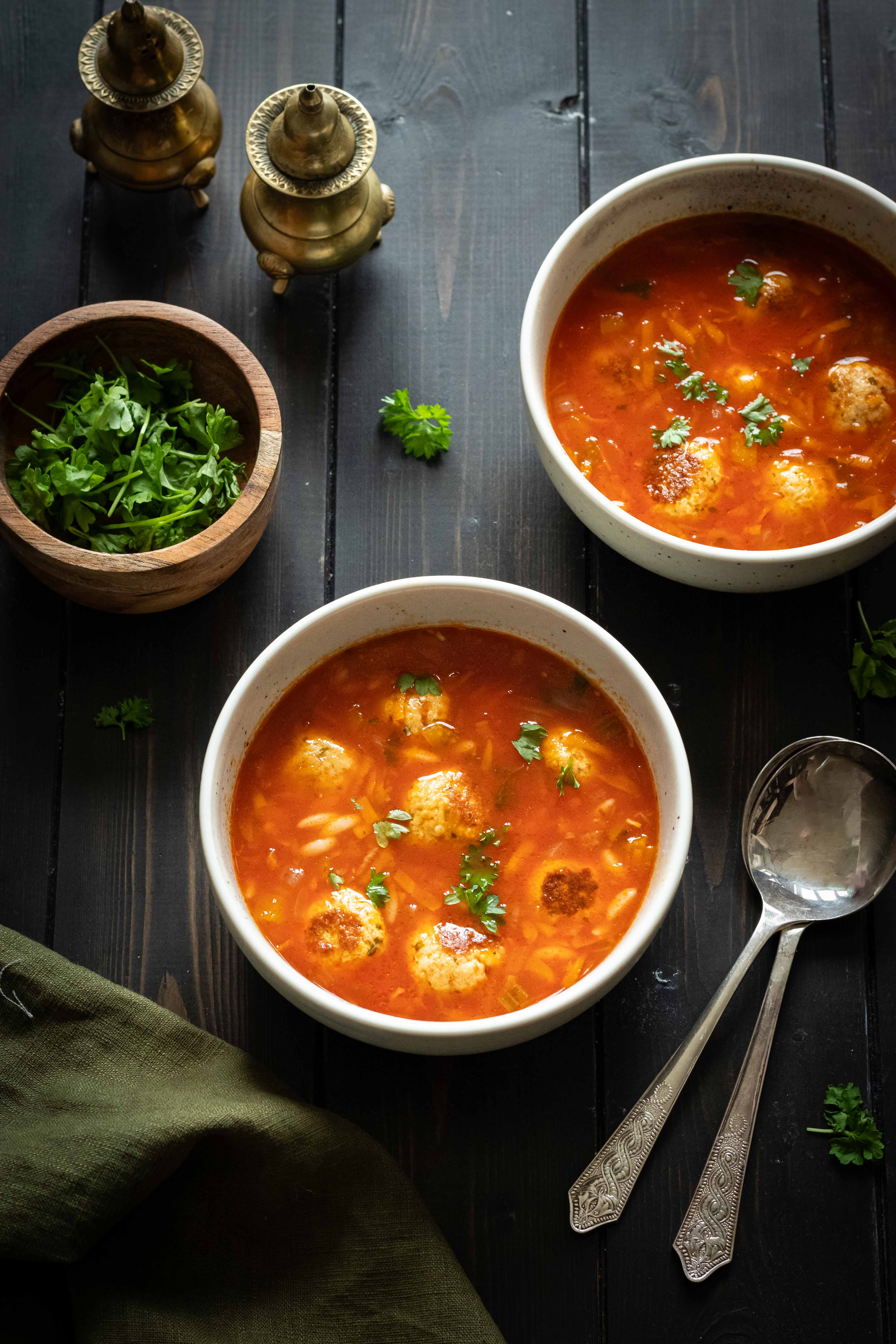 If you liked what you see here, please feel free to share it with family and friends. You can find me on Facebook, Instagram, Twitter and Pinterest
Warm Hugs
Shilpa
Chicken meatballs and orzo soup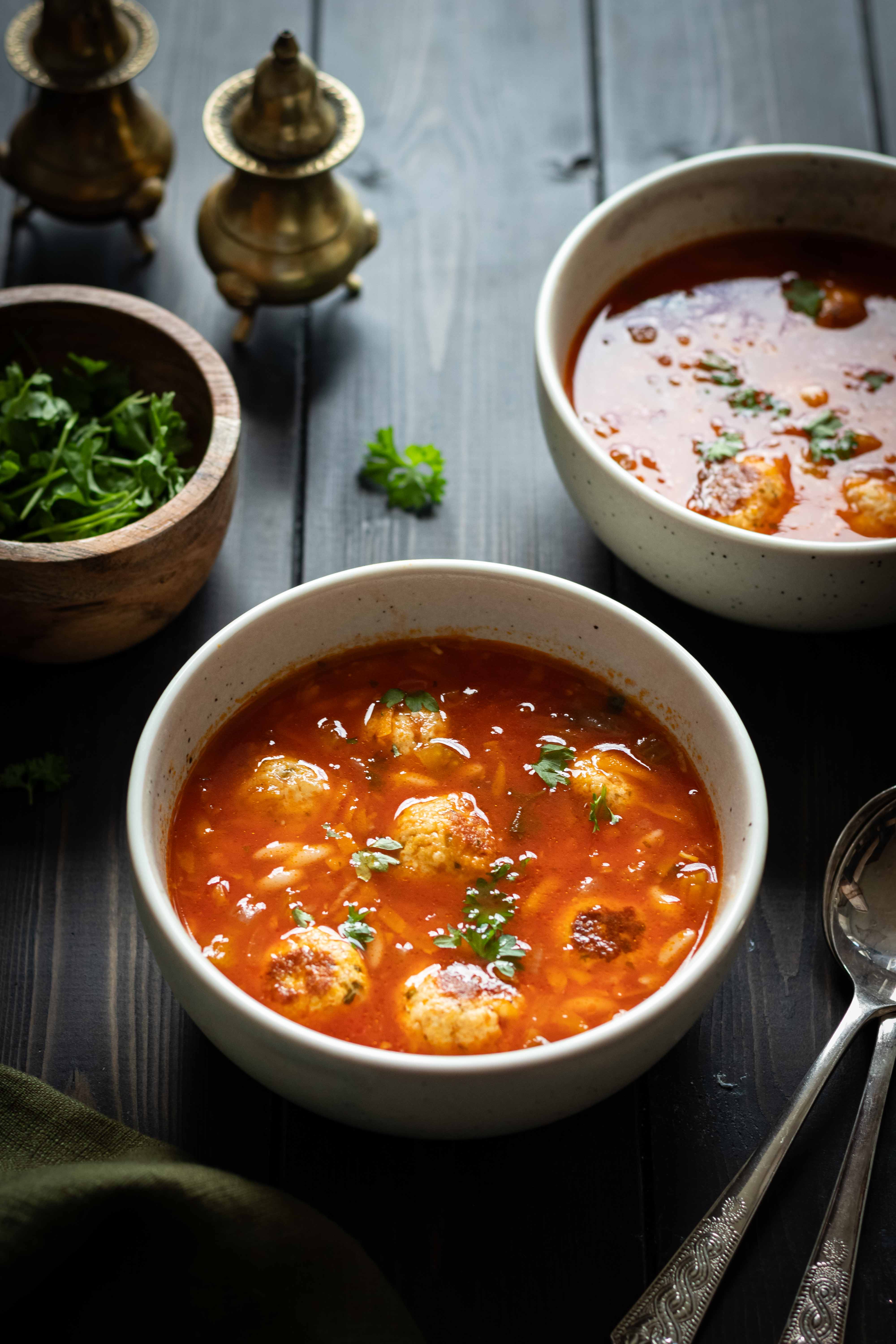 INGREDIENTS
For the meatballs

500 grams chicken breast diced
1/2 courgette grated
Pinch of salt for courgettes
1 cup panko or fresh breadcrumbs (might need more)
Few bunch of fresh parsley finely chopped
1 tsp Dried Italian herbs
1/2 grated onion
1 clove garlic finely chopped
Fresh ground pepper to taste
Sea Salt to taste
1 egg
1 tbsp extra virgin olive oil

For the soup base

1 medium Finely chopped onion
1 clove garlic chopped
1 large or 2 small carrots grated
1 yellow pepper finely chopped
1 stalk celery finely chopped
350 grams of tomato pasatta
Handful Fresh chopped parsley
1 tsp dried Italian herbs
Sea salt to taste
Freshly ground pepper to taste
1.5 litre chicken stock (I used low salt organic chicken stock cube)
1 cup orzo pasta
1 tbsp extra virgin olive oil
instructions
Add a pinch of salt to grated courgette and onion and set aside for 15 to 20 mins, you will see it sheds out water, using a kitchen towel drain the water by squeezing it all out. Add to a large bowl.
Using your food processor blitz the chicken into a fine mince, add to a bowl
Add all the ingredients under meatballs and mix well. Take about a tablespoon of the mixture and form a meatball, if it doesn't come together you can add some more of the panko breading, mix well. Once you form the meatballs, heat oil on a cast iron skillet and brown the meatballs on all sides, don't have to cook them completely. Set aside.
In a large heavy bottom pan, heat up the oil on medium high and sauté the onion until translucent, add the garlic, grated carrots, celery, yellow pepper and sauté for five minutes. Add the herbs, salt, pepper and Pasatta, stir well. Add the chicken stock, then add the meatballs, cover and cook on low heat for about 20 minutes, until all the veggies are nicely cooked.
After 20 mins add the orzo pasta to the pot and cook for 10 mins until the pasta is cooked. Serve hot with fresh chopped parsley. Enjoy!