Chicken and veggies pasta soup - Cold and flu buster
A simple, heart warming bowl of chicken soup, loaded with organic veggies to give you a pick me up when feeling a little under the weather.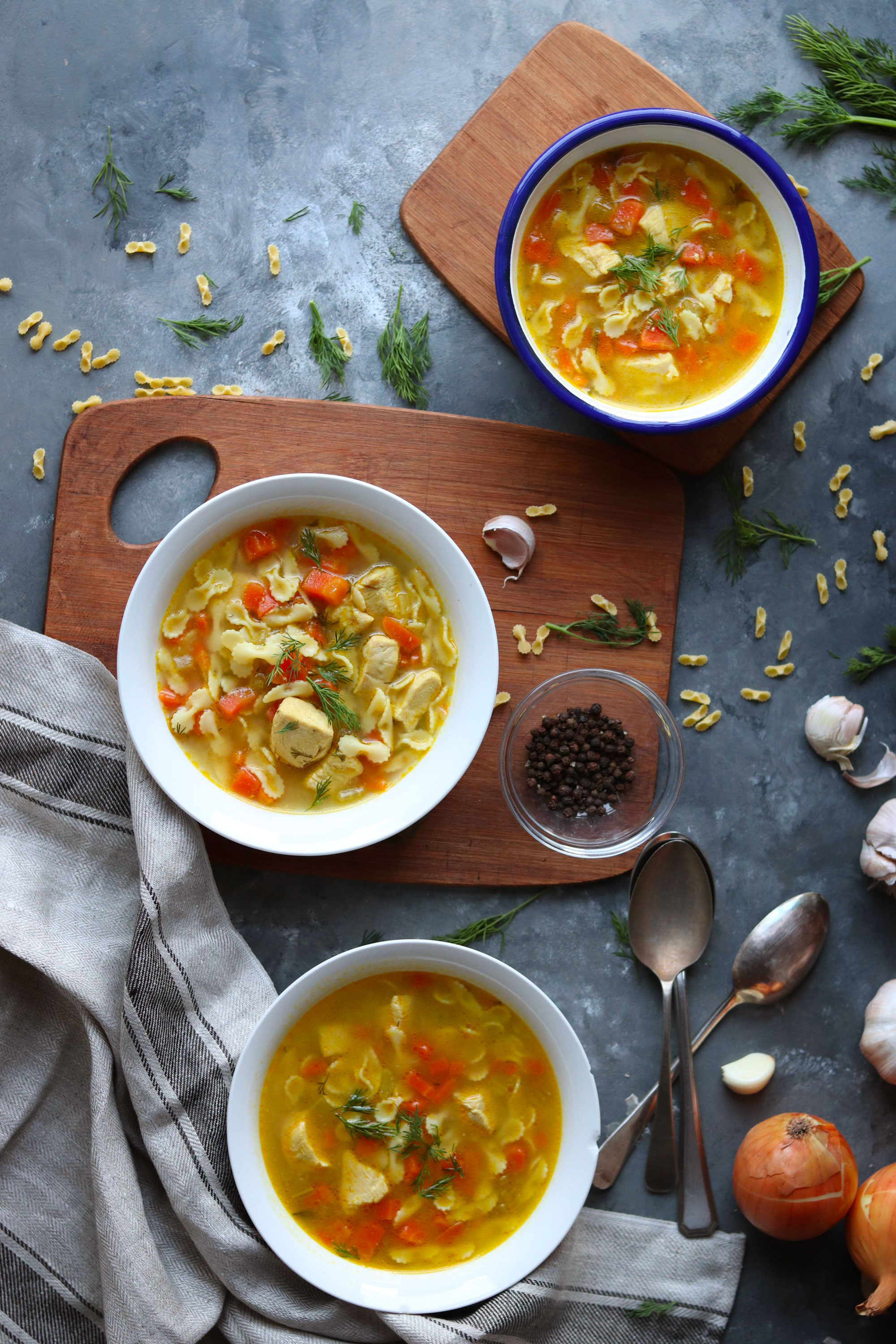 This winter, well like most winters has it's share of viral and bacteria infections. Just when we thought our little boy is feeling better and back to school, again he fell sick with very high temperatures. What started with viral infection now turned into bacterial and ended up with antibiotics. :( it's sad to see kids suffer and as parents we only feel helpless. So while being so unwell obviously there is no appetite whatsoever, I had to think of something that he would eat but also at the same time he gets some nutrition while being sick. Along with kids I think we parents also need some extra nourishment to be able to look after our little ones.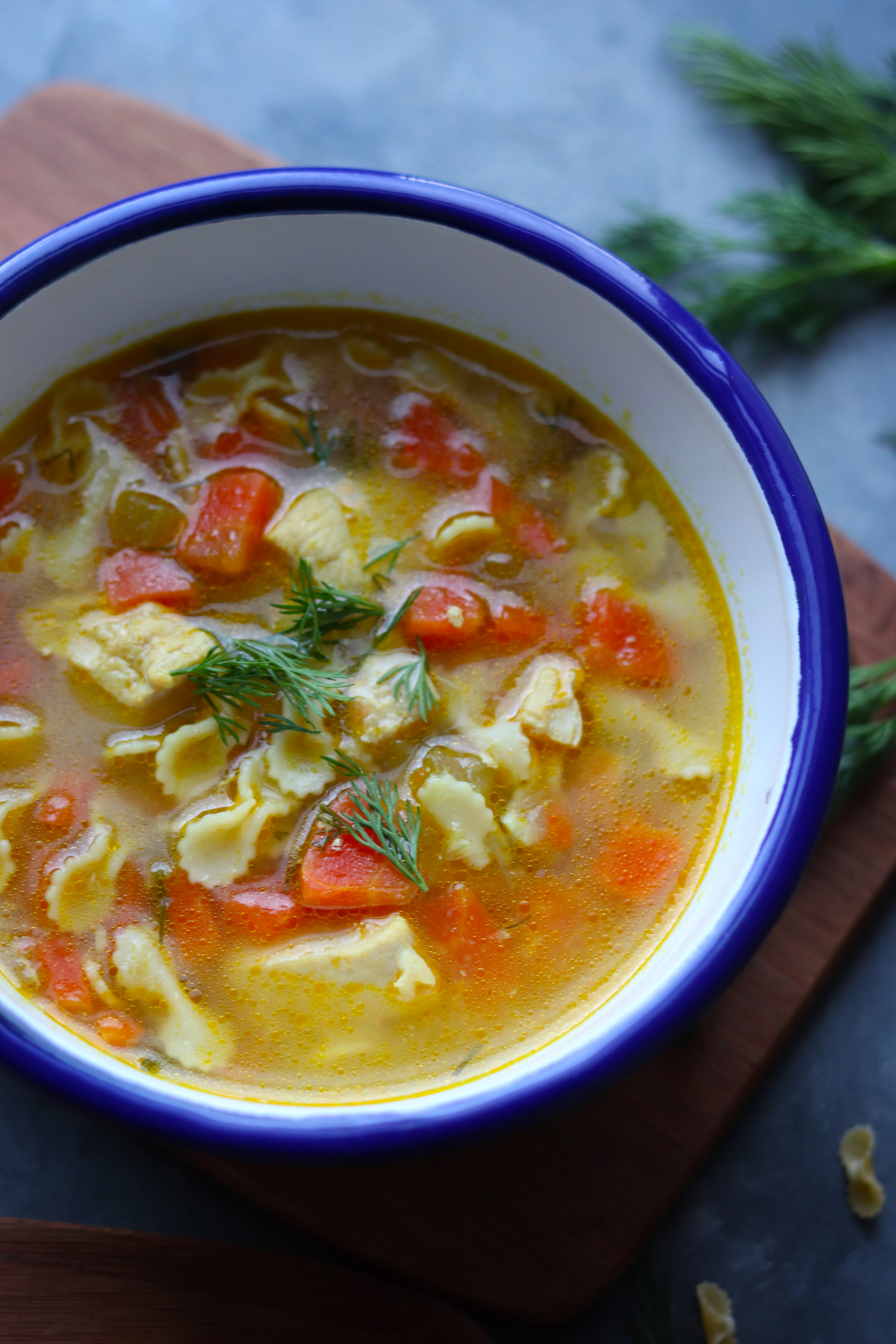 That's when the idea of this soup came up. I hope it would benefit some of you who are feeling unwell, make a big batch and have it everyday while sick or not. Mix and match any veggies of your choice, great one to use up any left over veggies too.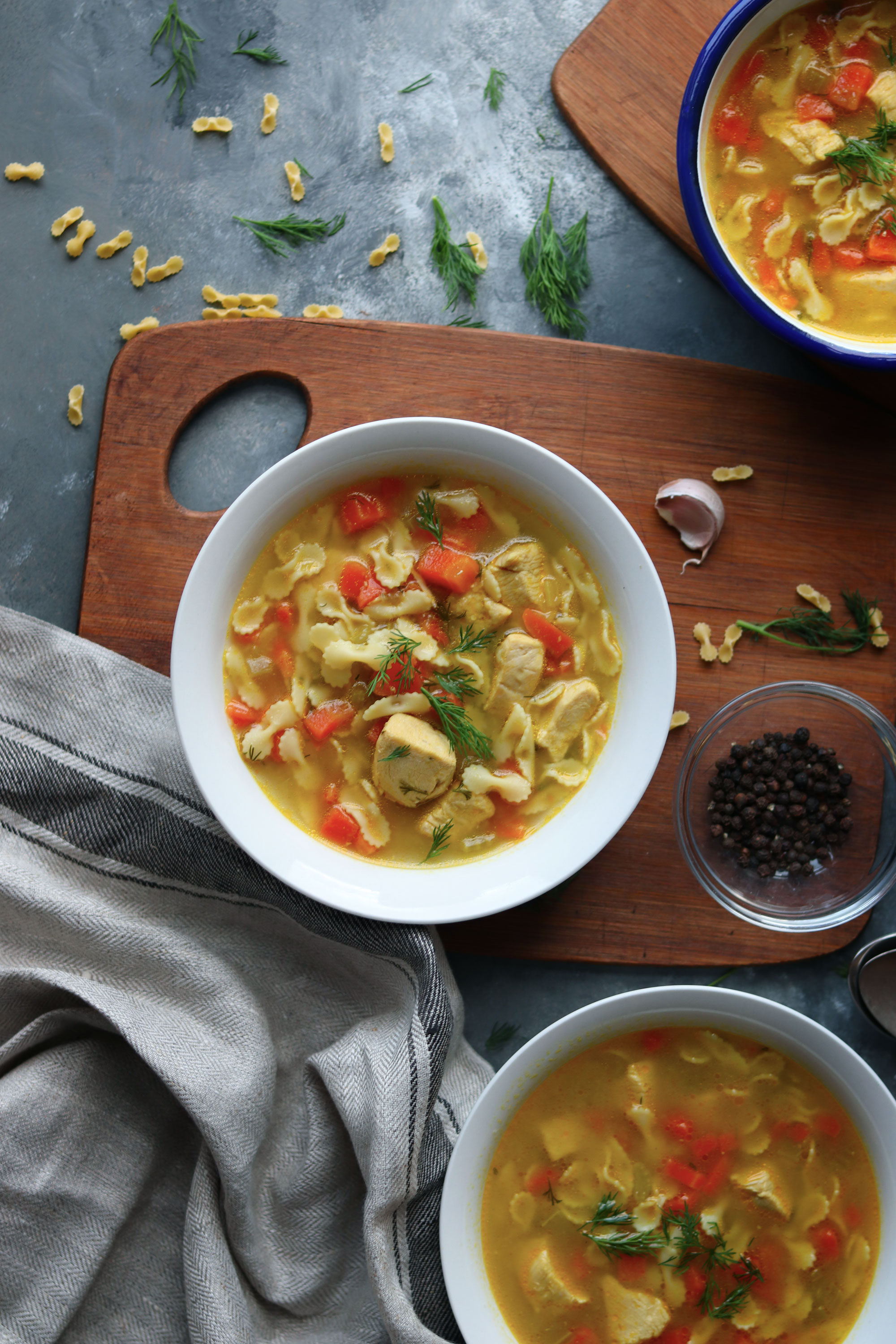 I have used organic chicken stock cube but it would be even better if make it with chicken bone broth, (I have linked one of my favourite Award winning Chicken Bone broth, if you do not have the patience to make your own.) I didn't have any thing handy, nor did I have the strength to make some at home. Along with our son we both also have sleepless nights :(

You can also add any spices of your choice, I have used fresh dill and turmeric for boosting immune system and it is also a natural anti-inflammatory and natural antibiotic too. If you don't have fresh dill feel free to use dried ones or any thing that you have available at home. The whole idea of this soup is to be able to also make it while being unwell if you are living on your own.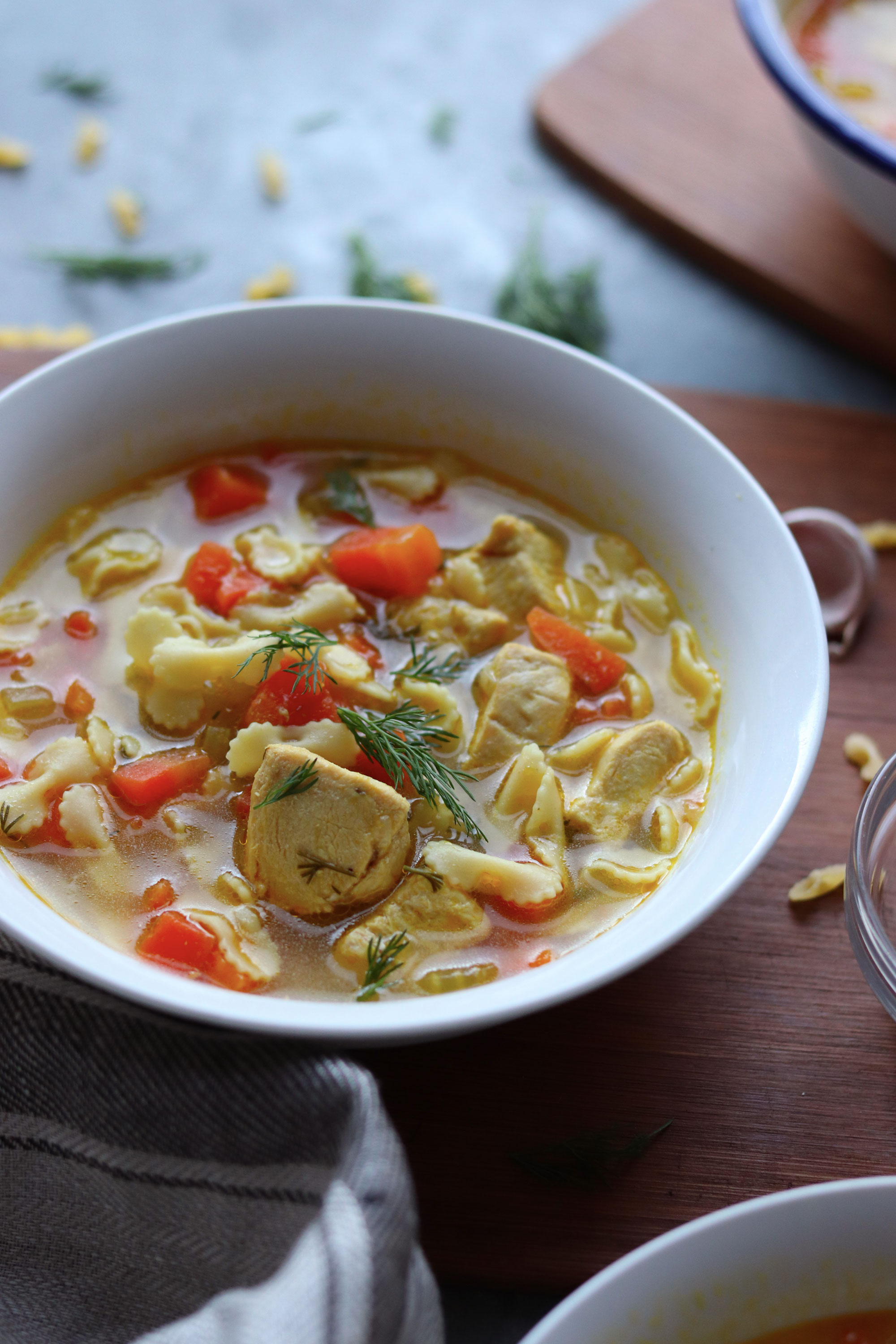 With all organic vegetables in this soup make it even more fresh and tasty. It tasted very delicious with Barilla pasta (I have added the link where you can buy from here in Dublin) if you do not have the one that I have used, again feel free to use whatever pasta you have.

I hope you enjoy this soup and it helps you in times of need. Let me know if you tried it would love to see your recreations. Please do remember to use my hashtag #soulfulandhealthy on social media so I can see your beautiful creations.
If you liked what you see here, please free to share it with family and friends. You can find me on Facebook, Instagram, Twitter and Pinterest
Enjoy your soup!️
Warm hugs
S ;)
Chicken and veggies pasta soup - Cold and flu buster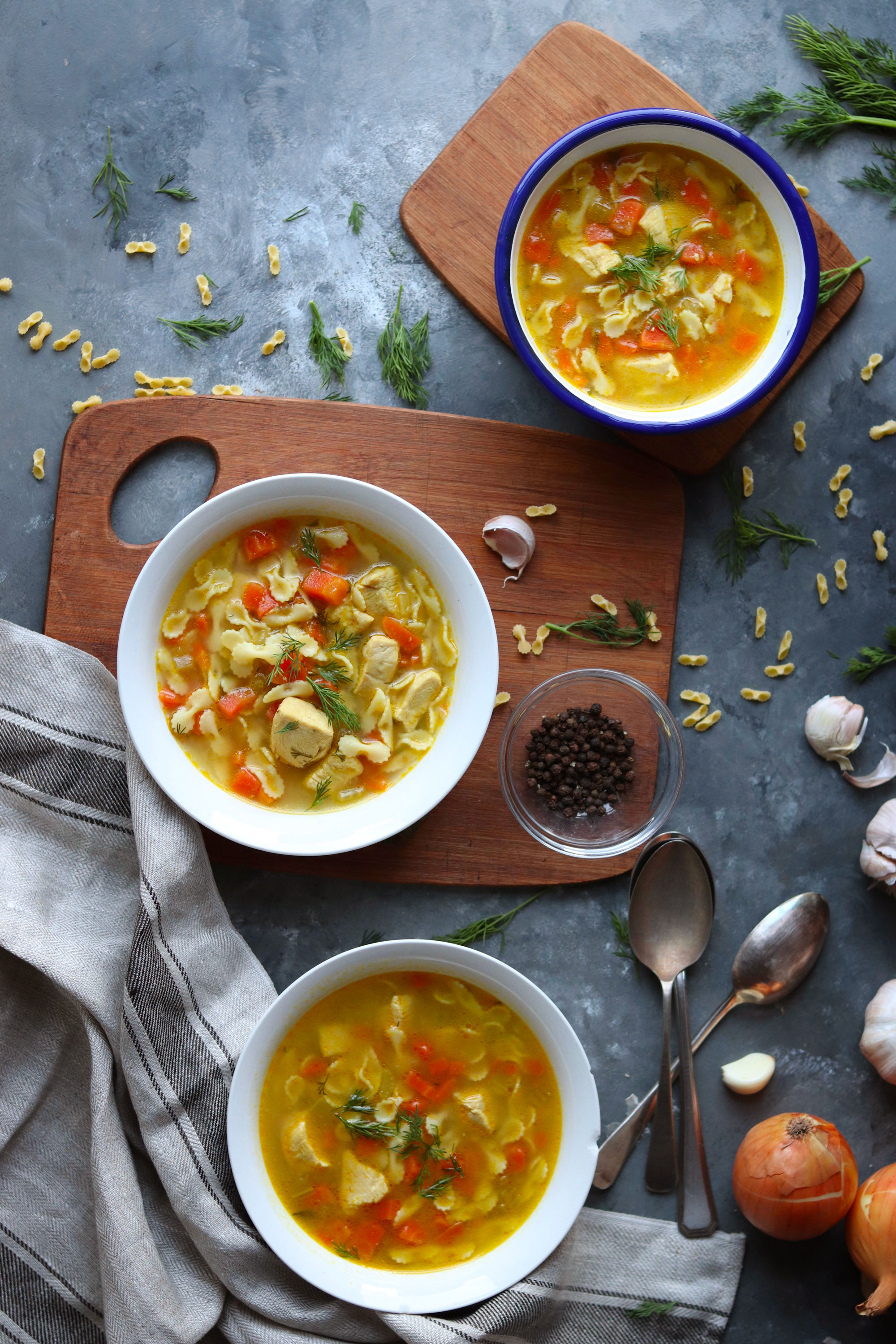 INGREDIENTS
2 large chicken breasts or 3 small chicken breasts chopped into small pieces.
1 large organic carrot or 2 medium - finely chopped
1 large onion chopped
2 cloves of garlic
4 stalks of celery - finely chopped
1 and half tbsp organic extra virgin olive oil
1 cup small egg pasta (like macaroni, mini farfalle etc)
1 liter organic chicken stock
Handful of fresh chopped dill
2 bay leaves
Pink Himalayan salt and fresh ground pepper to taste
instructions
In a large pot heat the olive oil, saute the onion until translucent for 2 mins, add the finely chopped garlic and continue to fry for one min.
Now add the chopped carrots and celery, saute for another 2 to 3 mins.
Add the chopped chicken breasts and continue to fry just until the chicken is white for 3 to 4 mins.
Now add the chicken stock, bay leaves, pepper and dill, cover and let it simmer on very low heat for 40 mins to 1 hour.
Add the pasta and let it further cook for 6 mins or as much as time mentioned on the pasta package.
Serve right away warm, enjoy.