Roasted turmeric cauliflower soup with coconut cream
For some reason I never made soup until this autumn, I wonder why. I wasn't so much into soups but now I have discovered various different recipes and this cold winter season soups are the best thing to warm you up. Plus soups loaded with veggies so full of nutrition too.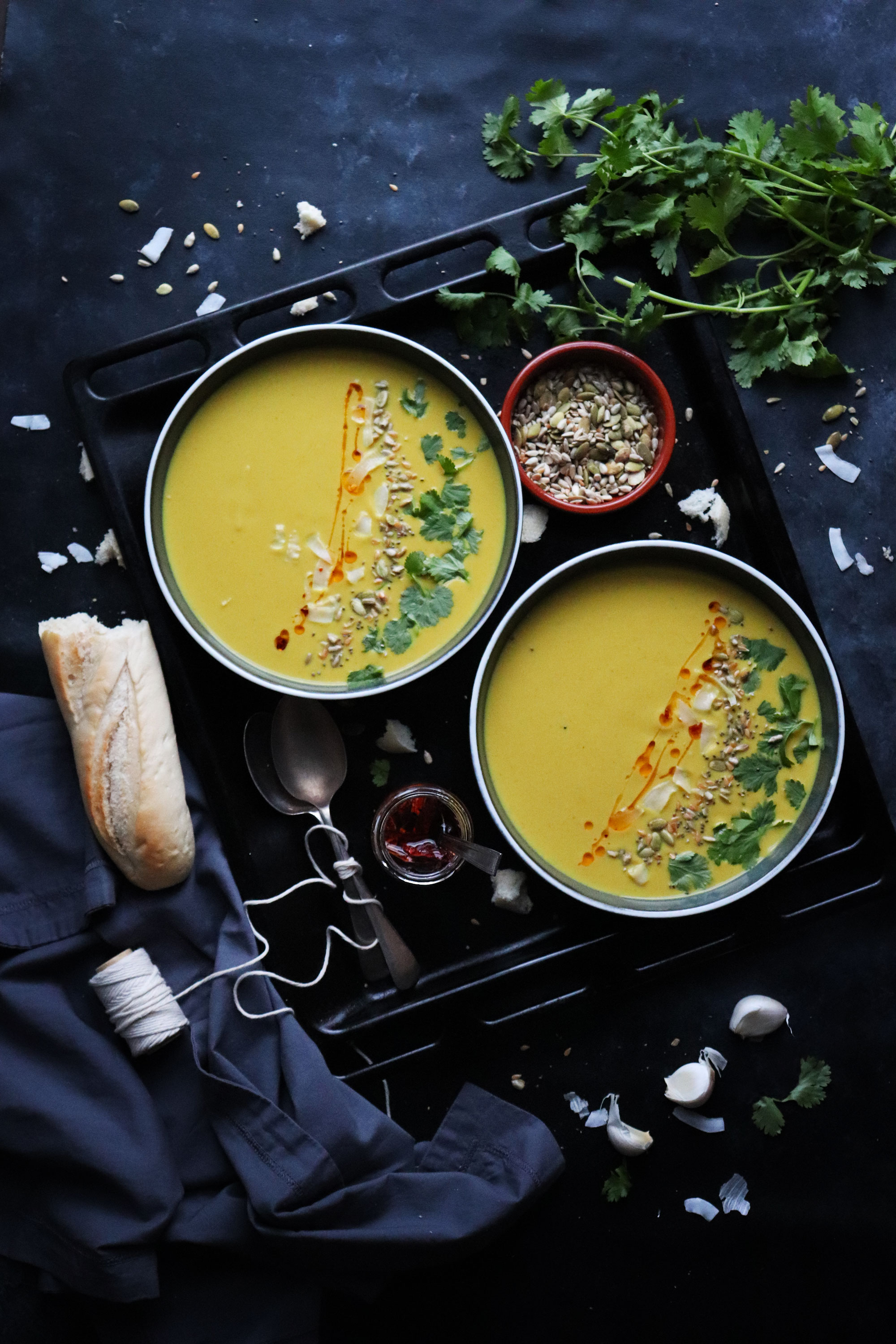 When I told my husband I'm making a cauliflower soup he straight away said no :) I said I'll make it anyway you can give it a try and see and when he did try he honestly liked it.
It's a beautiful blend of spices like turmeric, cumin and paprika, grilled in the oven until nice and soft and those burnt bits are the ones that gives it that extra smokiness! The coconut cream gives it such a smooth texture, so rich and creamy and it sobers the spices down a little, otherwise it makes it a bit harsh. I did taste the soup before adding the coconut cream and it was a little harsh, adding the coconut cream makes it milder yet a rich soup.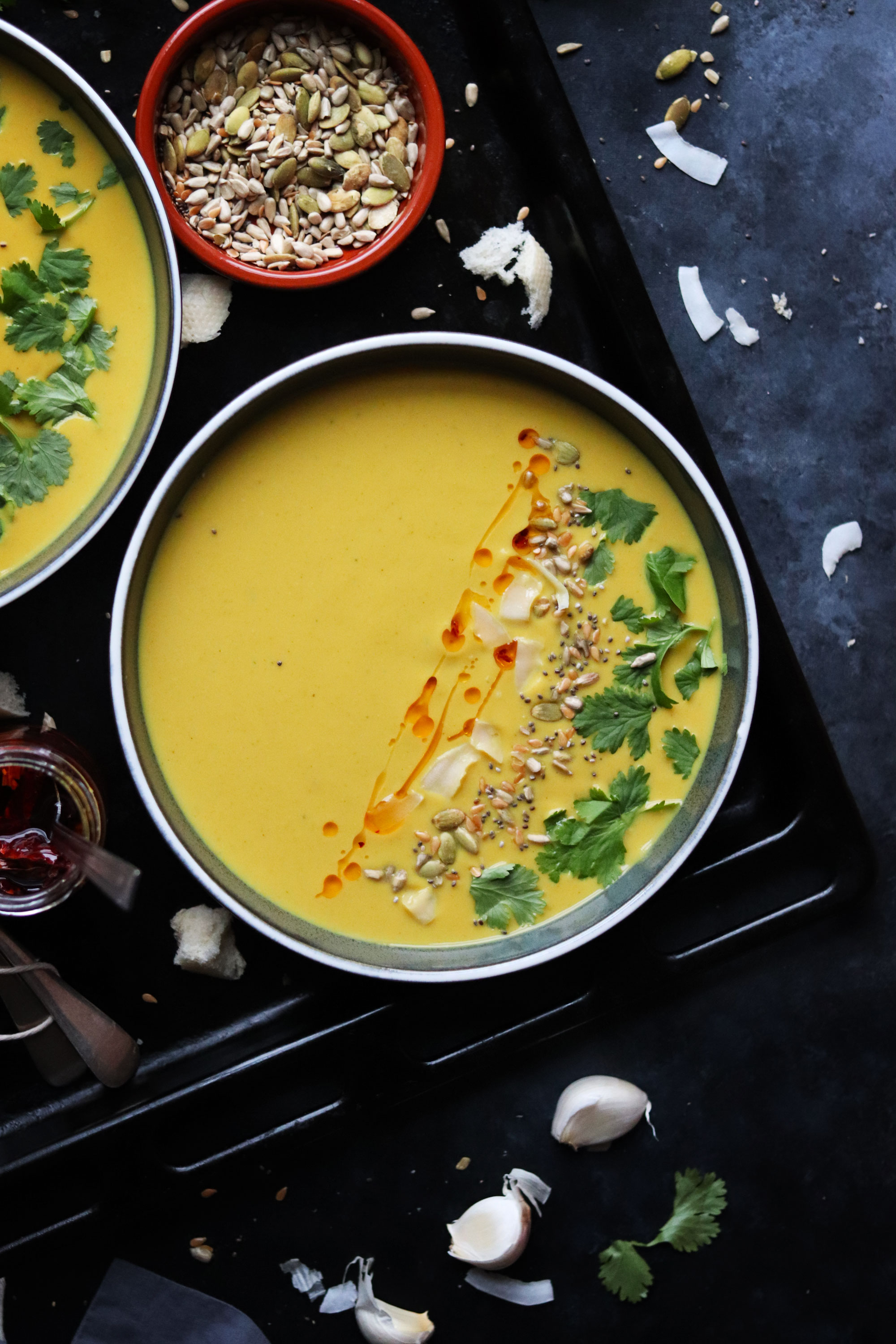 If you are looking for soups this season I have a gorgeous Roasted red peppers and vine tomatoes soup and also a Maple pumpkin roasted soup, both are loved at home. I also have an Italian Minestrone soup which is loaded with veggies and beans, great one if you want to add those left over veggies.
You can mix and match the spices if you like, if you want it more spicy feel free to add chilli powder instead of paprika. I kept it mild because it was for my five year old too.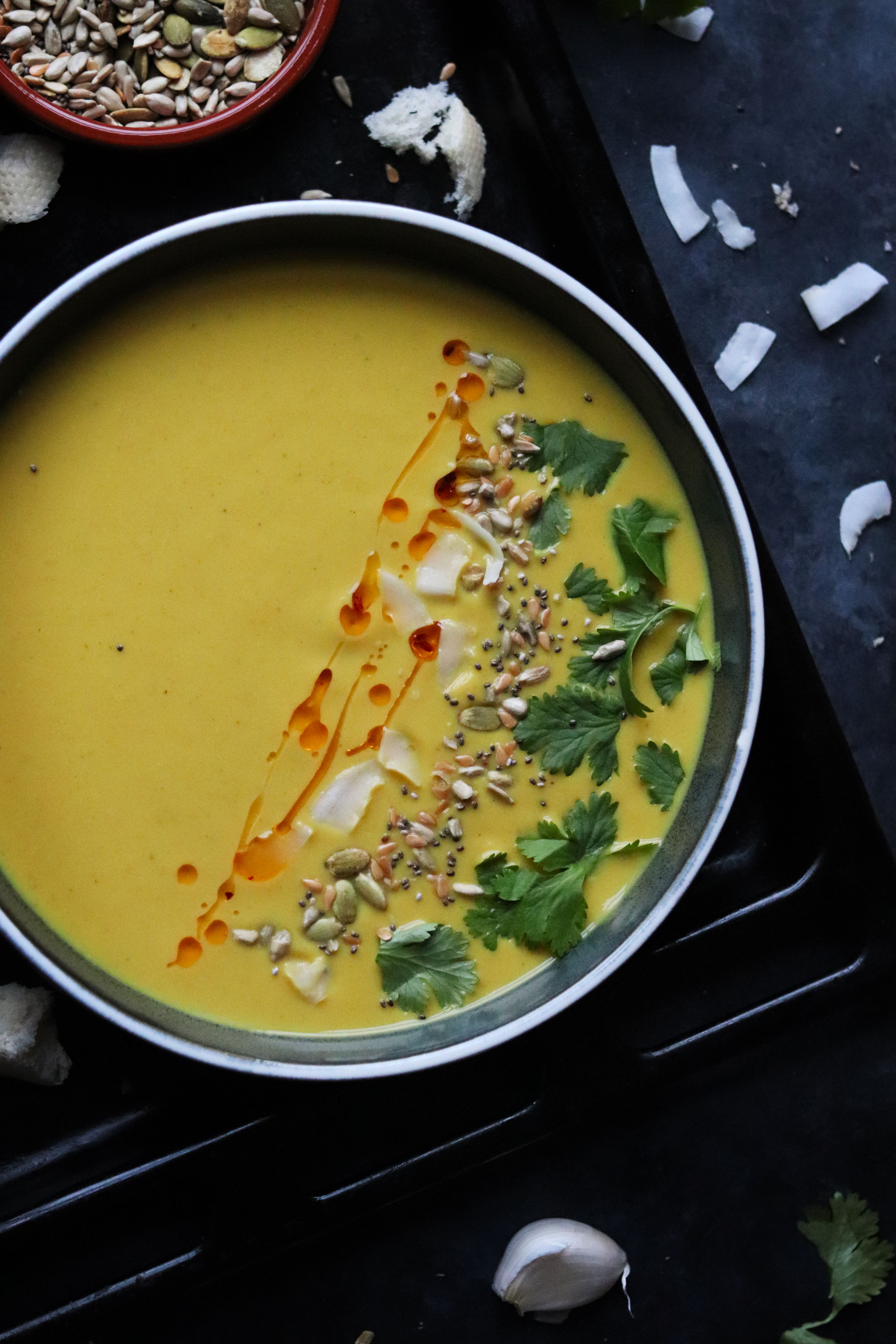 I added a drizzle of Chilli oil, inspired by the lovely Frances from The Honest Project, where she shared Roast-Cauliflower-cannellini bean soup recipe drizzled chilli oil, I just loved the sound of it, So I just had to try it too and it was worth it! I connected with Frances over Instagram, she and I have been in touch with each other only through Instagram, but it's funny how it feels like as if we have met before. She is such a lovely, down to earth and honest person. Her blog is full of delicious recipes and inspiration that is not only about food, but also book recommendations and lifestyle. Hopefully we will get to meet in person someday. :)
I hope you enjoy this soup on a cold wintery night. Serve it with crusty bread and it's a satisfying, warm, satisfying and fulfilling meal.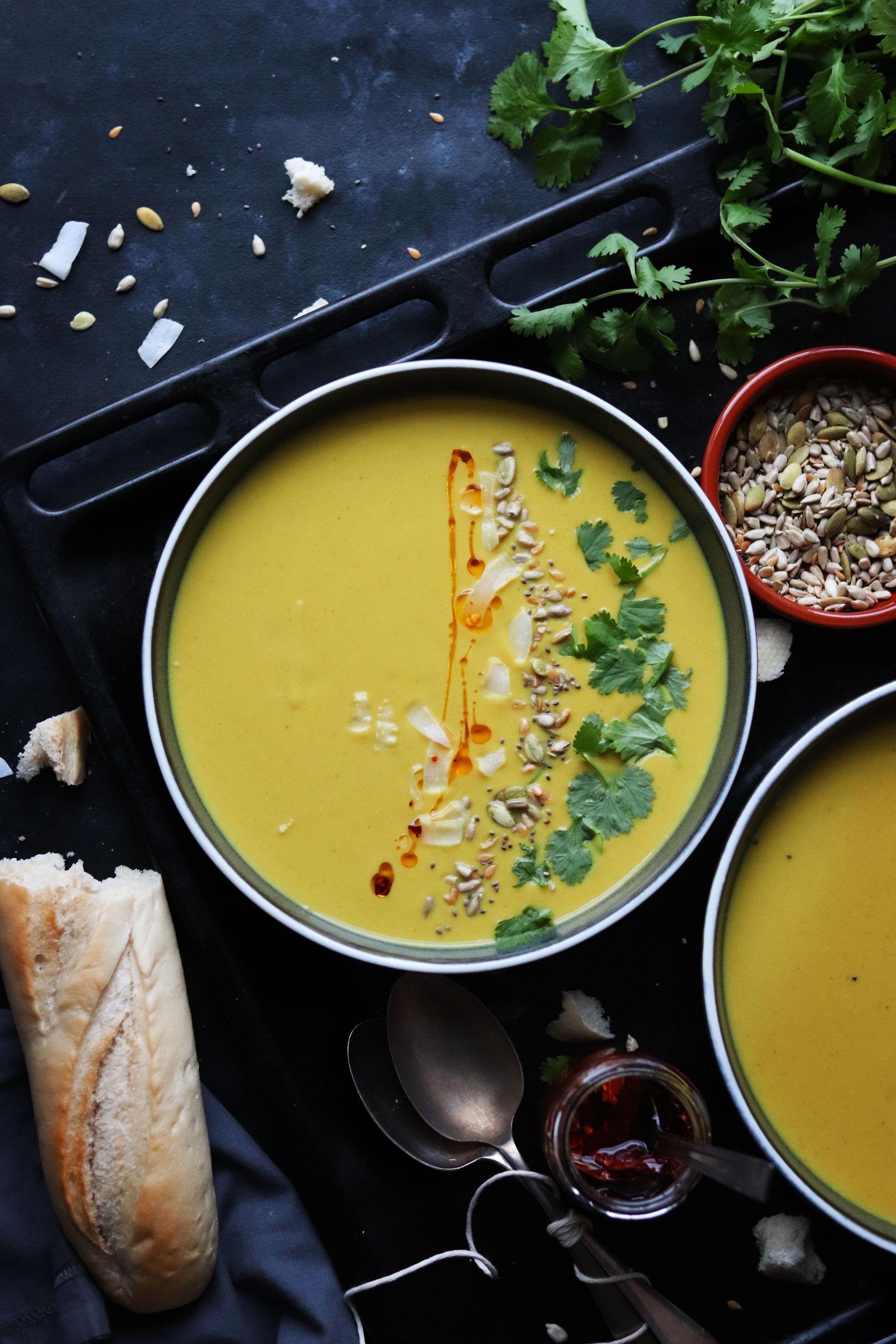 I used my Froothie Optimum Air Vac2 to make this soup.
If you like to own an Optimim vac2 Air Vacuum Blender for yourself I have a special code for you all my lovely readers, you will also get free postage and packing and an exclusive €20 off at the moment just for you when you use my code. If you add this four digit code into the comment box when ordering, or mention it if you are ordering by phone. The delivery charge will be credited back to your card.
AMBASSARDOR CODE - 6540 + AMB20 and Free Delivery
I hope you enjoy this soup just as much as we did at home. If you try my recipe please do remember to use my hashtag #soulfulandhealthy on social media so I can see your beautiful creations.
If you liked what you saw here, please free to share it with family and friends. Thank you! :)
You can find me on Facebook, Instagram, Twitter and Pinterest
Enjoy your cooking!️
Warm hugs
S.
Roasted turmeric cauliflower soup with coconut cream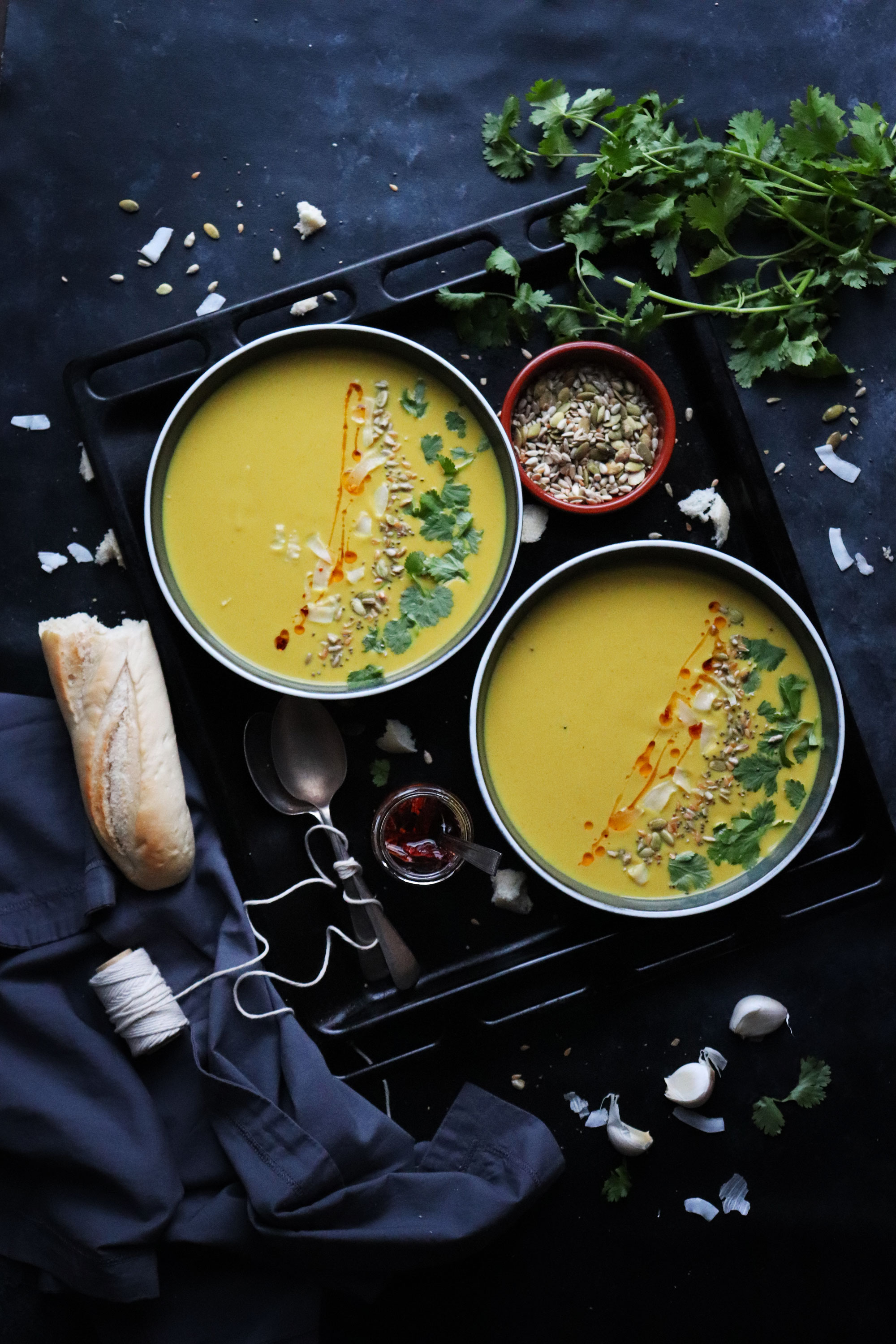 | | |
| --- | --- |
| Prep Time: | 15 mins to prepare - 45 mins to bake |
INGREDIENTS
1 head of cauliflower
1 tsp ground turmeric
1 tsp paprika
1/2 tsp cumin
Salt and pepper to taste
2 cloves of garlic
1 medium onion
2 tbsp organic olive oil
160 ml organic coconut cream
800 ml organic vegetable stock
2 tsp chilli oil (optional - check recipe below how to make)
Fresh chopped coriander leaves to serve.
Mixed seeds also to serve (optional)
instructions
Preheat the oven to 200 degree Celsius.
Line a baking try with parchment paper. Chop the cauliflower into one inch by one inch florets, arrange on the tray along with onion and garlic cloves. Add all the spices and the olive oil and mix well.
Grill in the oven for about 40 mins make sure it doesn't burn so keep an eye on it, turn the cauliflower half way.
Remove any over charred bits, even from the onion and garlic.
Add all the ingredients along with half of the stock and use the soup button in your Optimum Vac2 Air Vacuum Blender use the pre-set SOUP button. If using a regular blender make sure all the ingredients are well blended.
Transfer to a large pot now add the coconut cream, mix well, bring to a simmer and remove from heat. Serve with crusty bread and drizzle chilli oil on top.
For the chilli oil - use about 2 tbsp of any flavourless oil like sunflower or vegetable oil, add 4 to 5 dried red chillies and bring to boil, remove from heat and add about 1/2 cup more of the oil. Once cools down store in air tight jar, shake occasionally to disperse the chilli flavour.

Disclaimer - I get a small commission when you make a purchase using my exclusive code, with no extra cost to you. I would request and really appreciate it if you would use my discount code while making a purchase through the Froothie website. Thank you very much!