I finally found my go to chocolate cake! So moist and chocolaty from the inside, a perfect cake for that immediate chocolate craving, or use it as a base for any celebration cake adding your favourite frosting and the best part is.. it requires just one bowl yay!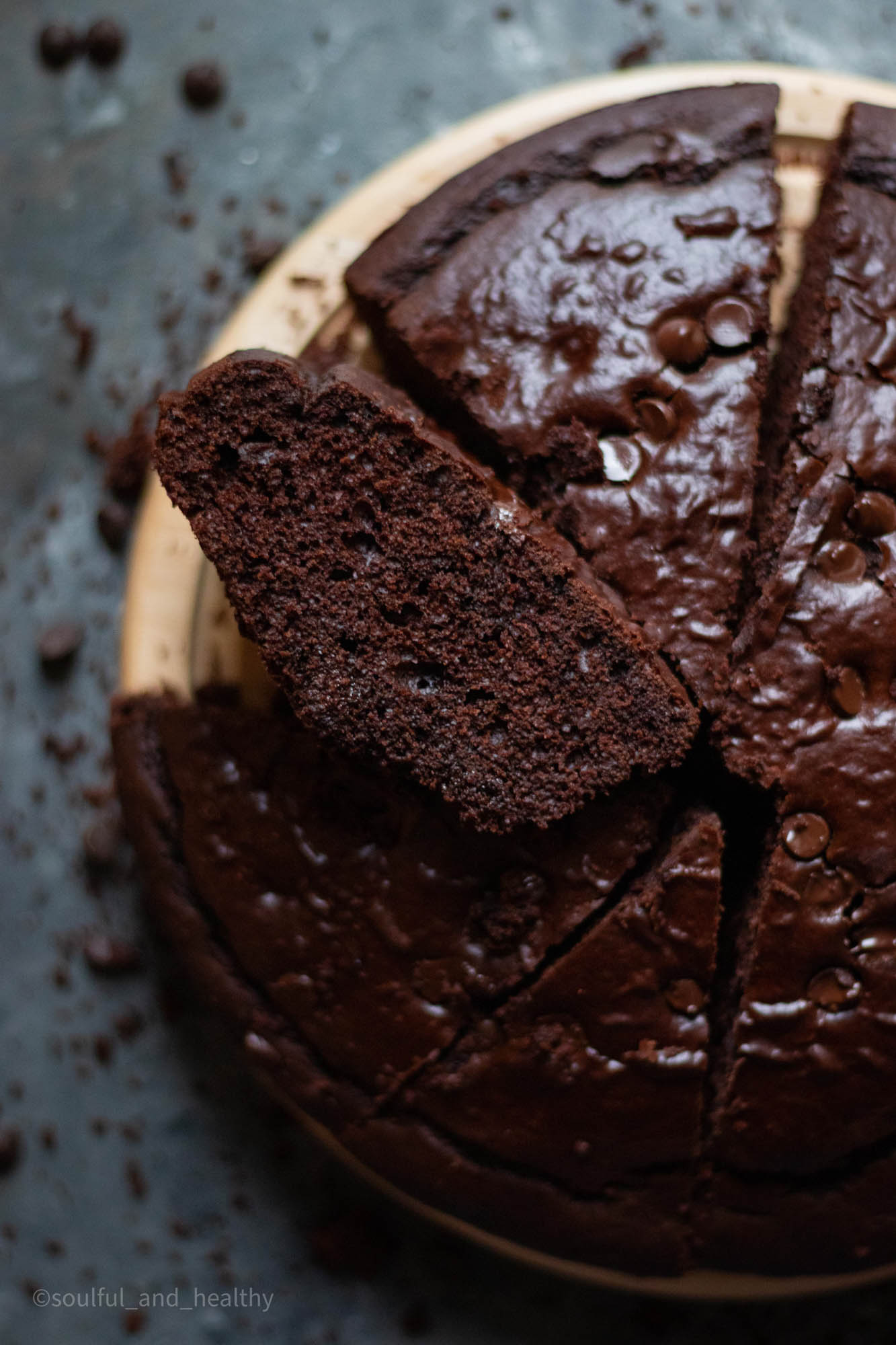 Couple of weeks ago I had a serious like serious craving for a rich chocolate cake and I browsed my pantry to see I had most of the ingredients so I decided to go for it. I had no patience to use many bowls and clean up later no no! So I took one big bowl added all the ingredients and made sure I wrote it down, not knowing if it will turn out well but I took a change and I was like if it turns out good I will share it with you all if it doesn't I will still satisfy craving and will still eat it all ;)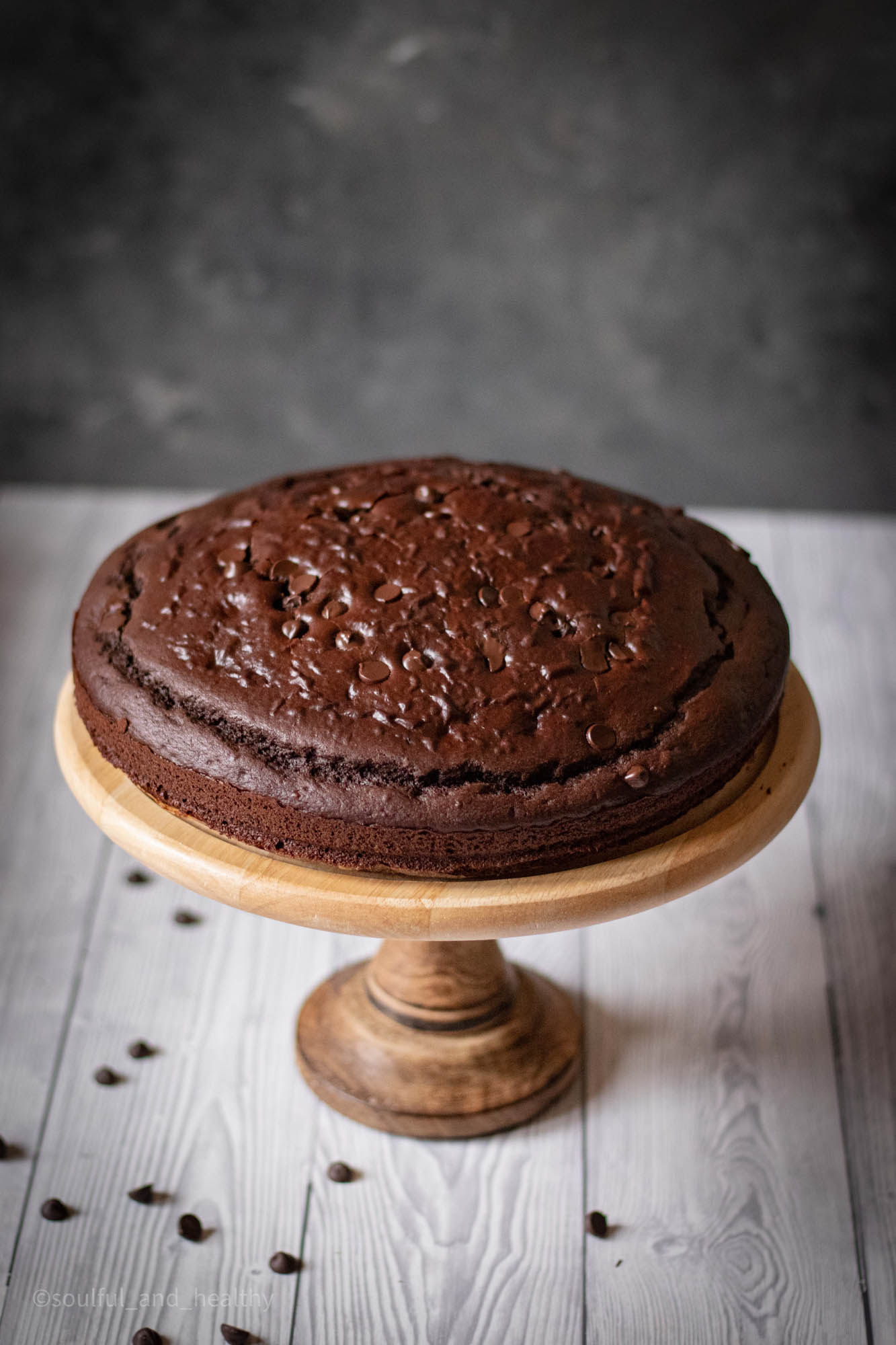 The recipe worked to my favour and it was one delicious moist, extra chocolaty cake I had, turned out better than I expected! Yay!This cake is perfect for tea time, a celebration birthdays, anniversaries ets cake, add any of your favorite icing, or a chocolate ganche, it will be a wonder showstopper of a cake!
I have used dark chocolate chips for this cake and trust me on this, it makes so much of a difference when you get gooey bits of chocolate when you take a piece of this cake. Do not melt the chocolate chips and add to the batter, just add the chocolate chips and when it bakes it will melt inside and there is this deliciousness of extra chocolate in every bite ;)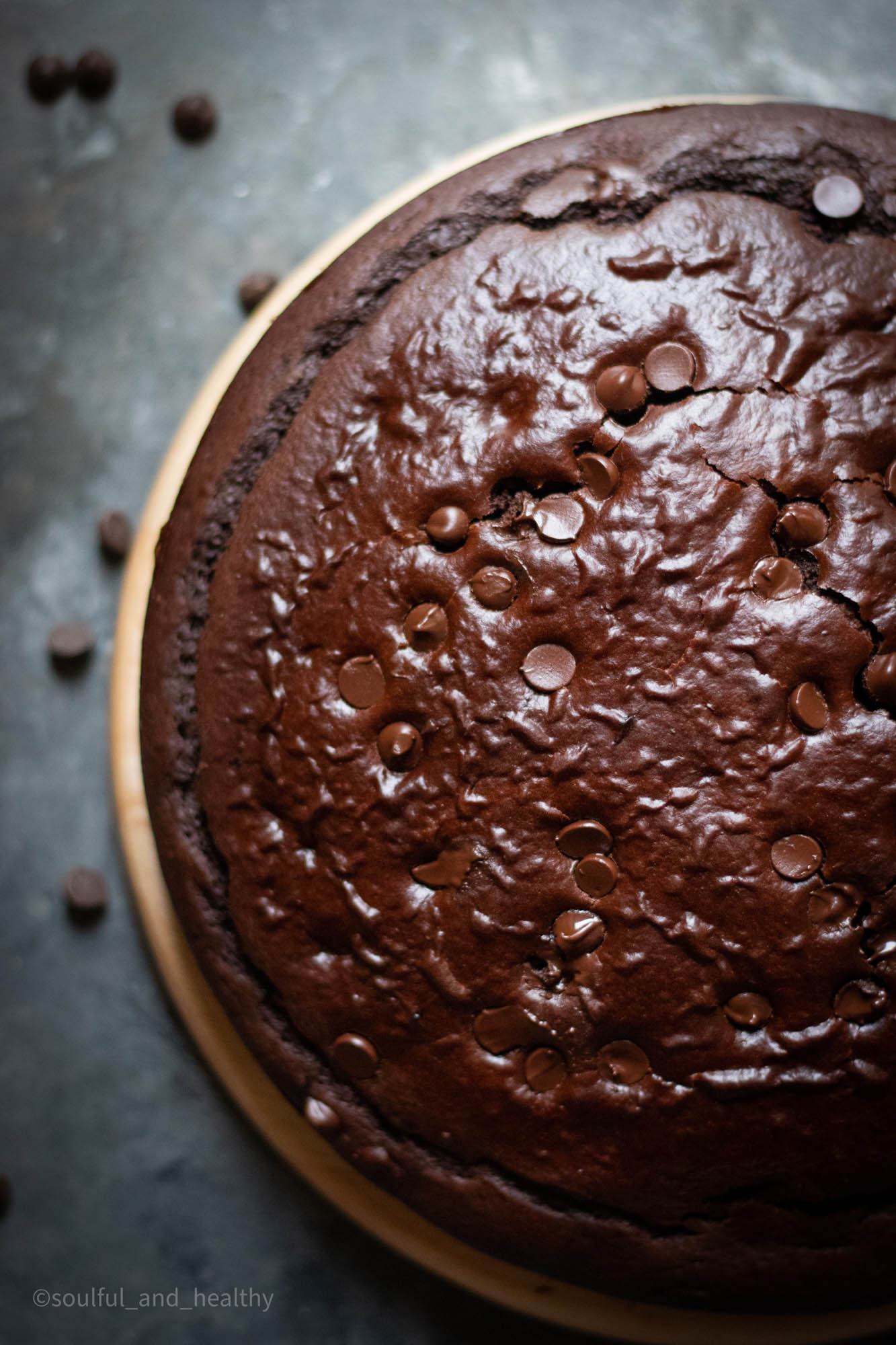 If you love chocolate cakes like me then why not try this delicious Chocolate chiffon cake, mocha frosting & dark chocolate ganache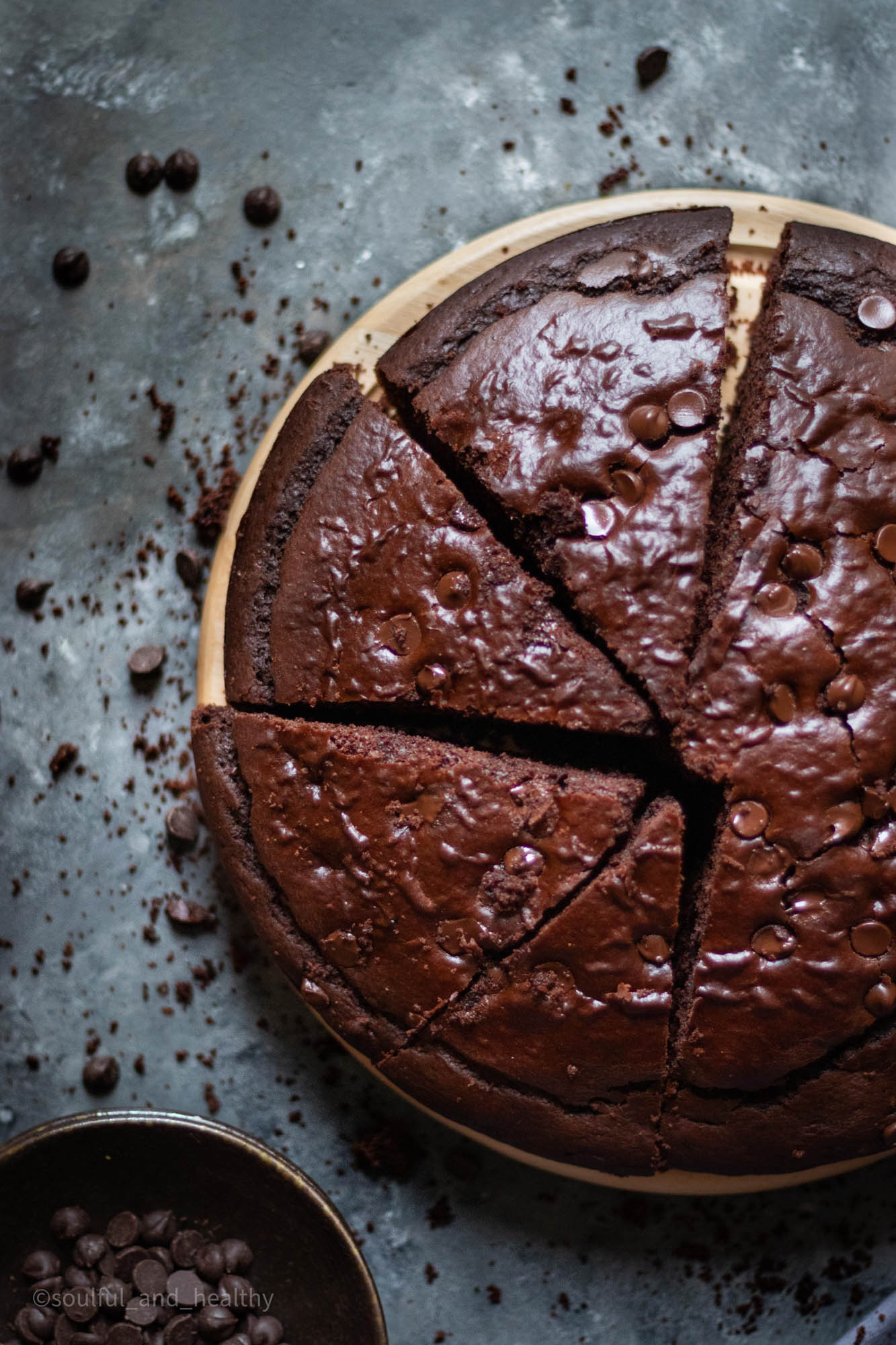 I hope you enjoy this as much as I did, please let me know if you try this do leave a comment below. Do remember to use my hashtag #soulfulandhealthy
If you liked what you see here, please feel free to share it with family and friends. You can find me on Facebook, Instagram, Twitter and Pinterest
Warm hugs
S :)
One bowl chocolate cake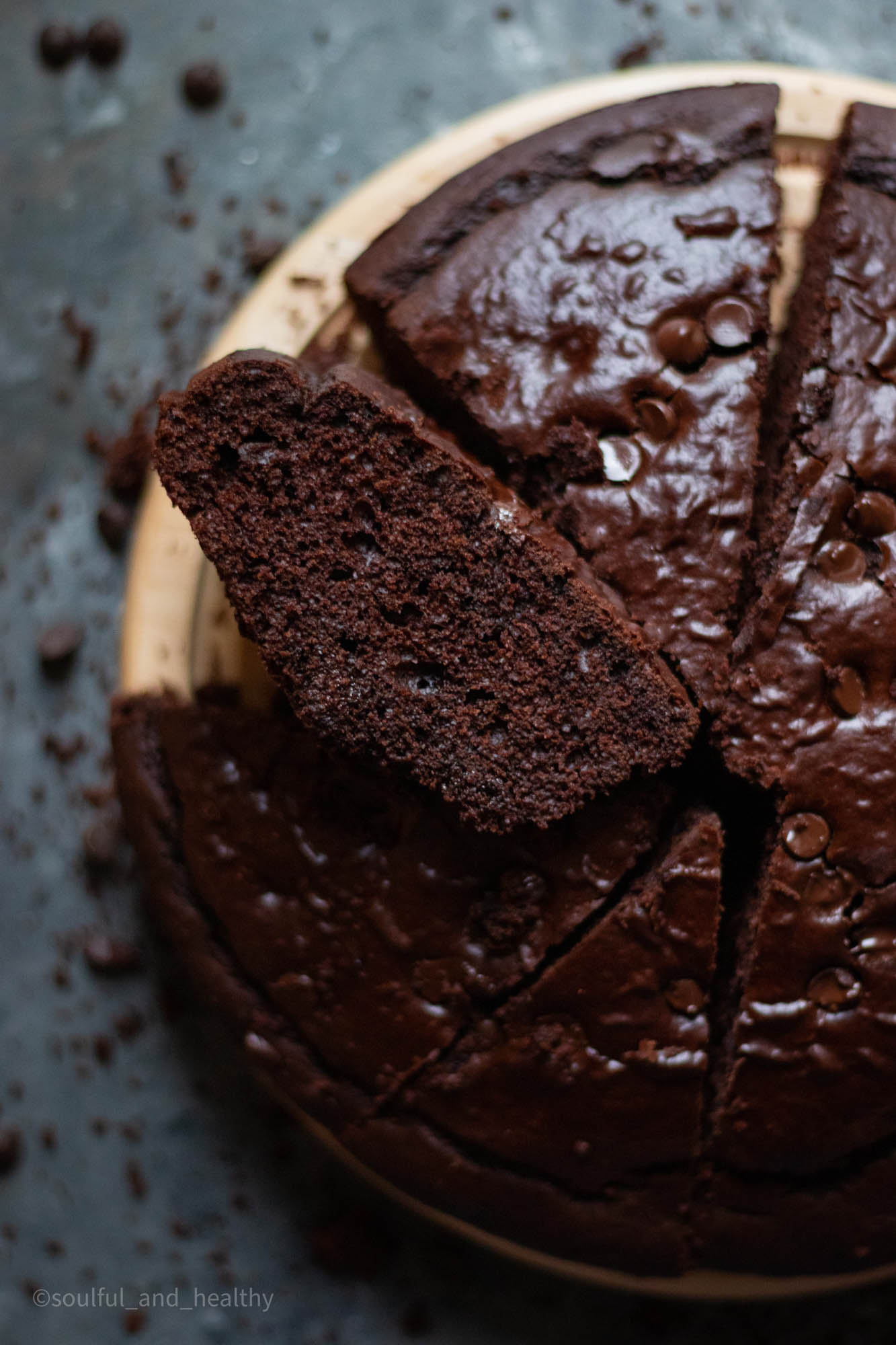 | | |
| --- | --- |
| Prep Time: | Under 15 mins - Baking 30 to 40 mins |
| | |
| --- | --- |
| Servings: | Makes 8 slices of moist cake |
INGREDIENTS
1 and 1/2 cup self raising flour or 180 grams (note below)
1 cup golden caster sugar - 200 grams
1/3 cup organic cocoa powder - 40 grams
1 tsp baking powder
1/2 tsp baking soda
2 large eggs
1/2 cup oil
1/2 cup milk - 118 ml
1 cup boiling water - 250 ml
1/2 tsp instant coffee granules
100 grams dark chocolate chips
instructions
Pre-heat the oven to 180 degrees Celsius and prepare a 9 inch spring foam cake pan by buttering the sides and place a parchment paper.
Take a large mixing bowl sift the flour, cocoa powder, baking powder, baking soda and sugar. Using a wire whisk mix everything well.
Beat the eggs in a bowl and add them to the mixture, add the oil, milk and instant coffee granules. Give it all a good mix.
Last add the boiling water, mix everything well, using a spatula, do not over mix. Add the chocolate chips mix well. Sprinkle more chocolate chips on top and bake in the pre-heated oven for about 30 to 35 mins until a skewer comes out clean. Keep an eye out for cake, each oven time and temperature may vary. Let it cool completely on a wire rack, before cutting. Enjoy!

Note - If you do not have self raising flour for this recipe then for one cup measurement of plain flour - 120 grams add 1 and 1/2 tsp of baking powder. So this recipe calls for 1 and 1/2 cup self raising flour which is approximately 180 grams, so add 2 tsp of baking powder to plain flour apart from the baking powder mentioned in the recipe.