Slow cooker veggie chilli
Slowly cooked to perfection in a slow cooker, this veggie chilli is just what you need on a cold night or day. Loaded with all the goodness of veggies and beans you won't even miss meat in it trust me.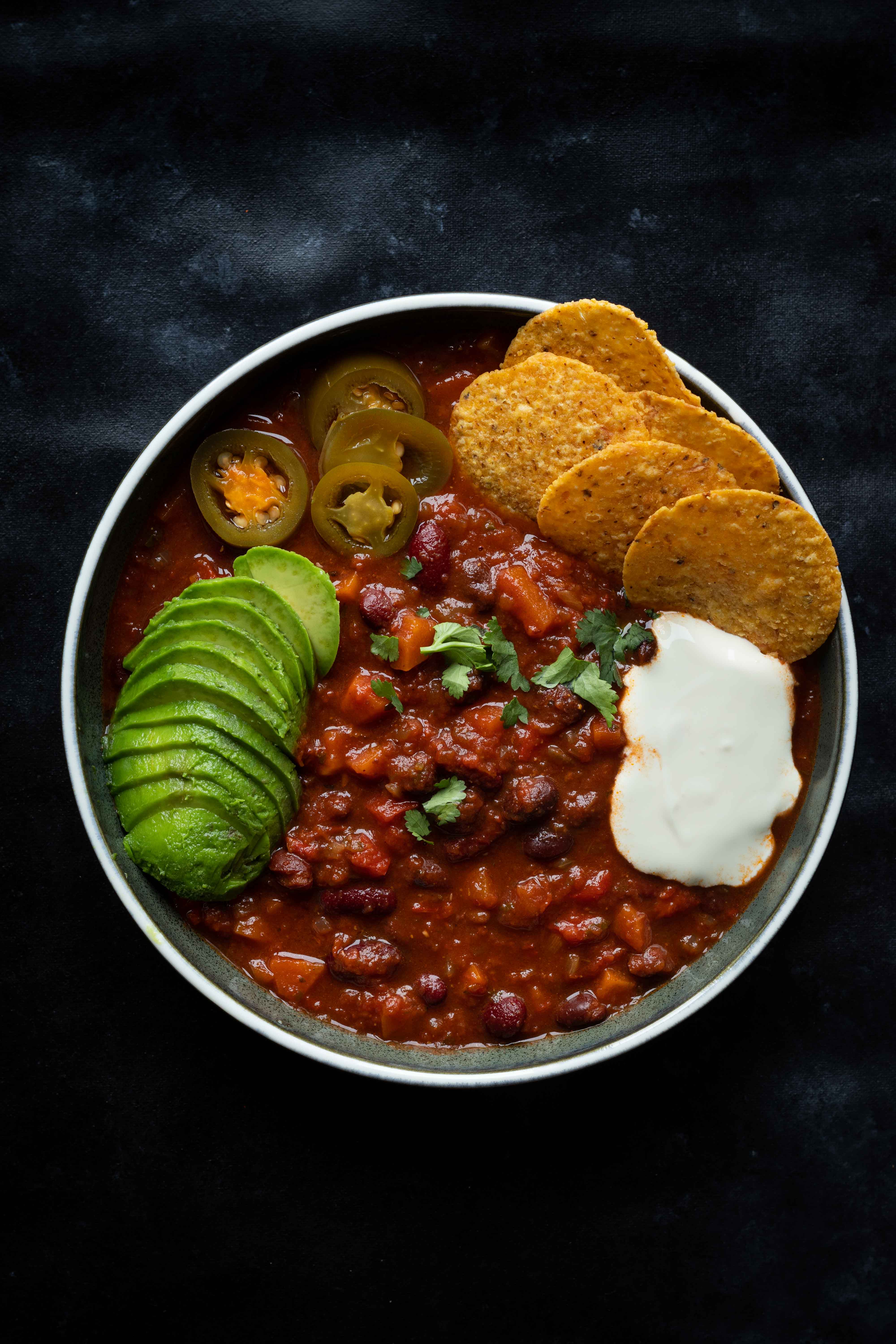 I didn't know why I didn't invest in a slow cooker all these years! Like seriously, you put everything in it at night and let it do the cooking for you and it's ready the next morning, how easy is that. Also I do find the flavours more enhanced when cooked in a slow cooker or a crockpot. One thing you need to keep in mind is not to add excess of water when cooking in a slow cooker because the water doesn't evaporate unlike in a saucepan, I did that once when I made a turkey chilli and ended adding too much water, later I had to transfer it to a pot and let it simmer to reduce.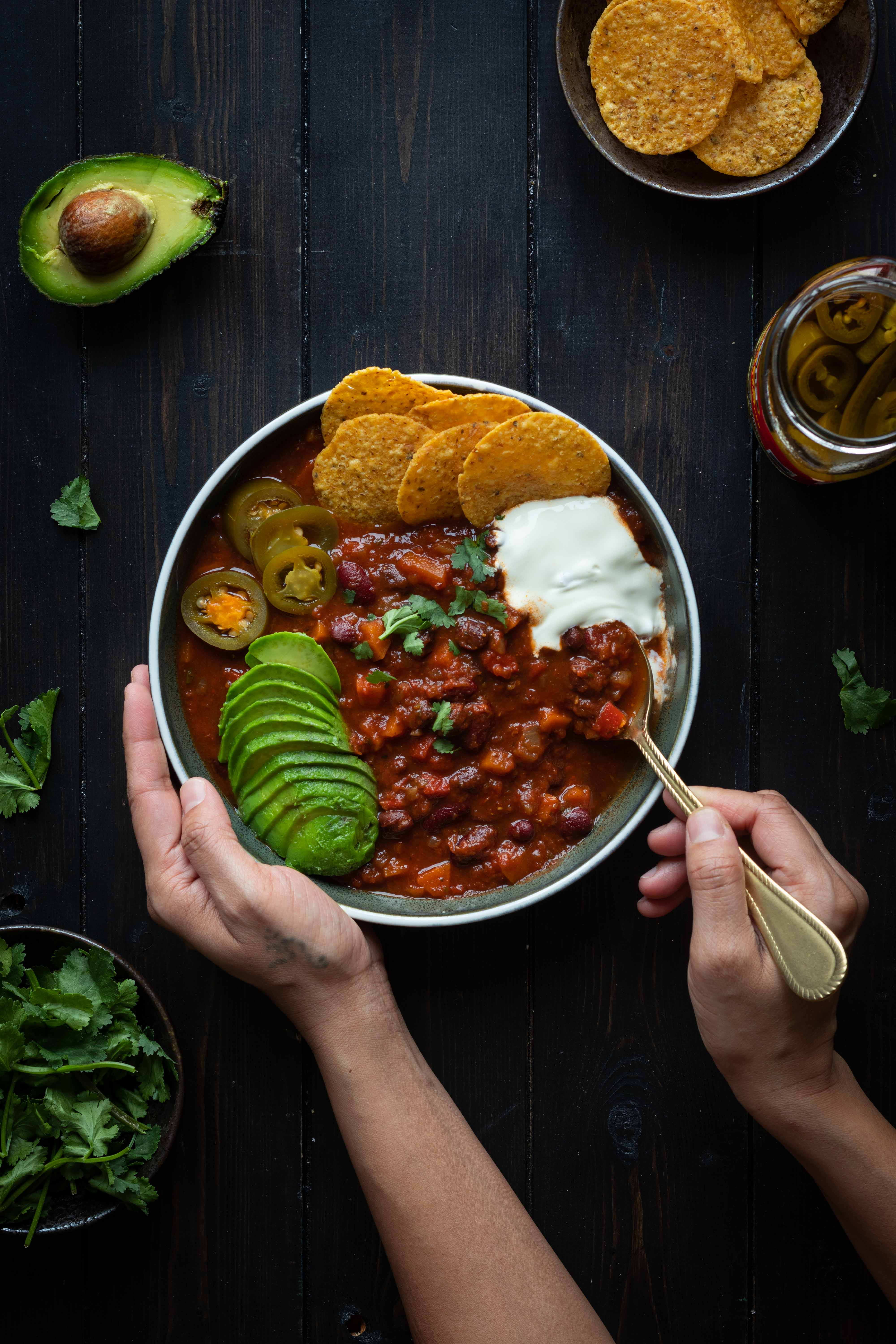 Funny thing happened with this chilli, with a baby at home who still wakes up a couple of times at night for his bottle, it's my husband who usually goes downstairs to make his bottle, so when he was up around 5 am I asked my husband to turn off the slow cooker, which he forgot so this chilli ended up cooking for almost 12 hours :D when I checked on it I was like I really hope this is ok and tastes good, and thankfully it was so delicious that my husband said this was the best chilli I ever made!! Yay!! Well actually thanks to him. ;) But.. you don't have to cook this for 12 hours, it will be perfect when cooked for 8 hours.
The only thing I would suggest here is to fry your onions and garlic with a little oil to get rid of the raw smell, I personally prefer frying the onions before adding it to the slow cooker.
This Chili I have kept ingredients and flavours as simple as possible and all totally enjoyed it including our 18 month old. I have added jalapeños as a topping for us adults.
This vegetarian chilli is so tasty and full of nutrients, I found a good can of black beans with a little mix or jalapeño's in my local Tesco, and it was perfect to add to this recipe. If you can't find the same then just add another can of kidney beans. Also adding a small piece of dark chocolate really elevates the chilli to next level.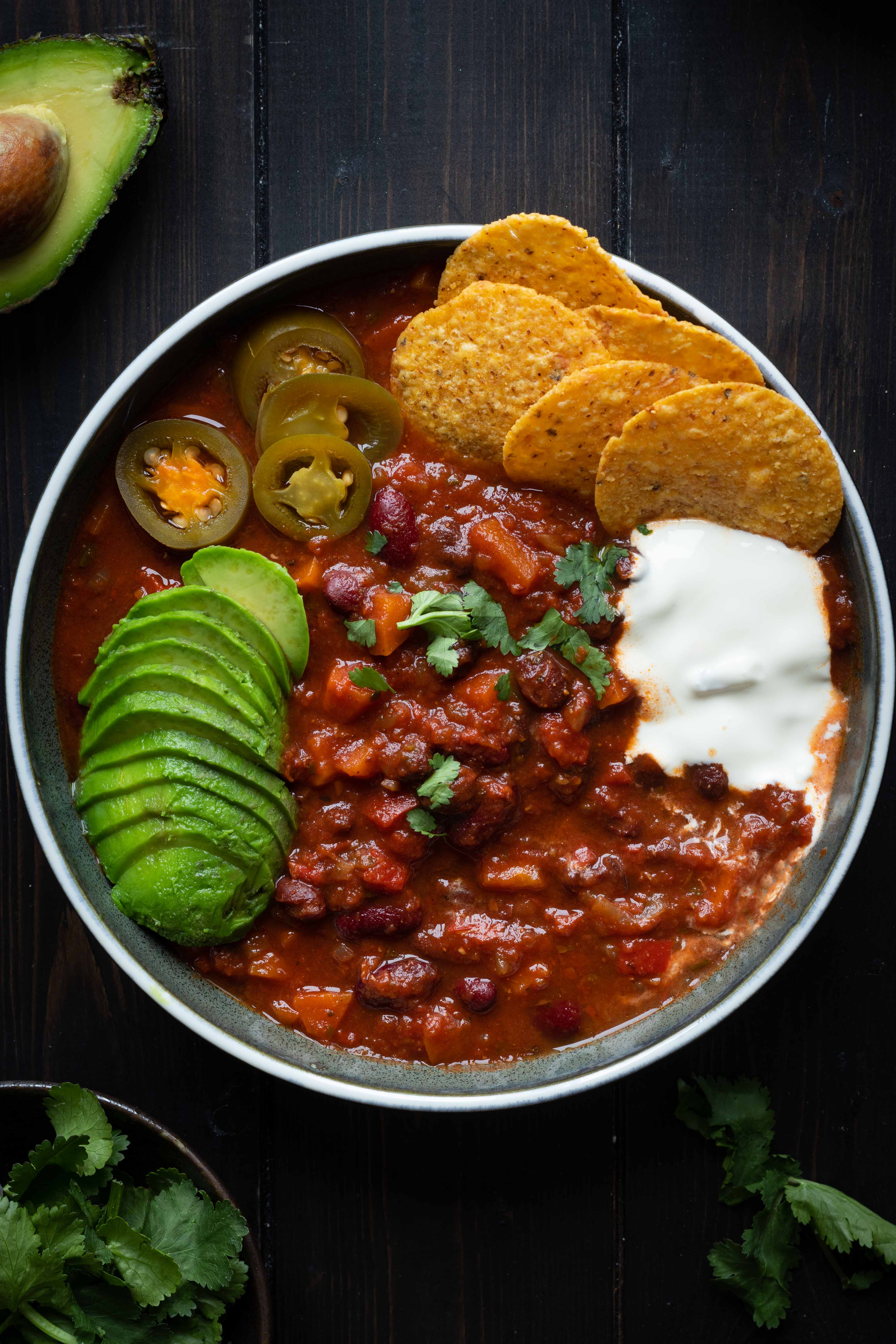 You can make this in a large saucepan too if you don't have a slow cooker, just make sure to stir it once in a while so your don't burn it and cook in low heat. This recipe serves 6 to 8 people, my family didn't mind eating it for two days straight! I didn't have to cook the next day yay!
Hope you enjoy this as much as we did at home. Do not hesitate to leave a comment or tag me on social media if you make it, I would love to see your creations. Please remember to use my hashtag #soulfulandhealthy
If you liked what you see here, please feel free to share it with family and friends. You can find me on Facebook, Instagram, Twitter and Pinterest
Love and hugs
S
Slow cooker veggie chilli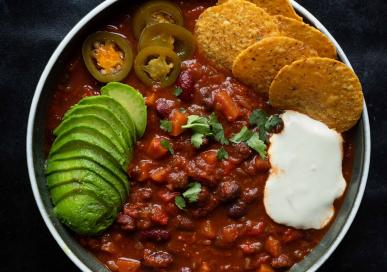 | | |
| --- | --- |
| Prep Time: | 15 mins to prep. Slow cooking for 4 or 8 hours |
INGREDIENTS
1 medium onion chopped
2 medium cloves of garlic finely chopped
1 tbsp extra virgin olive oil
1 large red pepper chopped
2 medium carrots chopped
2 tins chopped tomatoes
Small bunch of chopped fresh coriander, plus more to garnish
2 cups vegetable stock (use the same tomato tins to measure)
1 tin organic kidney beans
1 tin black beans
1 tsp ground cumin
1 tsp dried oregano
1/4 tsp turmeric
1 tsp paprika powder
1/2 tsp smoked paprika
Salt and pepper to taste
1 small cube of dark chocolate (optional)
To serve Avocado, sour cream, corn tortillas, jalapeños etc
instructions
In a nonstick pan add the olive oil and sauté the onion until translucent, about 4 mins on medium low heat, then add the garlic and sauté for one or two mins
Transfer the onions and garlic into your slow cooker, add all of the ingredients into the slow cooker and cook on low for 8 hours or high for 4 hours.
Serve with your choice of toppings. Enjoy!