No bake Caramel Cheesecake with Avonmore
With Christmas just around and the list of things to do only keeps increasing, I'm sure some of you would want an easy desserts to make, not compromising on the deliciousness ;) I have the perfect one for you. I was kindly offered the creams by Avonmore to create a recipe for this festive season so I came up with this beautiful No Bake Cheesecake using Avonmore's new Caramel whipped cream.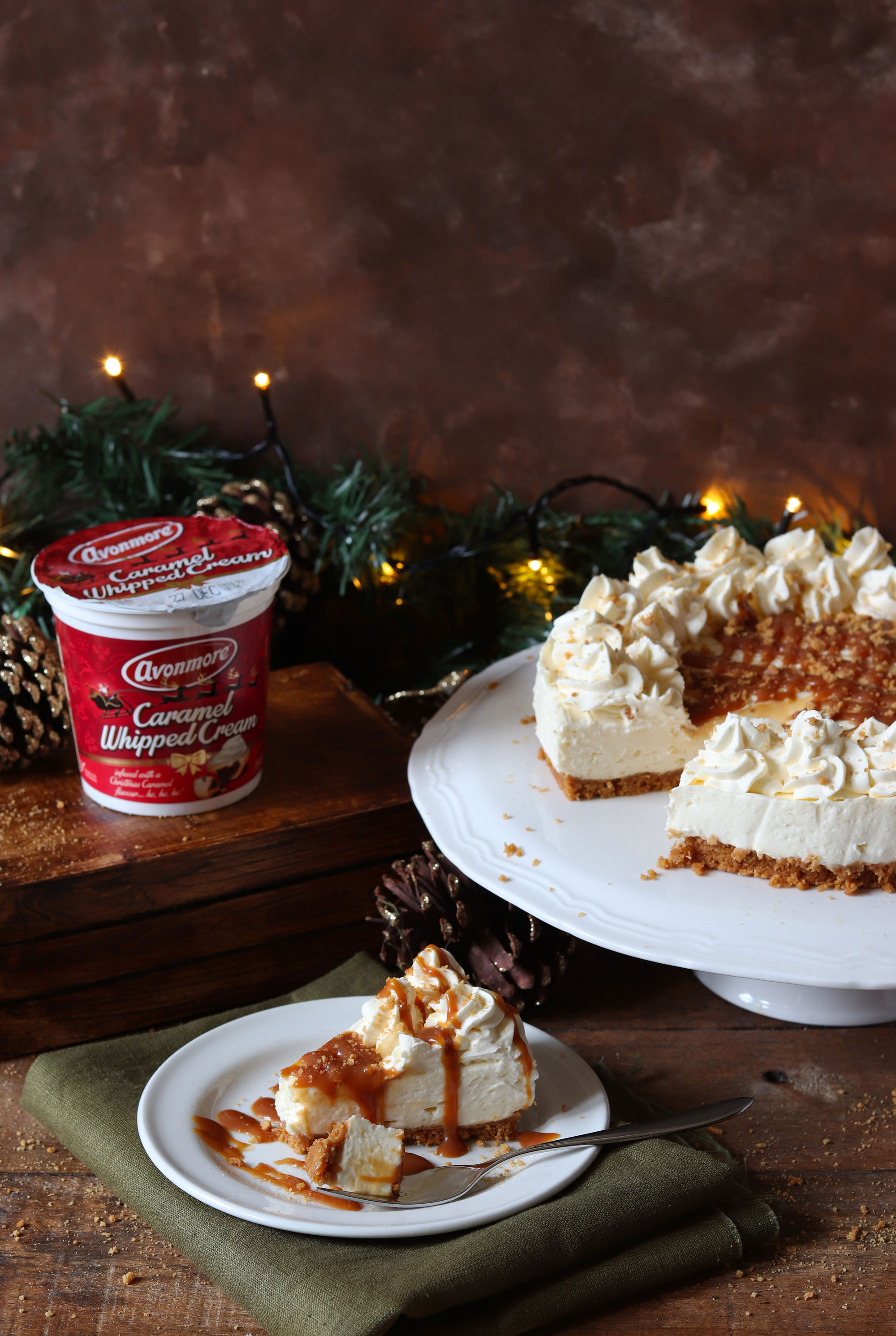 It only took literally 15 mins for me to make it and all I had to do is pop it in the fridge and the next day and we had a decadent dessert ready to be served, your guests will be so impressed. If you have a food processor and a hand held blender this cheesecake can be made in matter of mins :D You can style it or decorate how ever you want, make it more Christmassy if you like.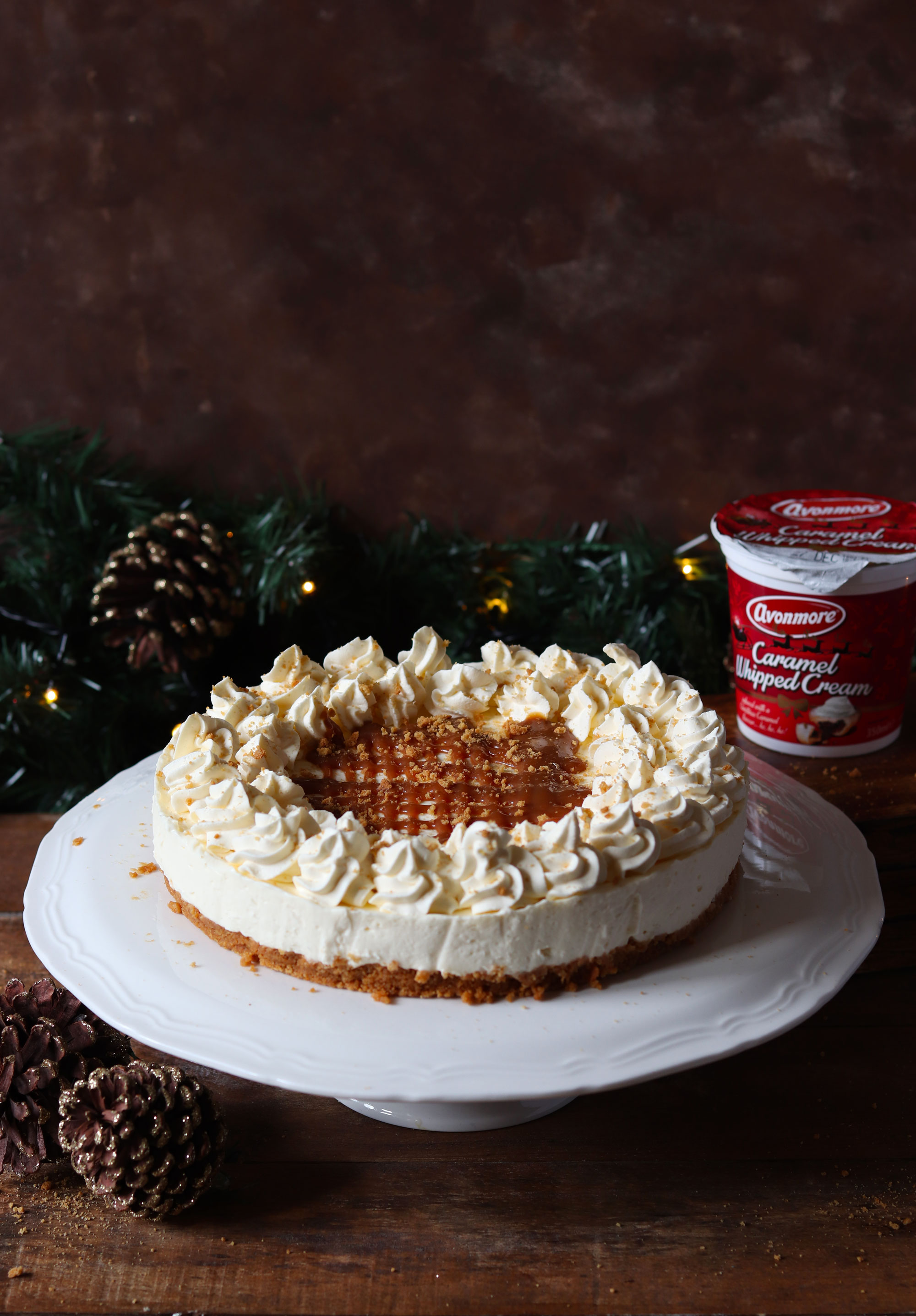 The key to a soft, yet with a little texture for a cheesecake is to use half mascarpone and half cream cheese, if you only use mascarpone the cheesecake might be a bit too soft. Using a mix of both will give your cheesecake bit of substance, since it is a no bake after all.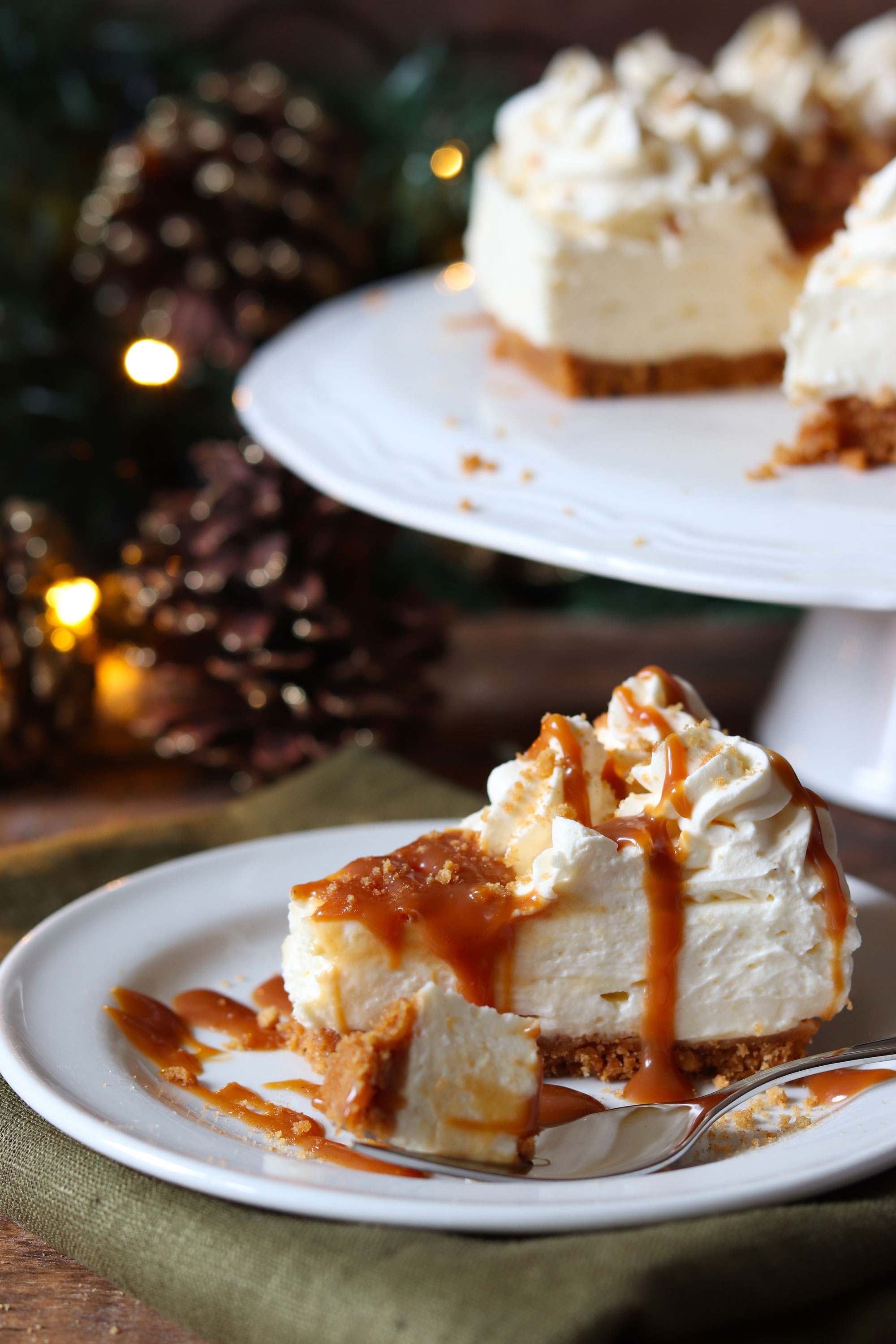 I was asked to create this recipe using Avonmore's caramel whipped cream, but you can use any whipped cream, double cream as well. You can few tbsp of caramel sauce to the cheesecake mixture to give it that extra caramel flavour. The plus point of using Avonmore's caramel whipped cream is that it already has caramel flavor to it, so subtle but so tasty.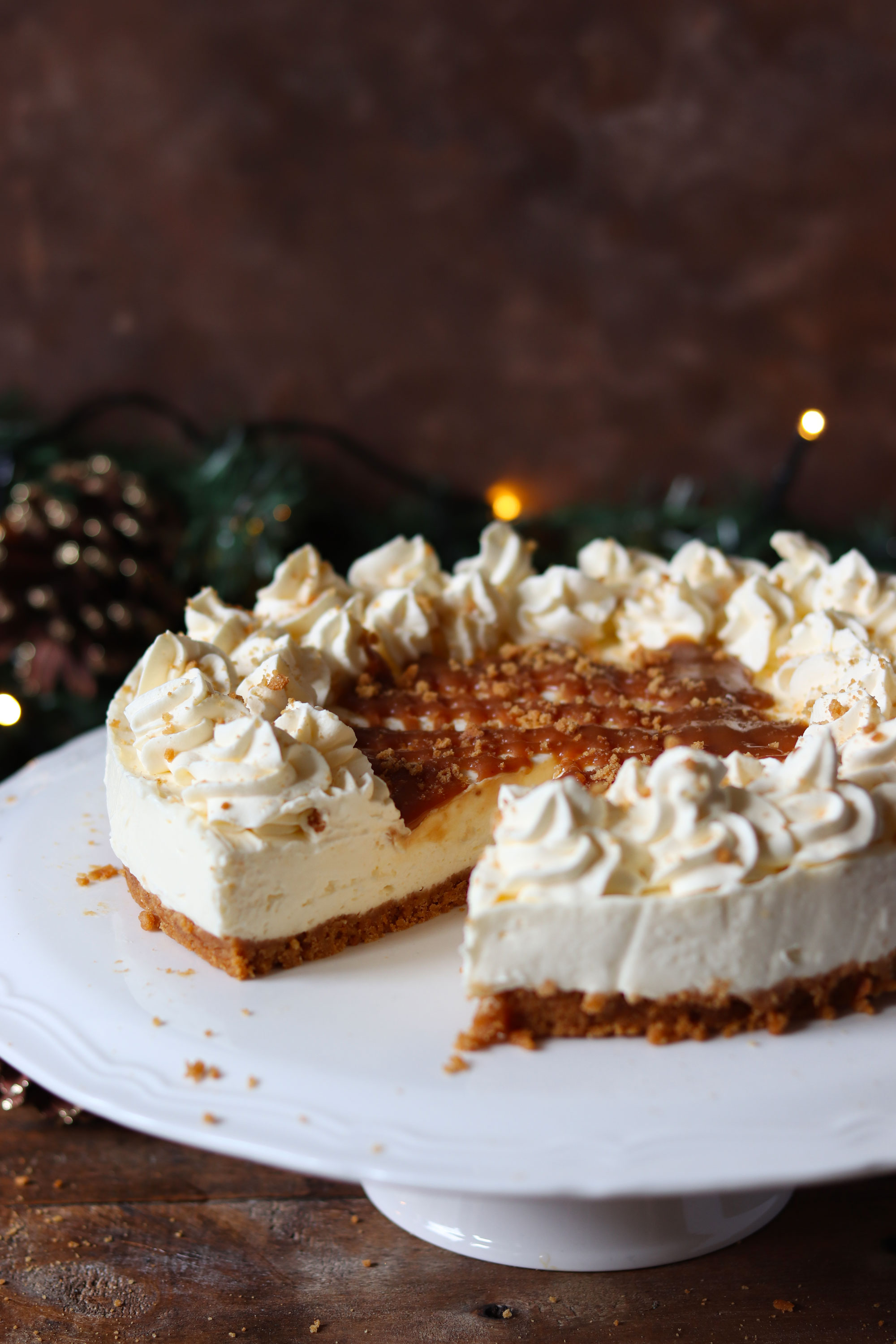 I have obviously used full fat cream cheese, if you know me well by now I love a bit of indulgence every now and then especially during Christmas or birthdays is not the time for me to count calories:) I believe in a balanced lifestyle and I honestly don't mind eating a slice of cheesecake and enjoying it without any guilt, I have learnt to eat healthy, stay fit and not feel bad when I eat a slice of this delicious cheesecake :)
I really hope you enjoy making this cheesecake as much as I did :) Let me know if you tried my recipe, please feel free to tag me and use my hashtag #soulfulandhealthy on your lovely creations, so I don't miss them.
Liked what you saw here, please free to share it with family and friends. You can find me on Facebook, Instagram, Twitter and Pinterest
Enjoy your festivities!️
Warm hugs
S.
No bake Caramel Cheesecake with Avonmore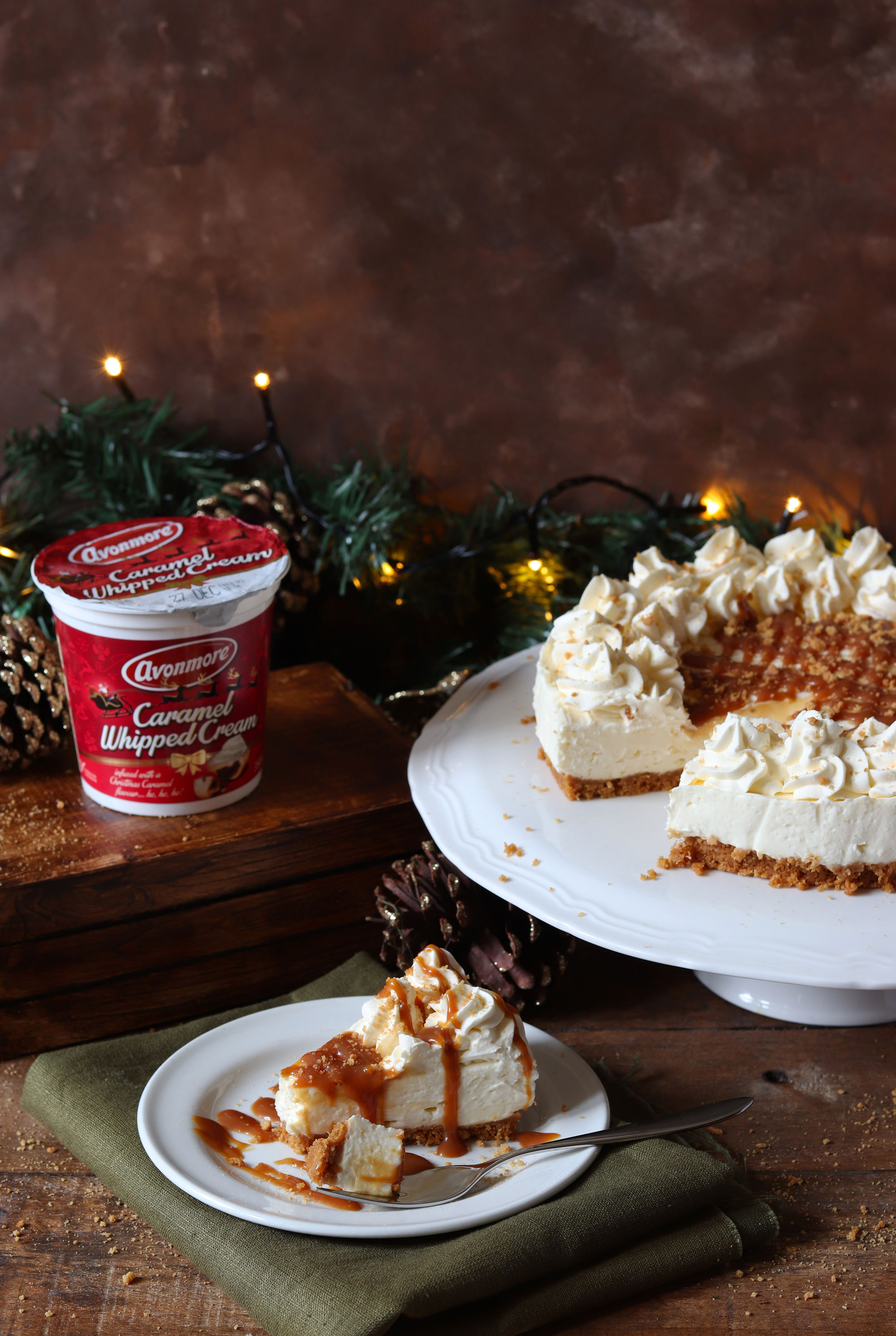 | | |
| --- | --- |
| Prep Time: | 15 mins to prepare - overnight to set |
| | |
| --- | --- |
| Servings: | Makes 8 to 10 slices |
INGREDIENTS
Base

75 grams melted butter
200 ginger nut biscuits




Filling




To decorate
instructions
Add the ginger nut biscuits and melted butter into a food processor and blitz until we'll combined and crumbled.
Transfer to a lined 8" spring foam pan and press evenly using a back of a spoon. Refrigerate while you make the filling.
Add the cream cheese and mascarpone into a large mixing bowl, using a hand blender with whip attachment blend for 2 to 3 mins, to get some air into the cheese.
Now add the powdered sugar and vanilla extract and mix well for about 2 mins.
Next add one full pot of Avonmore Caramel whipped cream and blend for 4 to 5 mins on medium high speed.
Transfer the mixture to the cake tin and refrigerate for 2 to 3 hours, preferably overnight.
When ready to serve, in a medium bowl, add one pot of Avonmore caramel whipped cream and use the whip attachment and blend for 4 to 5 mins, until nice and fluffy until you have soft peaks. Transfer to a piping bag and decorate as you like. Add more crushed ginger nut cookies and caramel sauce to serve. Enjoy!