Moroccan Turkey meatballs with lemony couscous
Meatballs in tomato sauce with couscous is like a match made in heaven, at least for me. I love the way in this dish everything comes together so well, the meatballs have a unique flavour on their own, then when it is added with the tomato sauce, it makes it so rich and tasty. I love serving it with couscous, for which again it is not plain, I like the idea of adding more substance to a boring couscous and make it more enjoyable. :)
So I wanted to try Moroccan this time. Would definitely love to go there. Their spices aren't much different from India, with spices like cumin, chilli, coriander etc, so not much change in flavours.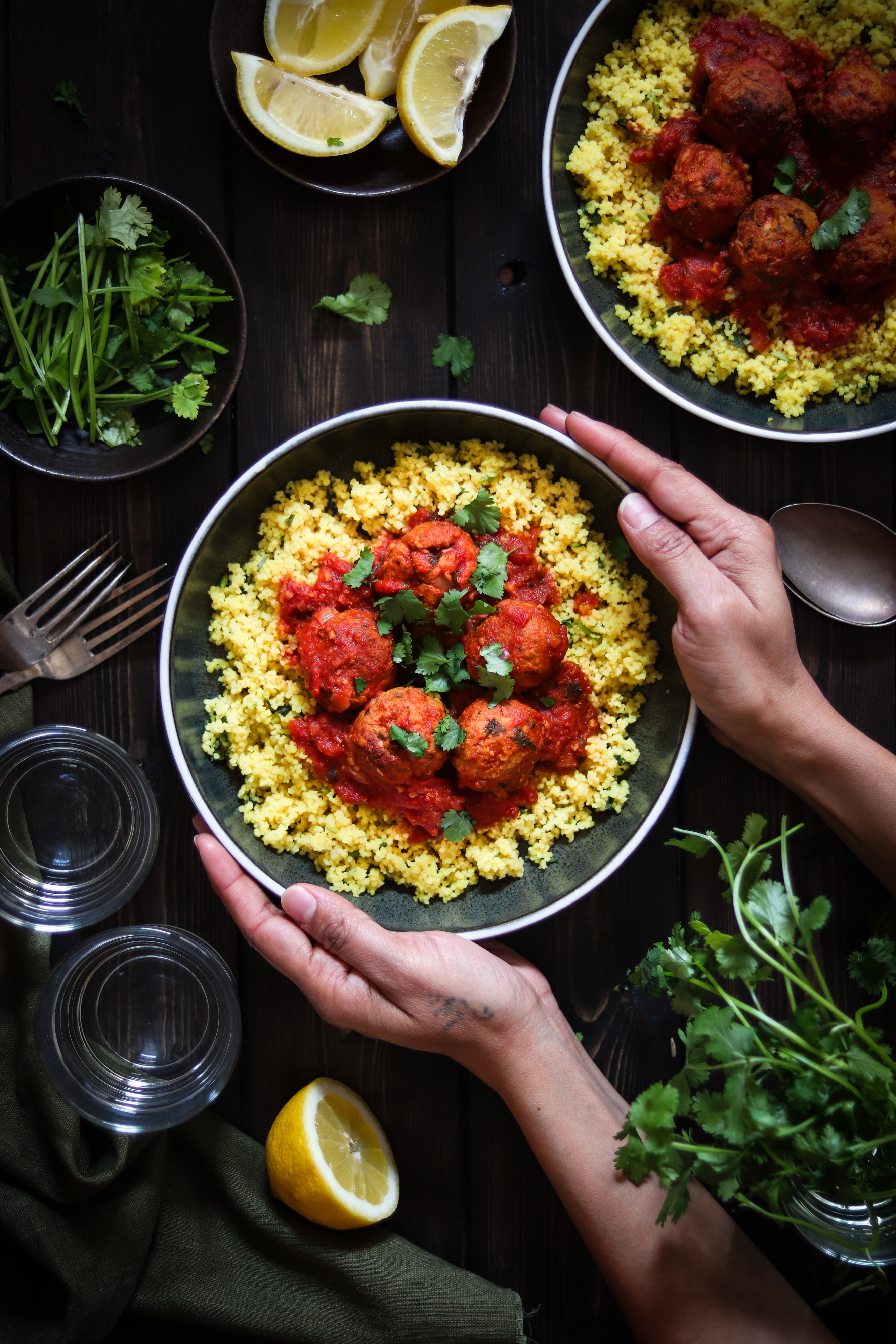 I am always curious to try different cuisines, not very traditional when it comes to food. Since I am an Indian, it's not that I want spicy Indian cuisine all the time. I don't mind pasta, with mild flavours or even a sandwich. It's all about trying out new flavours that come together in one delicious recipe.
My husband isn't a fan of couscous, he prefers eating it with rice. For this recipe I have used healthier meat like turkey, you can try with any other meat of your choice, please note the cooking time may vary.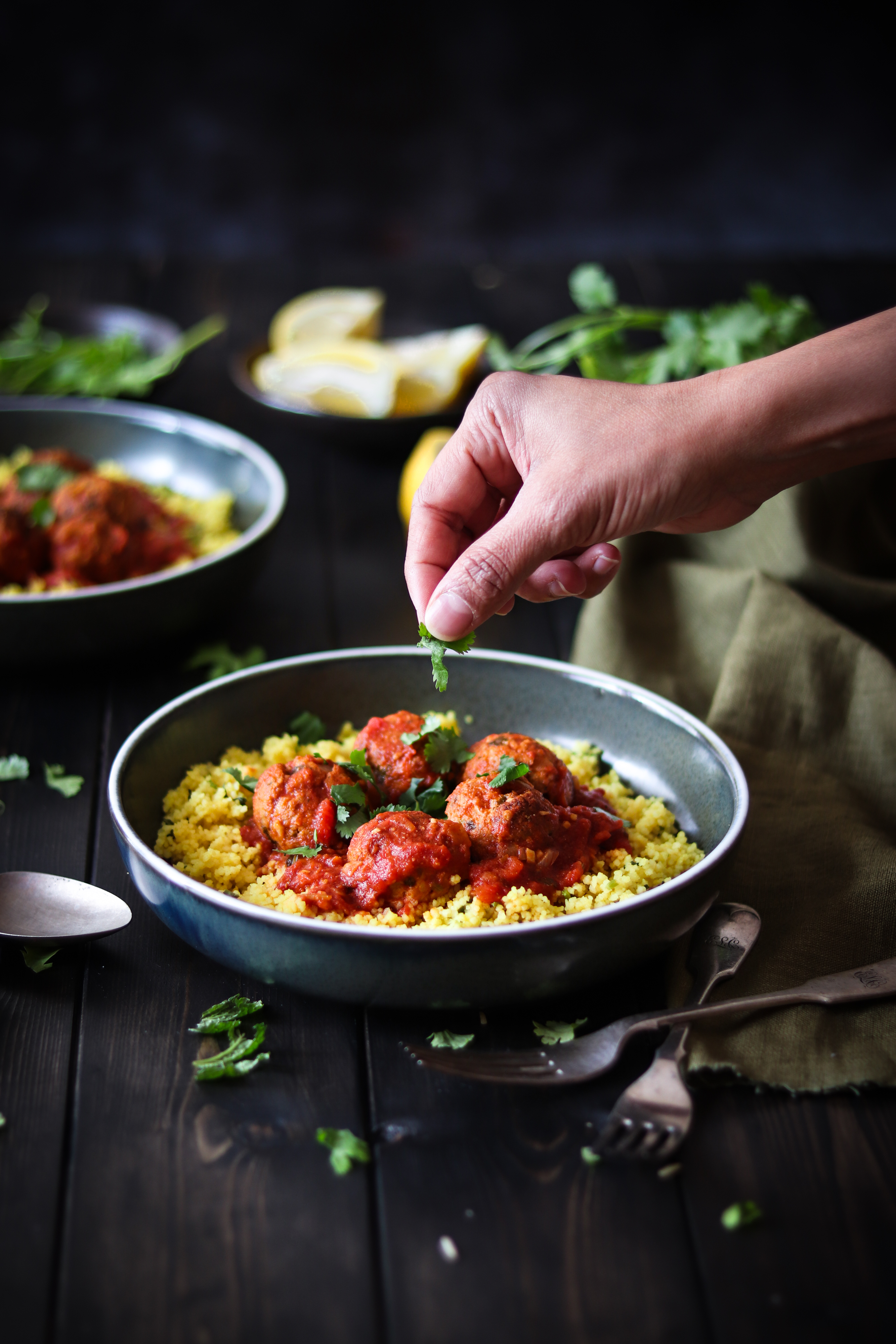 It's a super delicious meal ready in no time, with minimal effort. If you have all the ingredients and stock ready.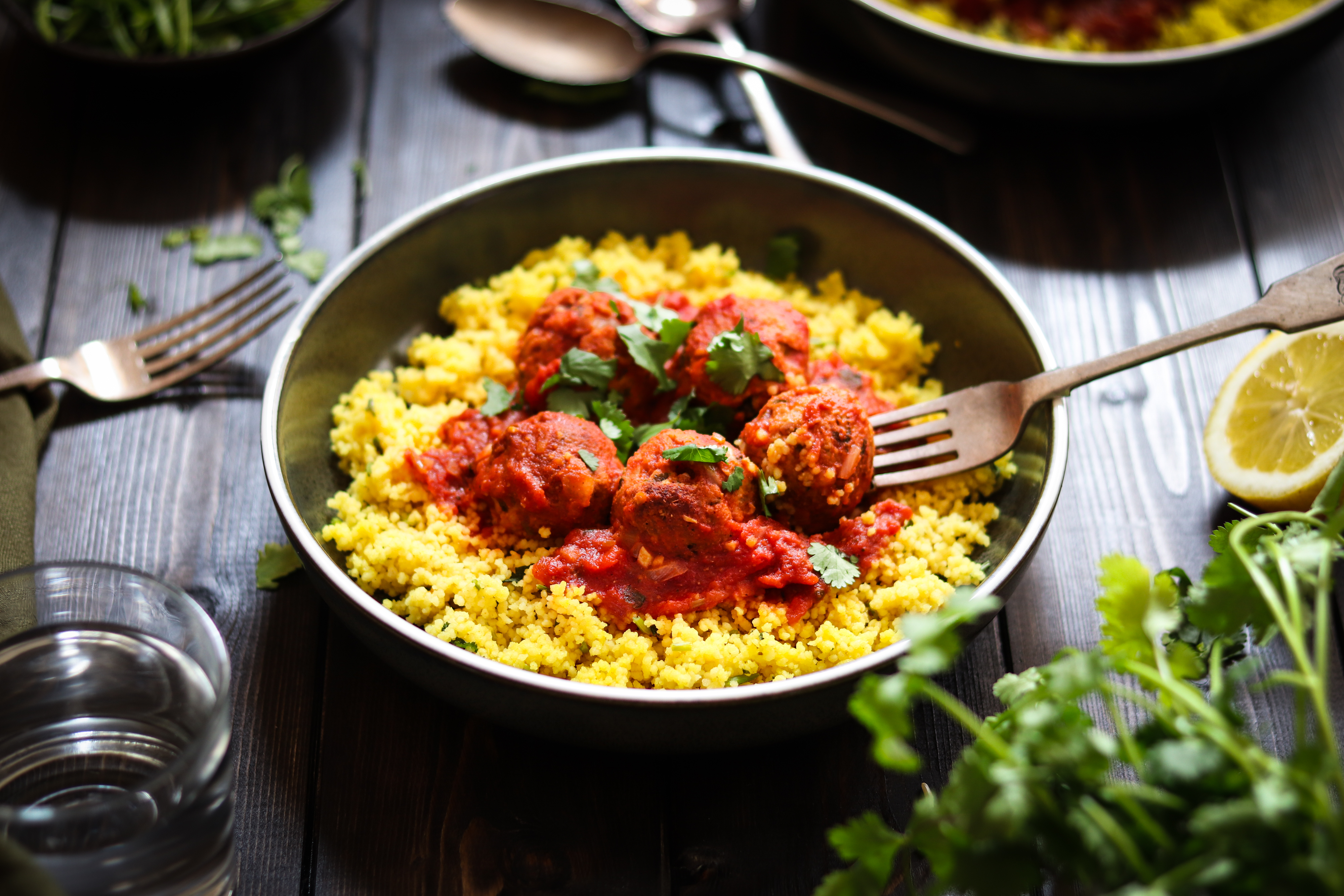 I made my own chicken stock for this, it tastes completely different when you use a homemade stock instead of a store bought stock cube. If you do not have the time and effort to make one at home, I highly recommend Sadie's Kitchen Bone broth for this recipe.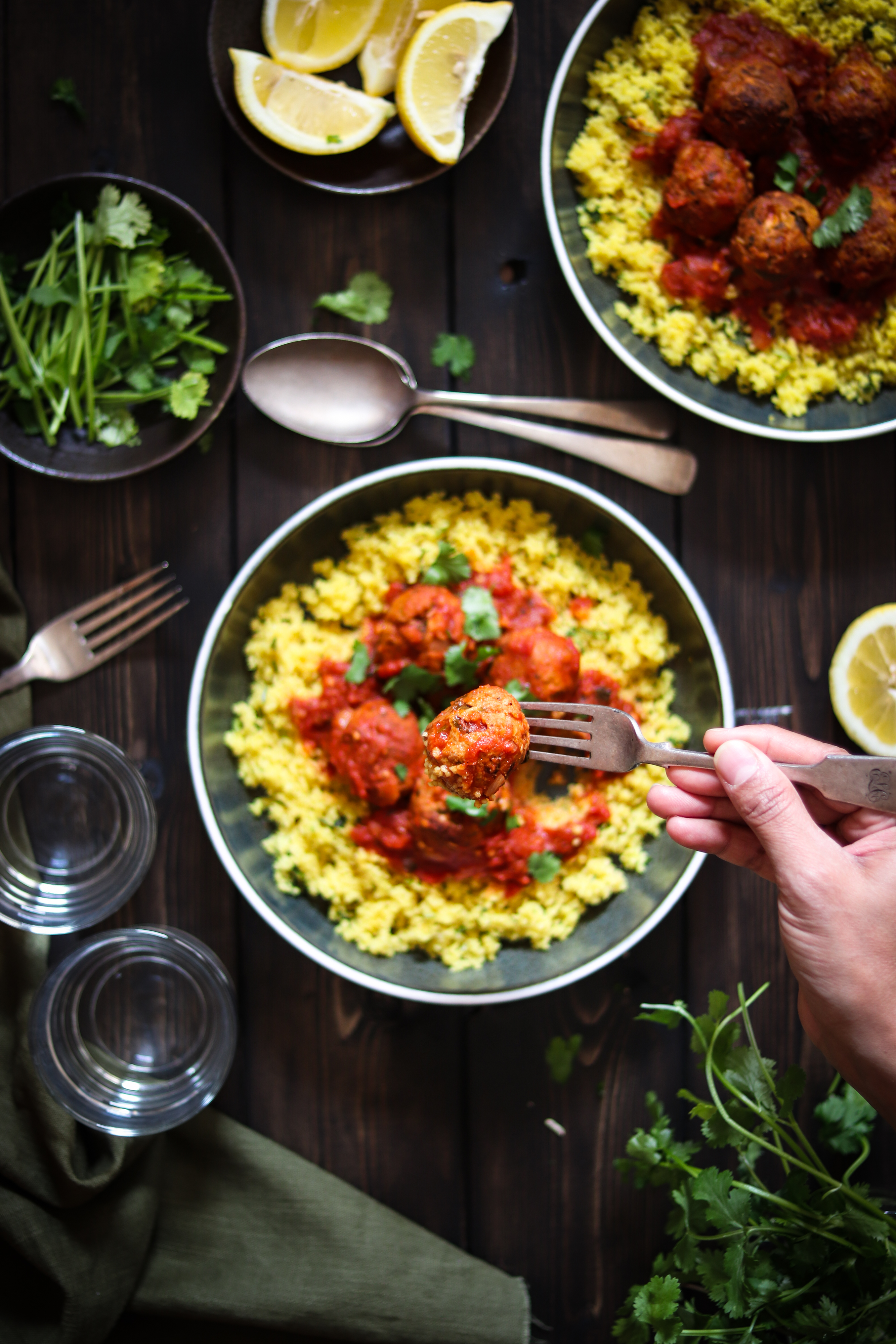 I hope you enjoy this delicious flavours of Morocco ;) . Let me know if you tried it would love to see your recreations. Please do remember to use my hashtag #soulfulandhealthy on social media so I can see your beautiful creations.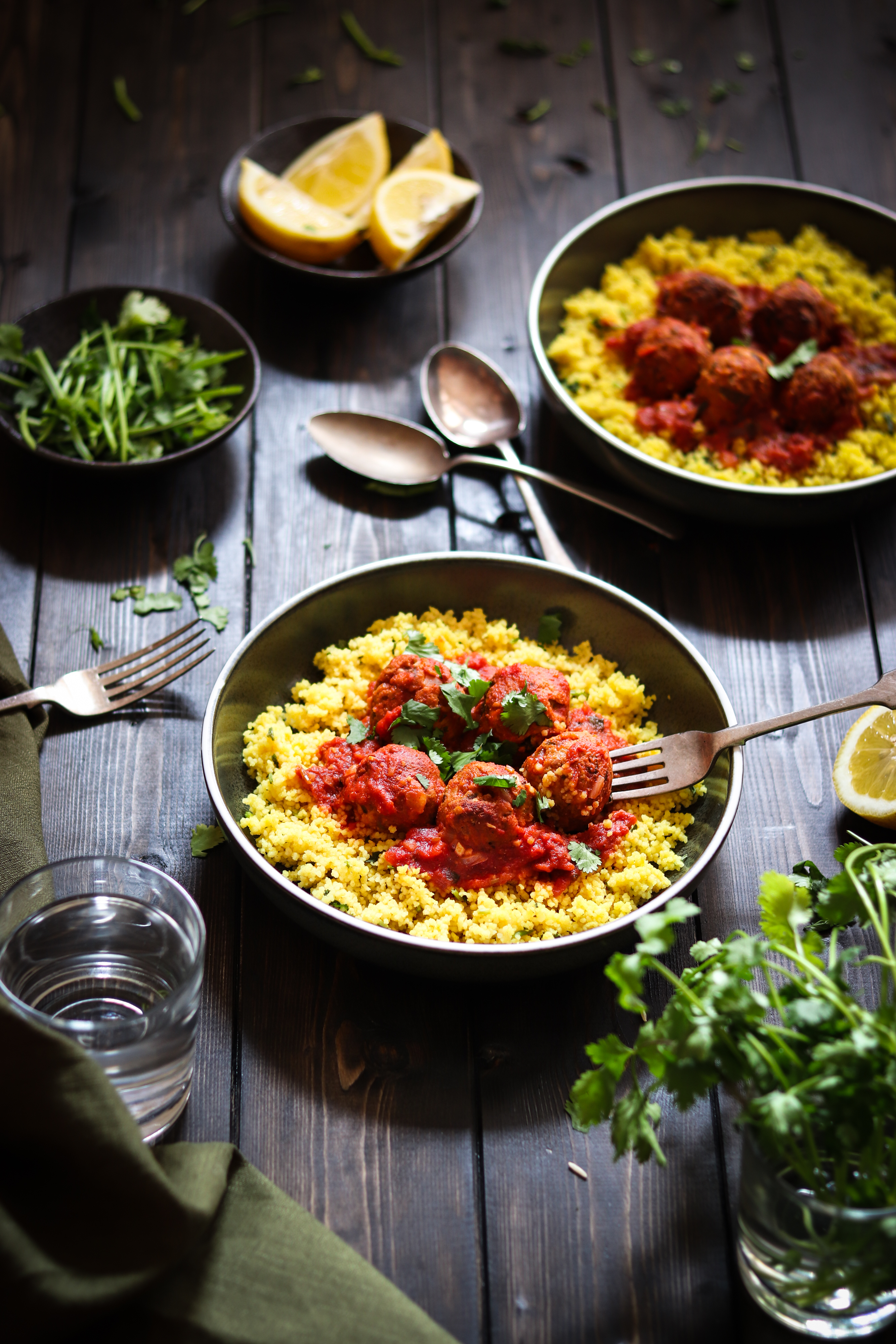 If you liked what you see here, please free to share it with family and friends. You can find me on Facebook, Instagram, Twitter and Pinterest
Enjoy!️
Happy cooking!
S ;)
Moroccan Turkey meatballs with lemony couscous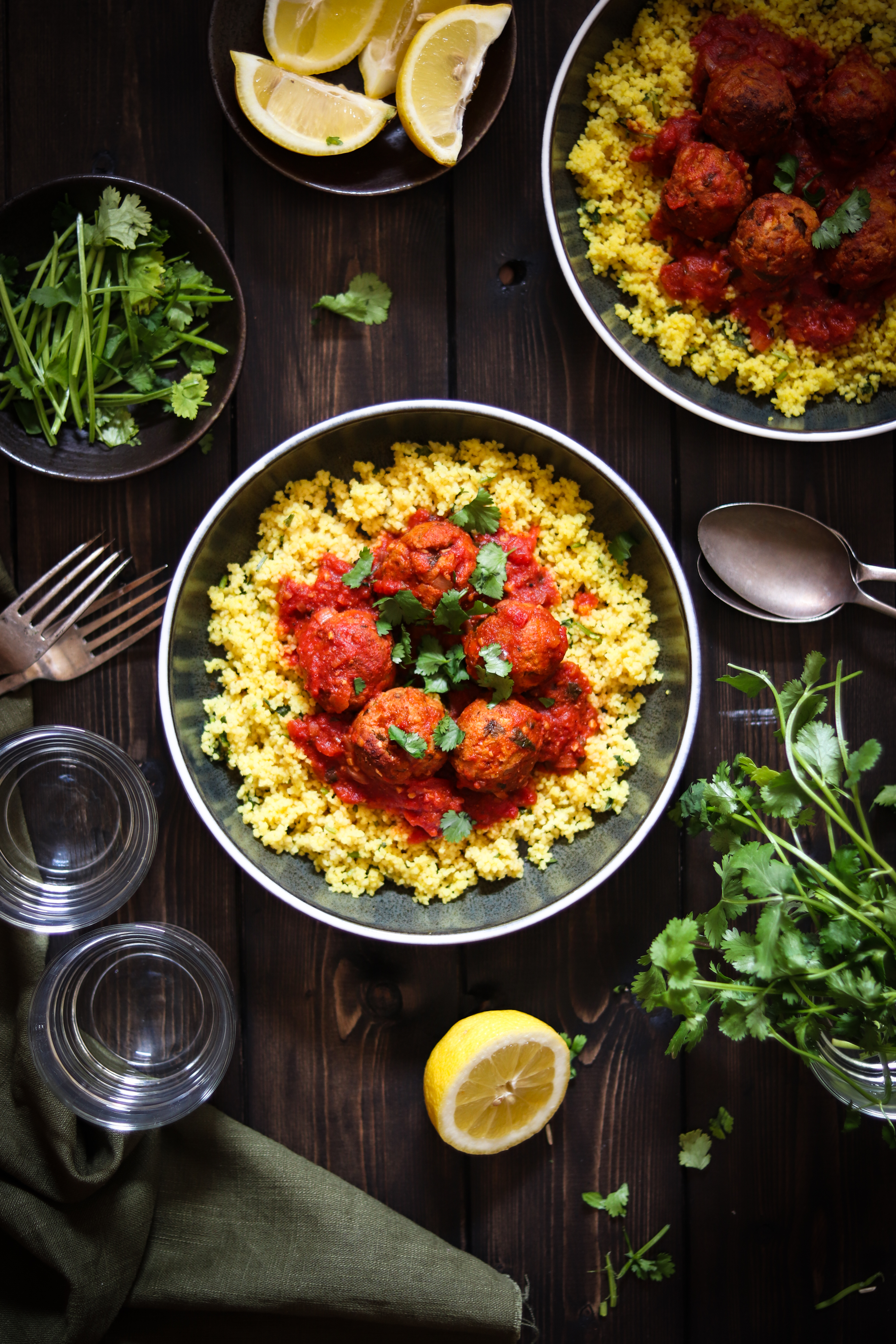 INGREDIENTS
For the meatballs -

500 grams of good quality turkey breast mince
1 medium onion chopped
2 cloves garlic, minced
1 egg
1 cup of fresh bread crumbs - about 200 grams (may need a little more)
A handful of coriander leaves finely chopped
1 tsp cumin, ground
1 tsp paprika or chilli powder
1 tsp cinnamon, ground
1/2 tsp ginger, ground
1 tsp turmeric
1 tsp smoked paprika
Sea salt and fresh ground black pepper, to taste
1 tbsp extra virgin olive oil to drizzle

For the sauce -

1 tbsp olive oil
1 small onion, finely diced
2 cloves garlic, minced
2 tsp cumin, ground
1/2 tsp cinnamon, ground
1/2 tsp ginger, ground
1 cups low-sodium chicken stock or chicken bone broth
2 cans organic plum tomatoes
1 lemon zest (about 1 tbsp)
Handful fresh coriander leaves, stalk included finely chopped
Sea salt and fresh ground black pepper, to taste

For the couscous -

1 cup of couscous (150 grams)
Juice of half lemon
1/2 tsp ground turmeric
Few chopped coriander leaves
1 and 1/2 cup of low sodium chicken stock or chicken bone broth
Sea salt as per taste
instructions
For the meatballs -

Pre-heat the oven to 200 degrees Celsius.
Add all the meatballs ingredients in a large bowl, preferably using your hands mix well.
Form small golf size balls, place on a lined baking tray, drizzle the oil on top and grill in pre-heated oven for about 15 to 18 mins, checking in between.

For the sauce -

Prepare the sauce while the meatballs are in the oven. Sauté the onion in a tbsp of extra virgin olive oil for 3 to 4 mins
Add the minced garlic cloves and sauté for a minute
Add all the dry spices and mix well for about a minute
Add the tin tomatoes, break the whole plum tomatoes with a wooden spoon.
Add the chicken stock, chopped coriander leaves.
Let it simmer in low heat until the meatballs are ready.
Once the meatballs are ready add them to the sauce and let it cook for about 8 to 10 minutes.

For the couscous -

Bring the stock to boil, add the couscous, stir well and cover with the lid, turn off the heat and let it steam for 10 to 15 mins.
They can stick together so use a fork and gently fluff the grains.
Add the lemon juice, fresh coriander, stir well.

To serve - Add the couscous over a plate and then pour the sauce with the meatballs over, garnish with fresh coriander leaves. Enjoy!