Chicken curry with creamy cashew paste (Diary Free)
It has been a roller coaster of emotions lately, with our little boy starting his big school, it is so hard to believe that not so long time ago he was so tiny and now he is such a big boy, with kids how time flies! So since it has been a huge change for all of us at home, I took some time off from blogging. I didn't want to do this as a chore, I sure don't, I love that I can share all these delicious recipes with you all, but at the same time I wanted some time off from everything else and just get used to a new routine. So we are slowly getting there. I finally manged to sit down and share this super easy super delicious chicken curry.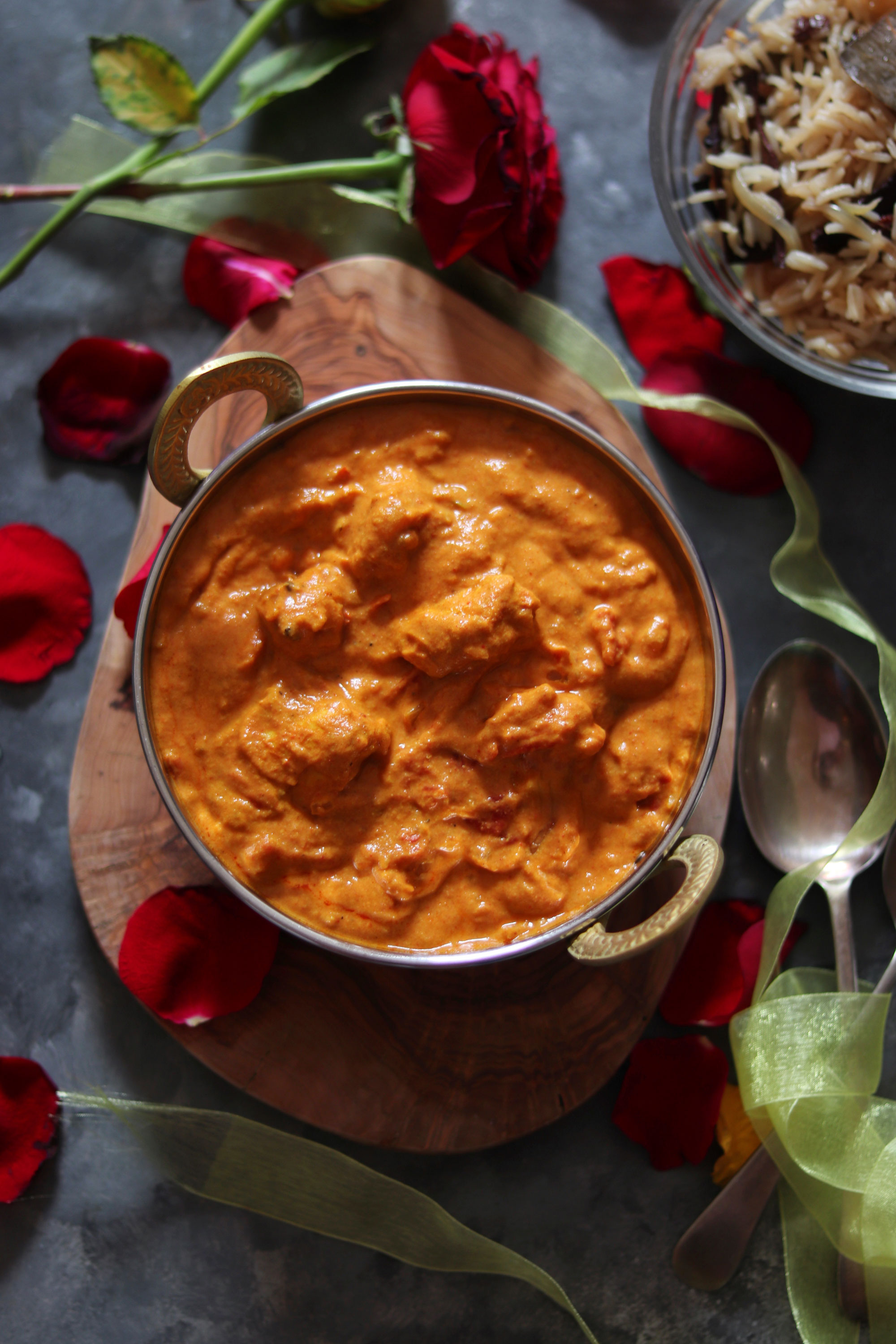 This chicken curry might look complicated with the numerous steps but trust me it is not, once you know how to make it, it all works smoothly. Using most of the cupboard ingredients, you can impress your guests or family with this absolutely gorgeous tasting chicken curry which tastes nothing less than a restaurant one.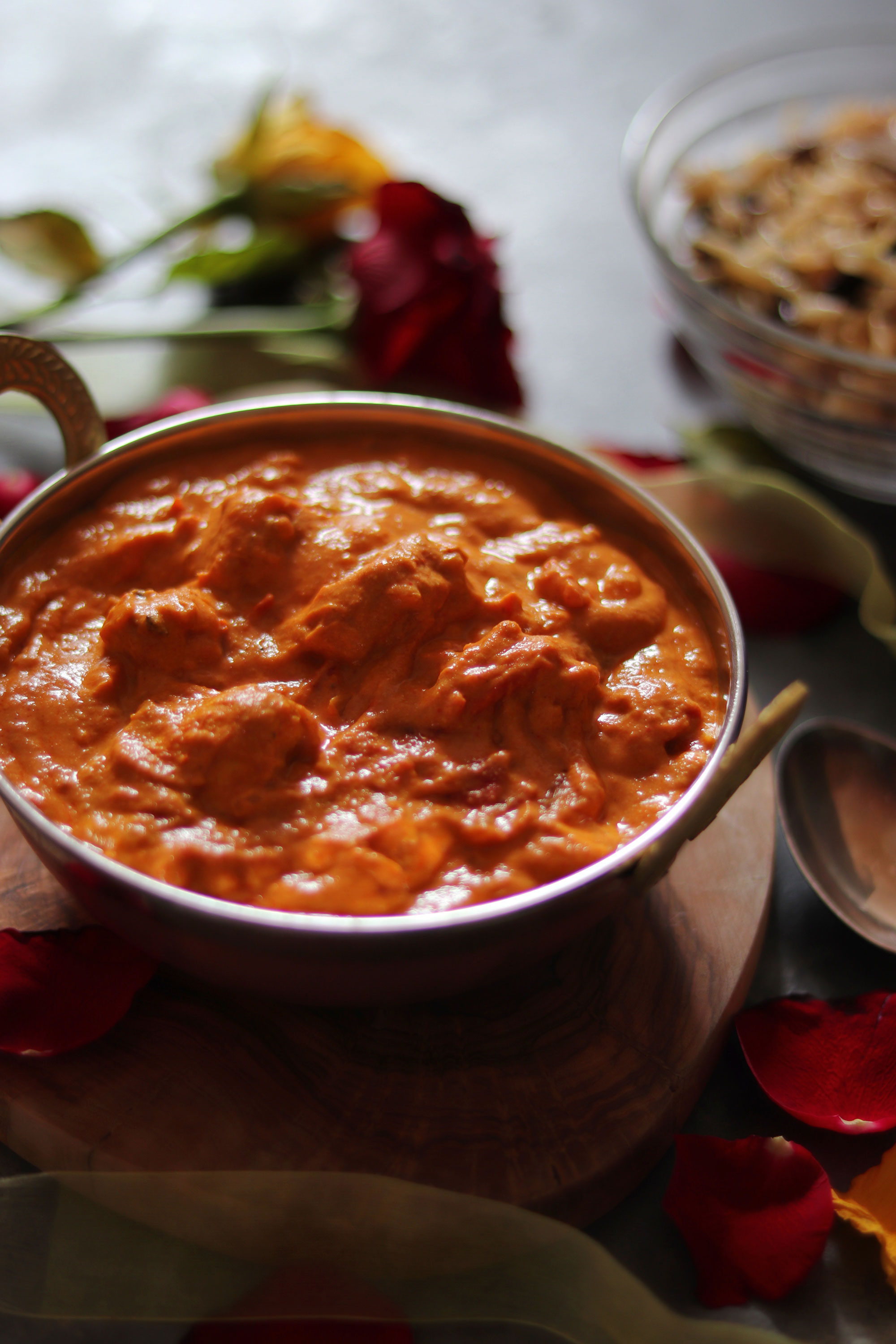 I looove a traditional Indian butter chicken, but for good few years I did not realise why every time I ate butter chicken my stomach would hurt and later I had to suffer, only now I learnt that I am intolerant to lactose and a traditional butter chicken we use fresh cream or double cream. So I avoid making this kind of cream based chicken curry. But since I love it so much I didn't want to give up on it, so I came up with this recipe for many of you like me who are intolerant to lactose, I used cashew cream, which is nothing but raw cashews soaked overnight and ground into this super smooth paste. This gives the same kind of deliciousness and creaminess a double cream would.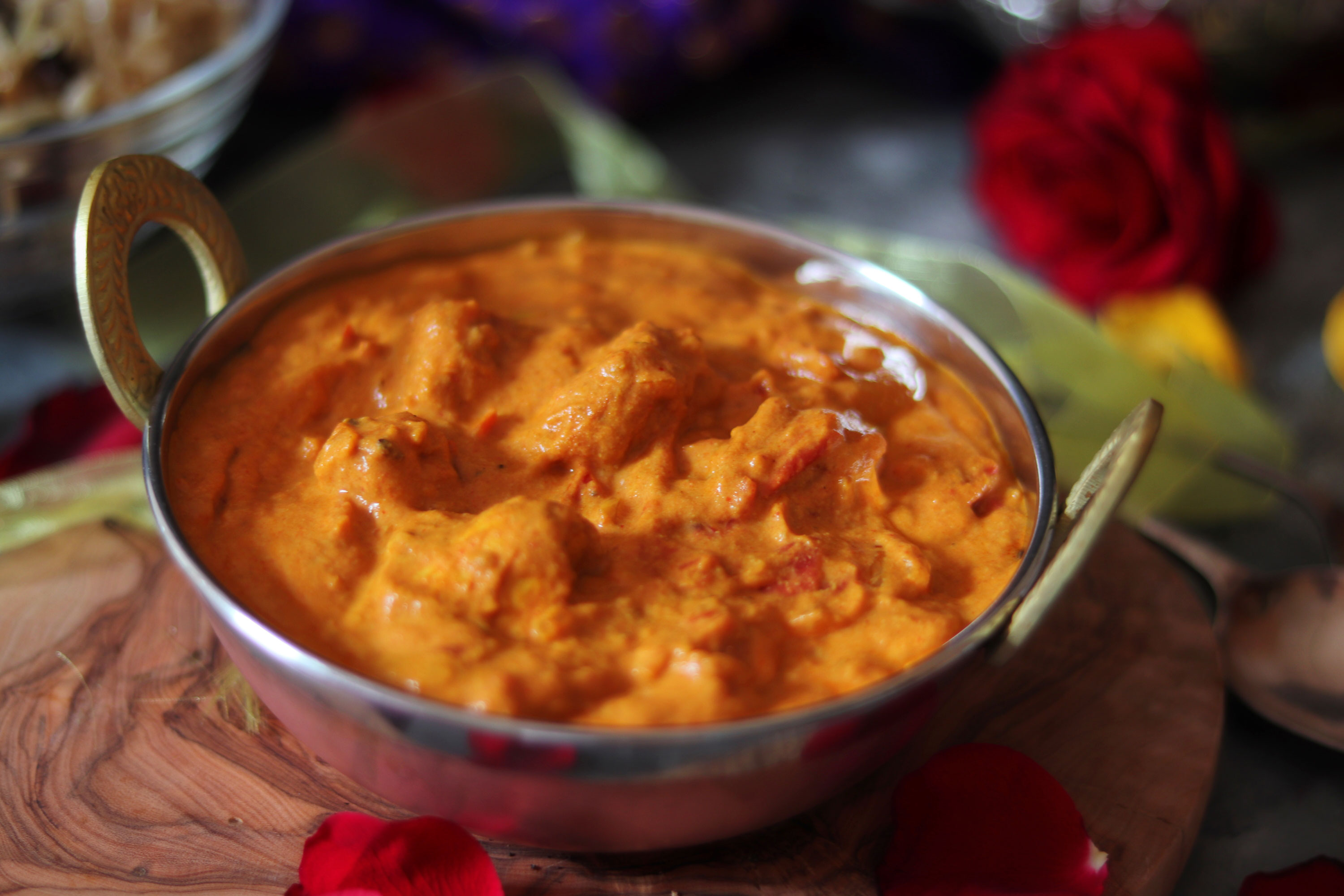 The method of grilling the chicken makes this recipe more authentic, you get this smokiness to the curry with the charred bits of the chicken. If you are in a hurry you can skip this step and add the chicken directly to the curry at the stage after you fry the onion. It will still taste delicious.
It is a bit time consuming. So I would suggest keeping this for a extravagant weekend meal, or when you have guests this is perfect to impress them with your cooking skills ;)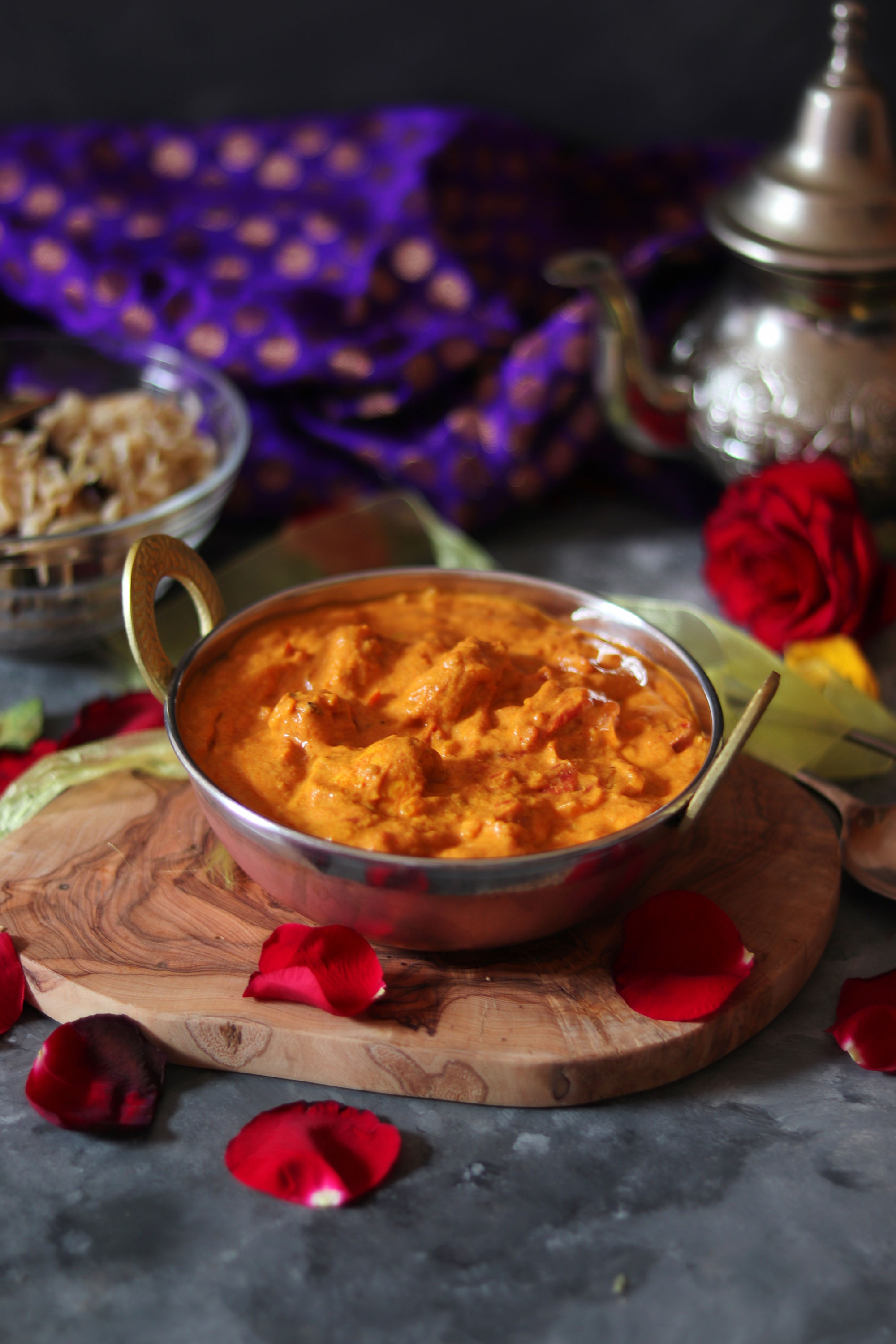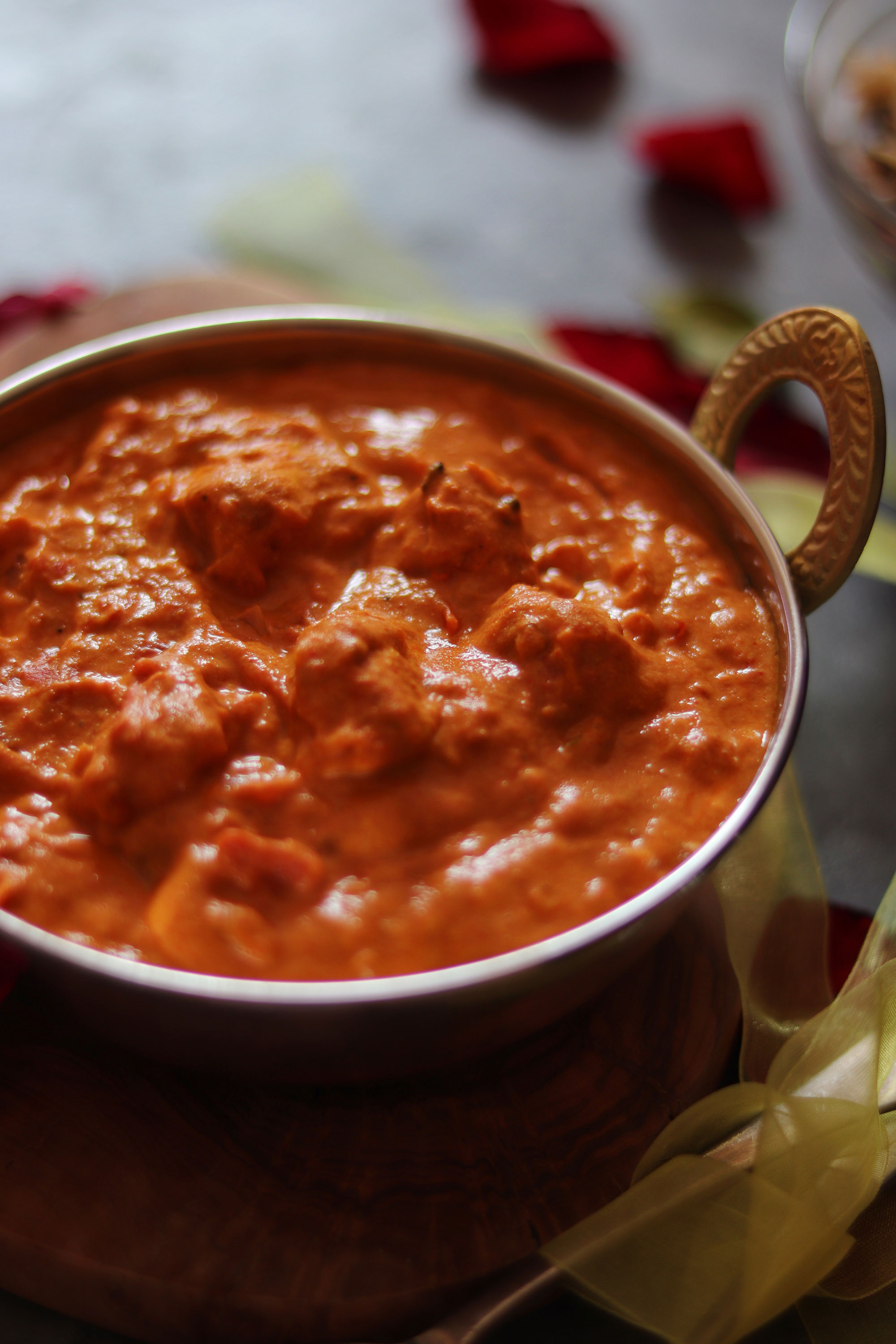 When I made this curry it was quite spicy, but that is totally up to you, if you cannot handle the heat then reduce the amount of chilli powder or use paprika instead.
Serve this with plain steamed basmati rice or naan. I served this with ghee rice for a more weekend treat kind of a meal. Let me know if you ever try this recipe, I am very sure you are going to love it. ;)
Chicken curry with creamy cashew paste (Diary Free)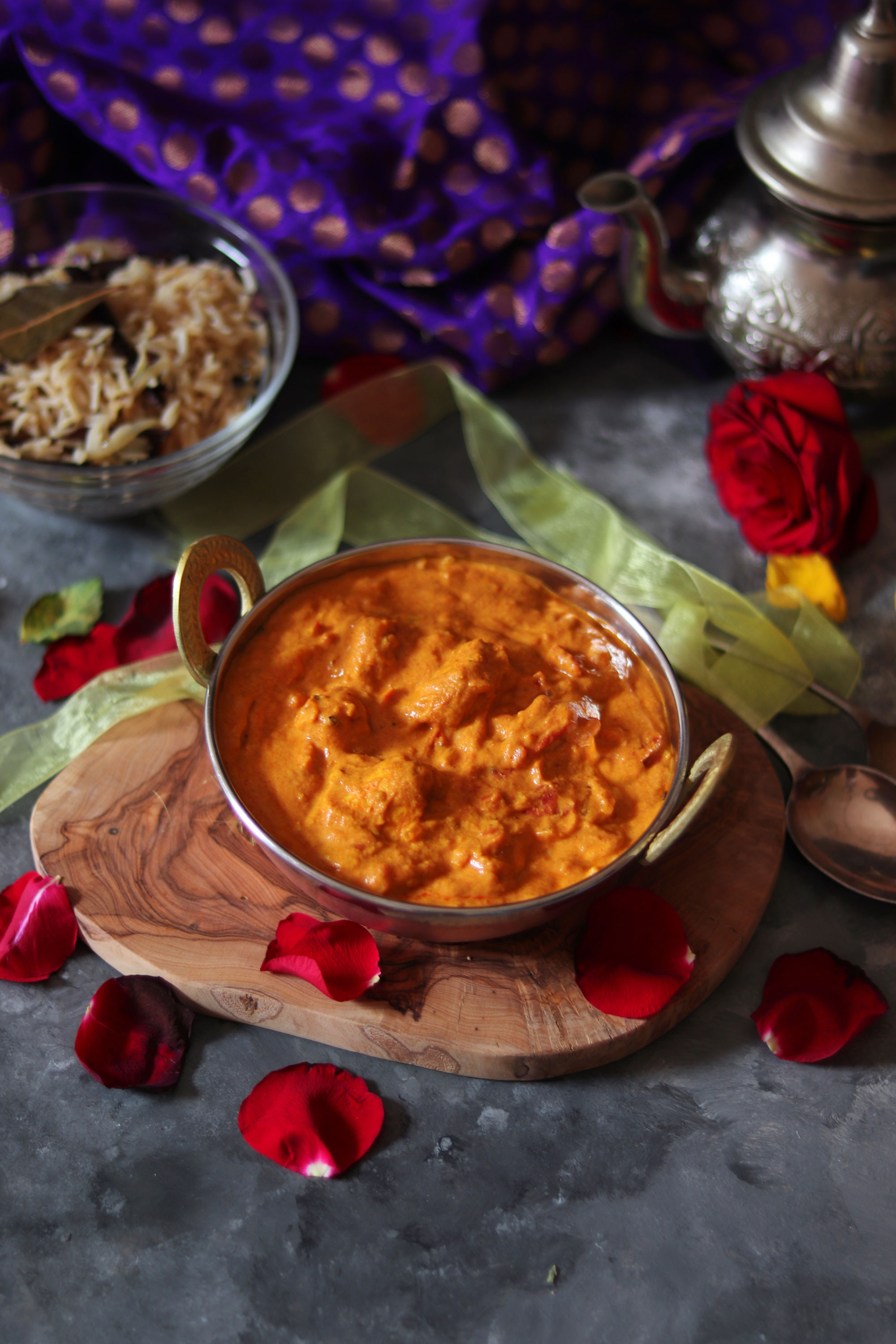 | | |
| --- | --- |
| Prep Time: | 1 hour and 30 mins appox (overnight marination required) |
INGREDIENTS
Marination

1 tsp Kashmiri red chilli powder or paprika
3/4 tsp turmeric
3/4 tsp Garam masala powder
1/4 tsp sea salt
1/2 tsp ground pepper
1 1/2 tsp ginger and garlic paste
2 tsp lemon juice fresh

For the gravy

100 grams cashews soaked overnight

(1 and half cups of water to grind the cashews )

3 breasts of chicken cut into one inch cubes
2 medium onion finely chopped
5 vine tomatoes chopped
1 and 1/2 tbsp tomato purée
1 tbsp ginger and garlic paste
1 tsp Kashmiri chilli powder (or paprika)
1 tsp cumin powder
1 tsp coriander powder
1 tsp turmeric
1 tsp garam masala
2 tbsp ghee or sunflower oil
1 tbsp melted butter for basting
Pink Himalyan to taste
instructions
Soak the raw cashews in a bowl of water and let it sit overnight. Next day rinse it well and set aside until needed.
Chop the chicken into 1x1 inch cubes and add all the ingredients listed under marination and set aside for at least an hour or overnight.
If using wooden skewers soak them in water and leave it for half an hour. This step is very important so that they don't burn while grilling.
Pre-heat the oven to 200 degrees Celsius.
Skew the chicken pieces on to the skewers and grill, on grill mode for 30 mins. In btw baste (brush the chicken) with melted butter and turn over so it grills evenly.
Blend the cashews into a fine smooth paste and set aside.
Heat the ghee or oil on a heavy bottom nonstick pan, add they chopped onions and sauté for few mins, about 4 to 5, until translucent. Make sure not to burn them.
Add the ginger and garlic paste and sauté for another min or two. Until the raw smell disappears.
Add the chopped tomatoes and fry for about 5 to 8 mins.
Add salt to taste as this stage. It helps to cook the tomatoes sooner.
Add the tomato purée and stir well.
Add all the spices and give it a good stir so it's all combined well.
Once the chicken is done add it to the gravy and mix well.
Now add the cashew paste and stir well.
At this stage if the gravy looks too thick. Add about 1/2 cup of water and stir.
Bring it to simmer and let it simmer for five minutes and remove from the heat.
Serve with steamed basmati rice or naan whichever you prefer.