Spanish inspired Chicken and Chorizo bake
A beautiful dish made with simple ingredients like chicken, chorizo, olives with a splash of red wine, this meal can be a delicious meal for your dinner date or when you invite guests over. Impress everyone with this Chicken dish with not much work involved, no who doesn't like a easy yet super impressive dish?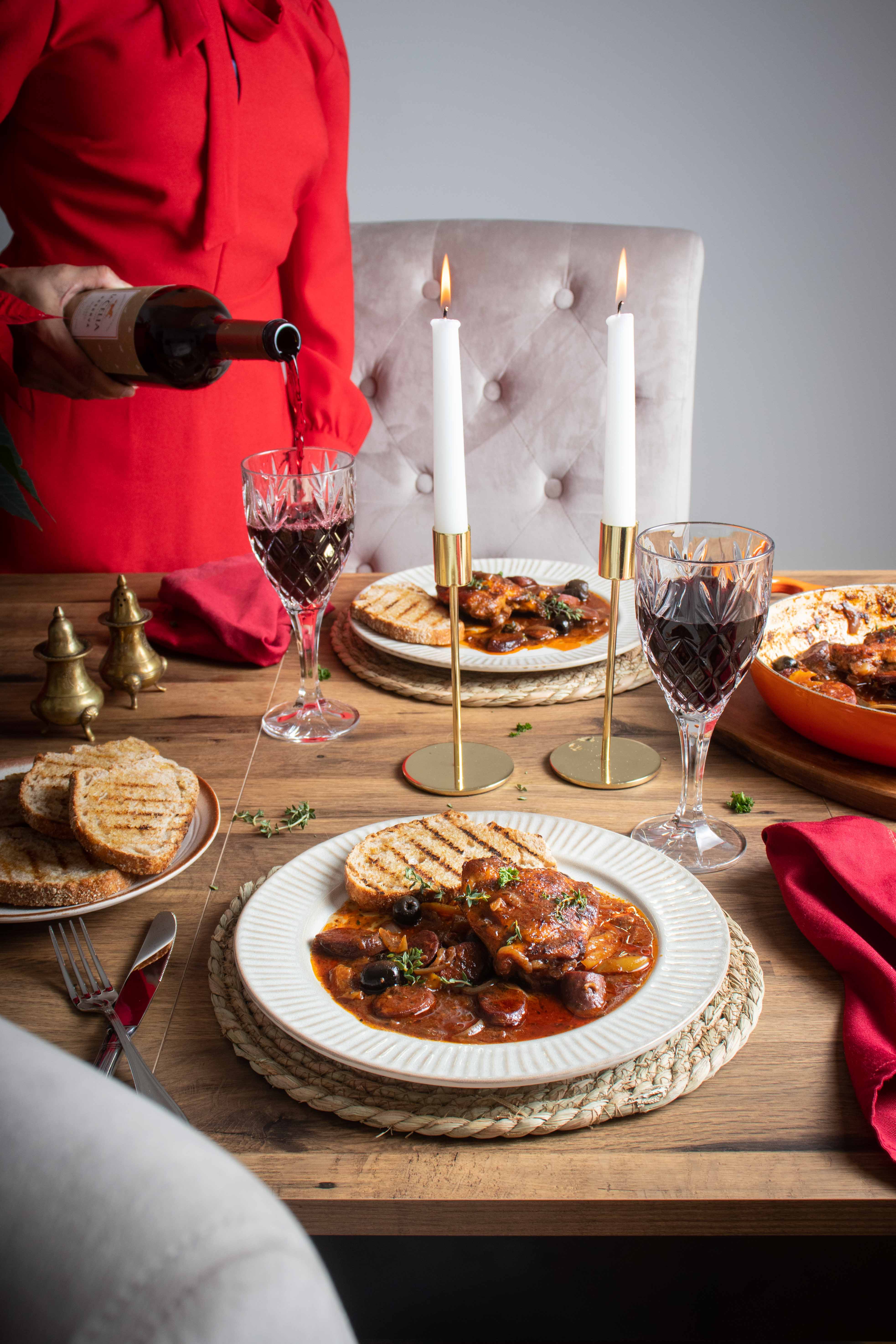 It's so easy to make but the outcome is super tasty and delicious. We loved this meal at home, it turned out so so good. The star of this dish is using s good quality wine, I have used La Celia Malbec and it worked perfectly well for this dish and also enjoyed a glass with the meal itself.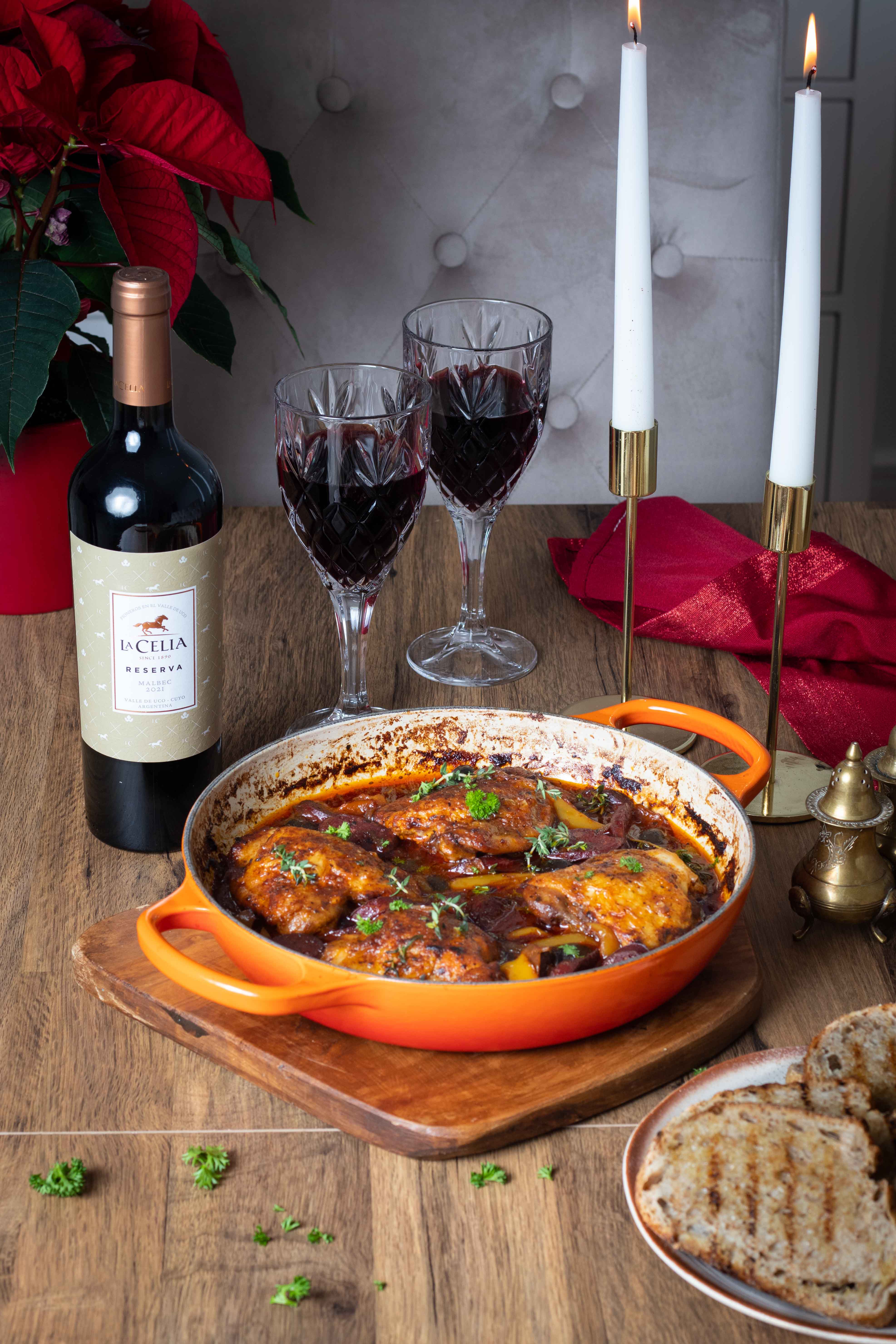 The use of good quality ingredients is all that matters in any recipe, so when you buy chorizo make sure you have the best one. I found mine in my local Tesco. I would recommend making this on a cast iron pan it's gives a good colour to the chicken and then you can pop it in the oven, then from there straight to table, however You can even make this in a non stick pan too.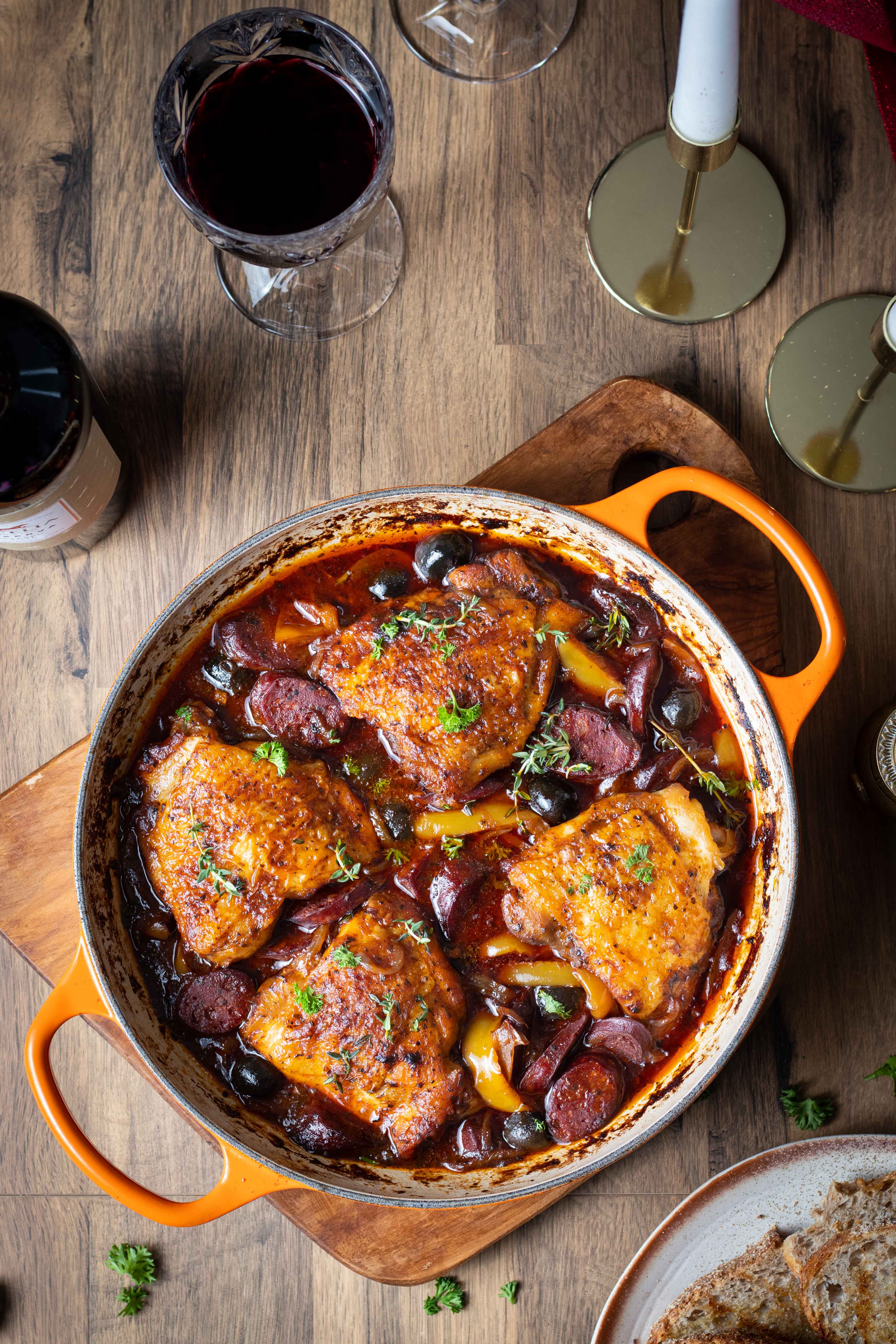 Serve this with grilled warm sourdough bread or even with rice, both are are options I loved mine with toasted sourdough, it was delicious to dip the bread in the sauce and enjoy it. It's suitable for home freezing, freeze it on the day you make it. It's so easy to put together and hardly takes much preparation time. The cooking time is all that takes. You can pop it in the oven and sip a cup of tea while it cooks.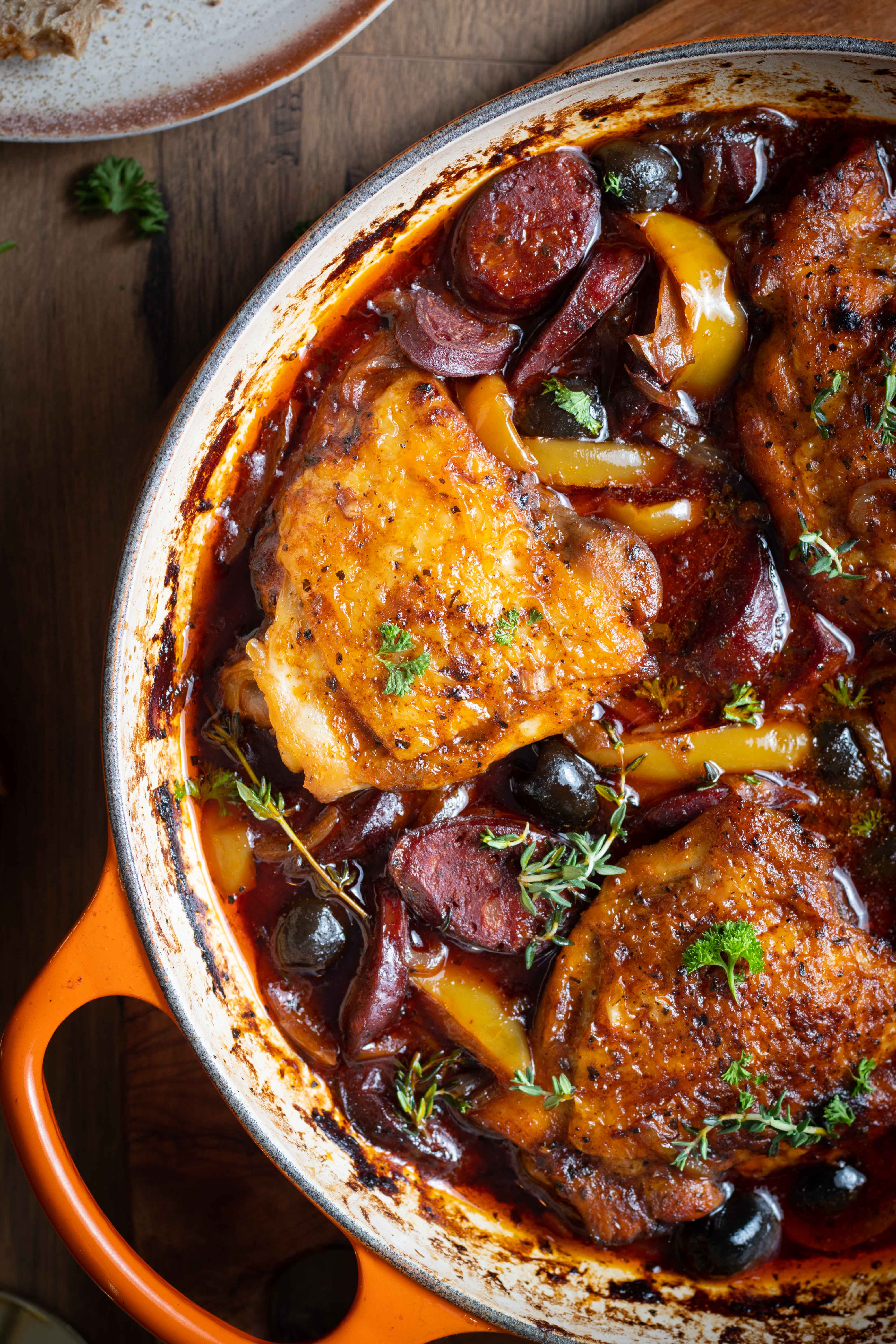 Hope you enjoy this. Please leave a comment or tag me on social media if you make it, I would love to see your creations. Please remember to use my hashtag #soulfulandhealthy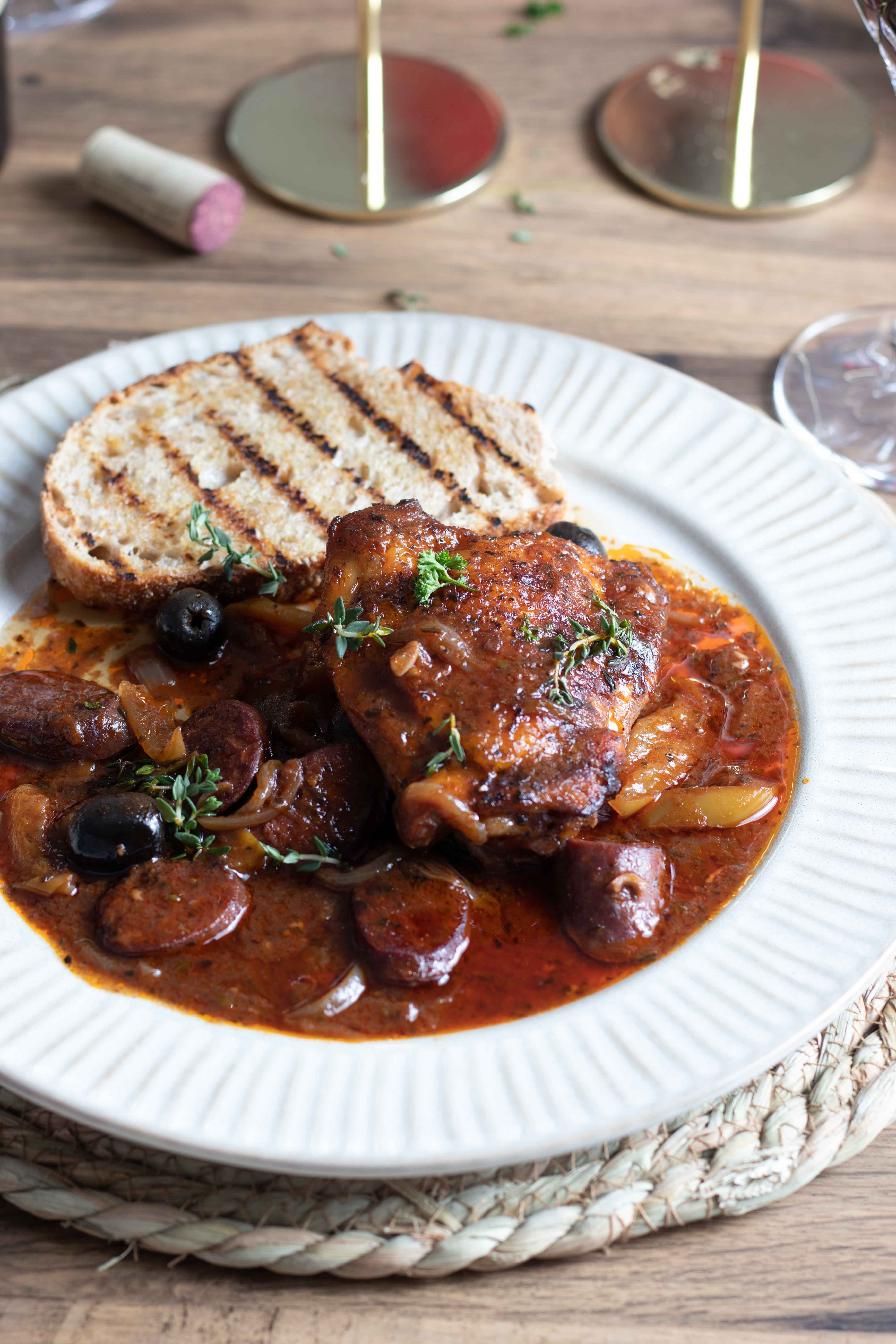 If you liked what you see here, please feel free to share it with family and friends. You can find me on Facebook, Instagram, Twitter and Pinterest
Love and hugs
S
Spanish inspired Chicken and Chorizo bake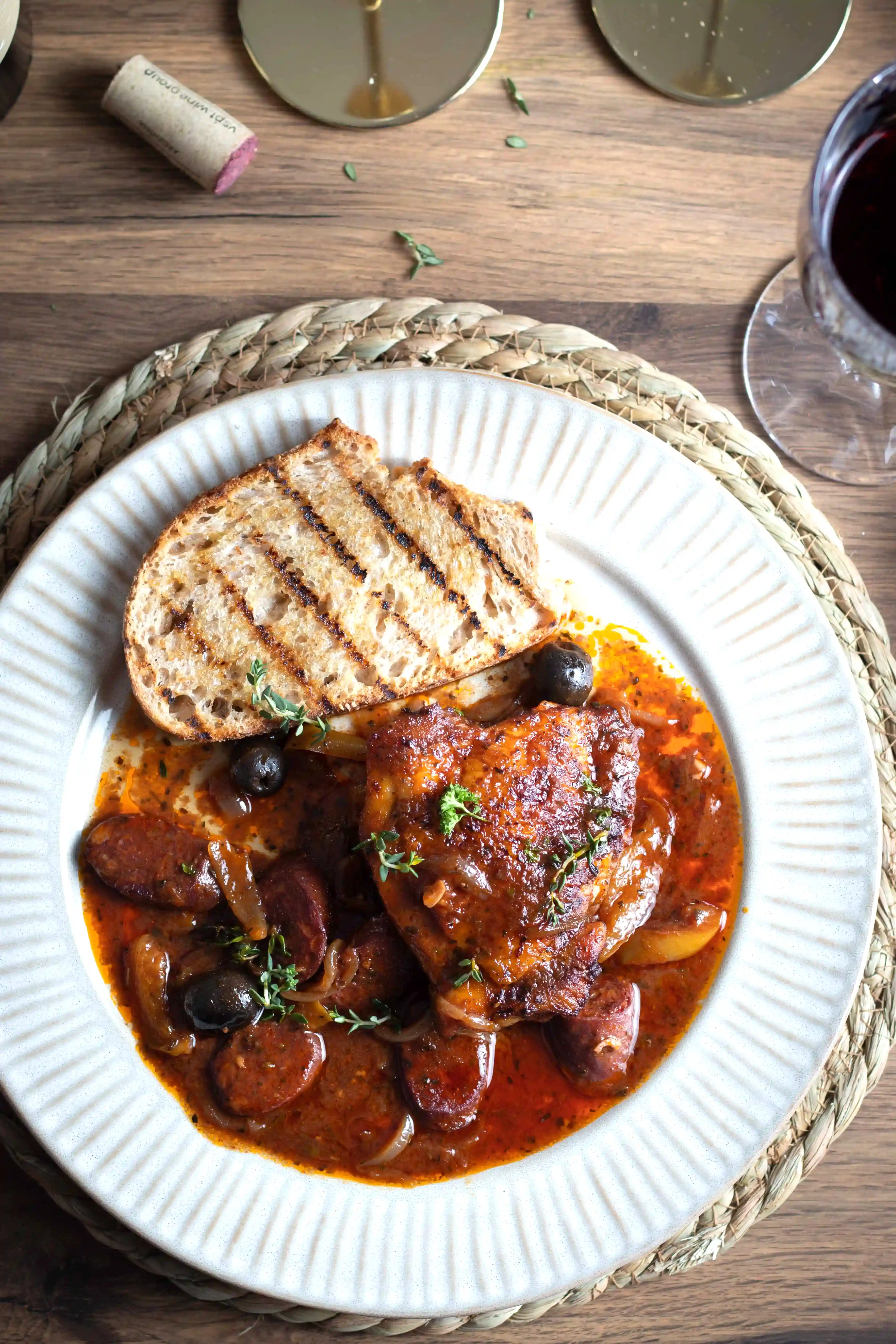 INGREDIENTS
1 tbsp extra virgin olive oil
170 grams chorizo, sliced
1 large onion sliced
1 yellow pepper sliced
1 tbsp tomato purée paste
2 cloves garlic chopped
1 tsp smoked paprika
Salt and pepper to season the chicken and the overall dish
4 large bone-in and skin on chicken thighs
300 ml La Celia Malbec
200 ml chicken stock
Few sprigs of thyme and chopped parsley to garnish
Sourdough to serve
instructions
Preheat your oven to 180 C.
Season the chicken with salt, pepper and bit of smoked paprika, add oil to the pan and once warm add the chicken & sear it skin side on the pan for 5 minutes, until browned, remove and set aside, do not fully cook.
In the same pan add the sliced chorizo and cook 2 minutes, then transfer to a plate on a kitchen paper.
Add the onions and yellow peppers to the pan and cook for about 5 minutes. Add tomato paste, garlic and smoked paprika for 2 minutes.
Add the chicken back into the pan, Add the chorizo, thyme, wine, chicken stock and reduce the heat and cook for 5 to 7 mins for the liquid to reduce a little.
Cover with a oven prof lid and pop into the oven, cook for about 30 to 35 mins. Garnish with chopped parsley, few fresh thyme, serve with grilled bread of choice and enjoy with a glass red wine.