Salmon Fish Tacos with wholewheat taco shells
Who wants Mexican tonight? I sure do, be it for dinner, lunch or breakfast, Ahem! ;) My relationship with Mexican food started in Bangalore, India, almost 6 years ago when I was working as a Graphic Designer in one of the IT Parks, with my dearest friend, who is a big foodie by the way, we both used to go on my motorbike exploring all the restaurants in and around that area called Whitefield. There we found this Mexican restaurant called Habanero, they had some delicious food. We used to go there quite often, that was my first time at trying Mexican cuisine and believe me I didn't know how to eat a Fajita :P we all have been there, at least some of us ;)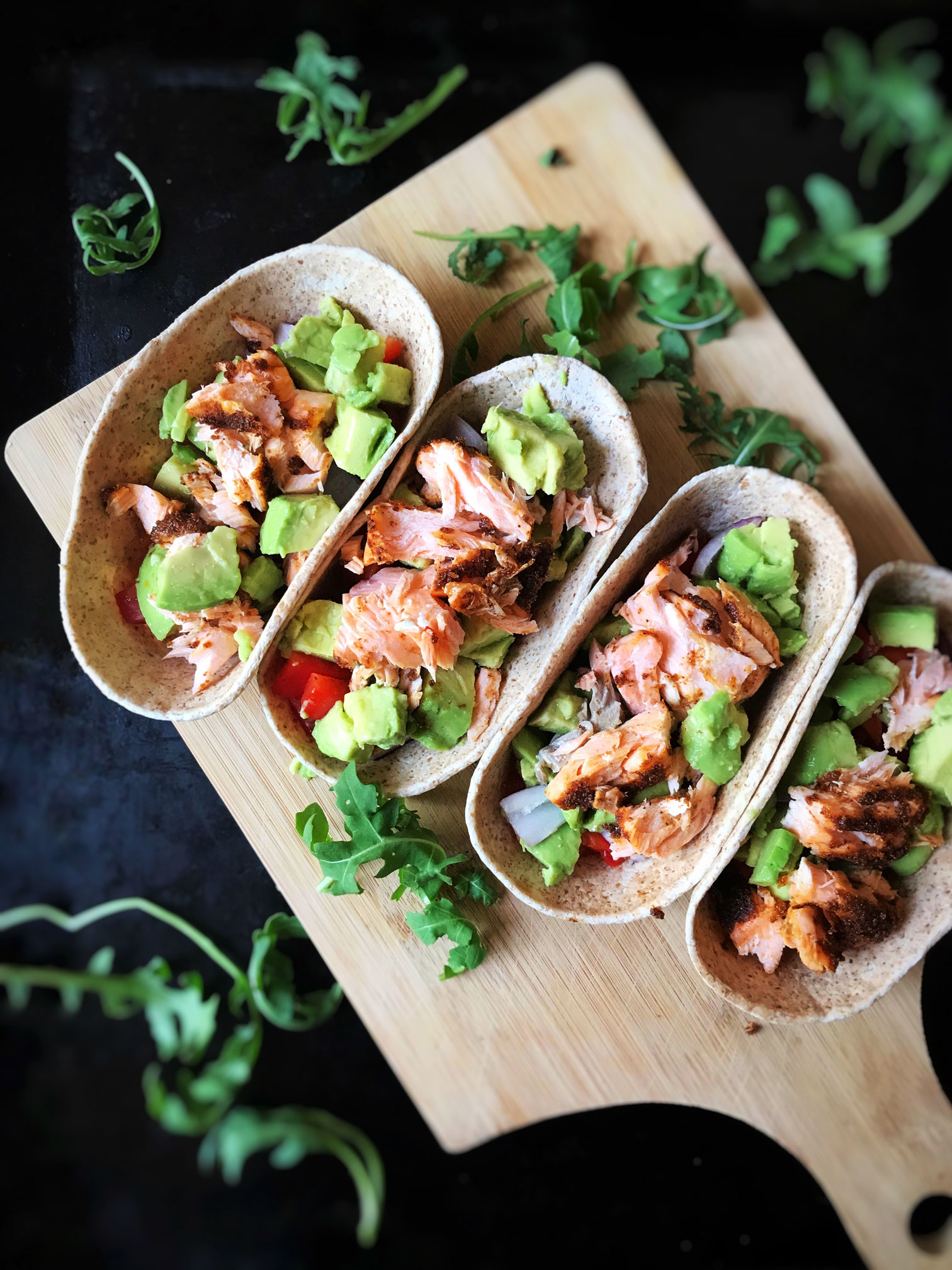 Anyways, this is how my love for Mexican started and once I moved to Dublin, I discover Ol Del Paso Mexican meal kits, my husband and I have tired some of them, but at some stage I wanted to try my own recipe, so I came up with this gorgeous salmon tacos.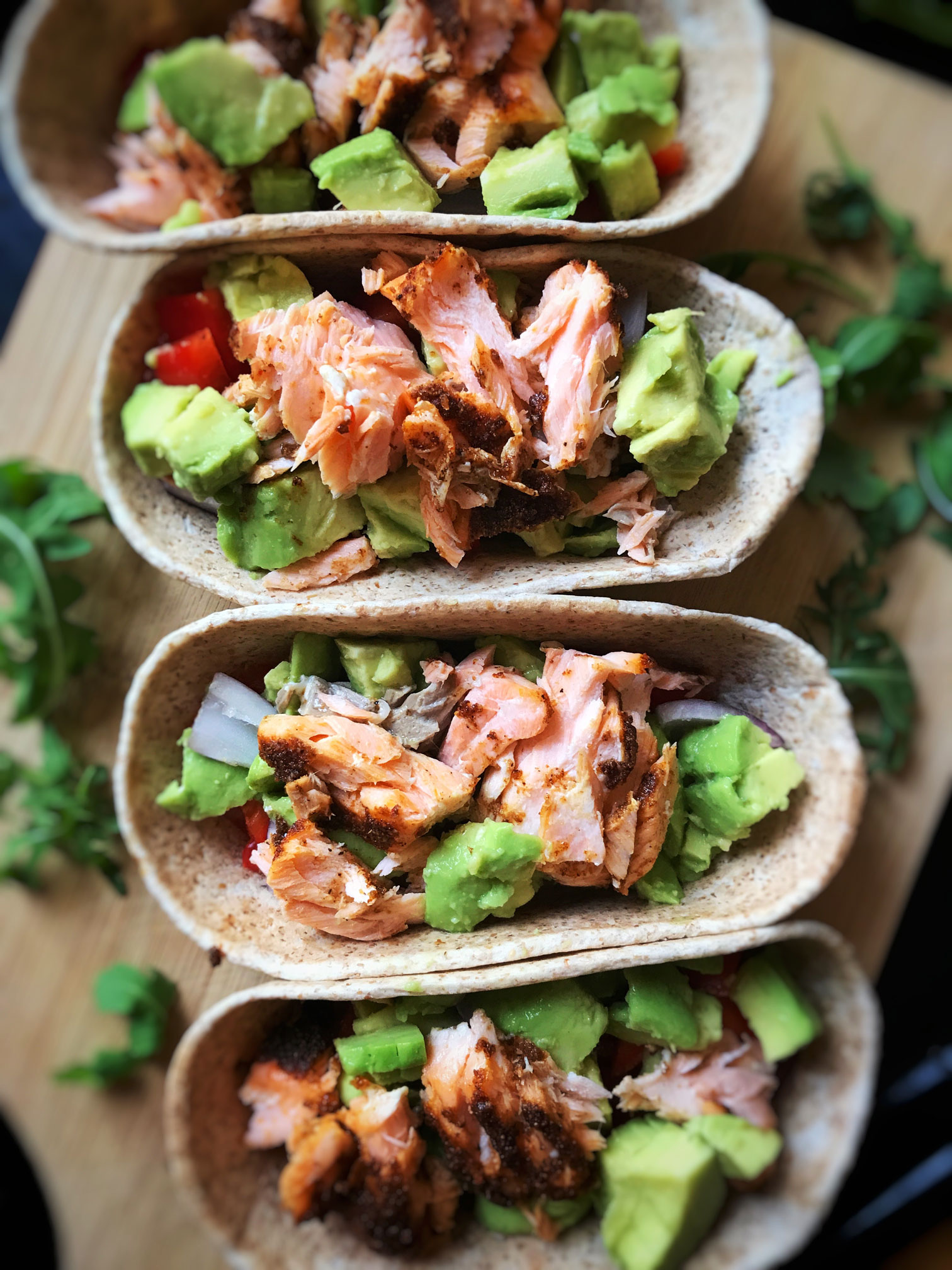 We love salmon at home, any kind of dish made of salmon is our family favorite. For this recipe you can even use white fish like cod, hake or even prawns, will all taste absolutely delish.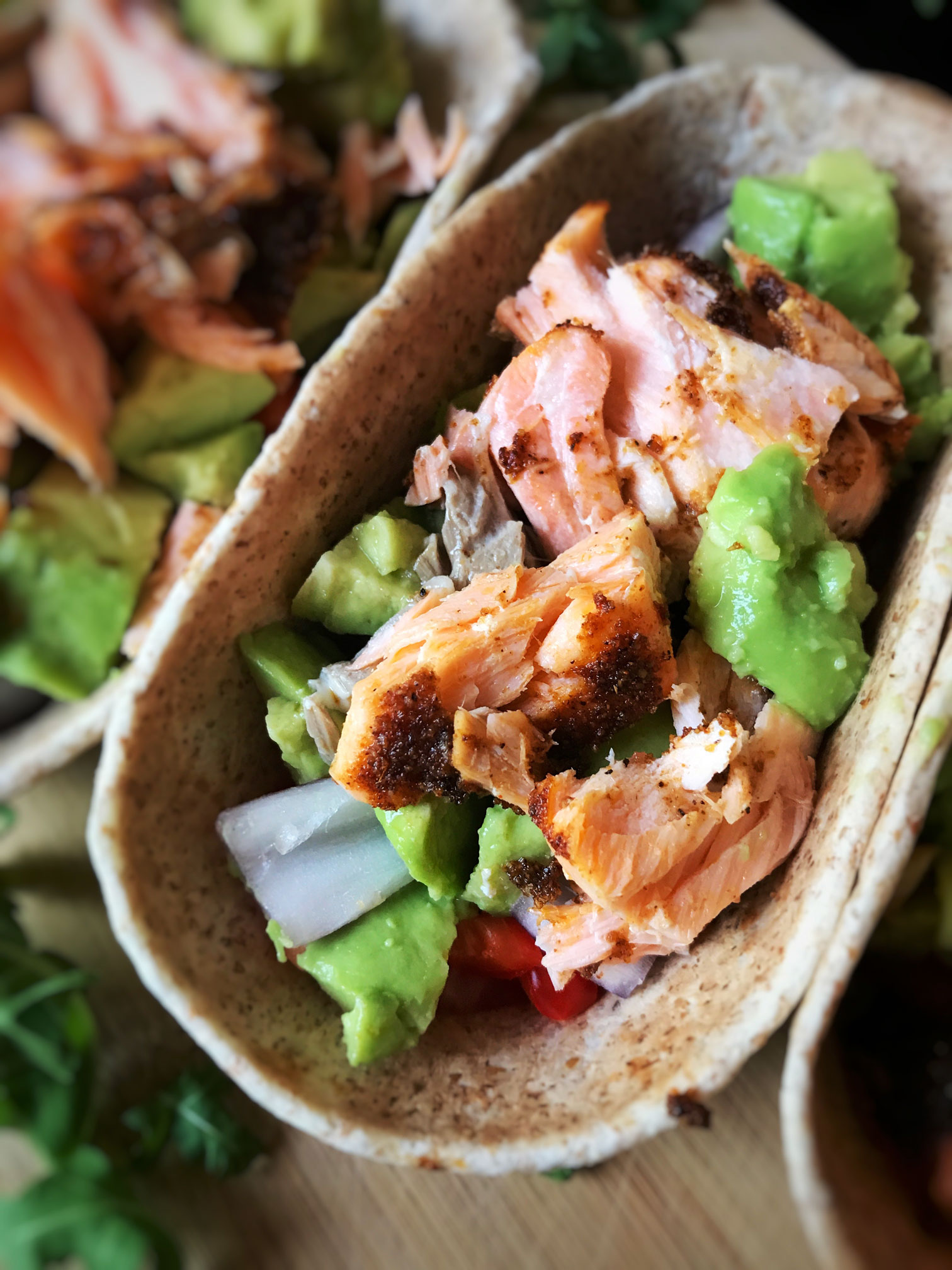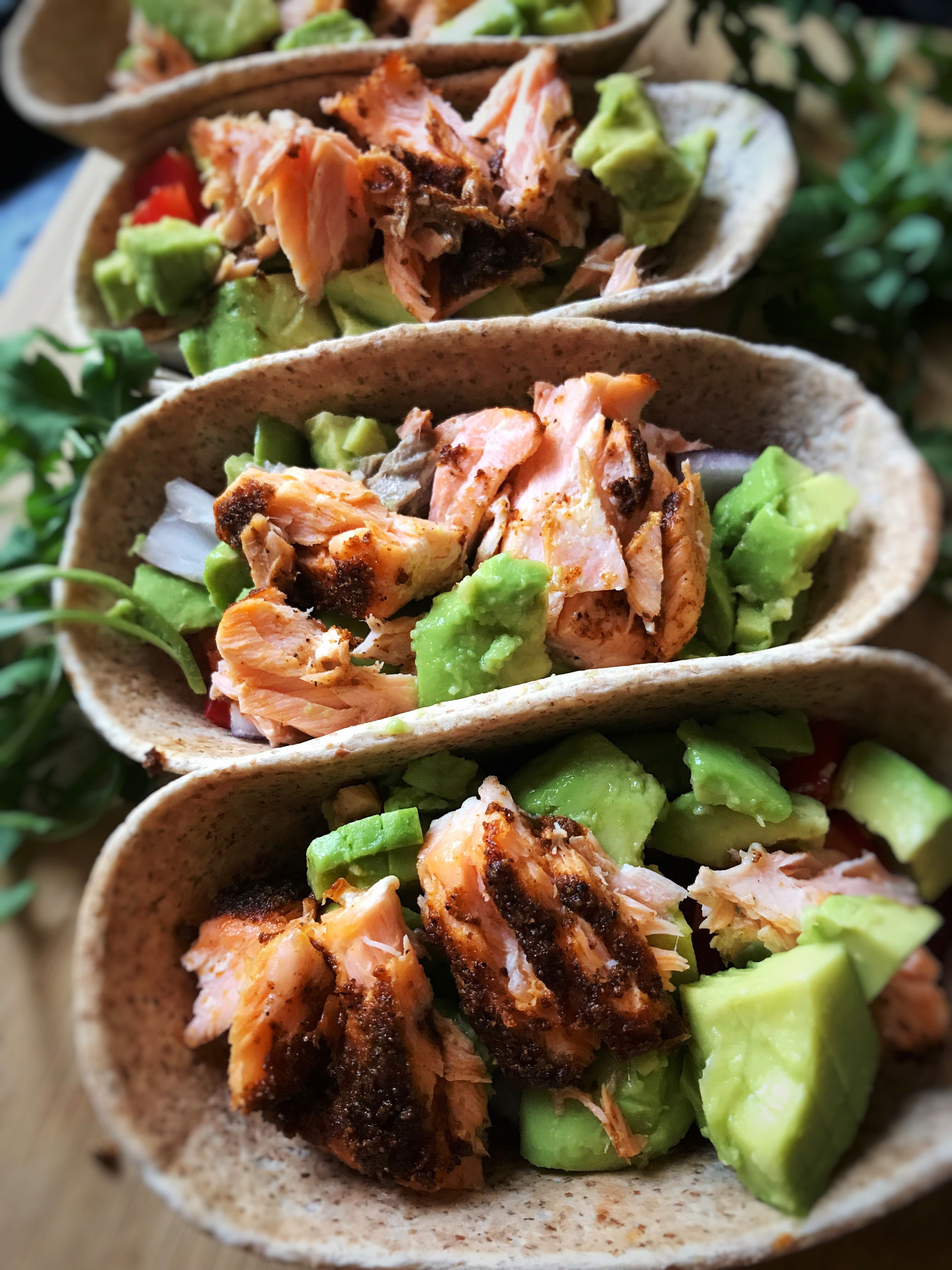 Few easy steps and you can put together a healthy, easy, tasty Mexican fiesta in no time.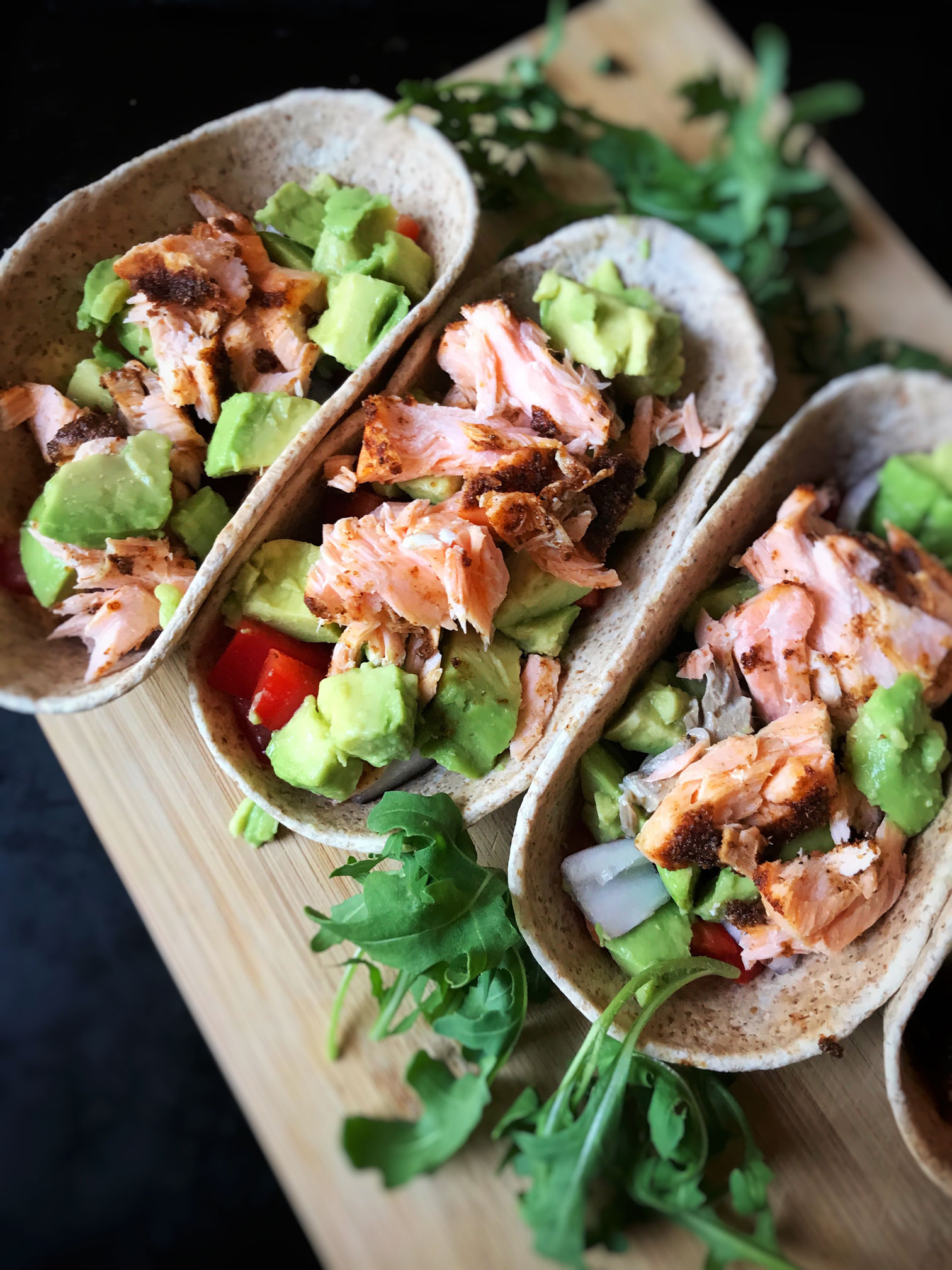 Salmon Fish Tacos with wholewheat taco shells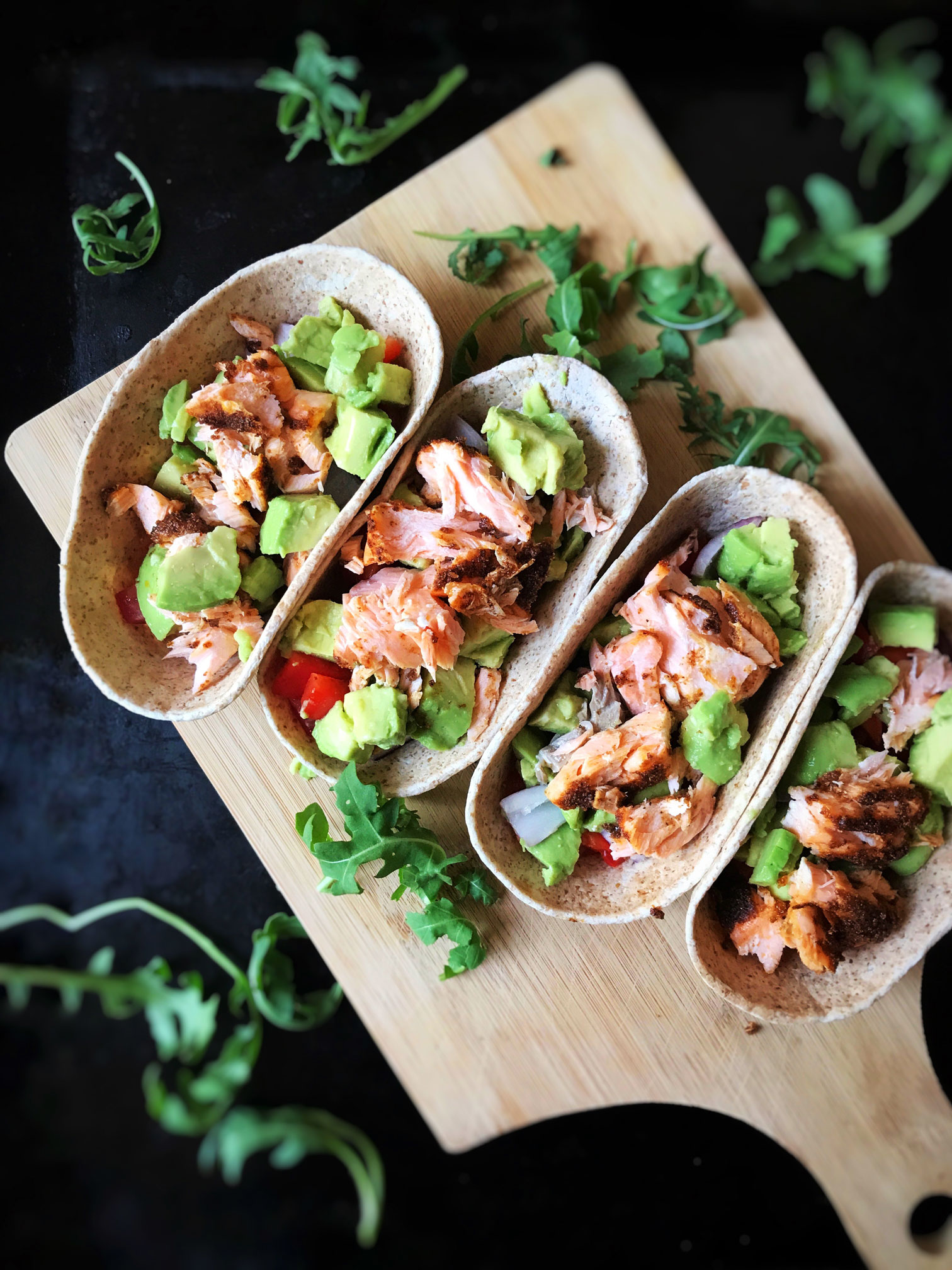 INGREDIENTS
For the fish -

1 small fillet of salmon, cod or hake (appox 250 grams)
3/4 tsp garlic powder
1/2 tsp cumin powder
1/2 tsp pepper
Salt
1/2 tsp cinnamon powder
1/2 tsp paprika powder (or chilli powder)
1 tbsp extra virgin olive oil

To serve -

One small chopped avocado
One small chopped tomato
One chopped red onion (half if using a big one)
One small red pepper chopped
Rocket or lettuce leaves
Sour cream (optional)
A lemon wedge
instructions
Pre-heat the oven for 200 degree Celsius
Wash and remove the skin of the fish
Mix all the spices together along with the oil and apply over the fish and grill it in the oven for 20 minutes
Prepare the taco shells as per the instructions
To assemble each taco, first add the tomatoes, red peppers, red onion and avocado
Once the fish is out shred it using two forks
Add the fish on top and garnish with lettuce or rockets, squeeze lemon juice on top of each taco and serve right away.