Baked eggs and chorizo - Spanish inspired Huevos a la Flamenca
Sunday brunch just got better with this my version of the Spanish inspired dish Huevos a La Flamenca, that is made with smoky chorizo, green peas, peppers and runny egg to dip in. All baked into perfection, Oh my so yummy, will make you crave for more and more.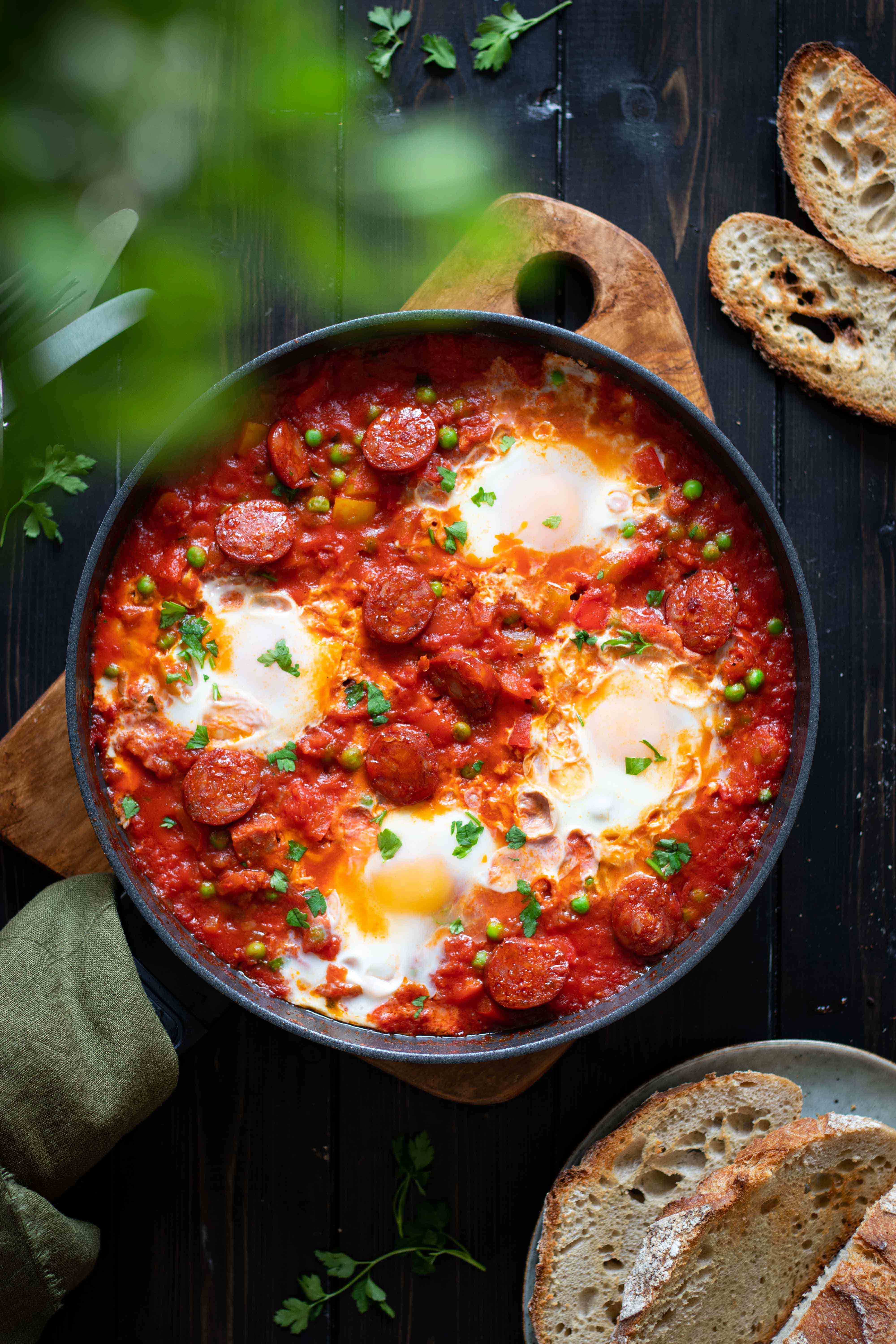 Runny eggs cooked in tomato rich sauce with Spanish chorizo, peppers and spices, it's a perfect combination of all simple ingredients together. When you dip that toasted sourdough bread into the egg, the golden colour of the egg still runny and combined with chorizo and spices is such a wonderful way to enjoy a delicious breakfast or brunch together as a family.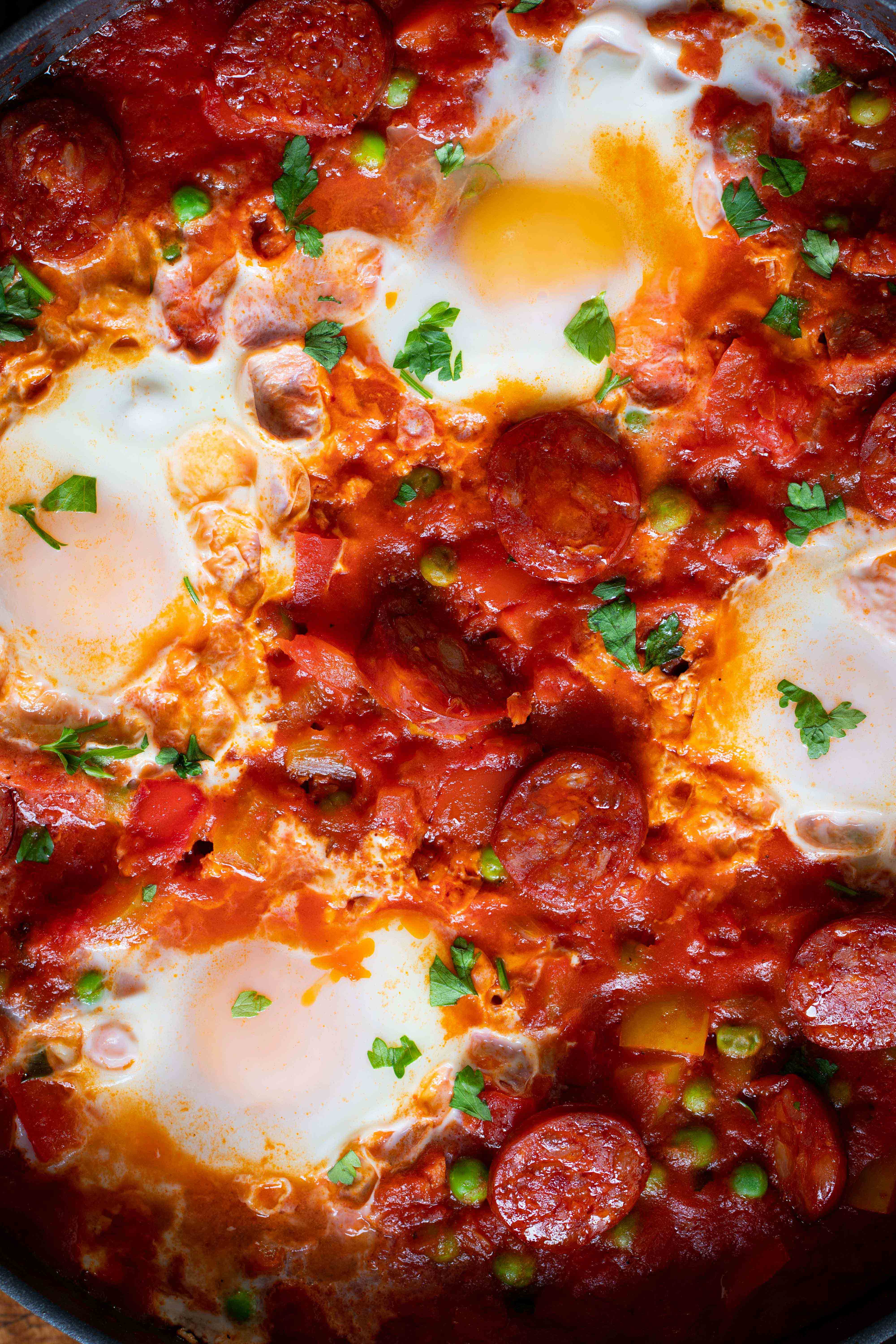 The original traditional recipe originated in Andalusia, SourthenSpanish region and is made with Serrano ham, potatoes and green peas served in a small terracotta bowl or a tapas bowl, I have modified this using ingredients that are easily available in all supermarkets.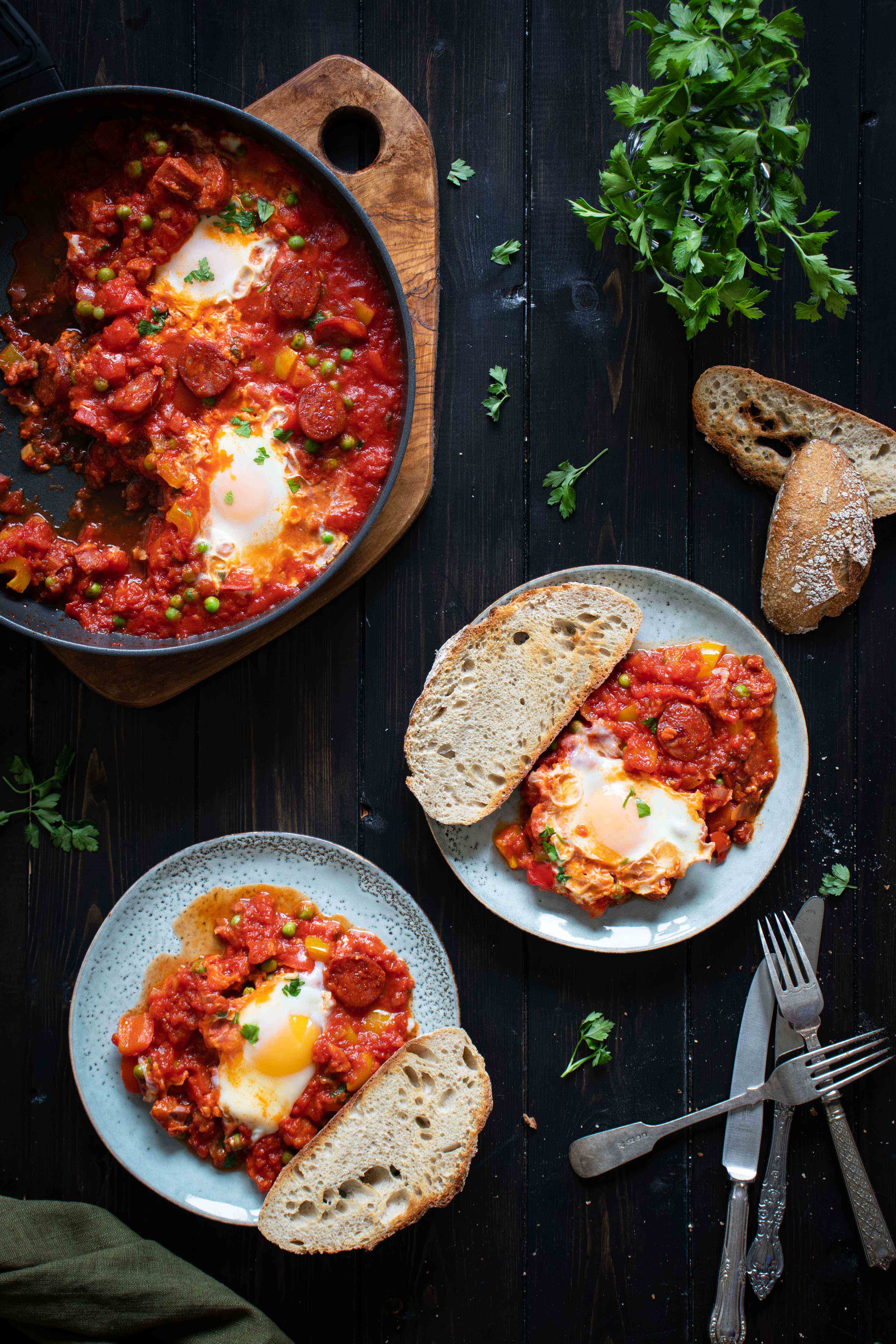 Make sure to use good quality ingredients, like a good quality of extra virgin olive oil for this recipe, it adds more flavour and taste. You can use any neutral oil like sunflower or vegetable oil. However I recommend using Spanish extra virgin olive oil like the one I have used is linked here.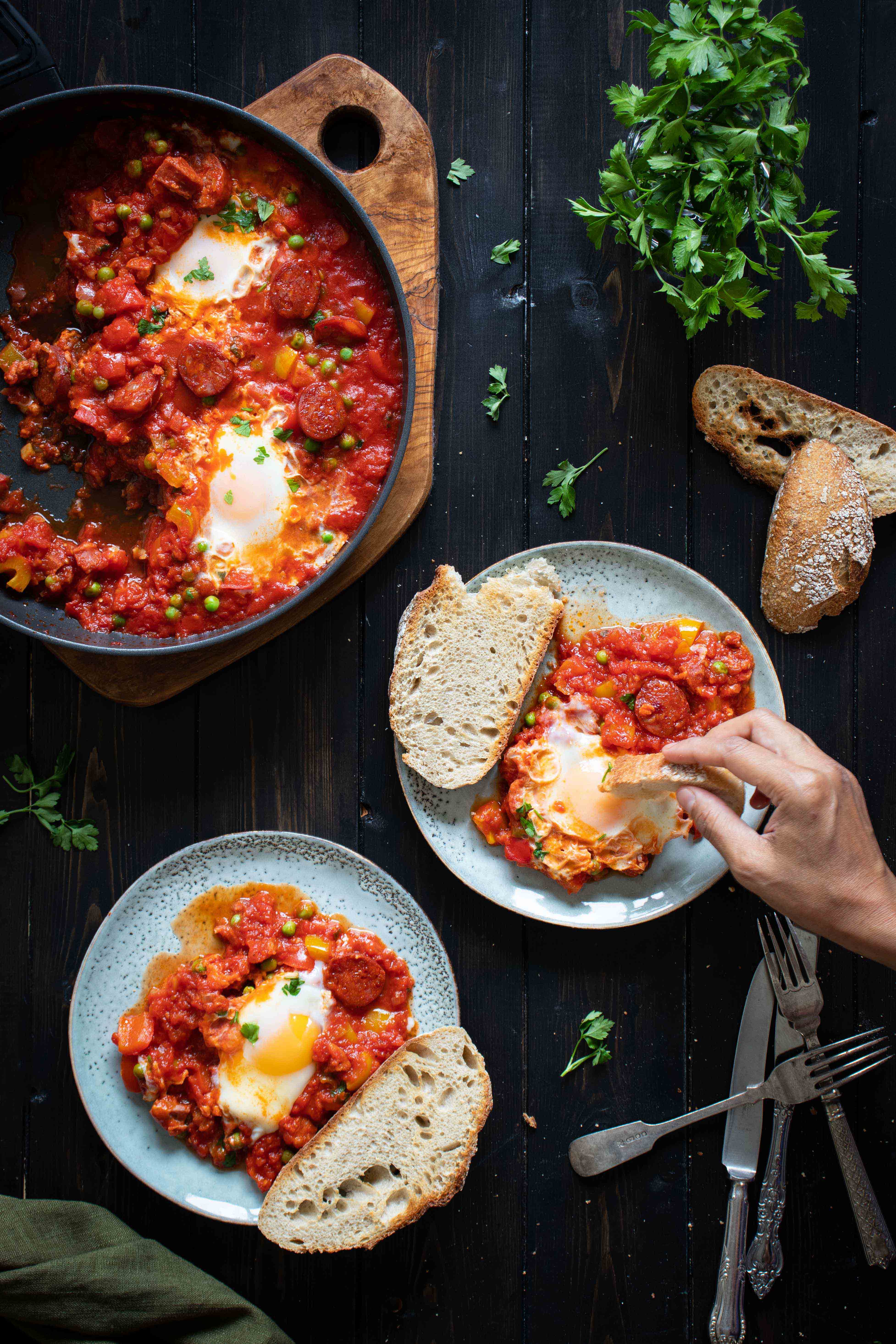 It's such a easy and simple dish to make but the outcome is so yummy. I made this with my little 3 month old then, who is 20 months now asleep behind me :D so you can imagine it's not a complicated one at all.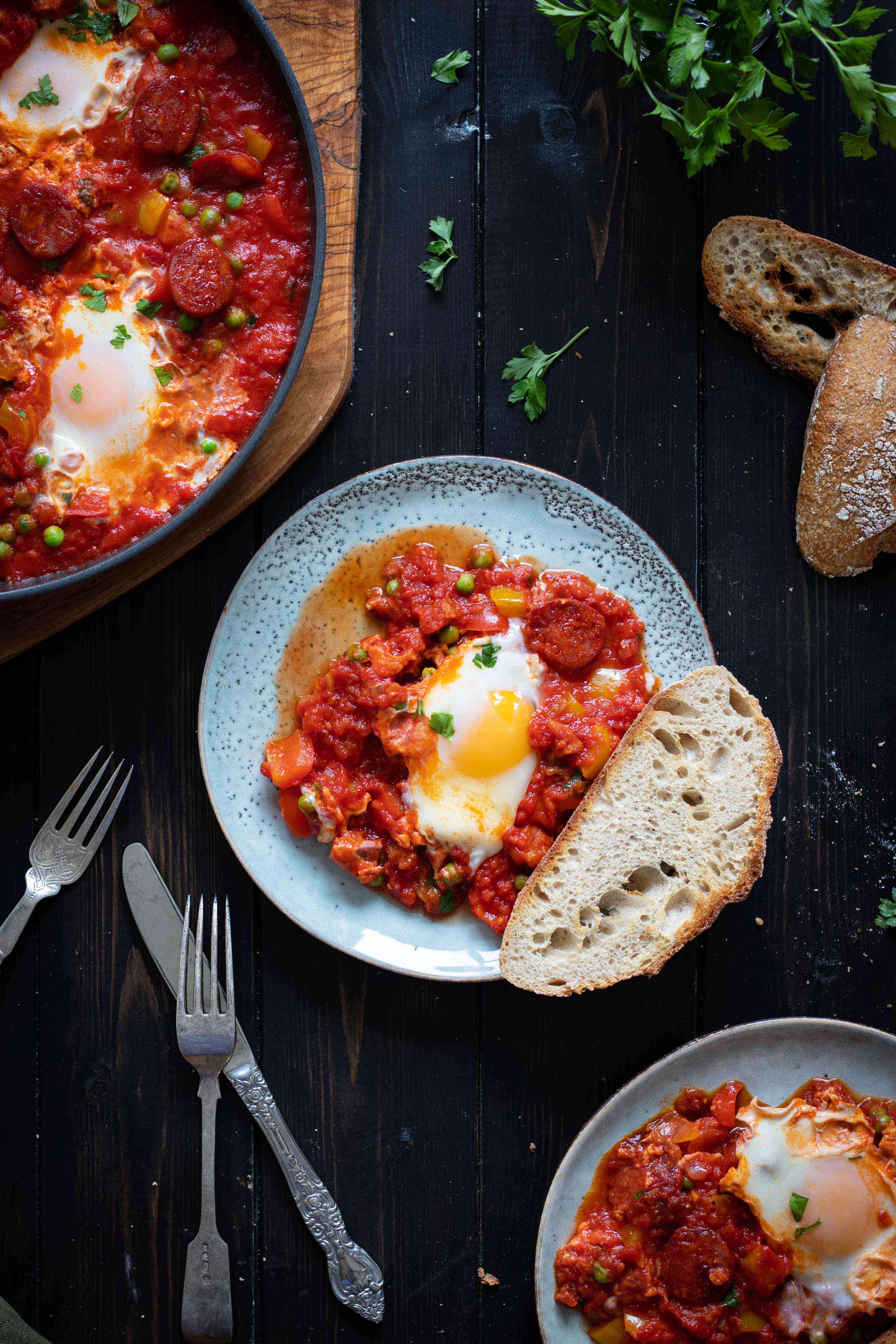 It's quite similar to Shakshuka except in this recipe I have used Spanish chorizo and green peas, the method is the same. Hope you enjoy this as much as we did.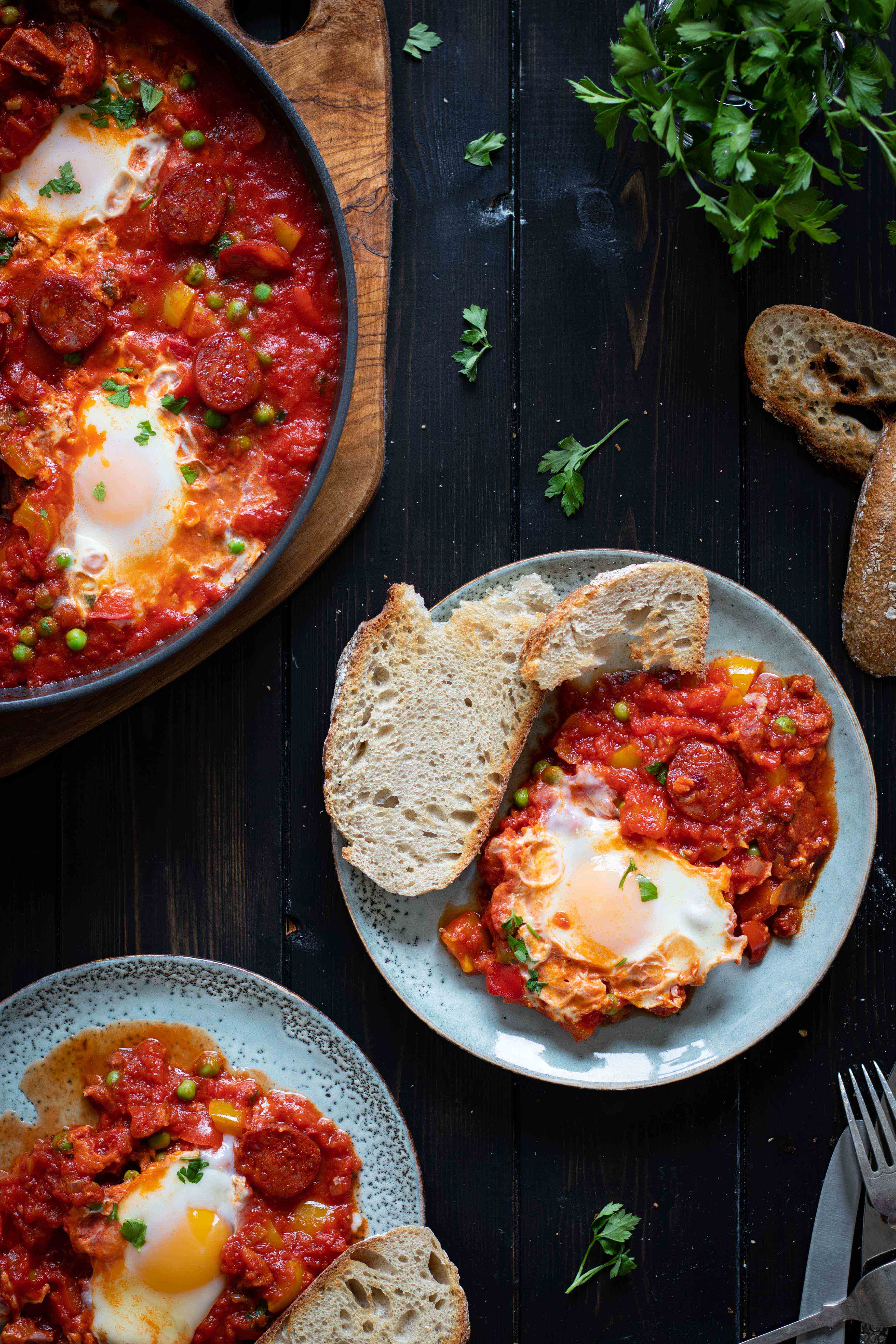 You may also like -
Spanish inspired Chicken and Chorizo bake
Harissa grilled chicken with Israeli couscous salad
Do not hesitate to leave a comment or tag me on social media if you make it, I would love to see your creations. Please remember to use my hashtag #soulfulandhealthy
If you liked what you see here, please feel free to share it with family and friends. You can find me on Facebook, Instagram, Twitter and Pinterest
Love and hugs
S
Baked eggs and chorizo - Spanish inspired Huevos a la Flamenca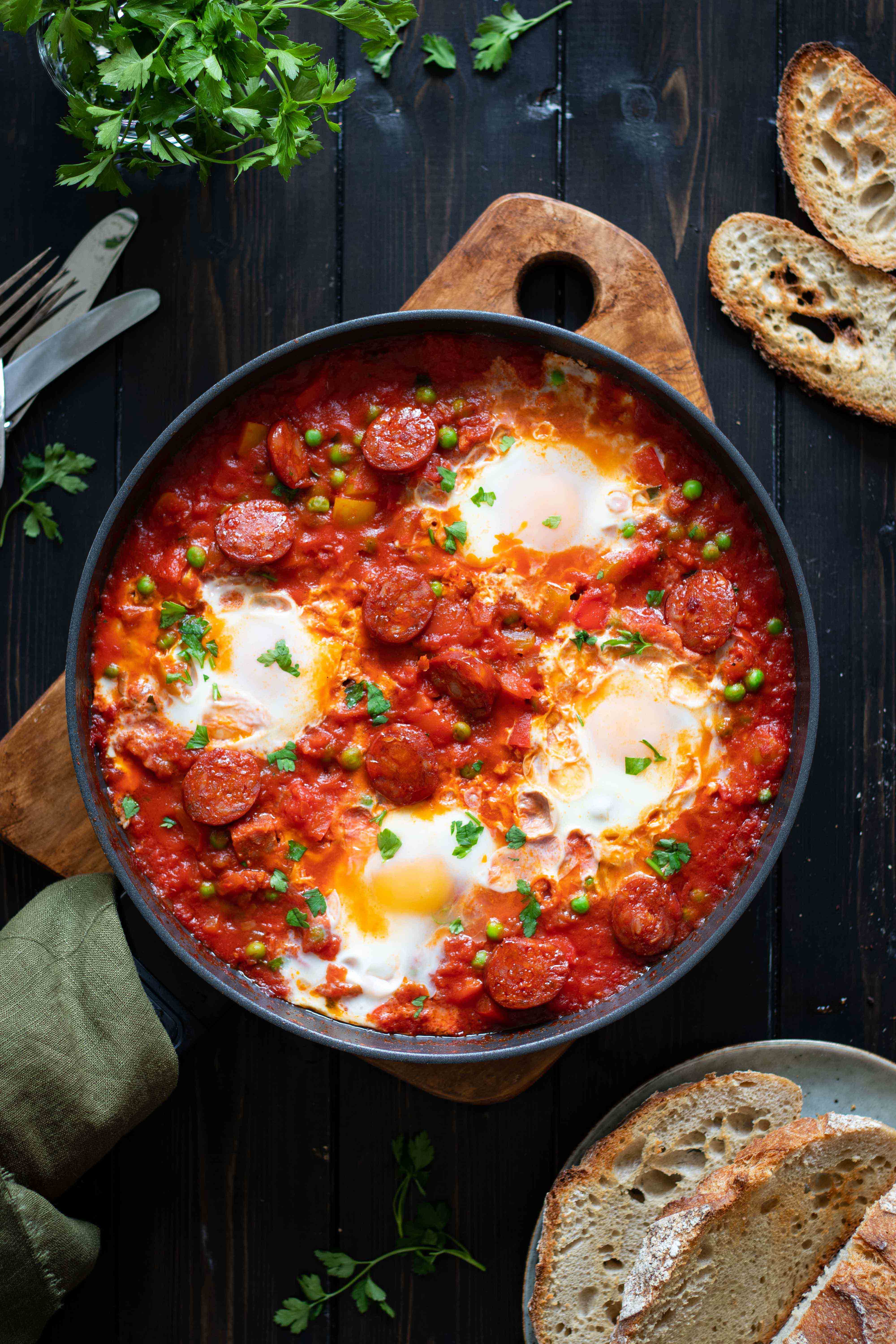 INGREDIENTS
1 Spanish Chorizo ibérico
1 red pepper chopped
1 yellow pepper chopped
1 onion chopped
1 Clove of garlic chopped
2 chopped tin tomatoes
4 eggs
1 tsp smoked paprika
1 tbsp Extra Virgin olive oil
Salt and pepper to season
1 cup frozen green peas
Crusty bread to serve
1 tbsp Fresh parsley to garnish
instructions
Heat Extra Virgin Olive oil in a heavy bottom pan, add the chorizo sauté for few mins and remove from the heat and set aside.
In the same oil add the chopped onion, sauté until translucent, then add the garlic, peppers and fry for a couple of mins until done.
Now add the tinned tomatoes and paprika, salt and pepper stir well and let it cook for 10 to 15 mins on medium heat. Add the frozen peas and stir well.
Make 4 wells with a spoon and gently break eggs into the well. Cover the lid and let the eggs cook on medium heat, until the egg yolk is still runny and while is done. Alternatively you can use a skillet and at this stage pop into the oven until the eggs are done.
Garnish with fresh chopped parsley and crusty bread of choice. Enjoy!