Masala King prawns Salad with cherries
Every year in September just when the kids are back to school we get this last bits of summer here in Ireland and we call it 'Indian summer'. It's when Autumn has just begun, you feel the cold in the air and then there is sudden warm days again. We are currently experiencing those beautiful warm days again and I absolutely love it.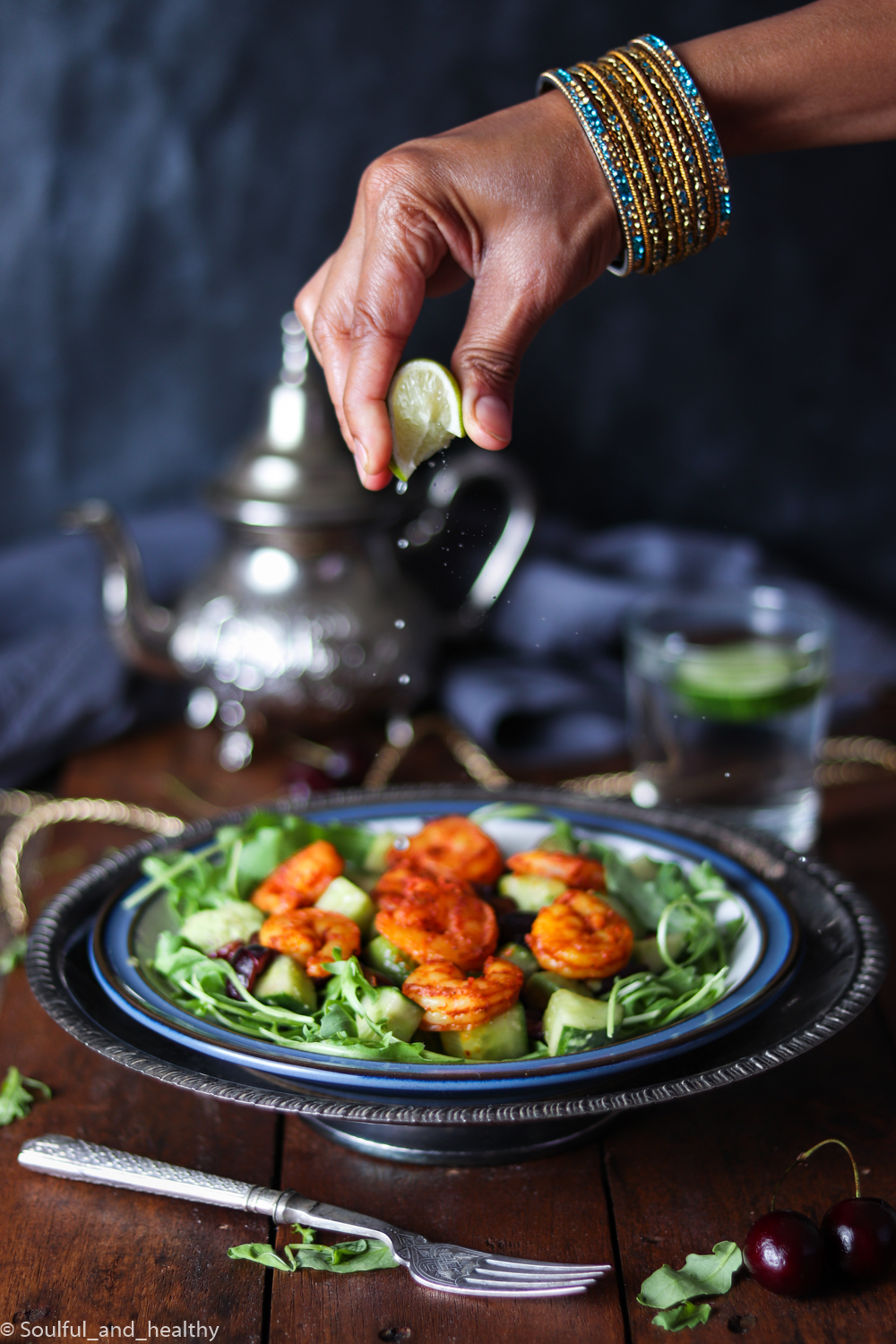 The sky is the bluest of blue.. and like my little boy says 'clear blue skies with little patches of clouds, just the way I like it' :) and trust me it's so beautiful.
Keeping the warm weather in mind I have the perfect salad recipe for you. It can be enjoyed warm as well, enjoy it on it own as a light lunch or light dinner or even as a side. I have used the last seasonal cherries for this recipe, but if you can't find any feel free to use blackberries, which are currently in season or even raspberries.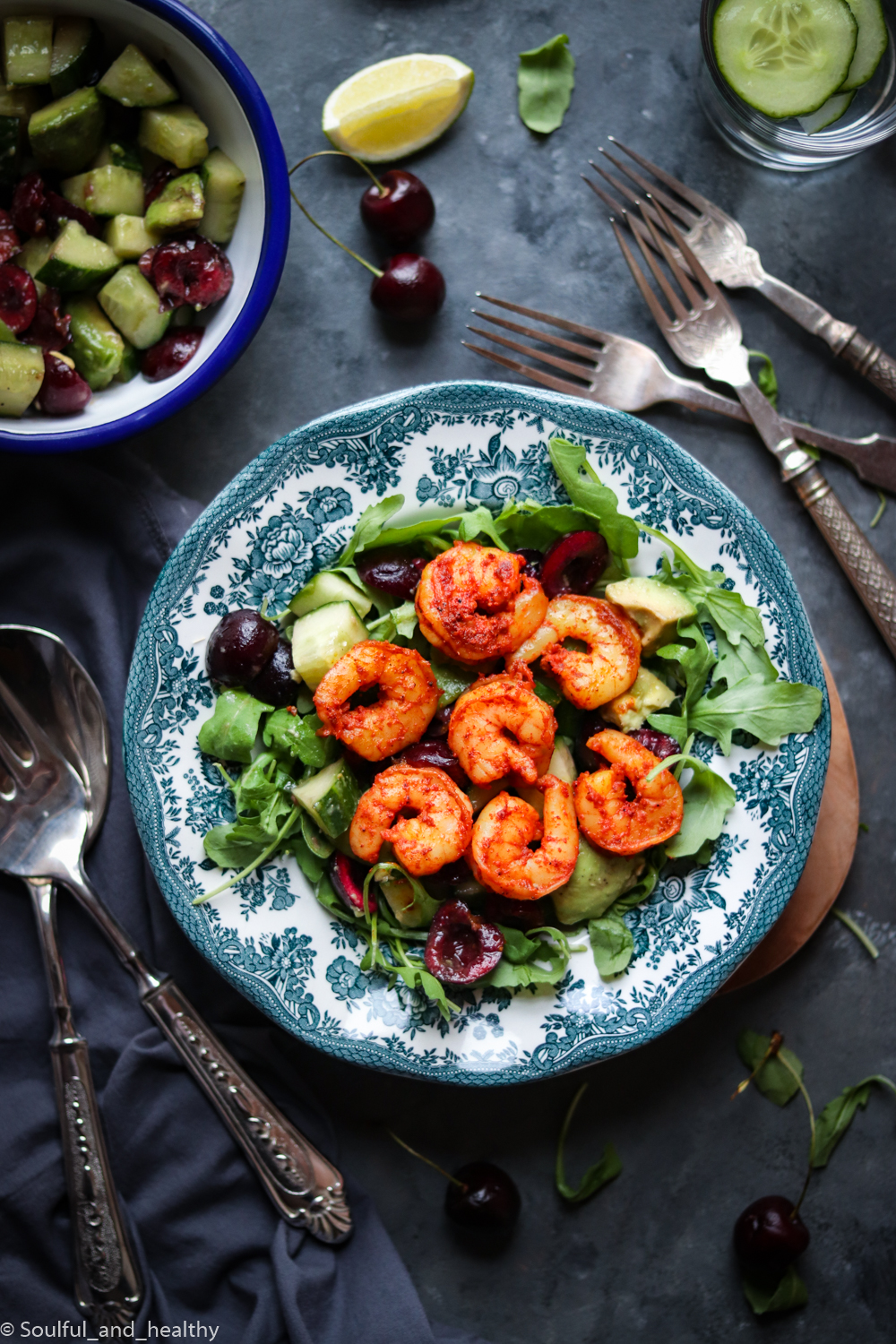 I made this recipe last summer and forgot about it, then when I was scrolling down my pictures I remembered it again. Fairly simple and easy recipe, with a touch of Indian flavours. Hope you like it.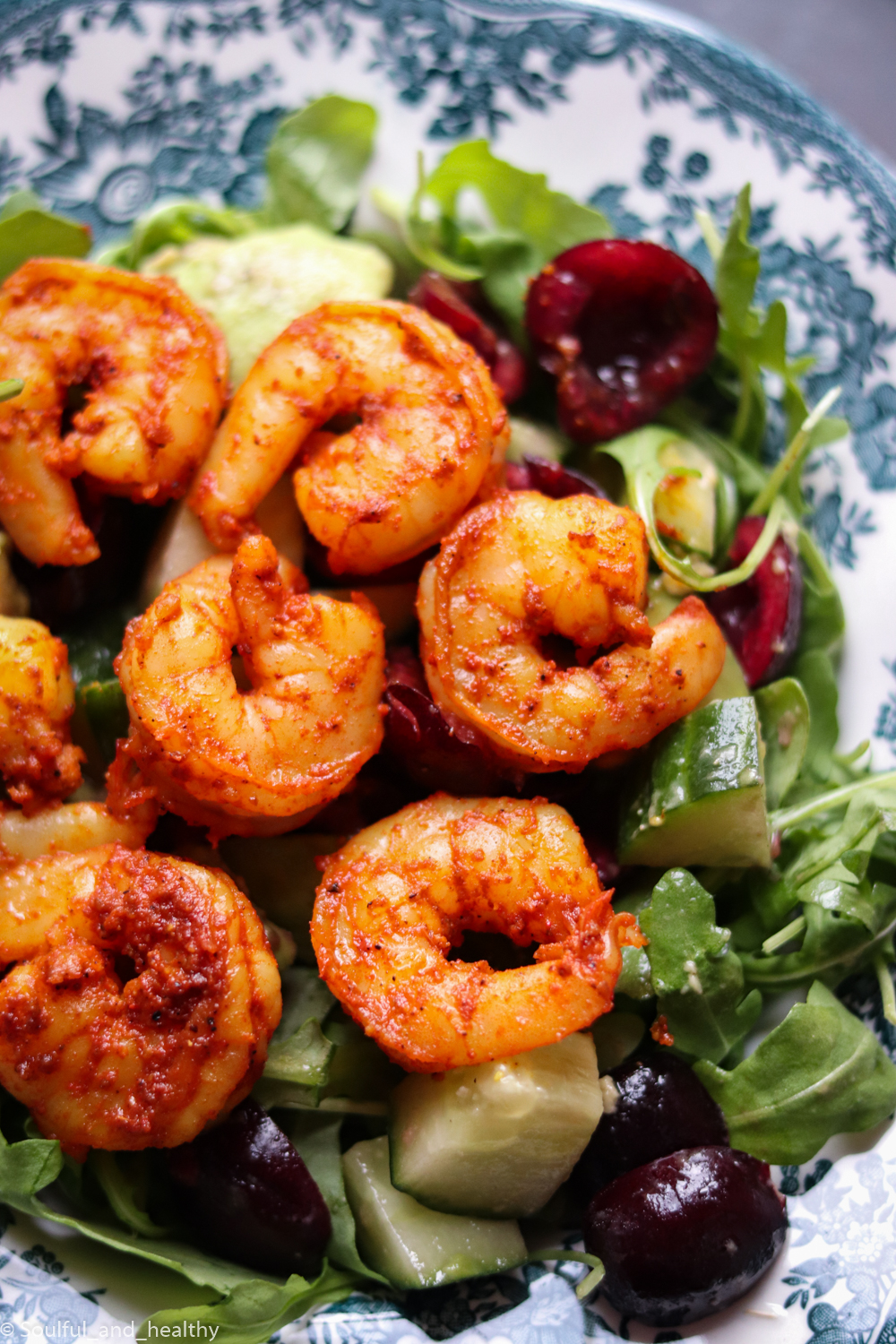 Let me know if you tried my recipe, please feel free to tag me and use my hashtag #soulfulandhealthy on your lovely creations, so I don't miss them.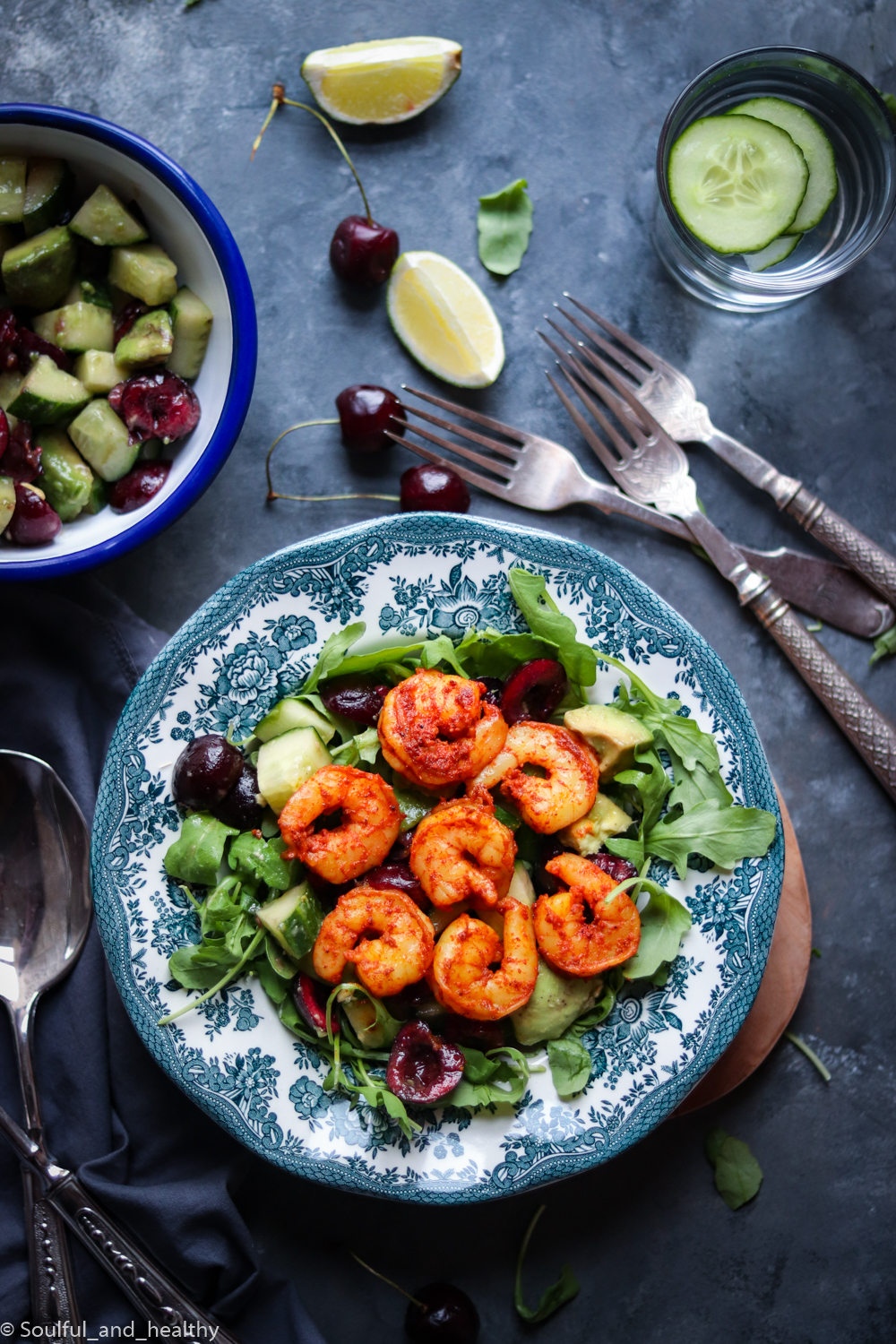 Liked what you saw here, please free to share it with family and friends. You can find me on Facebook, Instagram, Twitter and Pinterest
Enjoy the very last bit of gorgeous Irish summer! :)
Warm hugs
S.
Masala King prawns Salad with cherries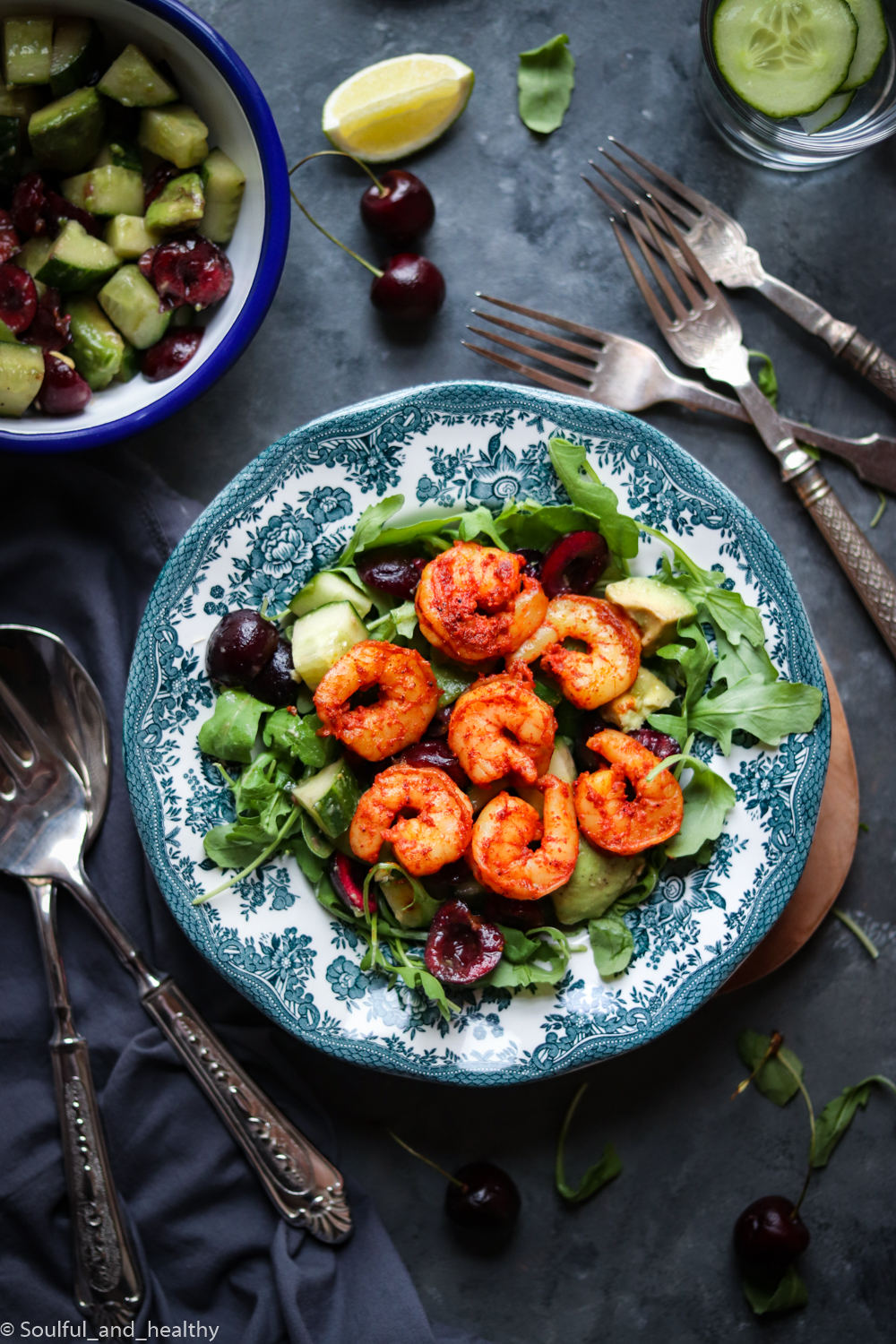 INGREDIENTS
Marination for the prawns

1 tsp ground turmeric
1 tsp Kashmiri red chilli powder
1/2 ground cumin
1/2 tsp ground coriander
Pink Himalayan salt to taste
Freshly ground pepper to taste
Juice of 1/2 lemon

For the salad

1 pack of raw king prawns (peeled and deveined)
1/2 fresh cucumber chopped
One bag of mixed salad leaves
250 grams cherries (pitted and cut in half)
One large avocado (stoned and cut into chunks)
1 tsp ghee it oil to fry
instructions
Marinate the prawns with the listed ingredients and set aside while you chop the vegetables.
Heat ghee or oil in a non-stick pan and add the prawns, fry for few minutes on both side, you will see the prawns will begin to change colour and start to curl, will take only 3 to 4 minutes, wheni done, set aside for few mins to cool down.
In a large mixing bowl add the cucumber, avocado, salad leaves, cherries and give it a good mix. Once the prawns are cooled down add into the bowl and gently mix it. Serve right away. Enjoy!