Chocolate chiffon cake, mocha frosting & dark chocolate ganache
A super moist cake, with a creamy mocha frosting topped with a luscious dark chocolate ganache is any cake lovers dream come true.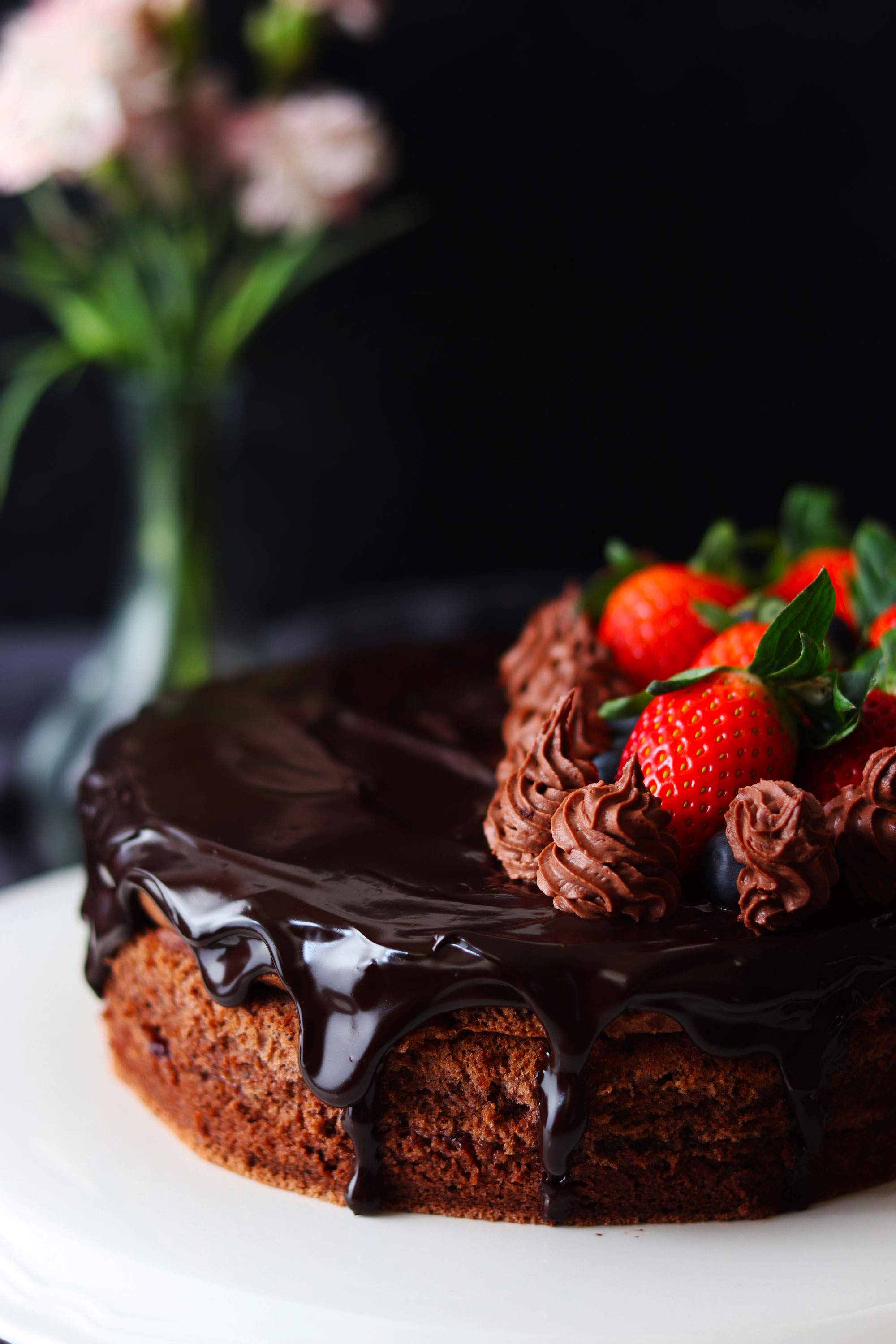 Since Valentine's Day is here, this cake would be perfect to woo your loved ones. It's a fairly a simple cake to make, I know the title of it might sound complicated but no, you can easily get it right even if you are baking it for the first time.
I have baked this cake many times now, for birthday's, Anniversary and more birthdays and it has turned out gorgeous every single time. I have only changed the decorations but the cake has reminded the same and now it's become our family favourite. ;)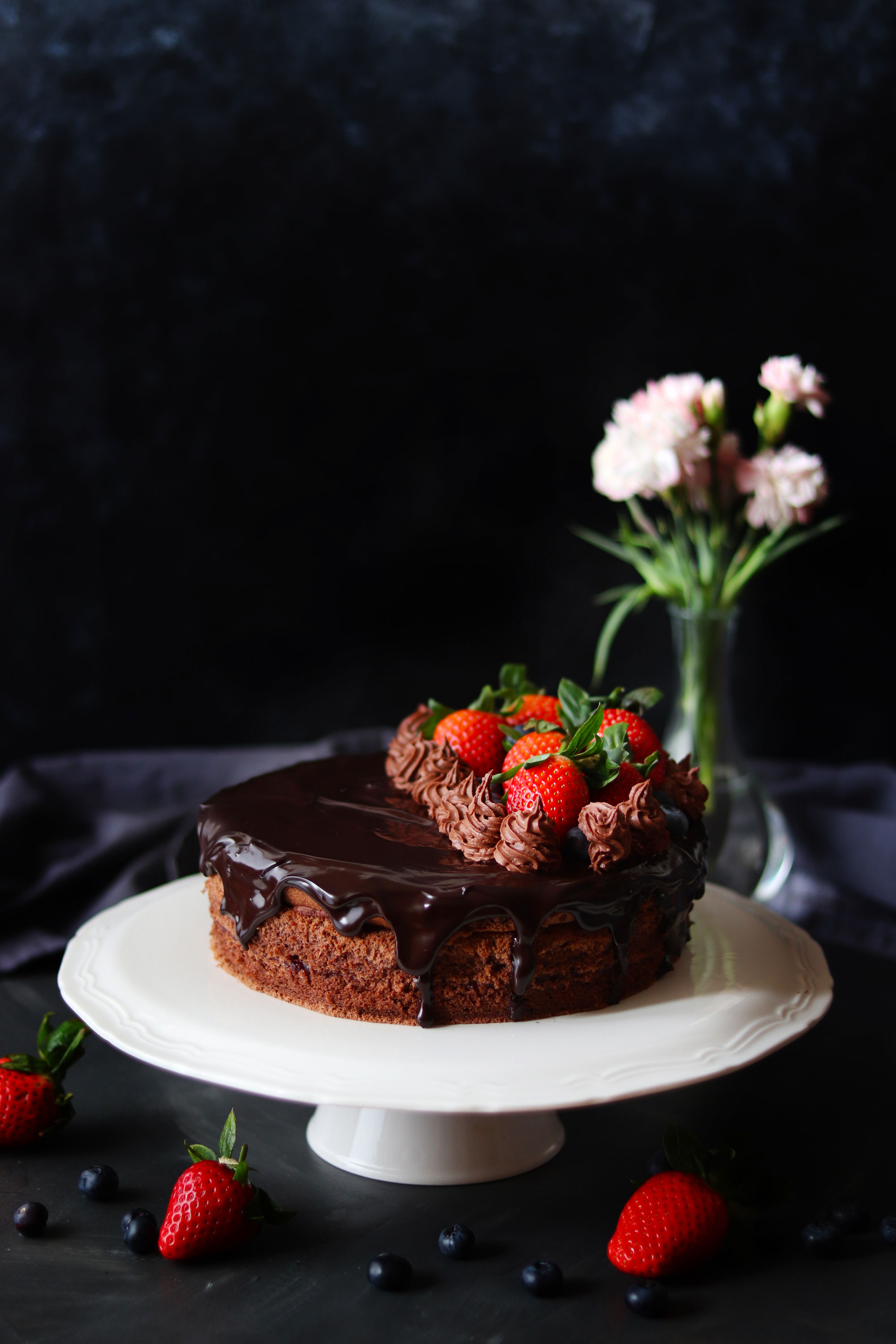 This recipe is adapted from the lovely Stephanie Jaworski of www.joyofbaking.com her site is an abundance of amazing bakes if you would like to give it a try. I have used the same recipe of her Chocolate chiffon cake with mocha cream frosting but instead if using the flute pan I have carefully measured and divided the batter into three round pans and baked for shorter time. Also I have reduced the amount of sugar from the original recipe.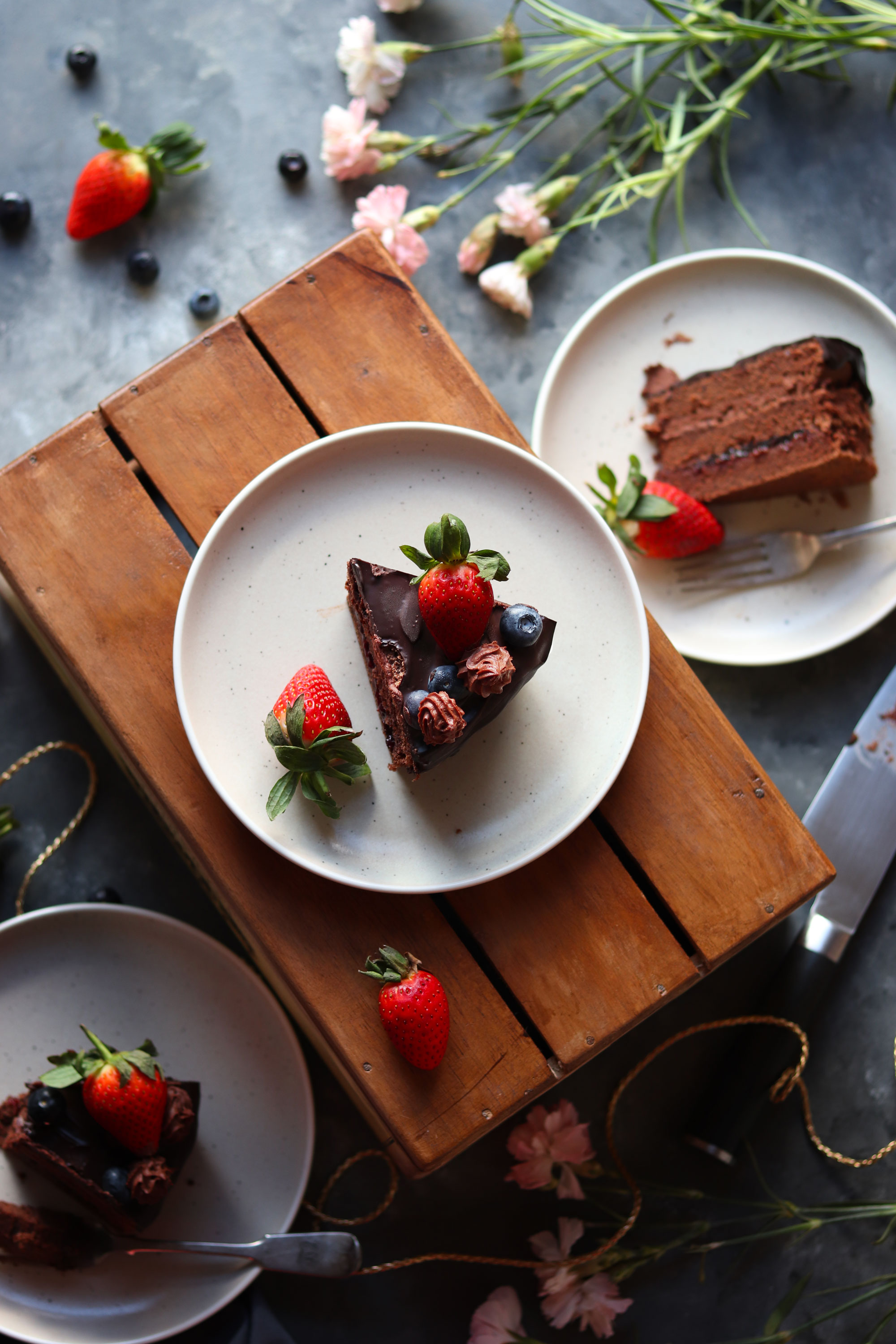 Since I have made it a three layer cake and my husband loves jam in his cakes, I have added a layer of blackberries and apple jam (this one) I highly recommend adding a layer of jam in the cakes it makes it all the more tasty and delicious and moist and amazing... ;) I have also used her recipe for the chocolate ganache, it turns out absolutely perfect every single time. I have no complains at all. (I have added all the links so you can directly click to her recipe)
Wanted to share a little about me how I started baking (if you don't wanna read, feel free to skip to the recipe ;) ) when I first moved to Ireland I didn't know how to even switch on an oven! And here I am sharing a cake recipe with you all :) makes me realize what a long way I have come and how much I have learnt on my own. Also like the cliche goes 'life is full of surprises!' Many times you don't even know your own capabilities until you try something. Like for me it is about baking. I never ever thought or dreamt in my wildest dream that I would be able to bake a cake some day :)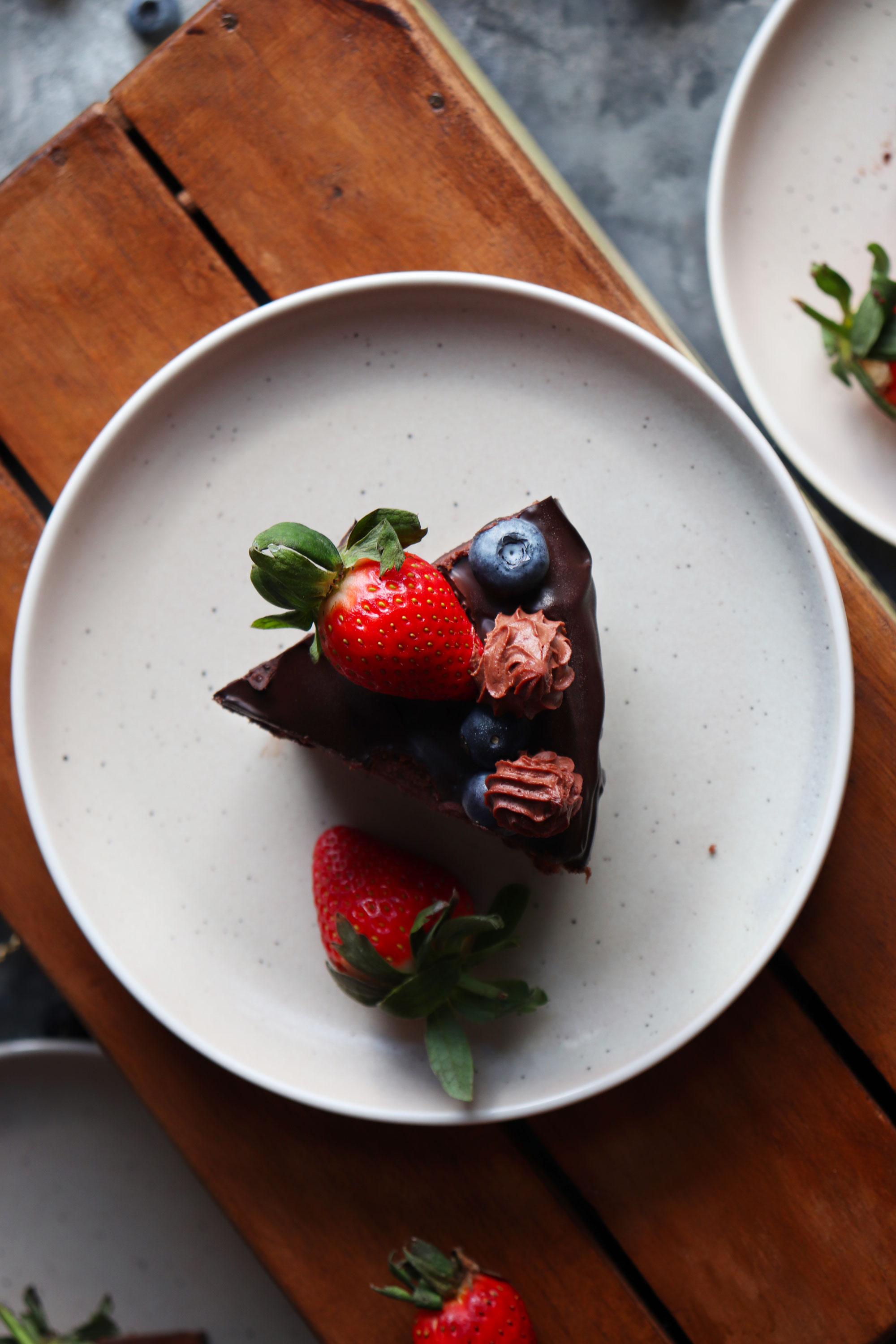 So when I moved to Ireland almost 6 years ago, I was four months pregnant and I used to cook very basic stuff, nothing special, just everyday food. After we had our baby like most Mum's I went through postpartum depression. It was just my husband and I who did everything with a new born without anybody's help. When I look back now there are days I feel I wish we had some help but there also days when I think wow we did so much without any help.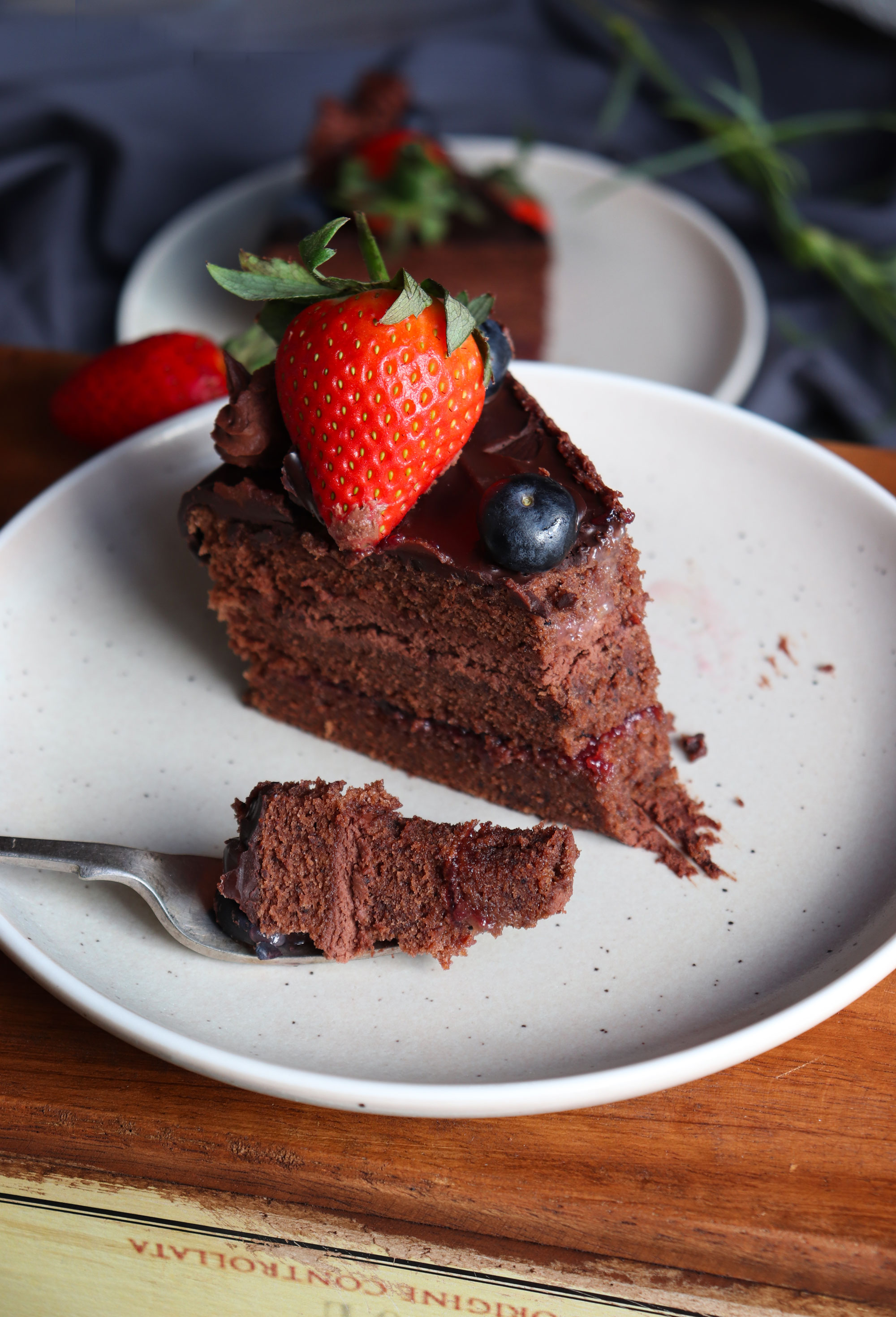 I wasn't diagnosed with it but I knew something wasn't going right. There were times when I broke down for no reason. So when my baby was about 6 months old, I felt a little better and I decided I have to do something about it and something to make myself feel better apart from only looking after my baby. So I decided to bake. It was one of the best things that I did around that time. It was the best therapy and the whole process was so therapeutic.
My aunty who also lives here in Dublin, she told me about this website called www.joyofbaking.com when I first started watching Stephanie's videos I absolutely fell in love with it. So that's how I found out about her and I was so happy and so impressed. She makes baking look so much easier and so much fun. The measurements are accurate and the videos are simple, straight forward and to the point. I have learnt so much from her, she is my Guru when it comes to baking, I so wish I would be able to meet her some day in person and thank her for teaching me how to bake. For helping me in my difficult times and bringing out the best baker in me. :) I am not an expert yet but I have come a long long way. Today I can mix an match my own measurements and bake something out of it. I guess that's an achievement :D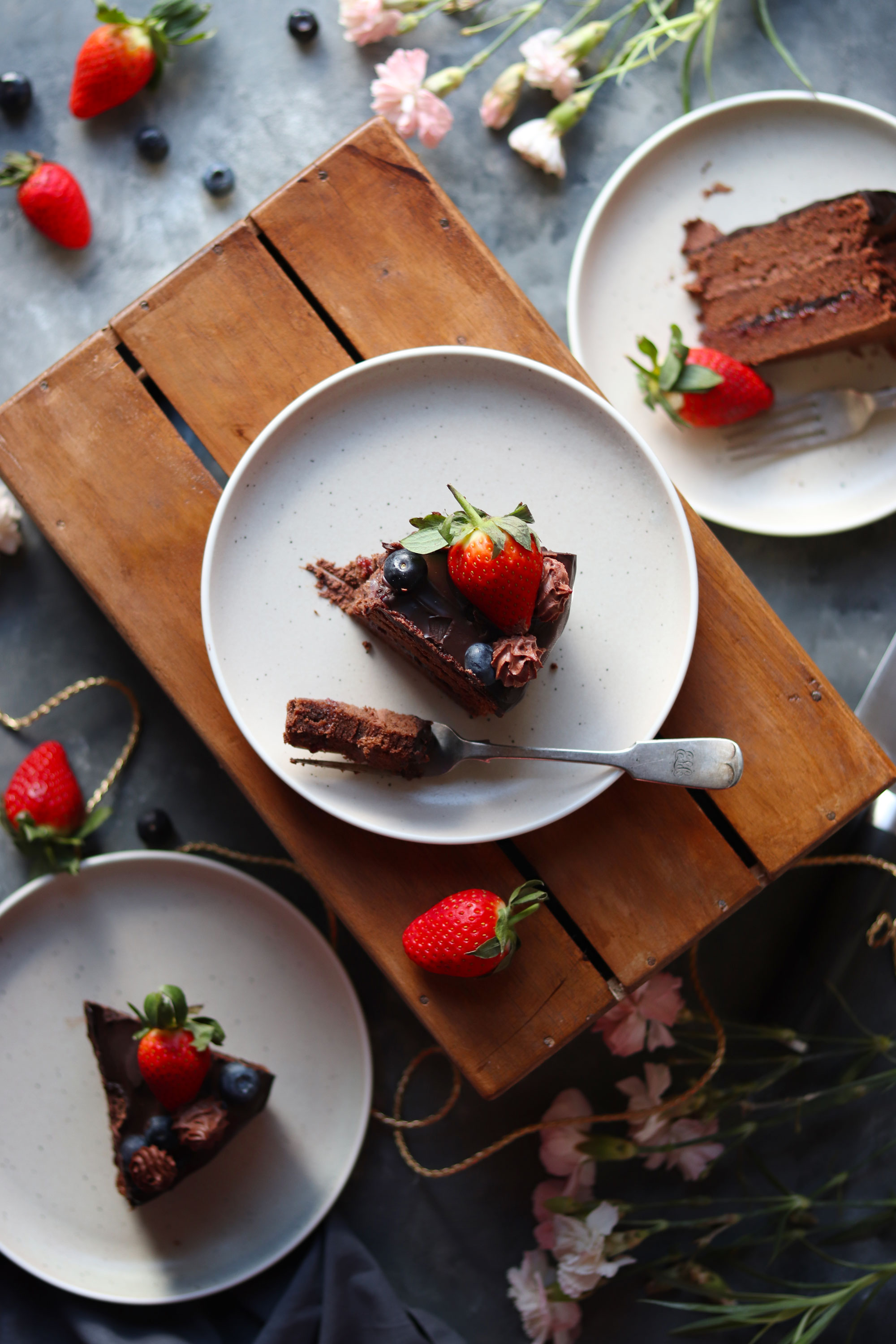 So having told you all how I started to bake, this gorgeous cake is dedicated to my teacher Stephanie for showing me the therapeutic side of cooking/ baking and helping me in one of my difficult phase.
I really hope you bake this cake and enjoy it as my much as we do at home, like I said it has become our favourite and it's our go-to celebration cake.
Let me know if you tried my recipe, please feel free to tag me and use my hashtag #soulfulandhealthy on your lovely creations so I don't miss them.
Liked what you saw here, please free to share it with family and friends. You can find me on Facebook, Instagram, Twitter and Pinterest
Enjoy!️
Warm hugs
S.
Read more: https://www.joyofbaking.com/cakes/ChocolateChiffonCake.html#ixzz5fK8lPkSY
Chocolate chiffon cake, mocha frosting & dark chocolate ganache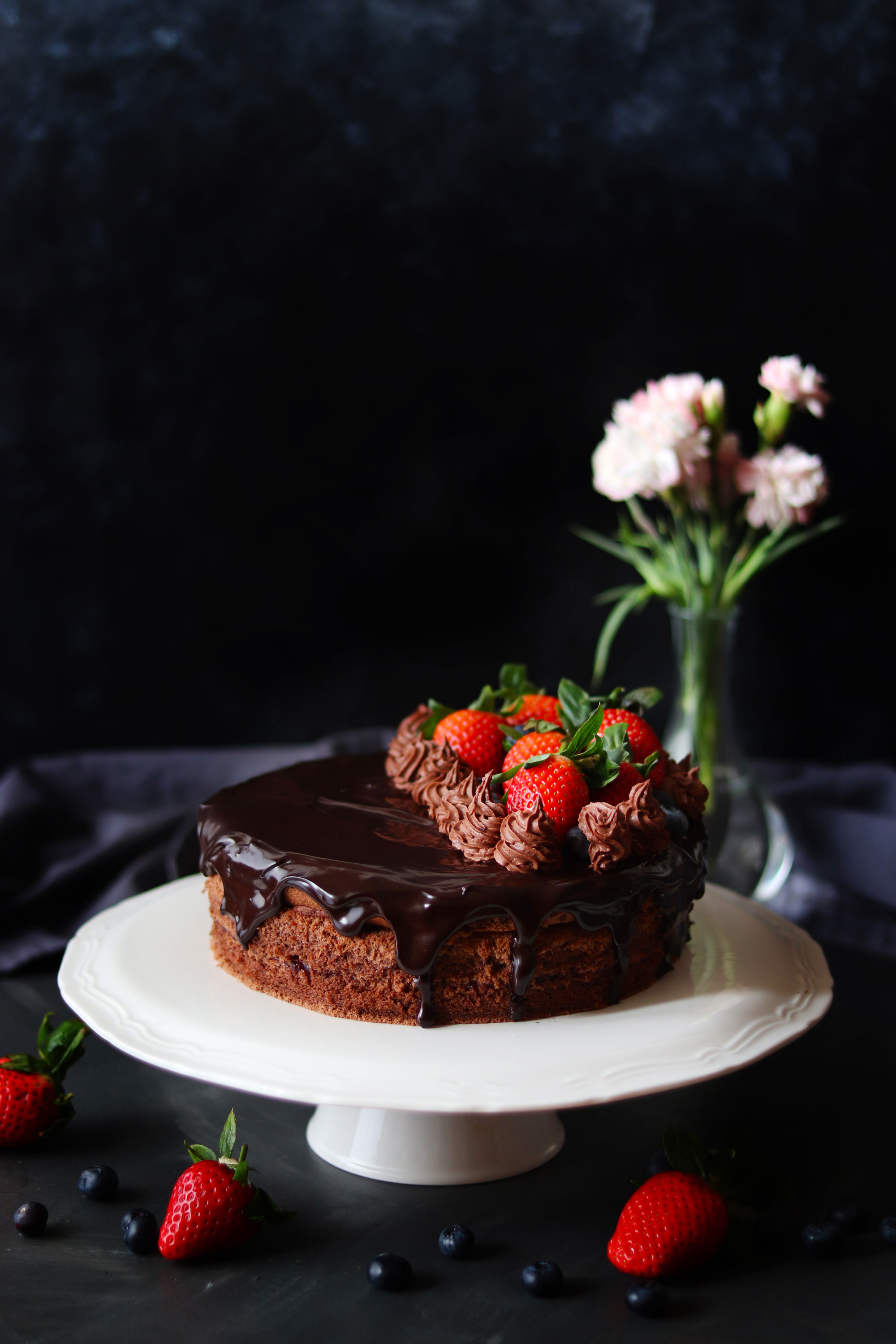 | | |
| --- | --- |
| Servings: | Serves 10 - 12 slices |
INGREDIENTS
Chocolate Chiffon Cake

6 large eggs plus one additional egg white
200 grams plain flour
25 grams organic cocoa powder (unsweetened)
200 grams granulated white sugar, divided
2 teaspoons baking powder
1/4 teaspoon baking soda
1/2 teaspoon salt
120 ml flavorless oil (vegetable, corn, canola, or safflower oil)
180 ml freshly brewed coffee or water, at room temperature
1 1/2 teaspoons pure vanilla extract
1/2 teaspoon cream of tartar (optional)

Mocha Filling

1/2 teaspoon vanilla extract

50 grams white sugar

2 tablespoons (15 grams) cocoa powder

1 teaspoon instant coffee powder

1 cup (240 ml) cold double cream

Ganache Recipe:

200 grams of any berry jam, I have the Blackberry and apple jam - this one
instructions
For the chiffon cake -

Separate the eggs while they are still cold. Place the egg yolks in one bowl and the whites (along with the extra egg white) in another. Cover with plastic wrap and bring to room temperature - about 30 minutes.
Preheat the oven to 325 degrees F (165 degrees C) butter and line 3 8 inches cake tins.
Sift the flour with the cocoa powder, 150 grams white sugar, baking powder, baking soda and salt in a large bowl.
In another bowl whisk together the egg yolks, oil, coffee (or water) and vanilla extract. Make a hole in the center of the flour mixture and add the wet ingredients and whisk until smooth.
In another large bowl using a whisk attachment for a stand mixer or you can also use a hand mixer, beat the egg whites and cream of tartar until soft peaks forms. Slowly add the remaining sugar (150 grams) and continue beating until stiff peaks form.
Using a large rubber spatula or wire whisk, very gently fold the egg whites into the batter until blended, add in three additions and be very careful at this stage not to remove all the air from the batter.
Using a kitchen scale carefully divide the batter equally between the three cake tins, use a skewer, spatula and run it through the batter and try to get rid of as much as air bubbles as you can. Bake in the pre-heated oven for about 25-30 mins or until a skewer inserted comes out clean. (remember each oven is different so keep an eye out). Let the cake cool completely. Before you start the icing.

For the mocha cream filling -

Place the mixing bowl, the wire whisks in the freezer for about 10 to 15 mins, then place all the mentioned ingredients, except the cream in the bowl.
First add only just about 2 tbsps of the cream, mix the ingredients together.
Then add the rest of the cold cream and beat just until stiff peaks form.

For the dark chocolate ganache -

Place the chocolate pieces in a medium sized heatproof bowl and set aside.
Heat the cream and butter in a small saucepan over medium heat, you can even microwave. Bring just to a boil.
Immediately pour the boiling cream over the chocolate and let it sit for couple of mins do not stir.
Now stir very gently with a spoon or whisk until smooth, make sure not to get any air into the ganache.

To decorate your cake -

Place one layer of the cake on to your cake stand, use a little bit of the cream first and the place your cake so it does not move while decorating.
Add half of the mocha cream frosting on top and spread across.
Now place the second layer of the cake and add about 200 grams of jam and spread across evenly.
Now place the last layer of the cake and gently pour the ganache over the top. Use a spatula or a pellet knife to spread out.
Use the remaining of the mocha cream frosting into a piping bag to decorate as you wish. Can even add strawberries, blueberries too. Get creative.