Blueberries and Greek yogurt popsicles
Summer has finally finally arrived in Ireland. It has been a long long long wait. I think with the summer we had last year, a gorgeous one by the way, this year our expectations when too high. And we were hoping to have the same. But well yeah but no..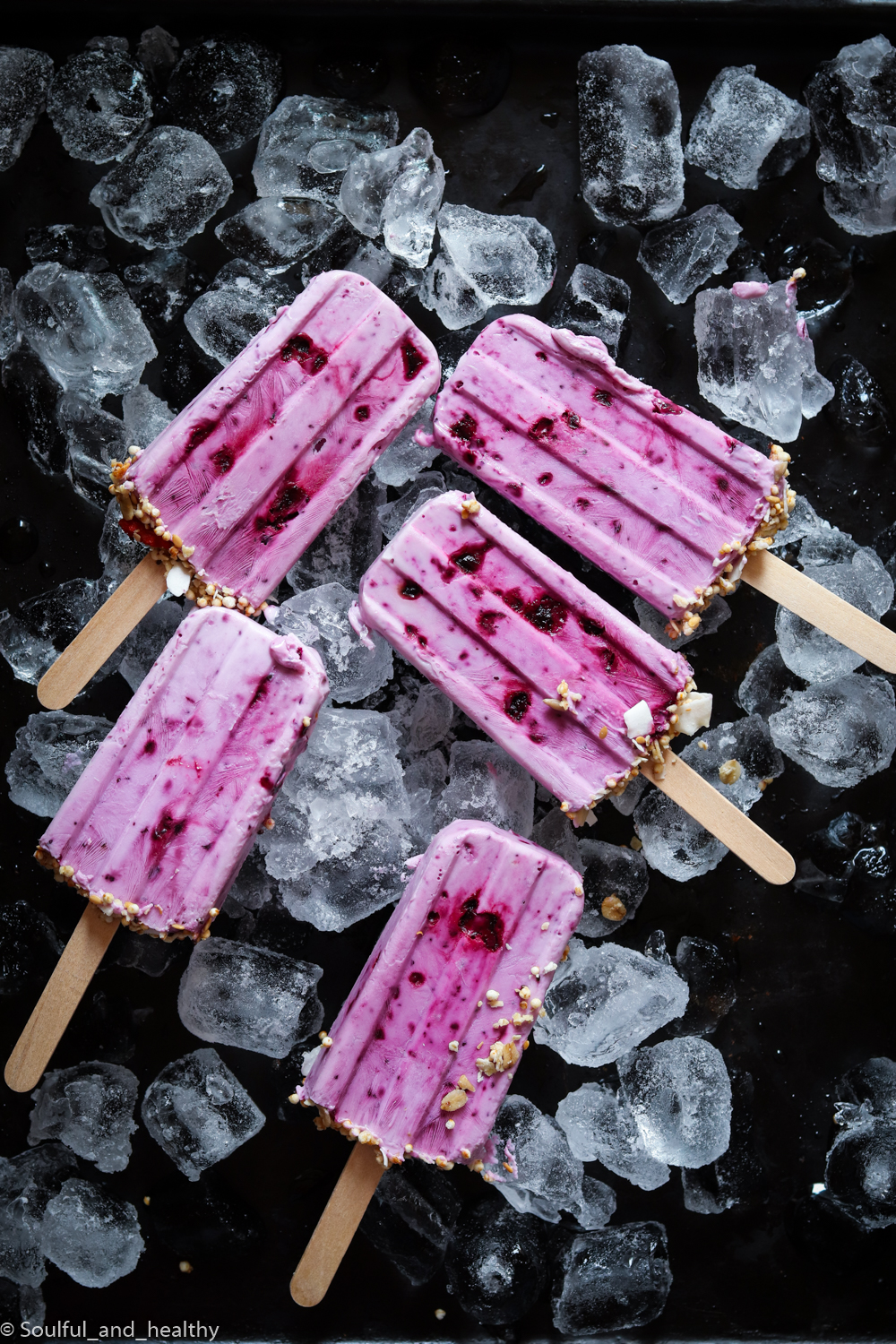 Anyways with this heatwave that hit the rest of Europe while they are enjoying/ struggling with 40 degrees we have a little warmer days like 20 max! And yes we are very happy with that, if it hits beyond that we can't take it, and even me coming from India where 30 used to be quite common for me now that kind of heat is unbearable. It's funny how you get used to the place you live in and how your body also changes accordingly.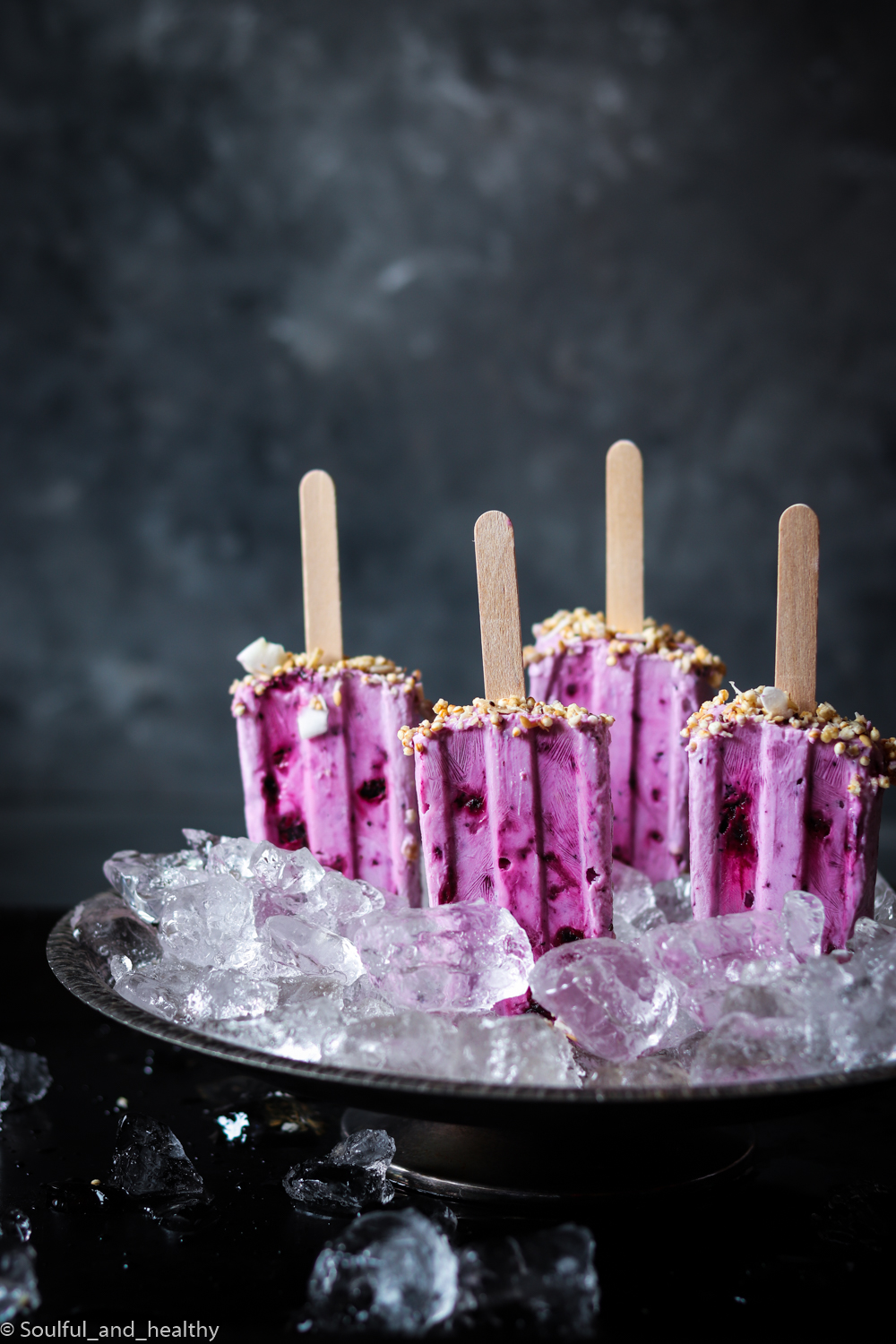 So with this heatwave comes crazy craving for ice creams and popsicles. Since Husband and I decided to cut down on sweets, well because Christmas continued to Easter and then Easter to Birthday's and then so on an on. So we finally said it's about time. I know I haven't been eating healthy like I used to, but.. but I am no going to be harsh on myself but will instead make an effort to come back on track.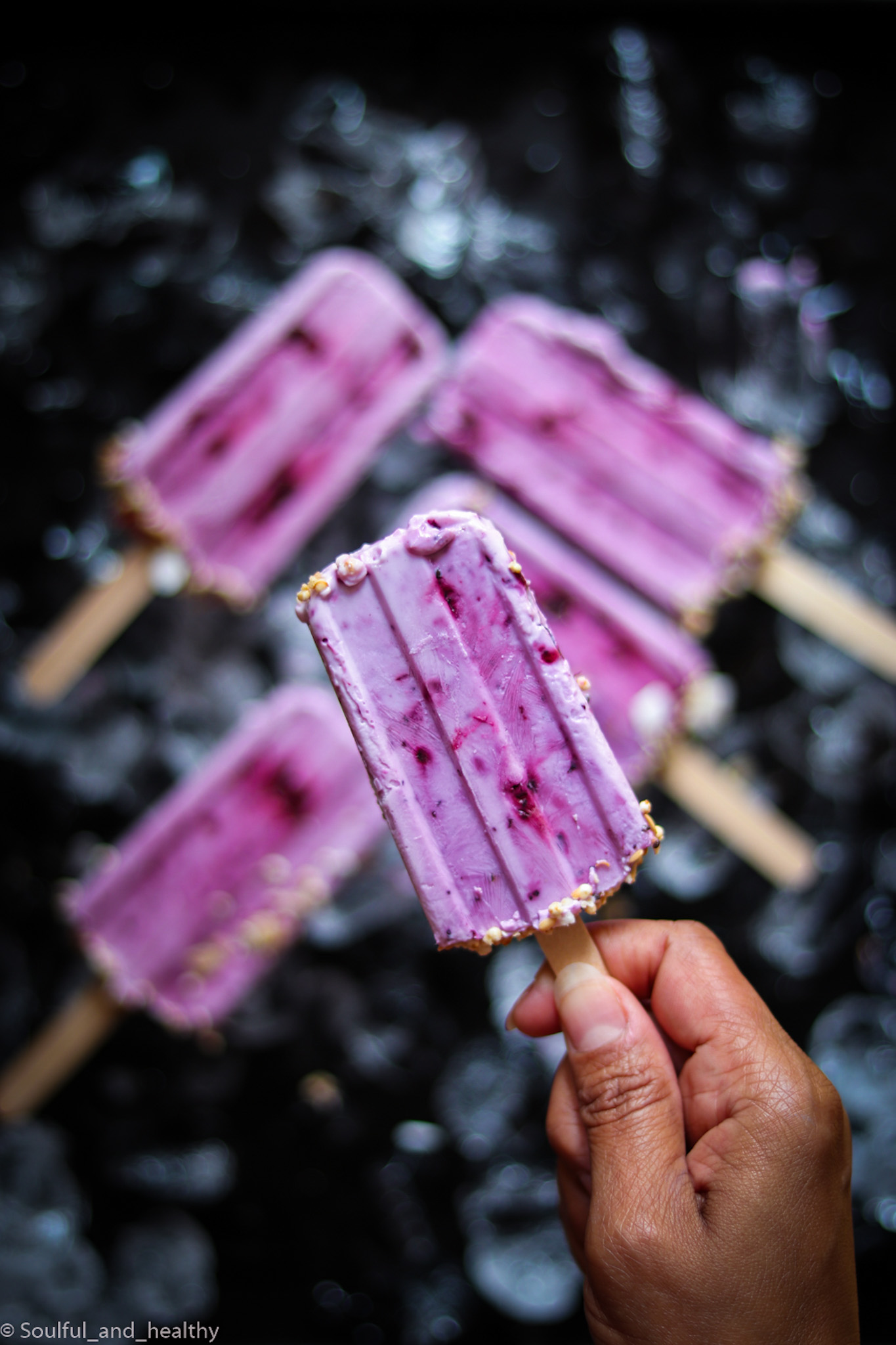 So when my craving for ice creams hits me I have healthy popsicles ready and I'm happy. :)
I have added Homespun Quinoa crunch with goji berries, cashew and coconut for that extra cunch, it is totally optional, but you will like it, trust me :)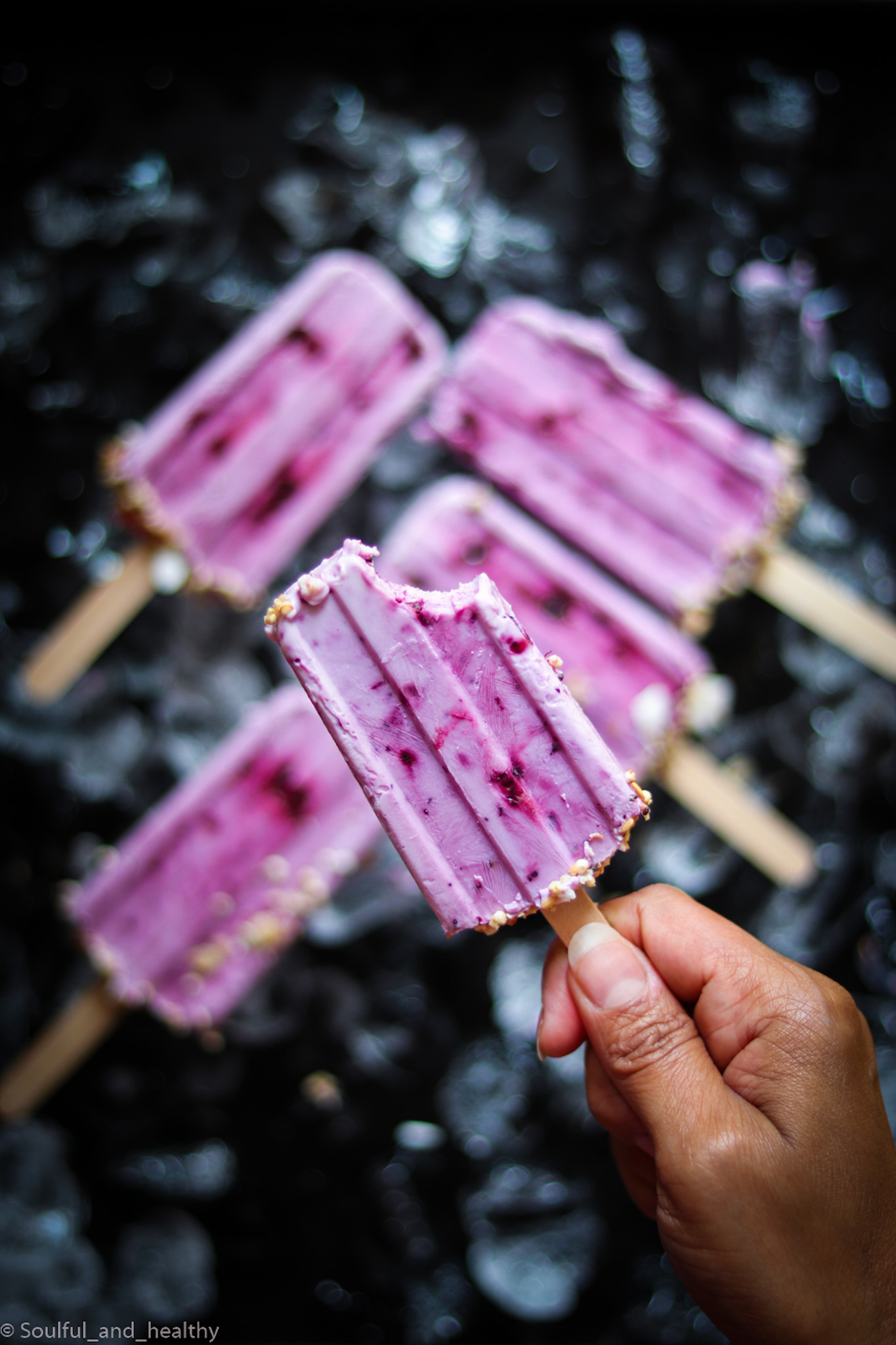 All it takes is three ingredients to make this super easy, super delicious and oh so healthy popsicles. I have used zero fat Greek yogurt you can use the full fat one too. Get creative by using raspberries instead of blueberries, add a splash of lemon juice, up to you. ;)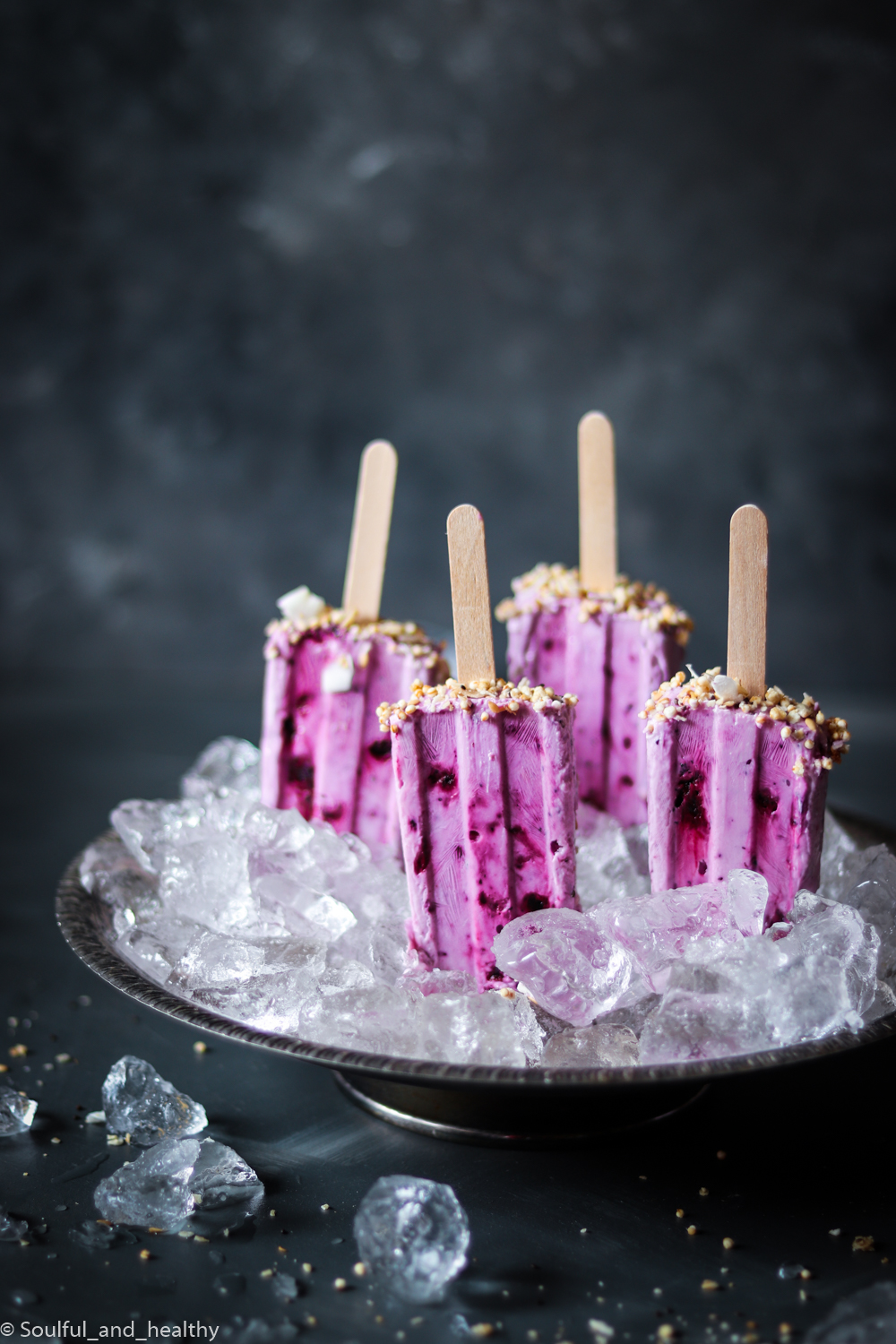 You can use fresh or frozen berries, I have used frozen which I always have in my freezer. The best way to do this is first simmer the berries in a small saucepan with honey and sieve it so no seeds are there then mix it to the yogurt, pop them into ice cream moulds and they are good to use.
Hope you like this recipe, it's so so easy to make and you will like it. You can adjust the sweetness by adding more honey if you like.
Let me know if you tried my recipe, please feel free to tag me and use my hashtag #soulfulandhealthy on your lovely creations, so I don't miss them.
Liked what you saw here, please free to share it with family and friends. You can find me on Facebook, Instagram, Twitter and Pinterest
Enjoy the gorgeous Irish summer! :)
Warm hugs
S.
Blueberries and Greek yogurt popsicles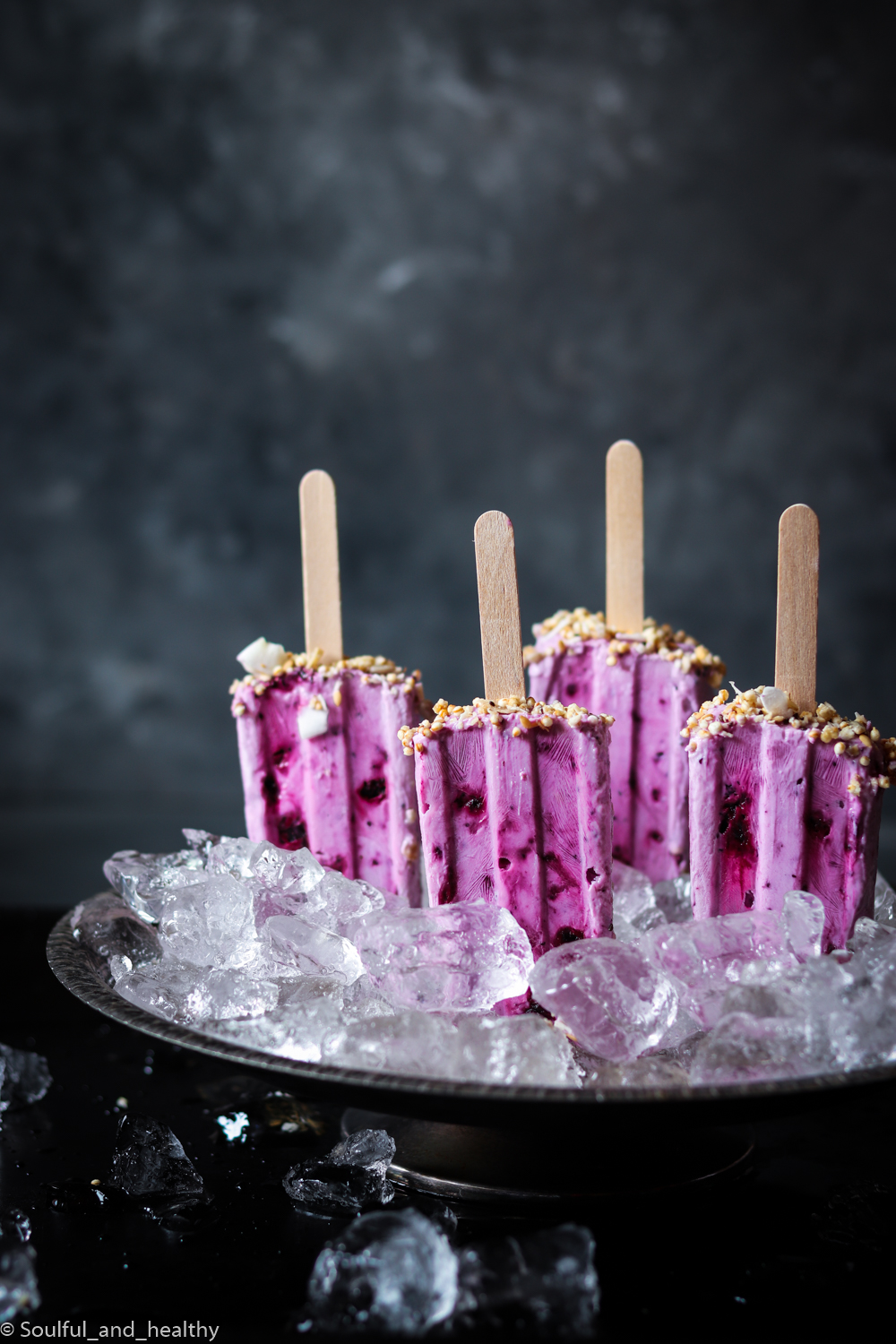 | | |
| --- | --- |
| Prep Time: | Under 15 mins Freezing 5 hours |
| | |
| --- | --- |
| Servings: | Makes 6 Popsicles |
INGREDIENTS
500 ml zero fat Greek yogurt
1 cup frozen or fresh wild blueberries
2 to 3 tbsp pure honey
instructions
Add the frozen berries into a saucepan and bring to boil, reduce the heat to medium low and add the honey, keep stirring. Simmer on low heat for few mins until the water evaporates and it starts to thicken. This might take 10 to 12 minutes.
Add the yogurt into a large mixing bowl. Sieve the berries mixture into the yogurt and gently mix. Do not over mix so you have nice ripples.
Pop into popsicle moulds and freeze for one hour.
Remove from the freezer after an hour place the sticks, drizzlen with quiona crunch and freeze again for around 4 hours or overnight. Enjoy!