Turmeric and cardamom latte
The weather is getting colder and the temperatures seems to be dropping and my cravings for anything hot and warm is never ending. That's when I thought of making this turmeric latte but with a hint of cardamom.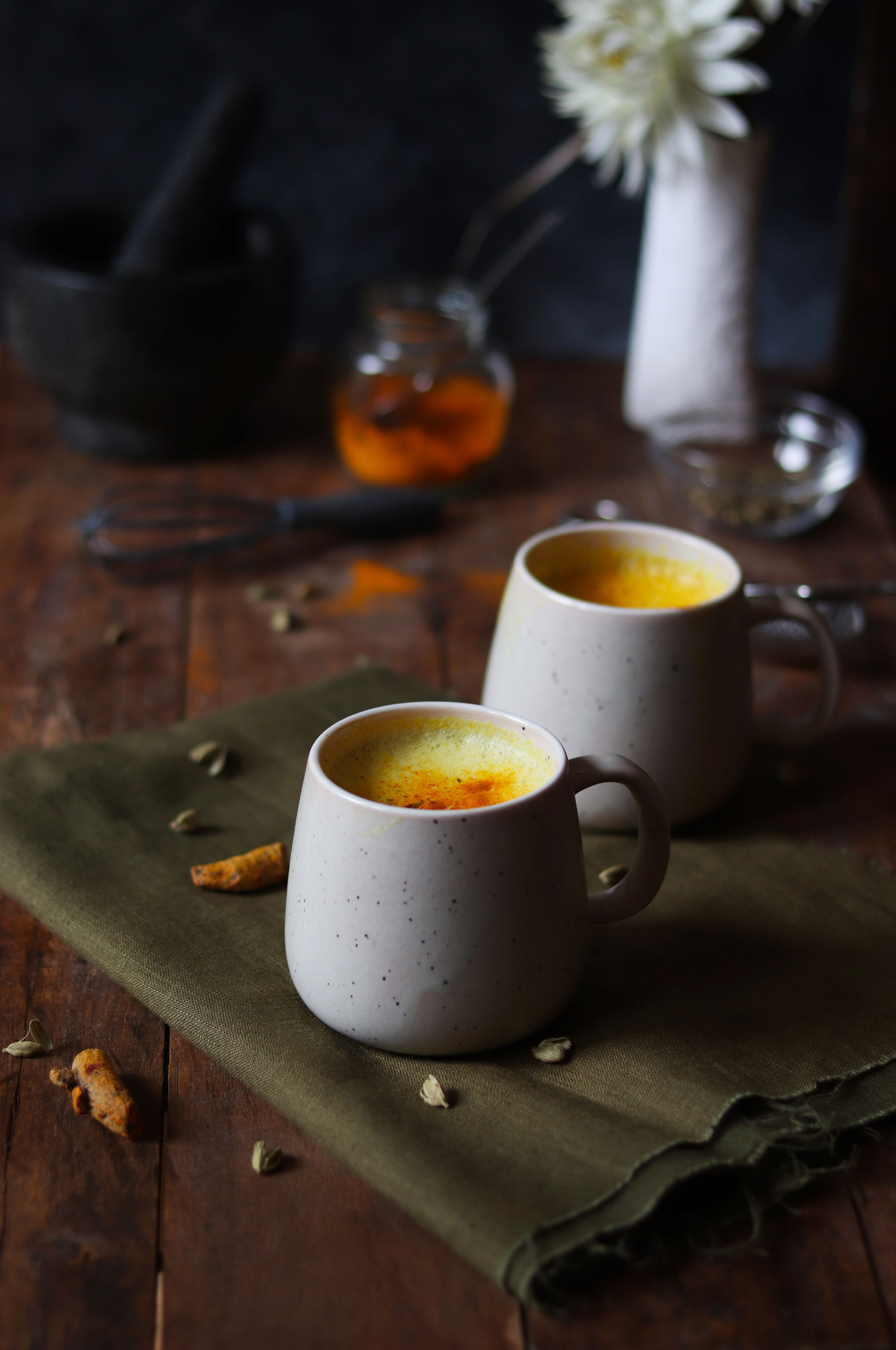 I think amongst all Indian spices my favourite till date is cardamom, for the beautiful aroma and fragrance it has some how it only reminds me of the festival times in my Mom's place, brings back so many childhood festivities memories. My Mom used to always give me the task of crushing cardamoms, she would give me few pods, I would peel them and get all the seeds out, and place them between two sheets of newspaper, along with some sugar, using a wooden rolling pin, I would have to crush them into a fine powder using all my arms strength. The fine powdered cardamom and sugar is a must add to any Indian sweet called Payasa or kheer (similar to a pudding) that my Mom would make for most of the festival.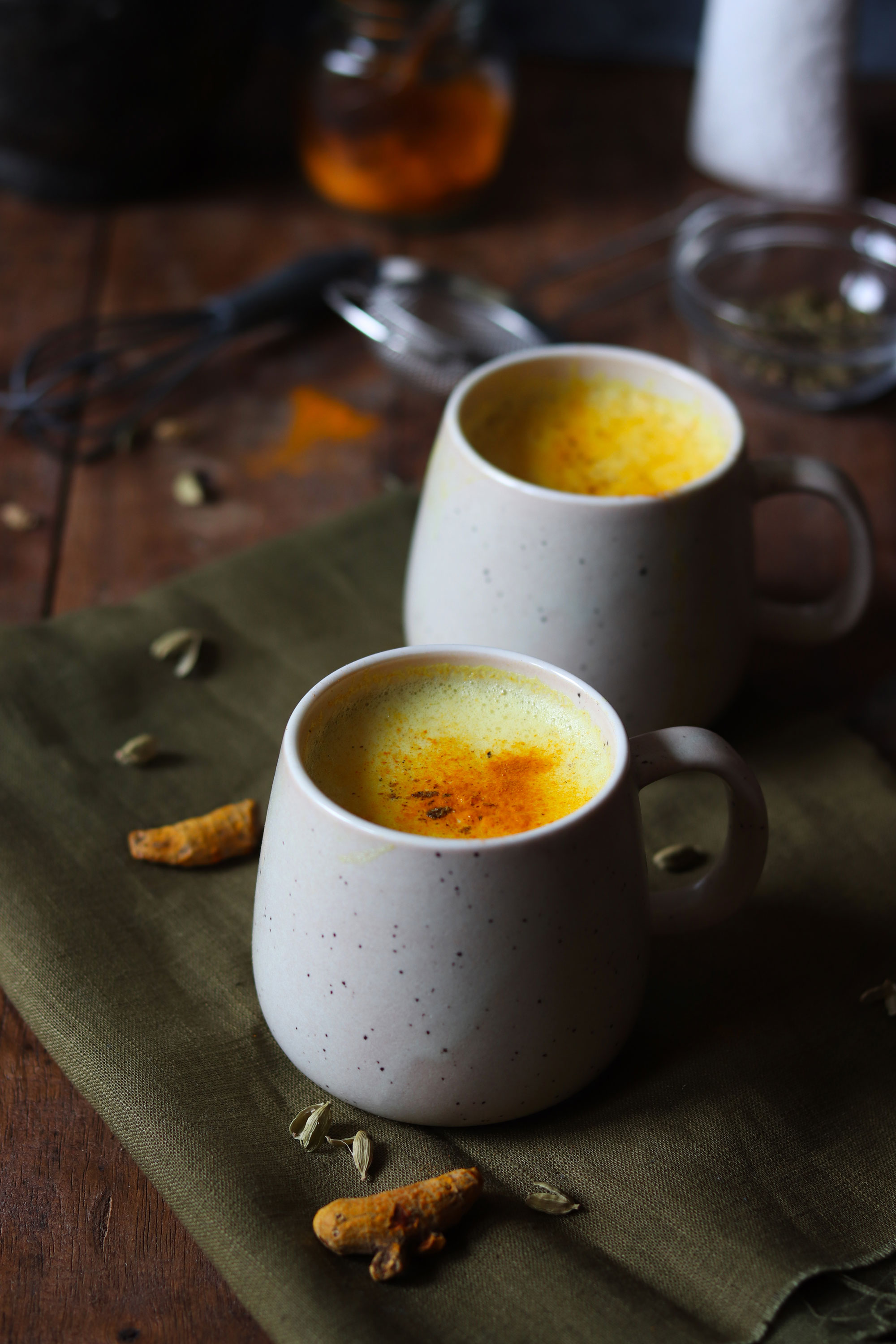 I absolutely love the subtle flavour it has compared to rest of the Indian spices. It gave such a beautiful aroma to the Turmeric latte, even my husband loved it, so much that he gulped it all in one go :D
Along with dropping temperatures lots of viruses do the rounds, so a natural antibiotic like turmeric can help overcome cold and flu like symptoms. We Indians have been using turmeric for thousands of years for it's various medicinal properties.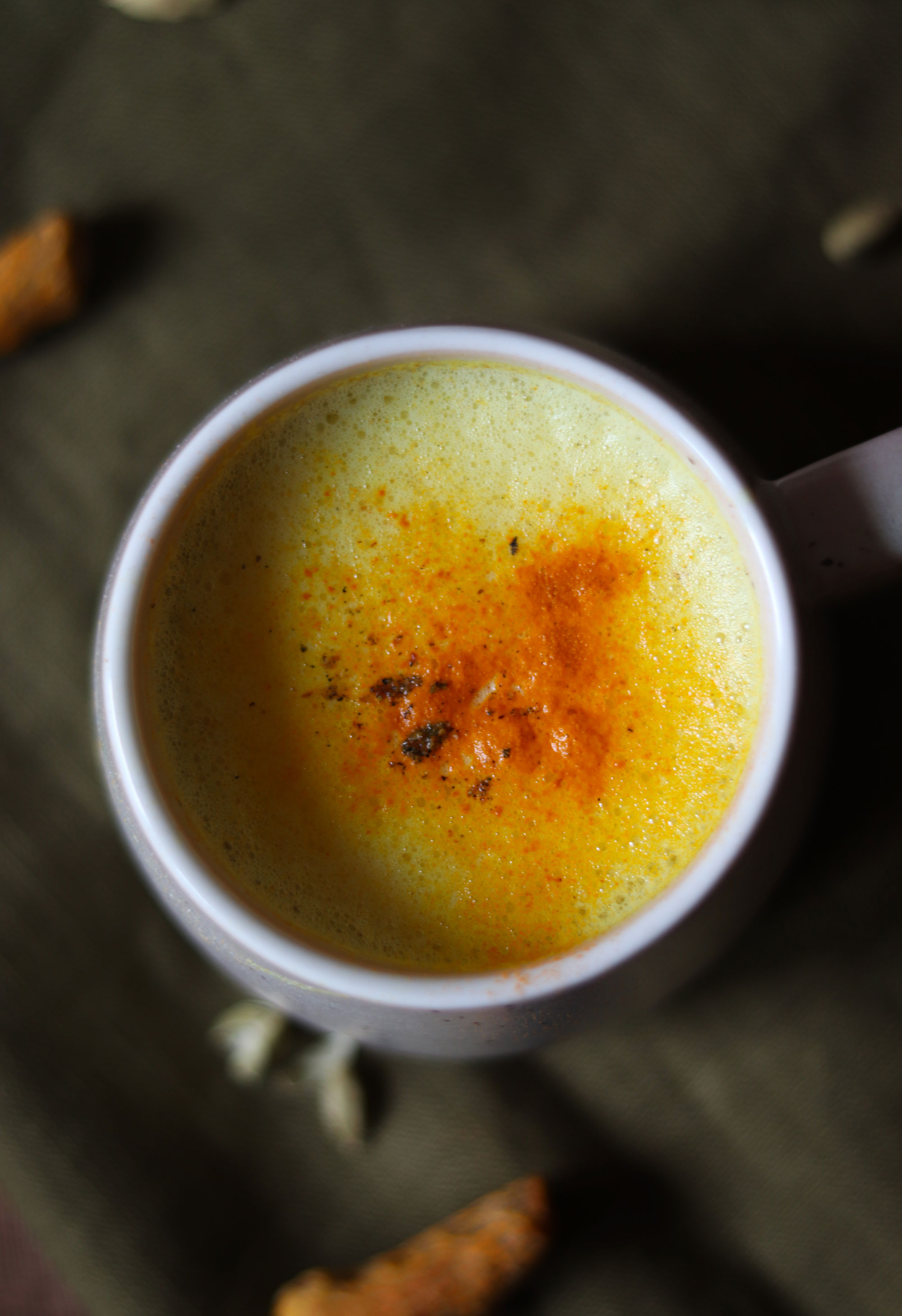 Turmeric contains compounds knows as curcuminoids, the most important of which is curcumin. Curcumin is the main active ingredient in turmeric and unfortunately it is not fully absorbed by the body, but it is fat soluble and therefore it's better when taken with a fatty meal. So drinking turmeric along with a glass of milk is way better absorbed my our bodies than when added to curries.
In India when a flu or cold strikes the first thing we drink is a warm glass of milk with a pinch of turmeric. ;) called as Haldi doohdh (Turmeric Milk) These days most of us all over the world are getting more and more health conscious and now that Turmeric is being considered as a super food, it makes me happy that we in India have been using it for ages! Not just for cold an flu, but also on skin, for any kind of wounds and cuts. The first thing we do is apply turmeric! Simple solution for various problems ;)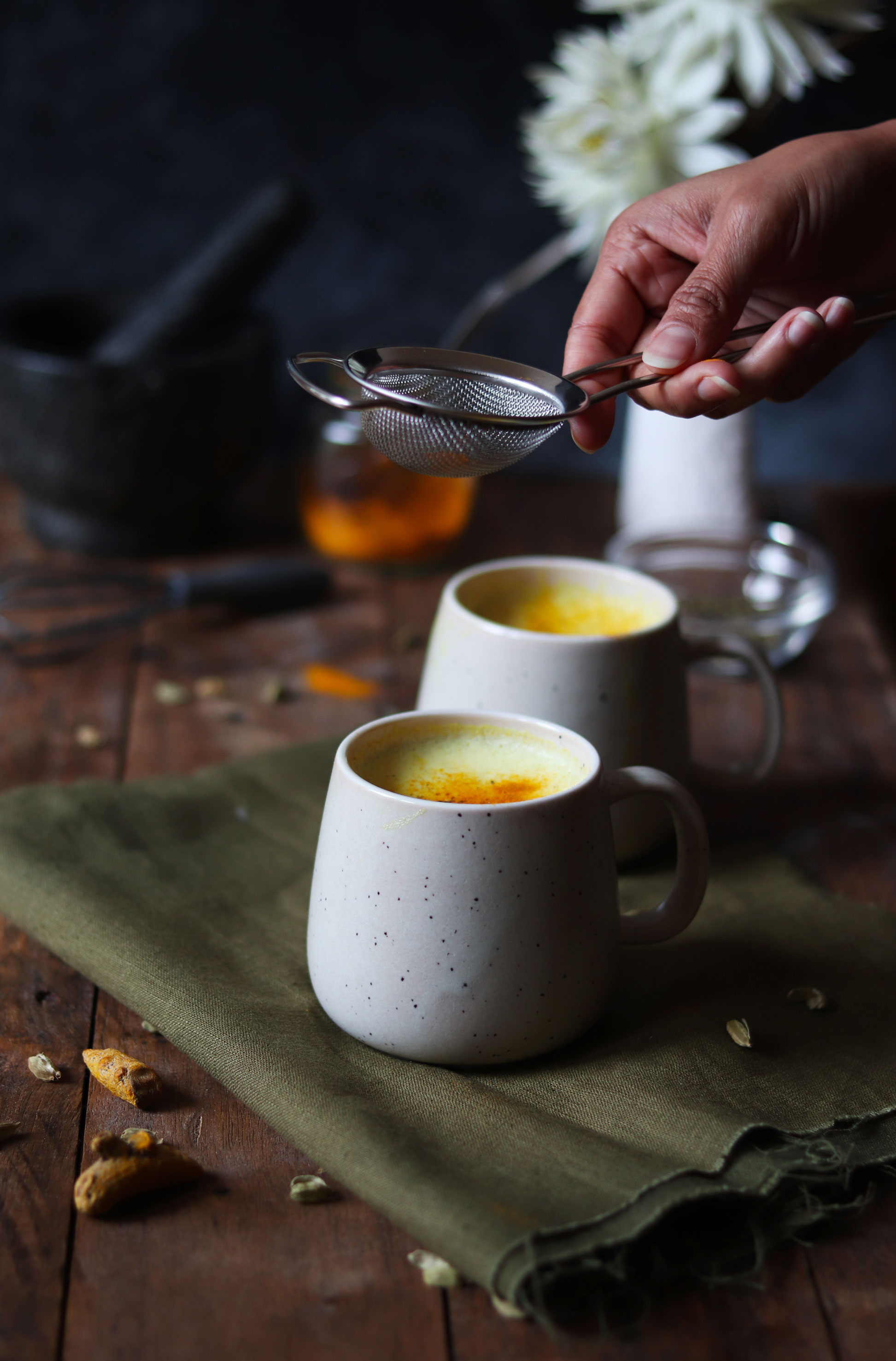 So coming back to my Turmeric latte I made. A simple warming drink can be made with any milk of your choice. I like mine with lactose free milk, since I am lactose intolerant, but you can also make it vegan by making it with Nut milk or even coconut milk for those who are allergic to nuts.
To sweeten it I have added honey, you can make it fully vegan by adding maple syrup or even coconut sugar. That's the beauty of this drink can be made with anything, and it will still taste delicious.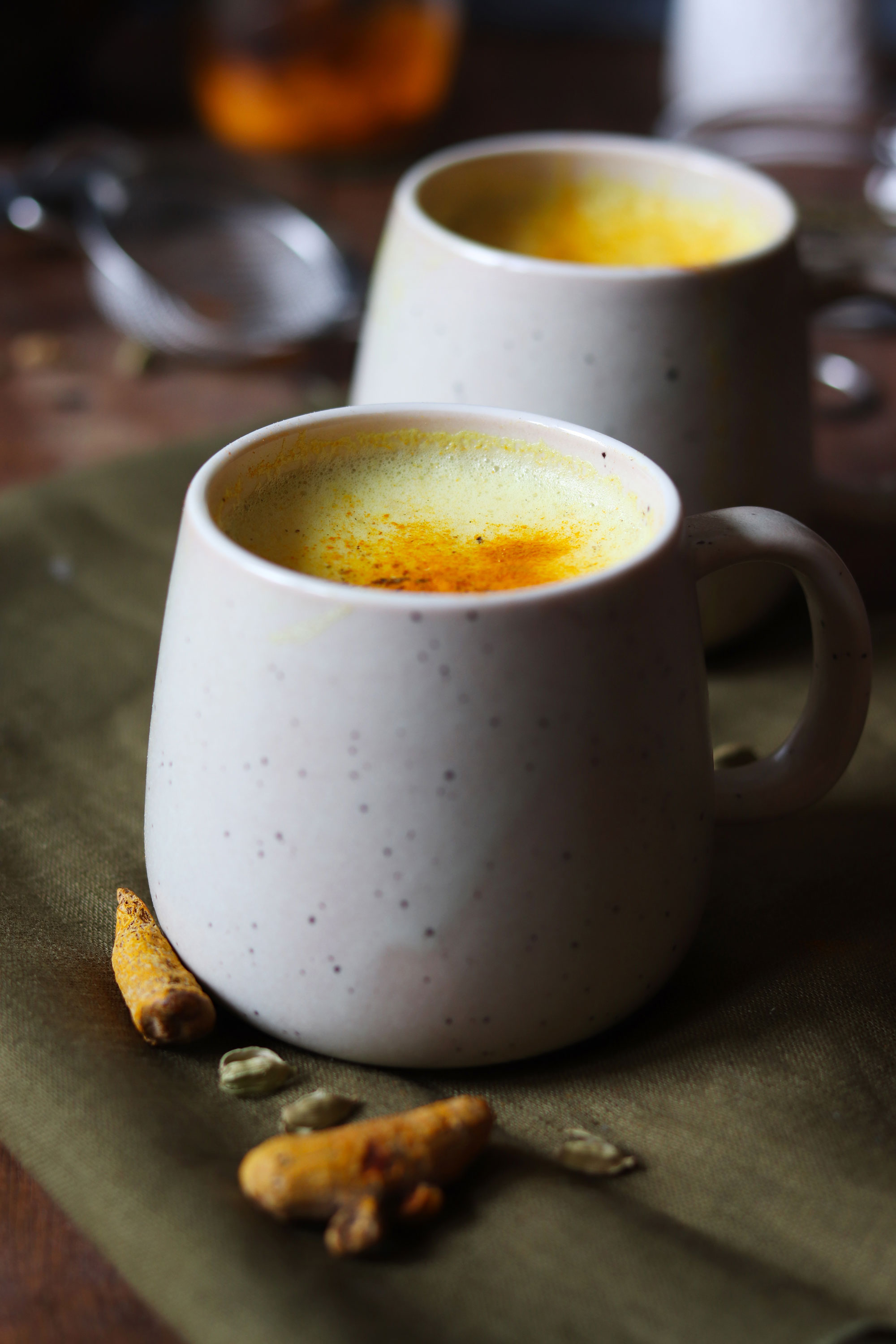 I also recently bought myself a milk frother from Home store and more (click here) It is quite handy to make a froth for any kind of latte you want. If you don't have one you can use a wire whisk to nicely whisk and form froth. I would definitely recommend buying a milk frother, it's cheap and comes in handy.
I hope you enjoy this warm cup of Golden milk (as its popularly known) as much as I did. Let me know if you tried my recipe, please feel free to tag me and use my hashtag #soulfulandhealthy on your lovely creations, so I don't miss them.
Liked what you saw here, please free to share it with family and friends. You can find me on Facebook, Instagram, Twitter and Pinterest
Enjoy!️
Warm hugs
S.
Turmeric and cardamom latte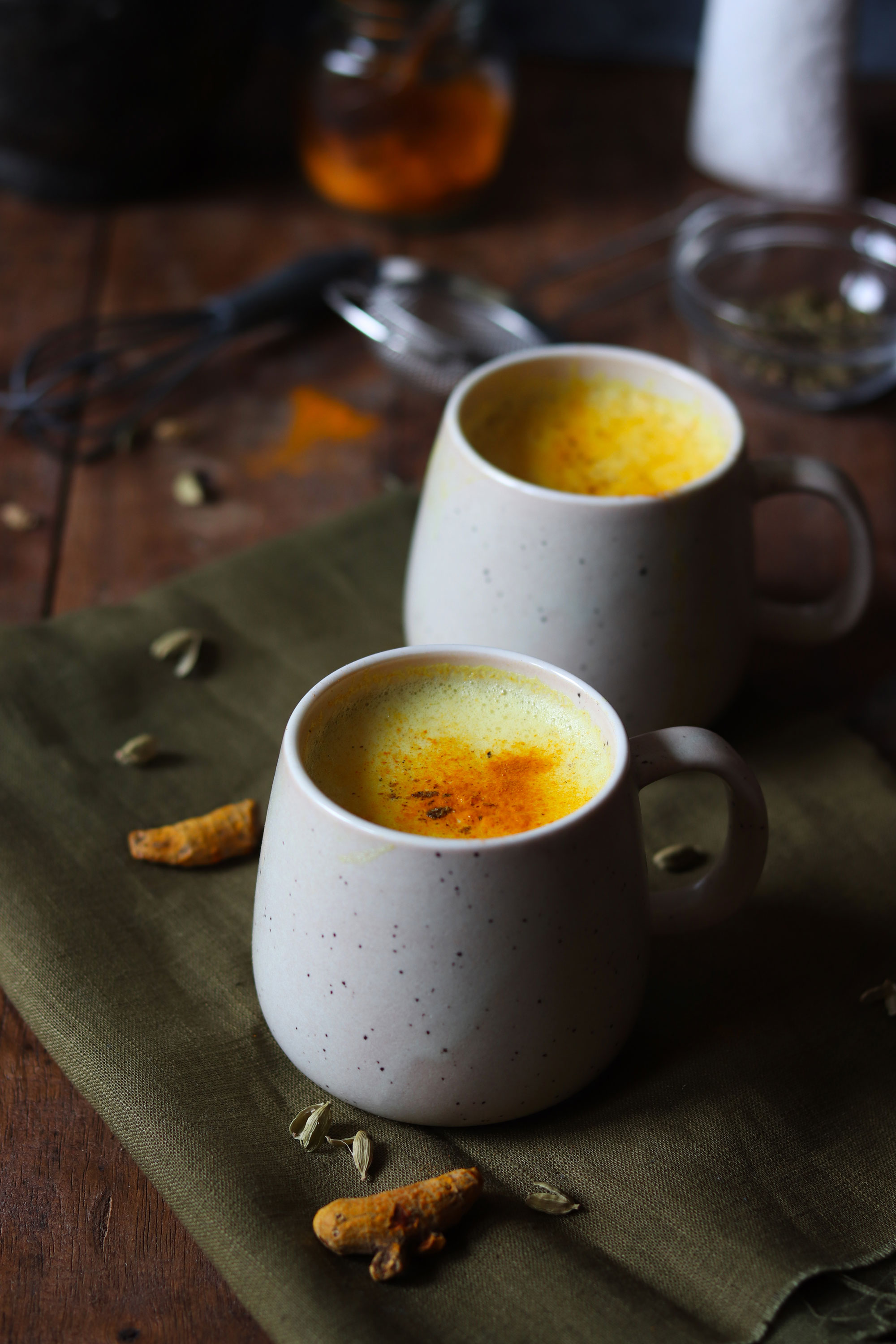 INGREDIENTS
600 ml milk of choice -I used this
2 tsp ground turmeric
2 tsp honey / maple syrup/ coconut sugar
7 to 8 cardamom pods
instructions
Remove the seeds from the cardamom and using a pestle and motor crush the seeds into a fine powder.
On a medium saucepan add the milk, turmeric, honey/ maple syrup and cardamom powder. Using a wire whisk gently whisk the milk, until it starts forming a foam and everything is mixed well. Do not let it boil. Let it heat up well for two to three mins.
If using a electric milk frother, add about 100 ml of the milk in the mug and whisk it until it forms a nice froth. Gently add the rest of the milk into the mugs.
Serve warm and enjoy!