Tandoori chicken - whole chicken
One of my ultimate favourite chicken has always been tandoori chicken, I love how the beautiful Indian flavours come together and when grilled the charred bits is what gives it the delicious taste.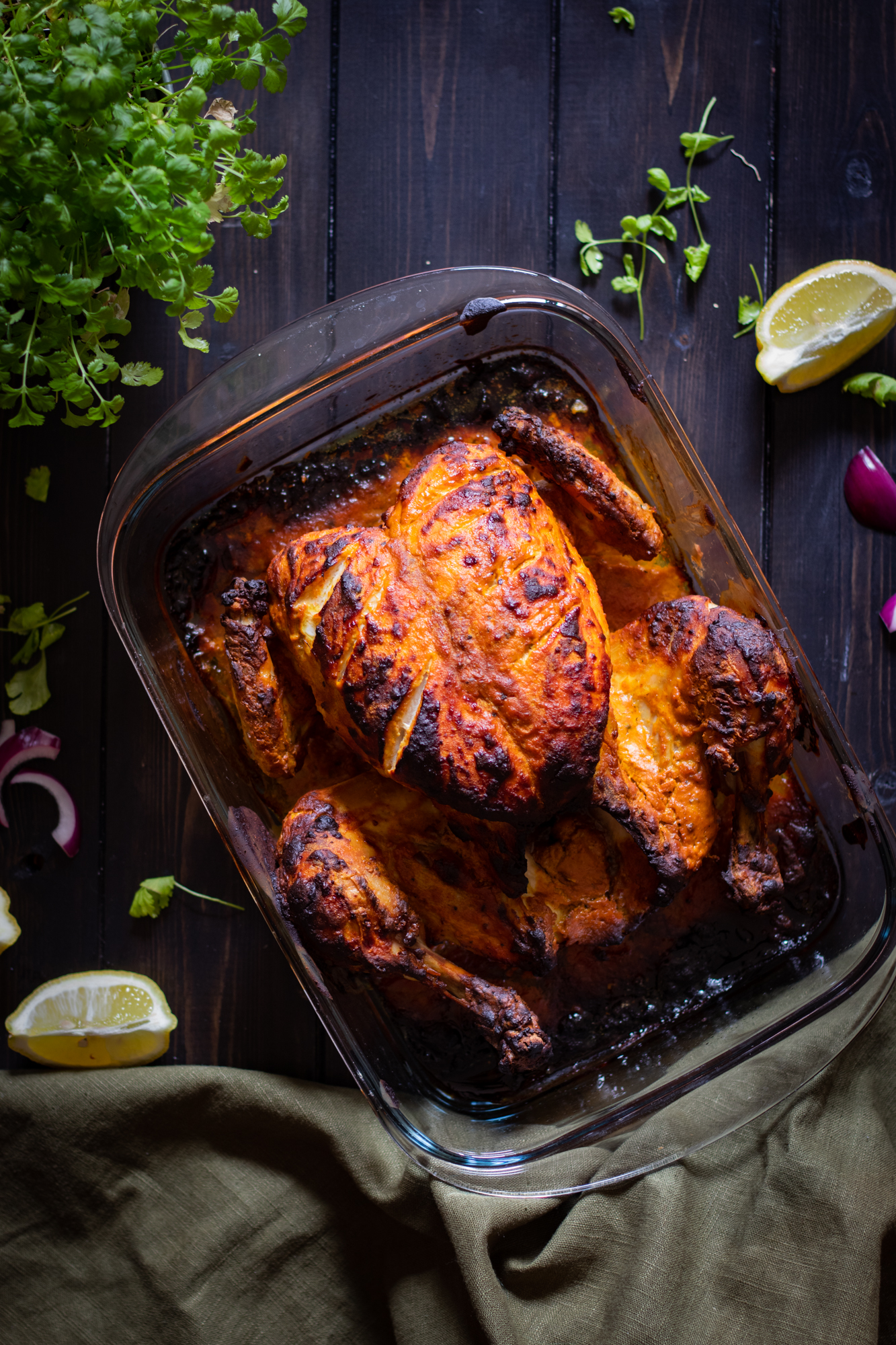 The secret lies in the marination, one such ingredient is yogurt, it penetrates the chicken and makes it soft and juicy even after it is grilled.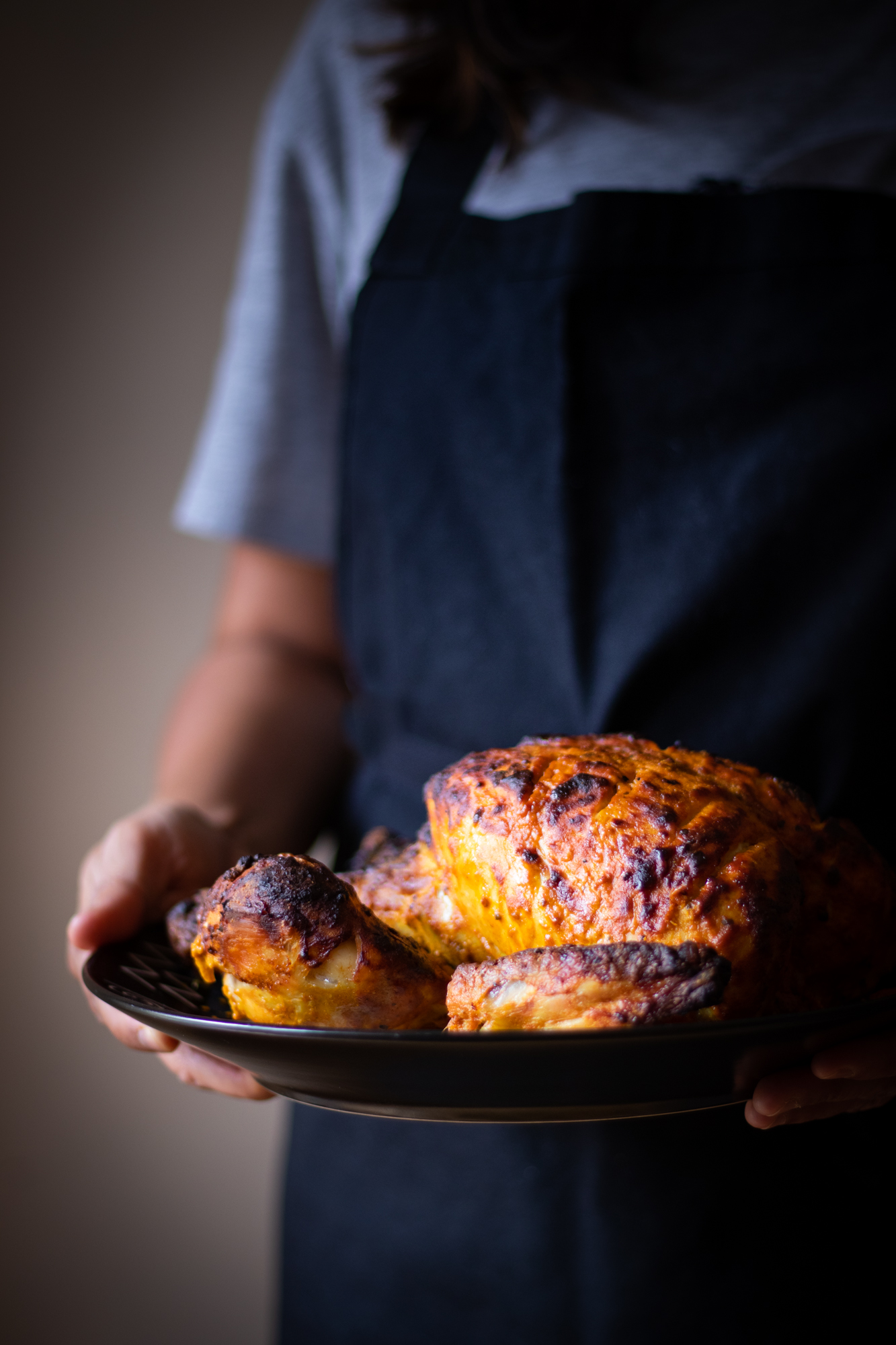 In India we order tandoori chicken in a restaurant or a takeaway, since not all of us have tandoor (clay oven) at home, but with an oven you can get the same deliciousness keeping in mind few tips.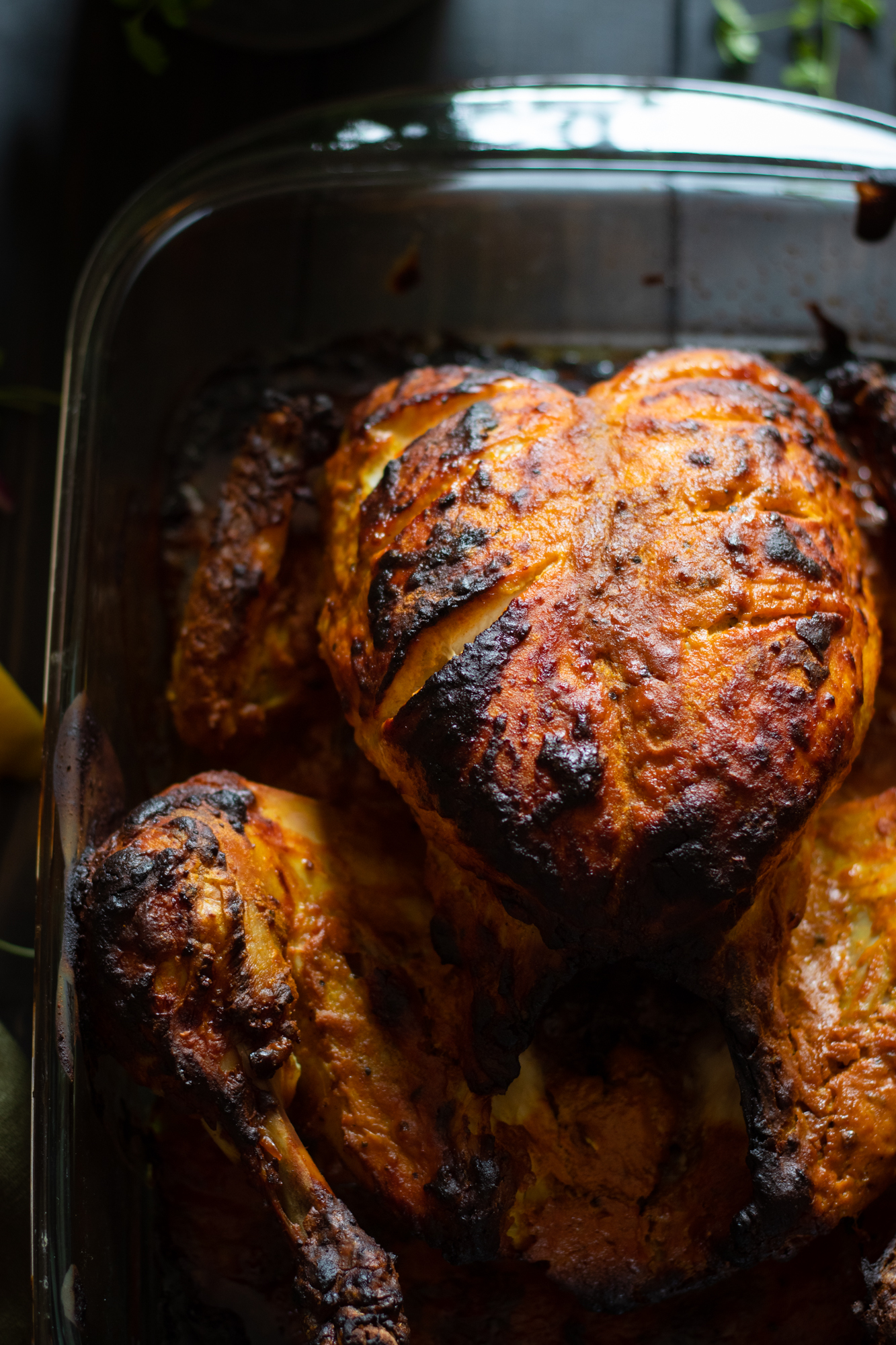 Important tips -
Remove the skin -I know it's a tedious process but this step is crucial, the spices will not be absorbed by the raw meat if the skin is still on. If you could get your butcher to de-skin your chicken then you will not have to worry about removing the skin from an entire chicken, but if I can do it I'm sure you can too.
Marination - The more time the chicken stays marinated the more tender and juicy the meat. It's better if you can marinated the chicken overnight, so you have it ready for the next day. If not it has to be marinated for an hour at least.
Grilling or BBQ - If you are making this in the oven it takes about an hour to 1.15 mins, but why making it on a BBQ it will be done in few mins, so keep an eye on it. Also each oven temperature varies.
Spices - Always make sure you have good quality of Indian spices, preferably bought from an Asian store. You can alter the spices as per your taste and liking, I like mine spicy but if you can't handle it, you can always reduce the amount of chilli or use paprika instead. can check the level of heat before you add the marination to the chicken to see how you like it.
Replacing ingredients- If you do not have chickpeas flour you can skip it, but it does help the spices bind together and gives a great texture to your cooked chicken but I know not every household has this, so if you don't have don't worry, make sure you add it your next shopping.
Using drumsticks or wings - The marination is the same if using any other parts of the chicken, if using drumsticks or wings please make sure to remove the skin, as mentioned above it does help in absorbing the spices., however the cooking time may vary.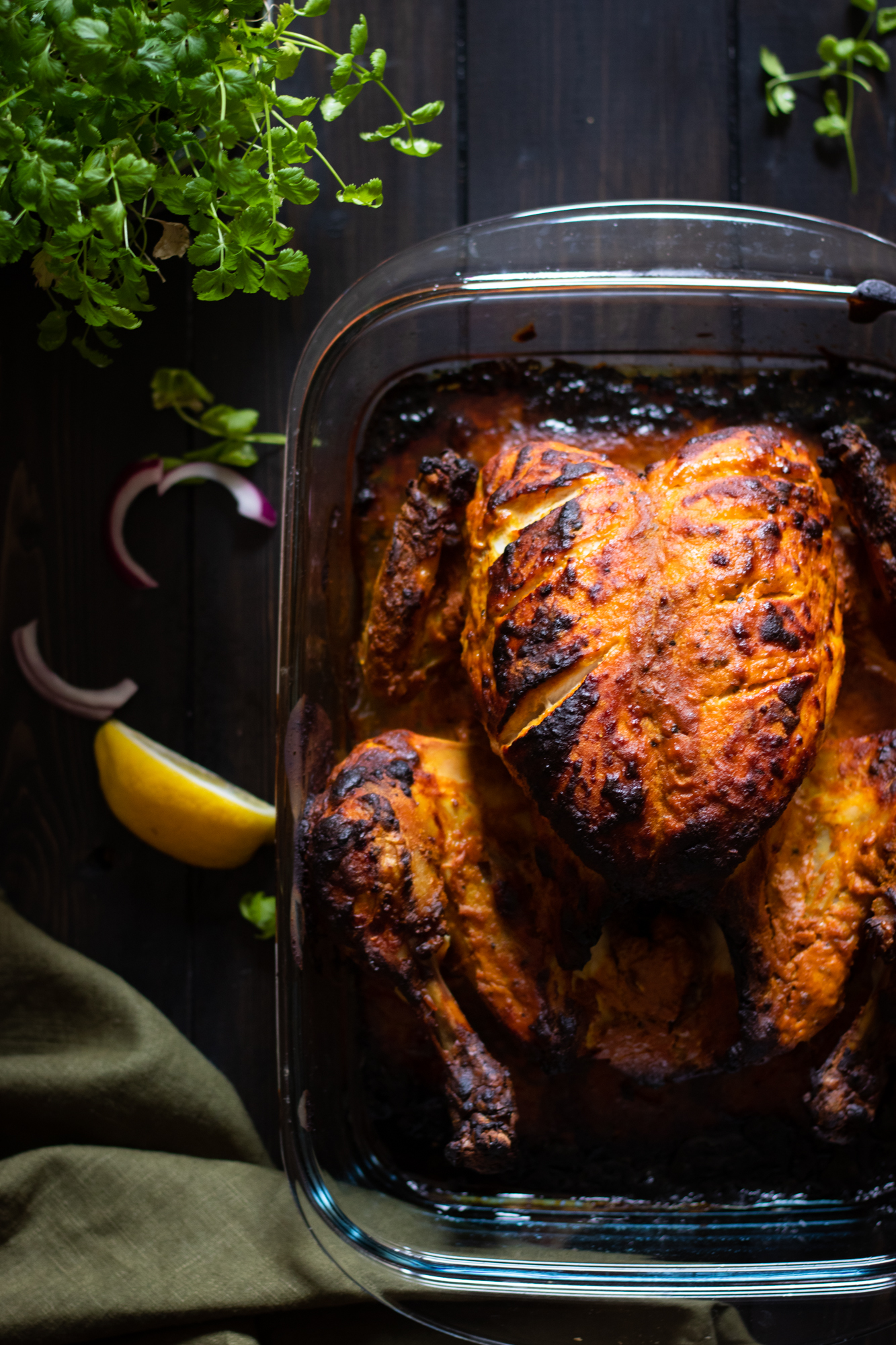 If you liked this, you might even like this delicious Tandoori chicken skewers
I hope you like it, let me know if you try this and please do remember to use my hashtag #soulfulandhealthy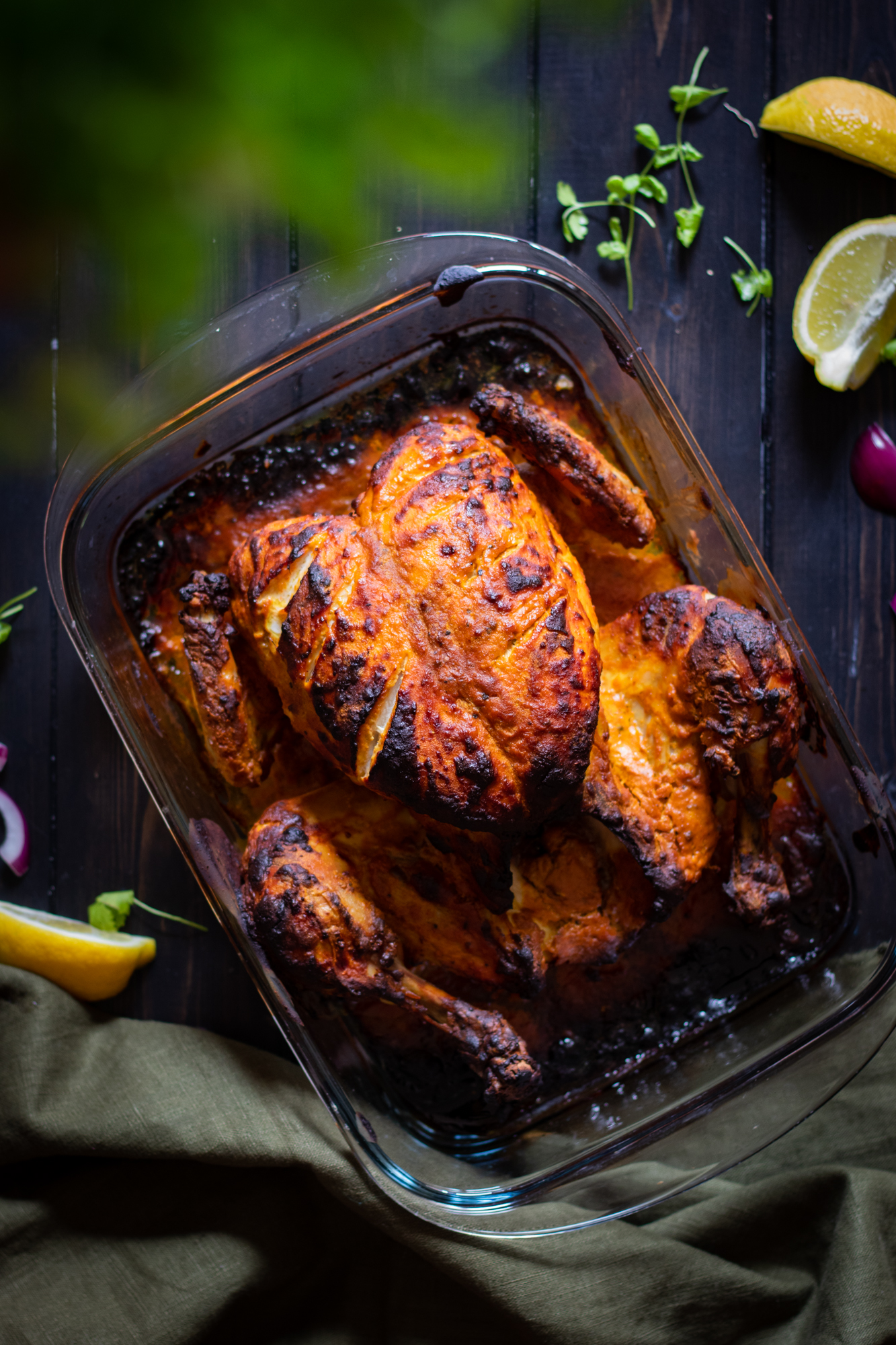 If you liked what you see here, please feel free to share it with family and friends. You can find me on Facebook, Instagram, Twitter and Pinterest
Hugs
S :)
Tandoori chicken - whole chicken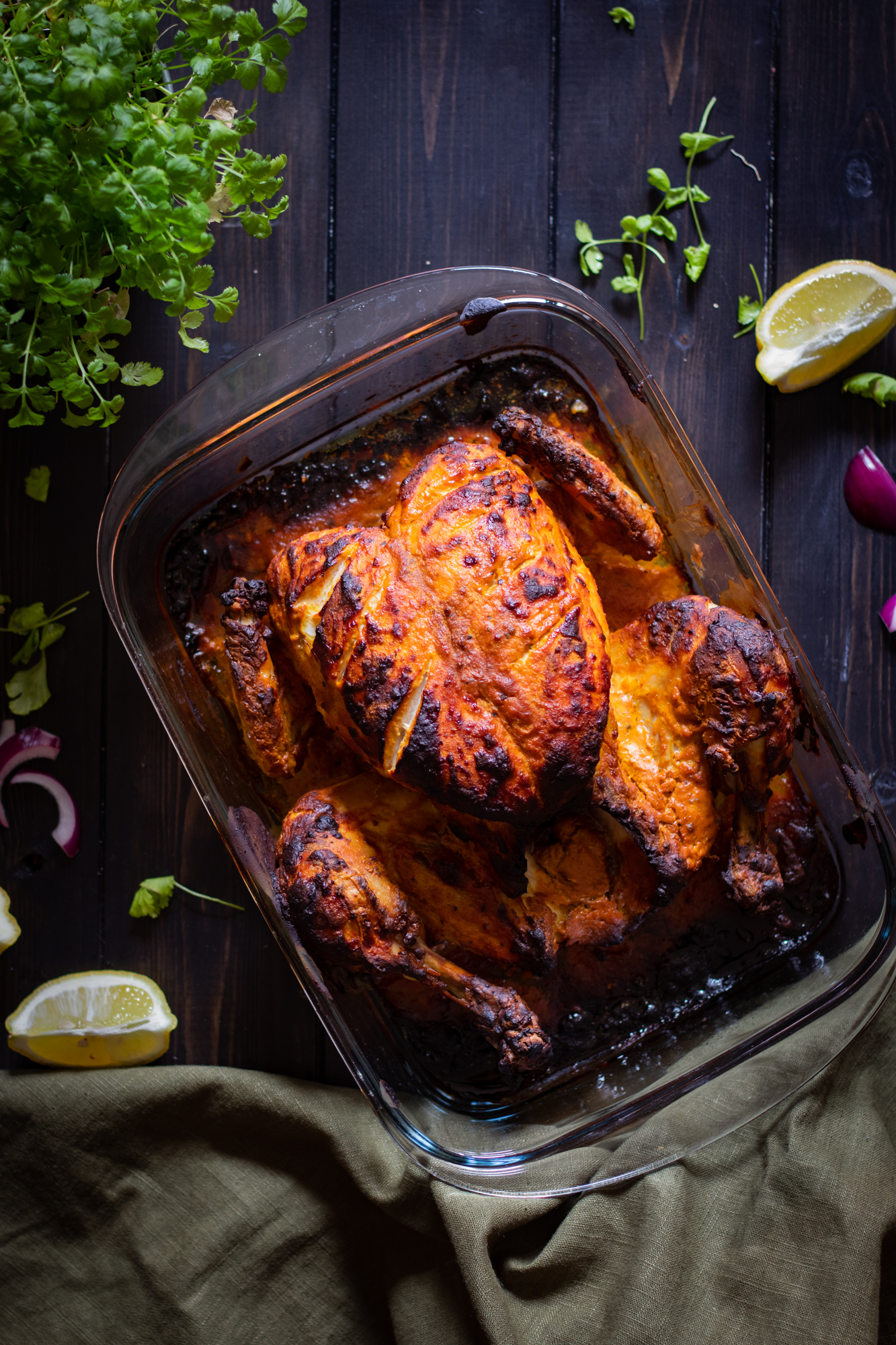 | | |
| --- | --- |
| Prep Time: | Overnight to 1 hour marination and 1 hour baking time |
INGREDIENTS
One whole chicken skin removed (a good quality meat)
2 to 3 tbsp Melted butter or ghee for basting

Marination -

400 grams natural yogurt or Greek yogurt
A big 1 tbsp ginger and garlic paste (very finely grated ginger and very finely grated garlic)
1 big heaping tbsp chickpeas flour (optional)
1 tsp ground turmeric
1 to 2 tsp Kashmiri red chilli powder or paprika
1 tsp ground cumin
1 tsp ground coriander
1 tsp Garam masala
1 to 2 tbsp lemon juice
Sea salt to taste
instructions
Add all the ingredients under marination and mix well using a wire whisk, make sure everything is well combined and there are no lumps. Taste the marination and see if you would like to adjust the heat or tanginess according to your taste buds.
Apply the marination mixture to the chicken, make few deep slits on the breast and thighs, rub it all over, cover and keep refrigerated overnight or at least for an hour.
When ready to grill, pre-heat the oven to 180 degrees Celsius in grill mode. Transfer the chicken to a baking tray add some of the marination that's left in the bowl on the chicken, make sure it's cover all over. Bake in the center rack of oven for about an hour (keep an eye), remove every 20 mind or so and drizzle melted butter or ghee all over and contribute grilling. If using on a BBQ the timing may vary.
Serve on the side or as your Sunday roast along with some basmati rice and raita. Enjoy!