A big bowl of heart warming chili is all I need when the temperature dips down to single digits. Spiced up with taco flavours along with minced Turkey, veggies and beans, makes it so delicious and healthy. Top with corn nachos, avocado, sour cream and fresh coriander for that wholesome delicious meal.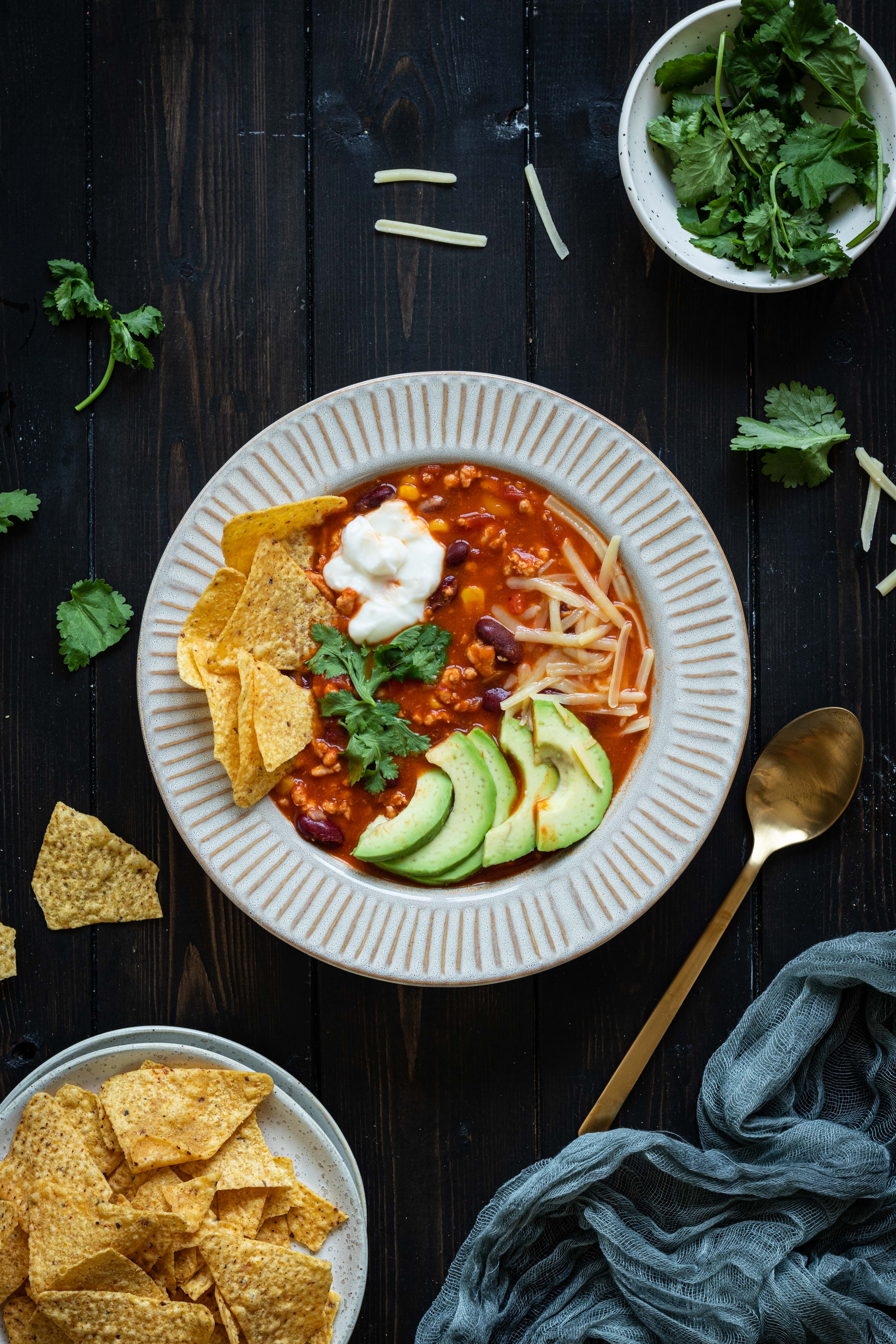 Everything in this bowl is like a belly hug, the spices combination is so good, I absolutely love everything about this chilli and my husband said it's one of the best I have ever made. I think the taco spices flavours made a difference this time around.
I can eat a bowl like this all day everyday, well I did make this for two days and no one complained. It tasted even better the next day. The toppings are optional but I highly recommend it because it gives extra flavours and texture to the chilli.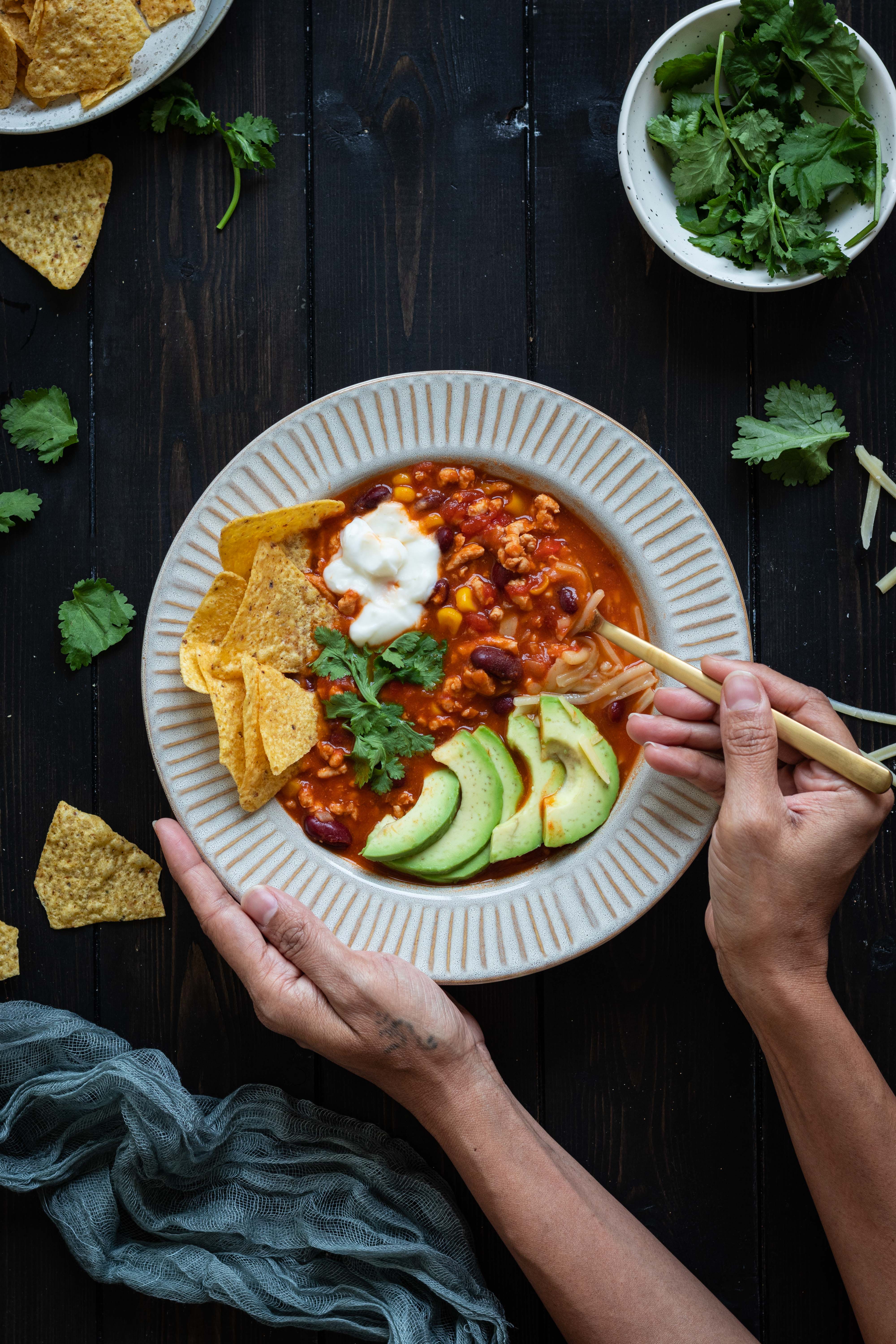 I have used minced Turkey breast you can use minced beef or lamb too. Also a very good quality broth will enhance the flavours. I have used Sadie's Kitchen Chicken Bone broth it makes it so much more tastier and healthier too.
Most of the spices I am sure you will all have it in your pantry if not it's still all very easily available in all supermarkets. it's a mix of Smoked paprika, ground cumin, chilli powder, onion powder, dried oregano, salt and pepper.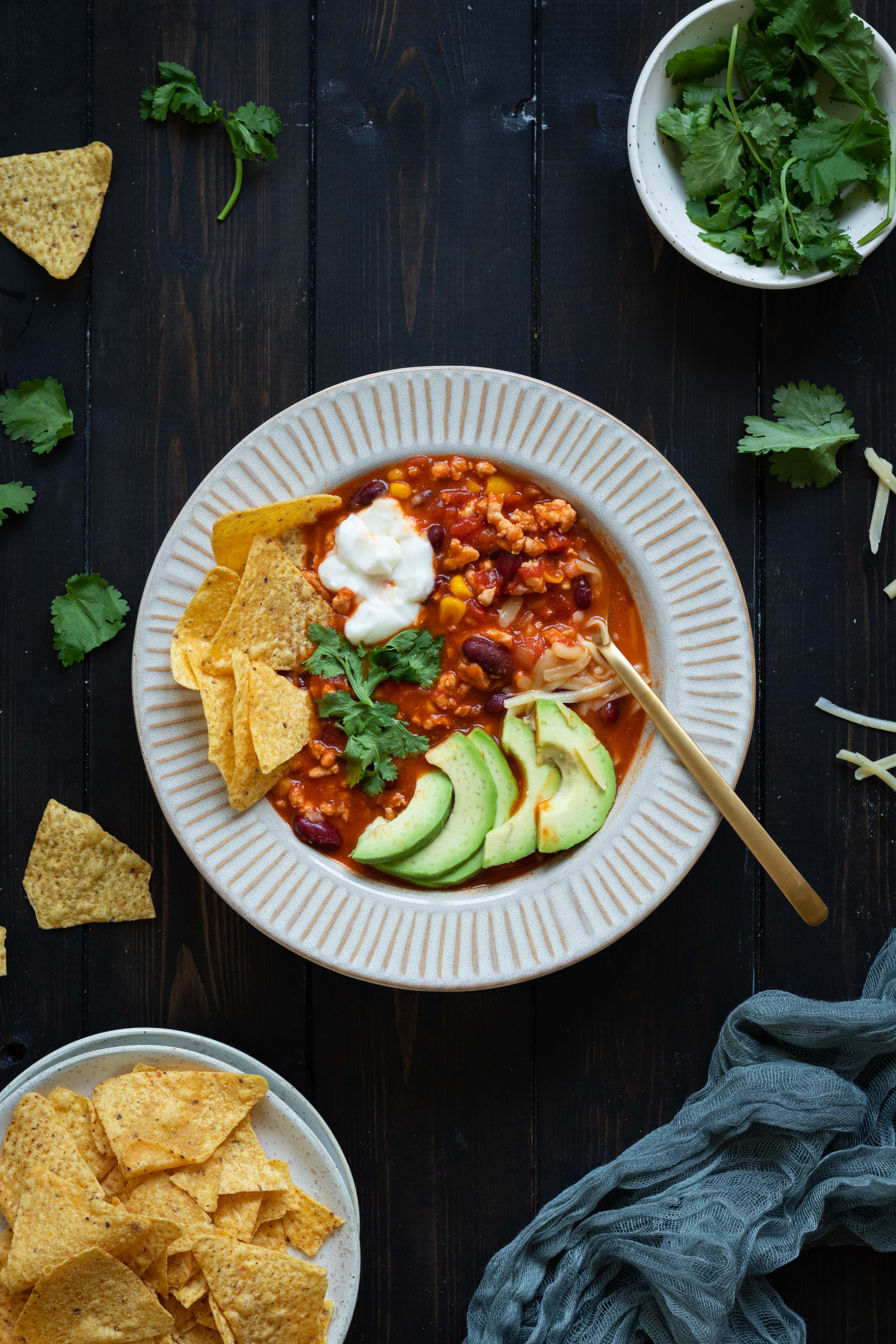 I love the fact that it's a one pot meal, just throw everything into a big pot and it's done. Less cooking and less cleaning after. You can even make ahead and freeze the chilli will taste just as great.
I have added avocados, grated cheese, sour cream and fresh coriander. You can eat it as it is but with all these toppings the chilli is next level. Serve with nachos or with rice or enjoy as it is.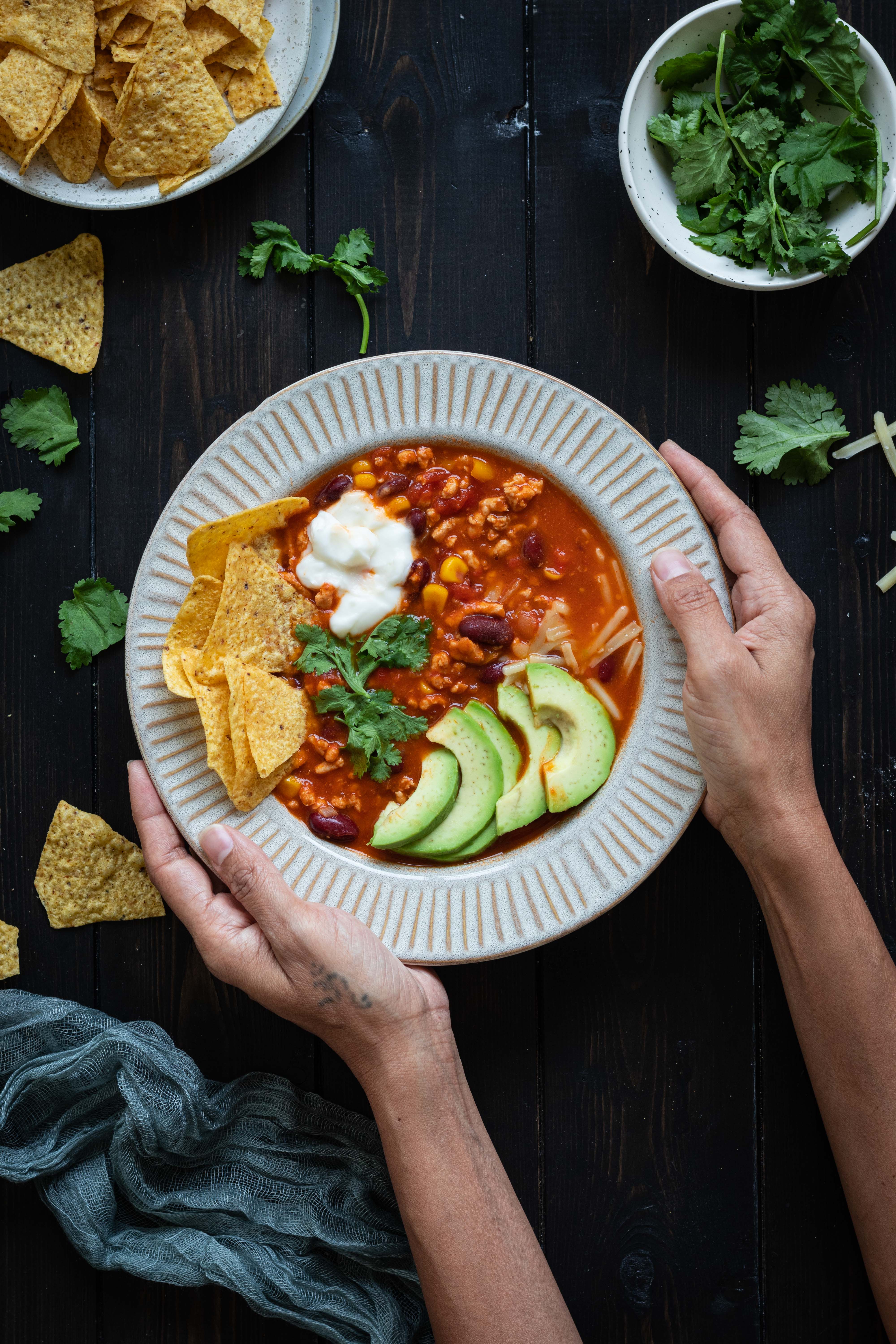 As winter approaches these one pot wonders are all we need. Cosy up and watch your favourite on the telly and enjoy this warm bowl of delicious comforting meal.
You can adjust the spices as per your taste and liking, if you like it more spicy or less add the cayenne pepper accordingly. I like mine medium spiced so that my little boy can eat as well.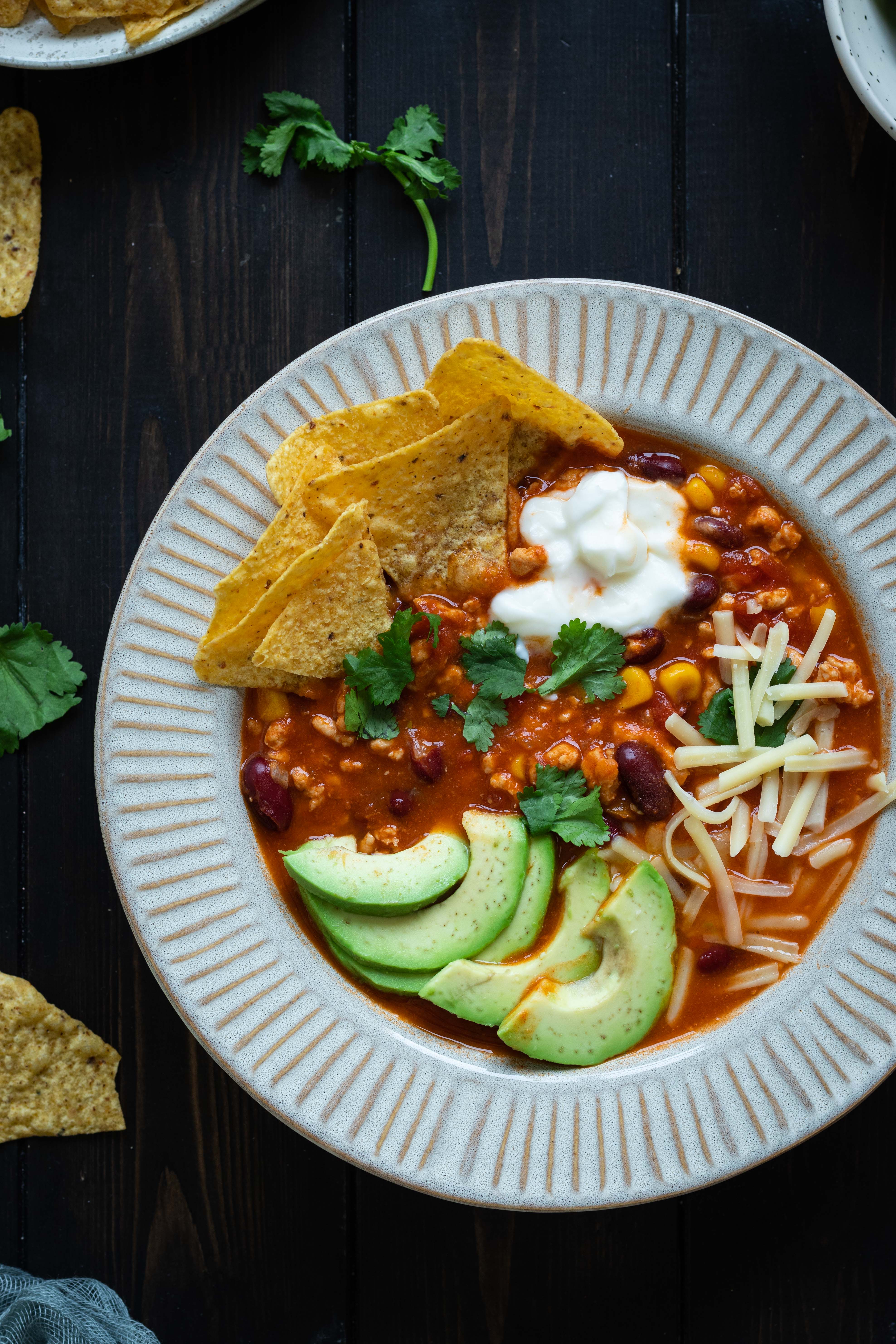 It is suitable for home freezing, freeze on the day you prepare in portions so it's easy to unfreeze when needed.
I hope you enjoy this as much as I did, please let me know if you try this do leave a comment below. Do remember to use my hashtag #soulfulandhealthy
If you liked what you see here, please feel free to share it with family and friends. You can find me on Facebook, Instagram, Twitter and Pinterest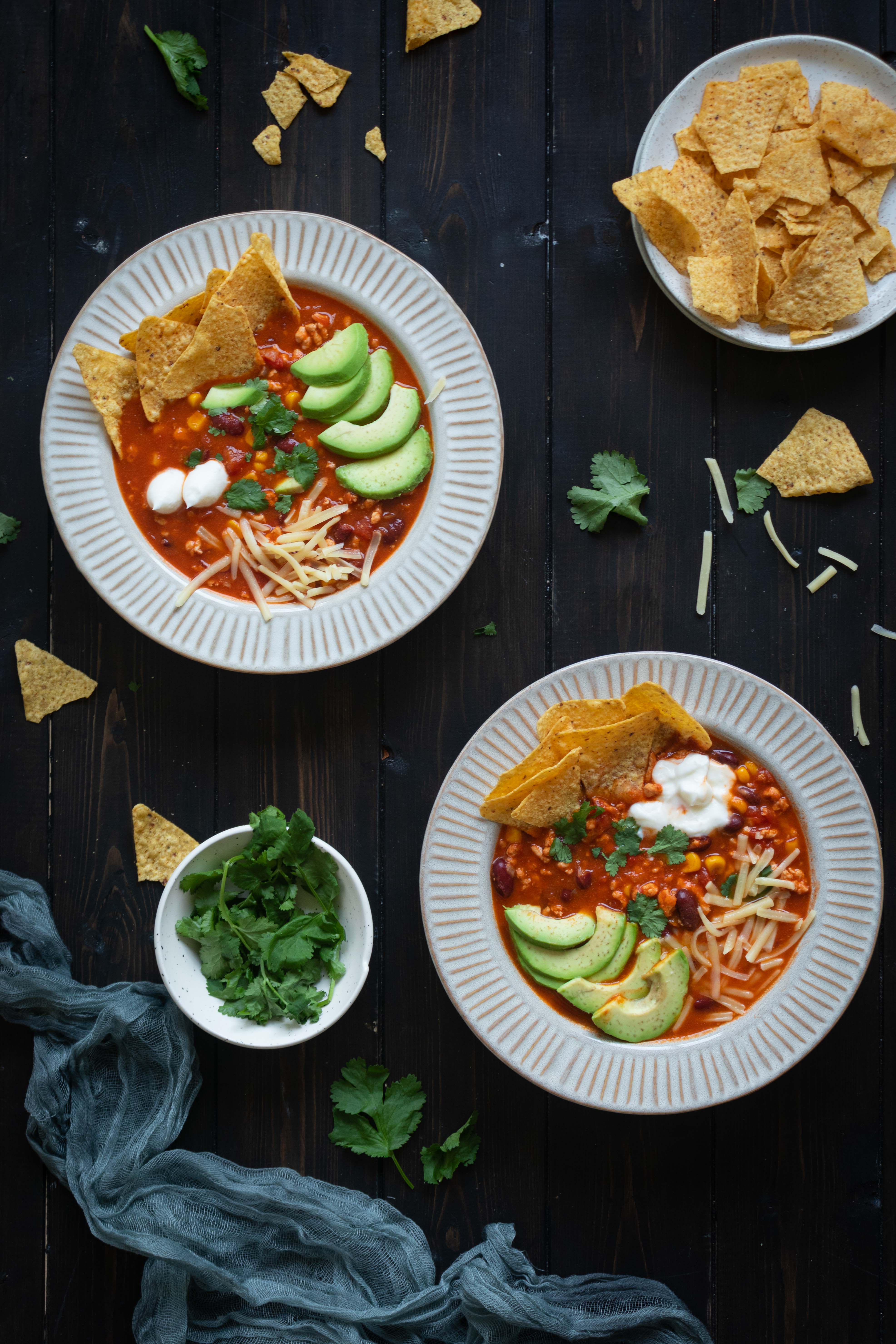 Taco Turkey chili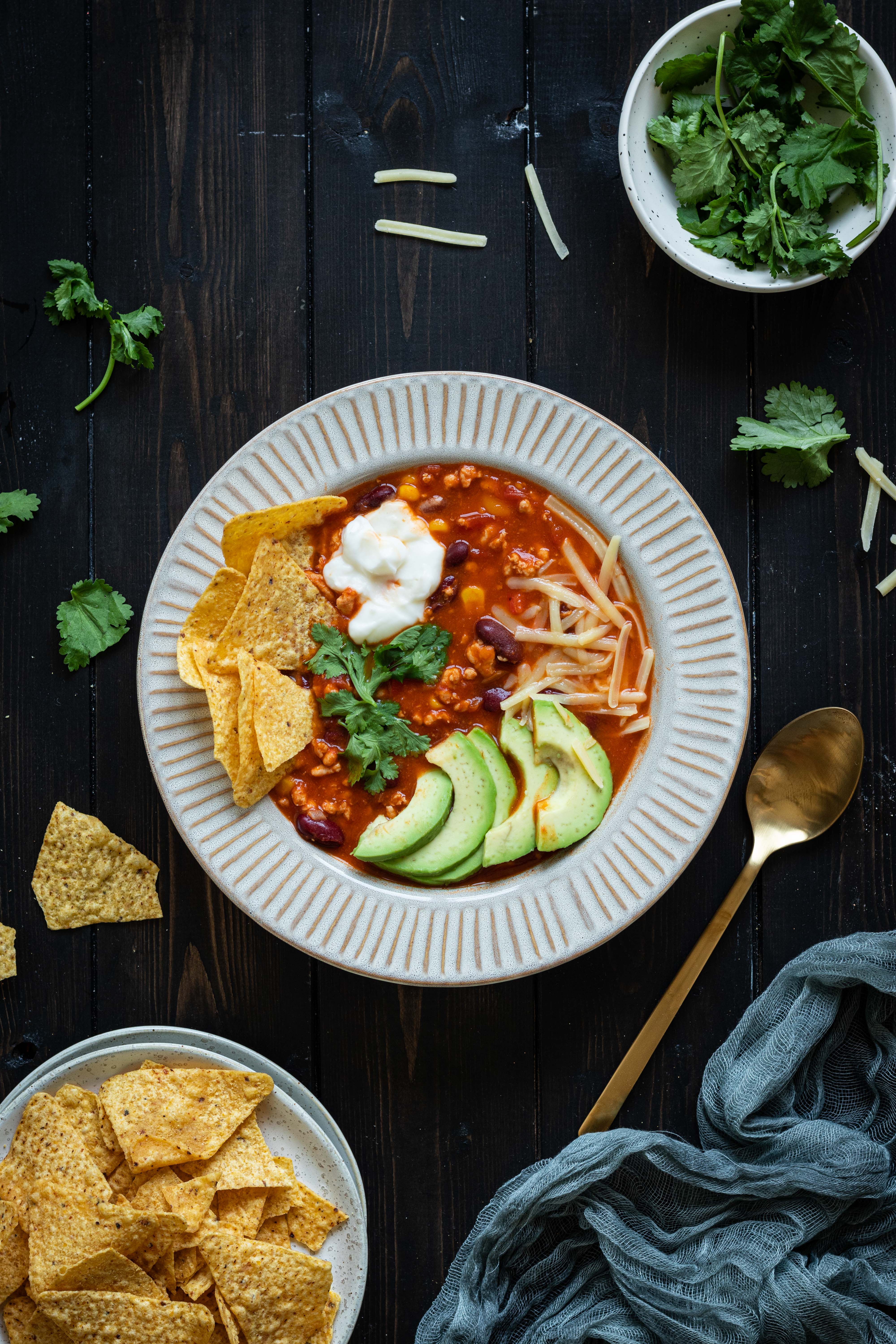 INGREDIENTS
600 grams ground/minced Turkey breast
1 medium onion finely chopped
2 cloves garlic chopped
1 red pepper chopped
1 yellow pepper chopped
2 tins chopped tomatoes
2 tins kidney beans
1 heaping tbsp tomato purée
1 litre Chicken bone broth/ Chicken stock
250 ml water
1 heaping tsp ground cumin
1 heaping tsp Smoked paprika
1/2 tsp cayenne pepper
1 tsp onion powder
1/2 tsp dried oregano
1 tbsp extra Virgin olive oil
Sea salt and pepper to taste

Toppings (optional)

Fresh avocado slices
Sour cream
Corn Nachos
Chopped fresh coriander
instructions
Heat the olive oil in a heavy bottom pan and sauté the onions until translucent. Then add the minced Turkey and mix well. Break down any big chunks of meat. Then add the garlic and fry for few mins until the meat changes it's colour.
Next add the peppers and all the ground spices and mix well. Keep the heat medium so you don't burn the spices.
Now add the tinned tomatoes, tomato purée, kidney beans and chicken broth and combine everything well.
Reduce the heat to low and let it slowly simmer for at least 30 to 40 mins, keep stirring in between. If you find it a bit too runny then open the lid and let it simmer for 10 to 15 mins on low heat.
Serve warm with choice of toppings. Enjoy!