Miso prawns and mixed veggie noodles
On a cold winter day all I can think of all I can dream of is a bowl of warm comforting food, a bowl of soup, a bowl of noodles, a bowl of pasta, I basically switch from plate to all things bowl ;) this is one such recipe. With veggies and prawns with a delicious taste of miso in it makes it bowl licking good.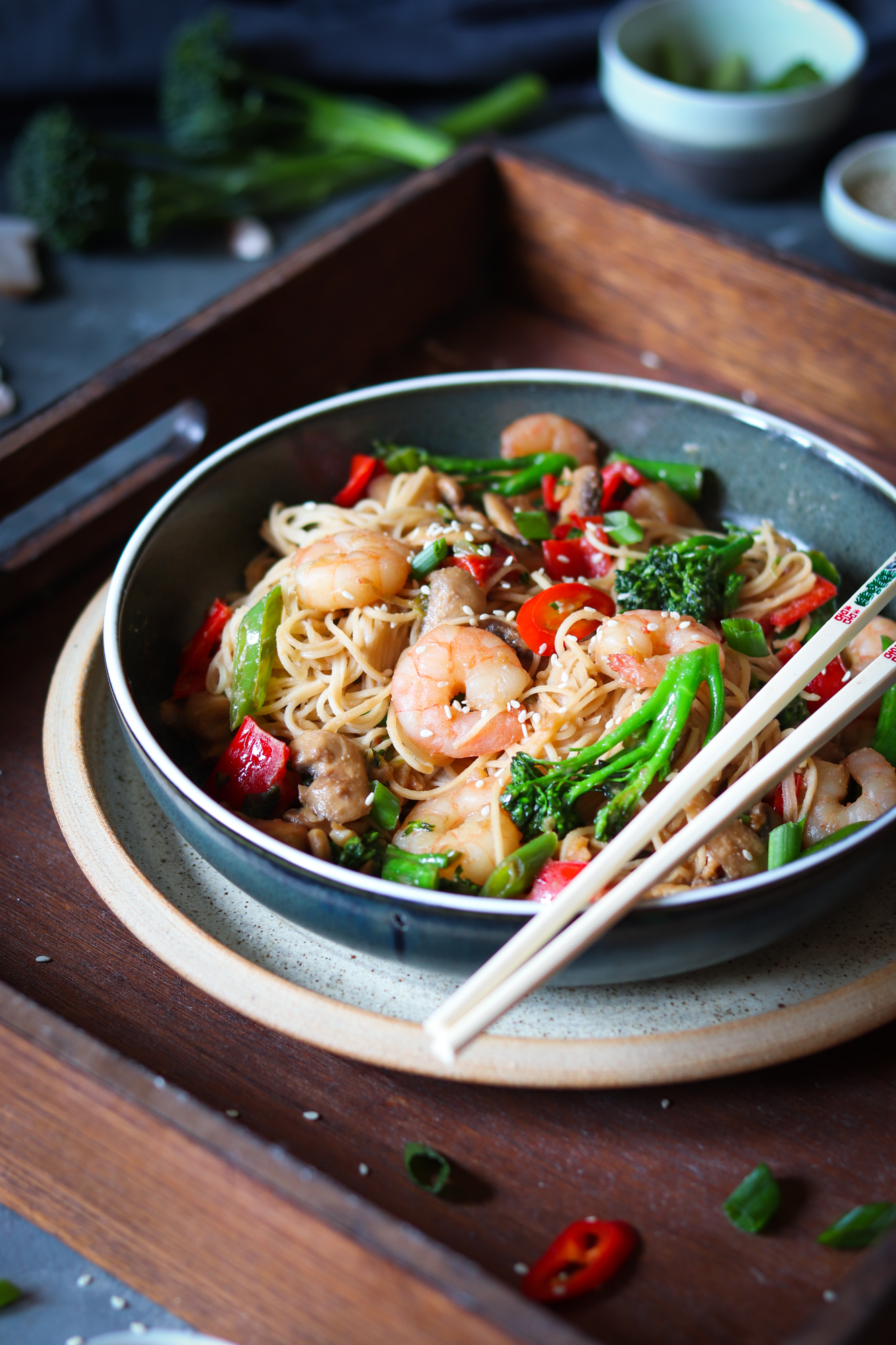 This recipe is one such comforting, delicious bowl of goodness, full of different veggies, prawns and added protein from soya from the miso paste. Miso is 'fermented beans' in Japanese, a traditional ingredient in many japanese and chinese cuisine, is soon becoming a well known product for the rest of the world. It is highly nutritious - great source of protein, vitamins B, E and K and folic acid. As a fermented food, miso provides the gut with bacteria that help us to stay healthy, good gut health is known to be linked to our overall mental and physical wellness.
I have made this recipe for myself a while ago with whatever leftover ingredients from my fridge and freezer and shared it on my Instagram story, asked how many of you would want the recipe and the response was 100 % I couldn't wait to share it with you all.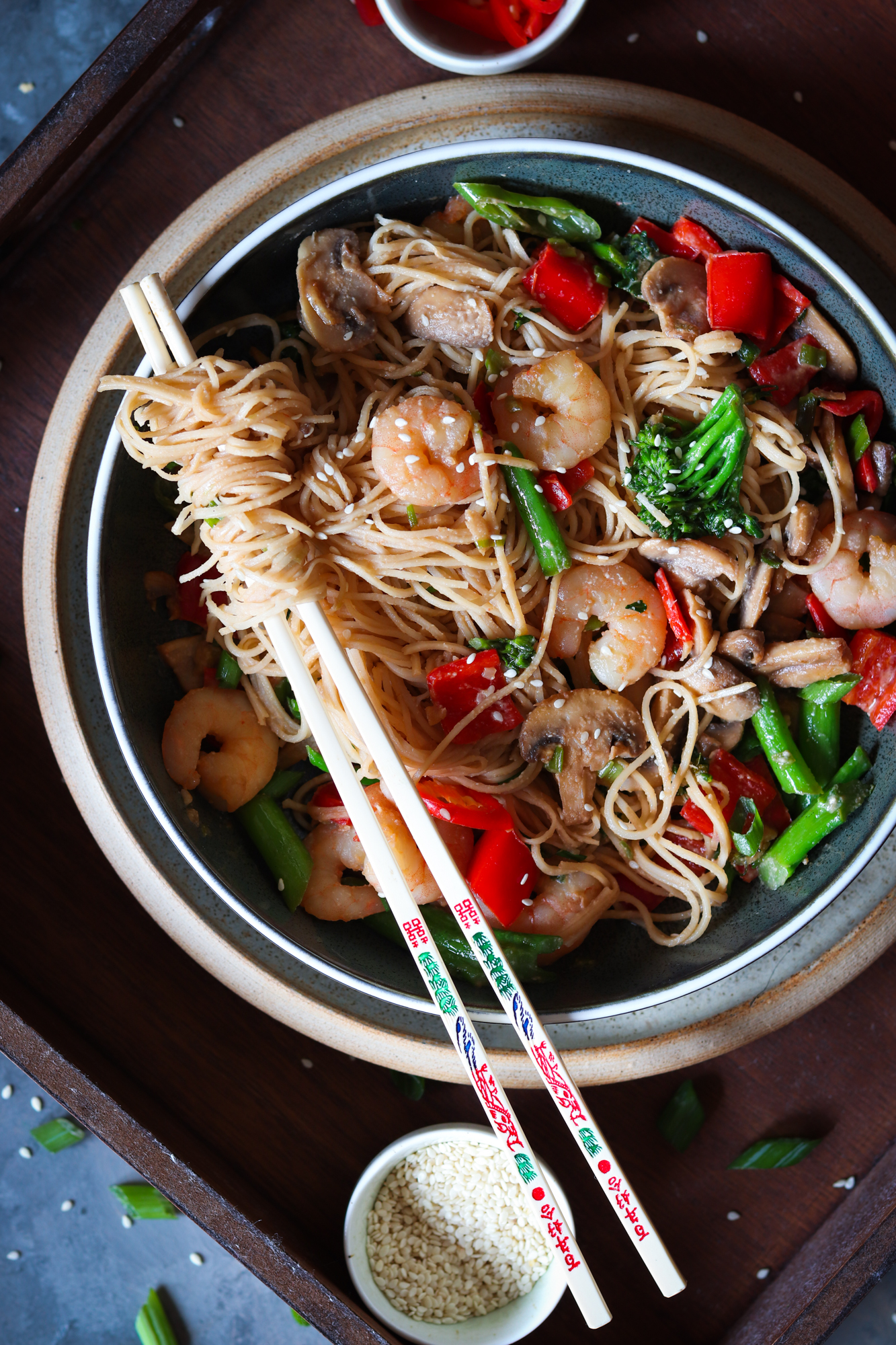 If you have all the ingredients ready and if you are good with chopping then this recipe is ready in 20 minutes. As good as a takeaway or even better with the goodness of homemade meal. Mix and match any veggies of your choice and you can even use chicken, or any meat of your choice and availability, just make sure the cooking time might vary for different types of meat. Or skip the meat and prawns and make it a vegan version as well.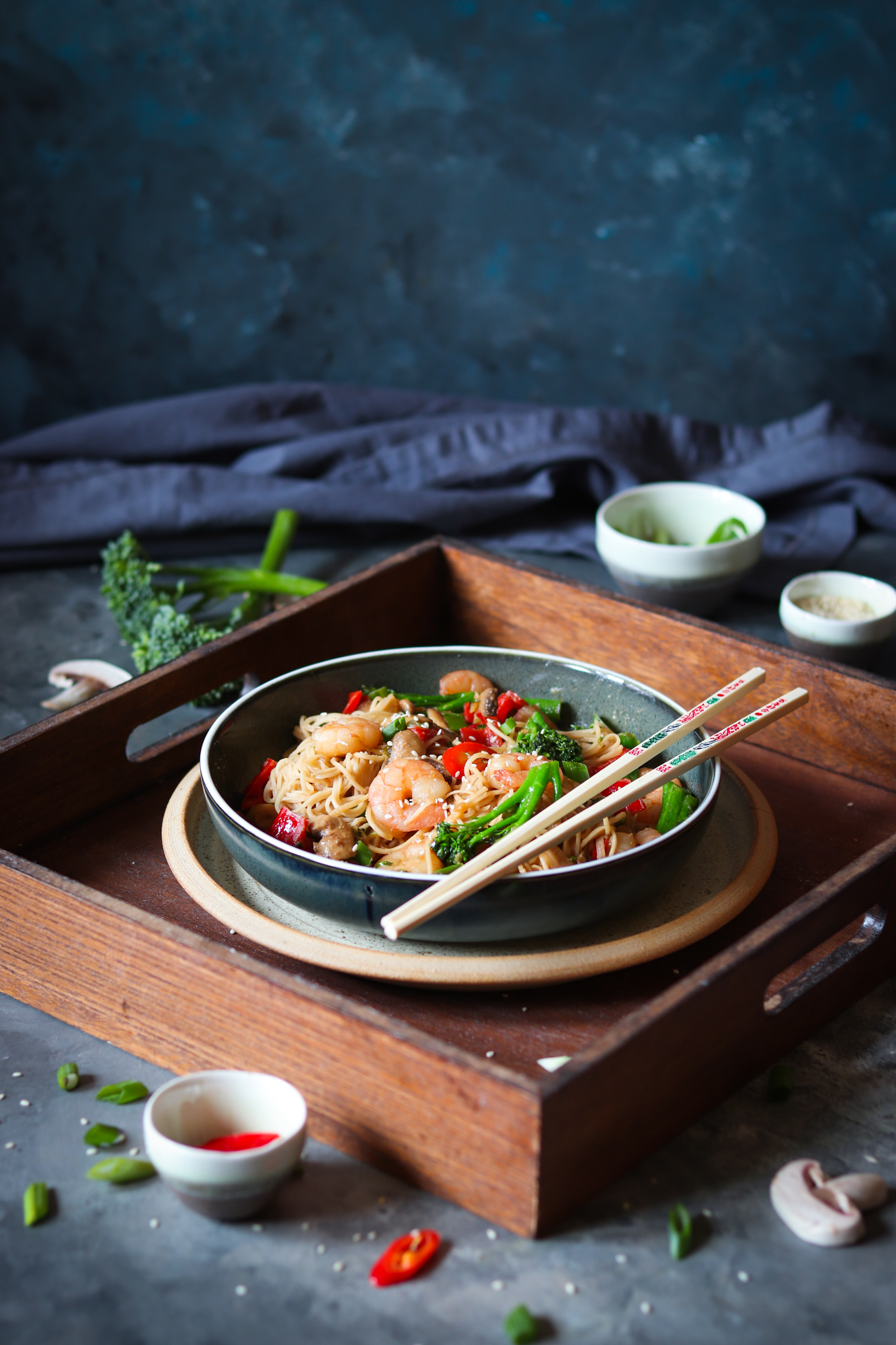 I have used clear spring organic sweet miso paste. I love the taste of this miso as it is not overpowering in flavour and taste, compared to many other brands I have used. Since I am an ambassador of Buy wholefoods online you can purchase this product using the link here for a special discount.
Let me know if you tried my recipe, please feel free to tag me and use my hashtag #soulfulandhealthy on your lovely creations, so I don't miss them.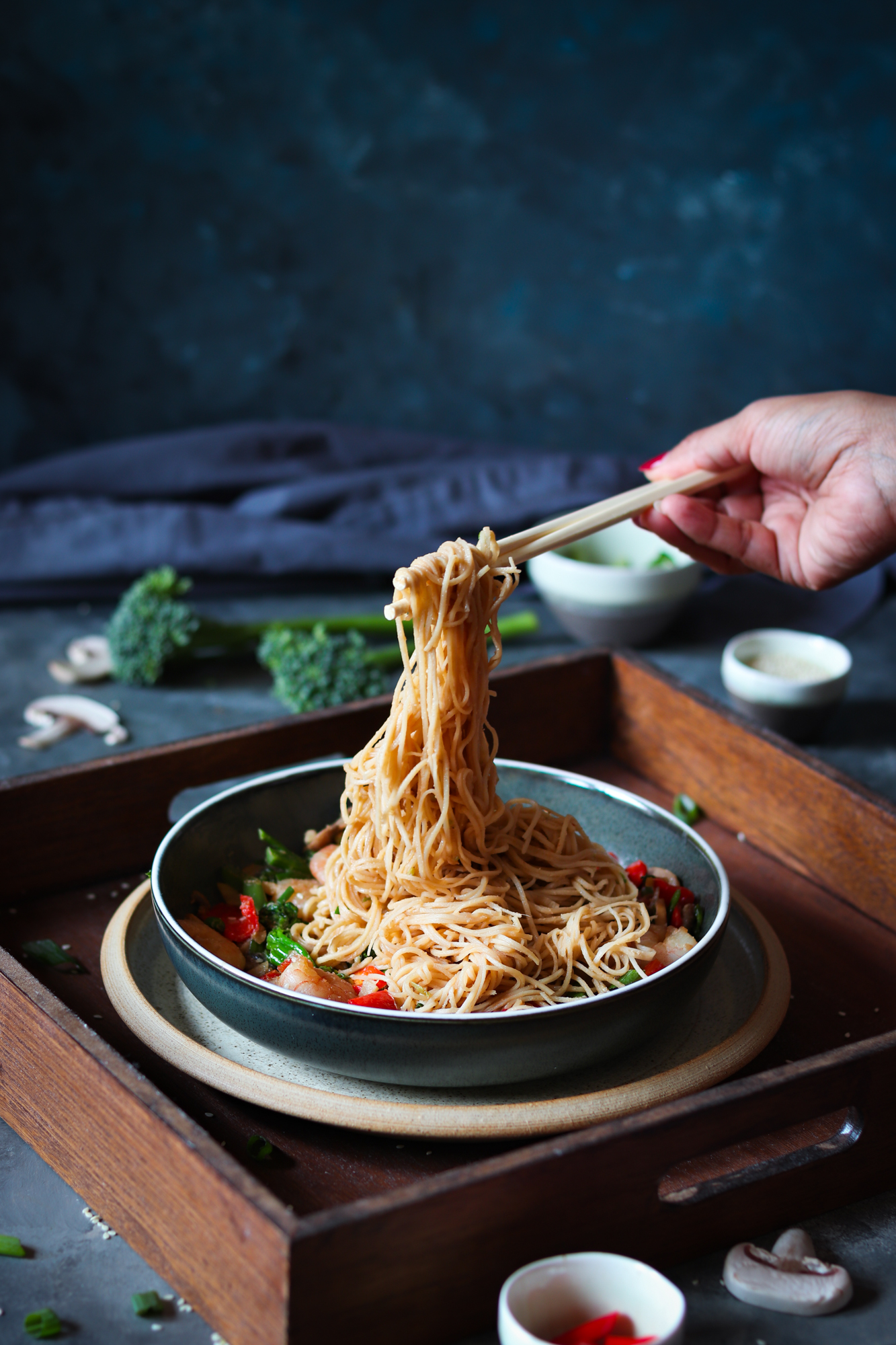 Liked what you saw here, please feel free to share it with family and friends. You can find me on Facebook, Instagram, Twitter and Pinterest
Warm hugs
S!
Miso prawns and mixed veggie noodles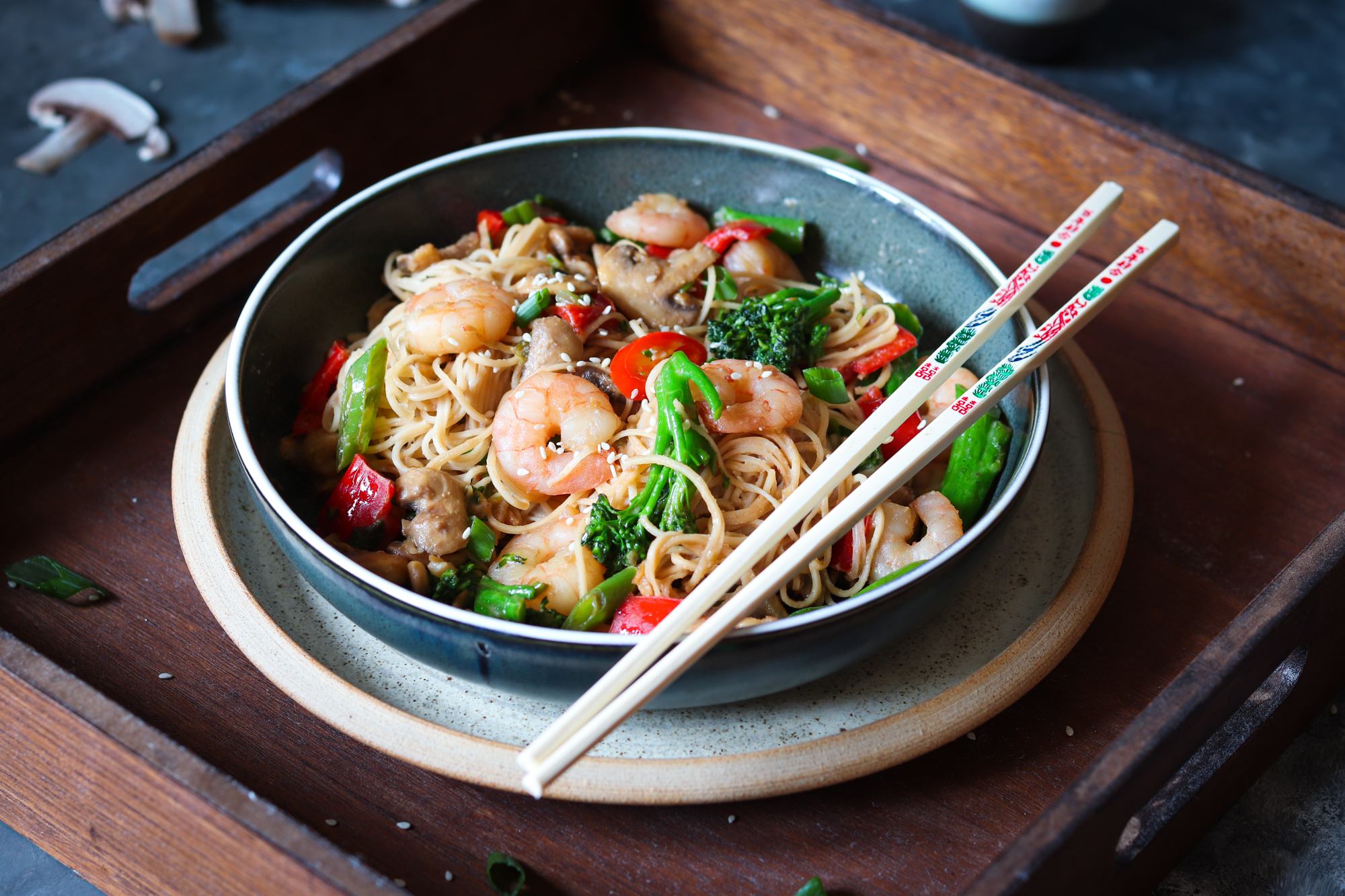 | | |
| --- | --- |
| Servings: | Serves 1 - can be doubled |
INGREDIENTS
5 to 6 king prawns peeled and deveined
5 to 6 button mushrooms chopped
Half red pepper chopped
2 or 3 tender stem broccoli chopped
2 scallions chopped (few for garnish)
1/2 chilli chopped
1/2 tsp of soya sauce
1/2 tsp rice wine vinegar
1/2 cup water
One nest egg noodles dried
instructions
Prepare noodles as per package instructions and set aside.
Heat oil in a wok or a nonstick pan, once heated add all the veggies and sauté for 3 to 4 minutes. Add the king prawns and sauté for 2 more minutes.
Add the soya sauce, rice wine vinegar and mix well, add Clearspring organic Japanese sweet miso paste and 1/2 cup water. Stir well.
Now add the prepared noodles and mix well and fry for another minute, until everything is well combined.
Sprinkle sesame seeds and chopped scallions and serve immediately. Enjoy.