Light and soft and so tasty these green beauties are a treat for breakfast or brunch. Now since Paddy's day is right here, why not whip up these delicious matcha crepes for that special bank holiday weekend.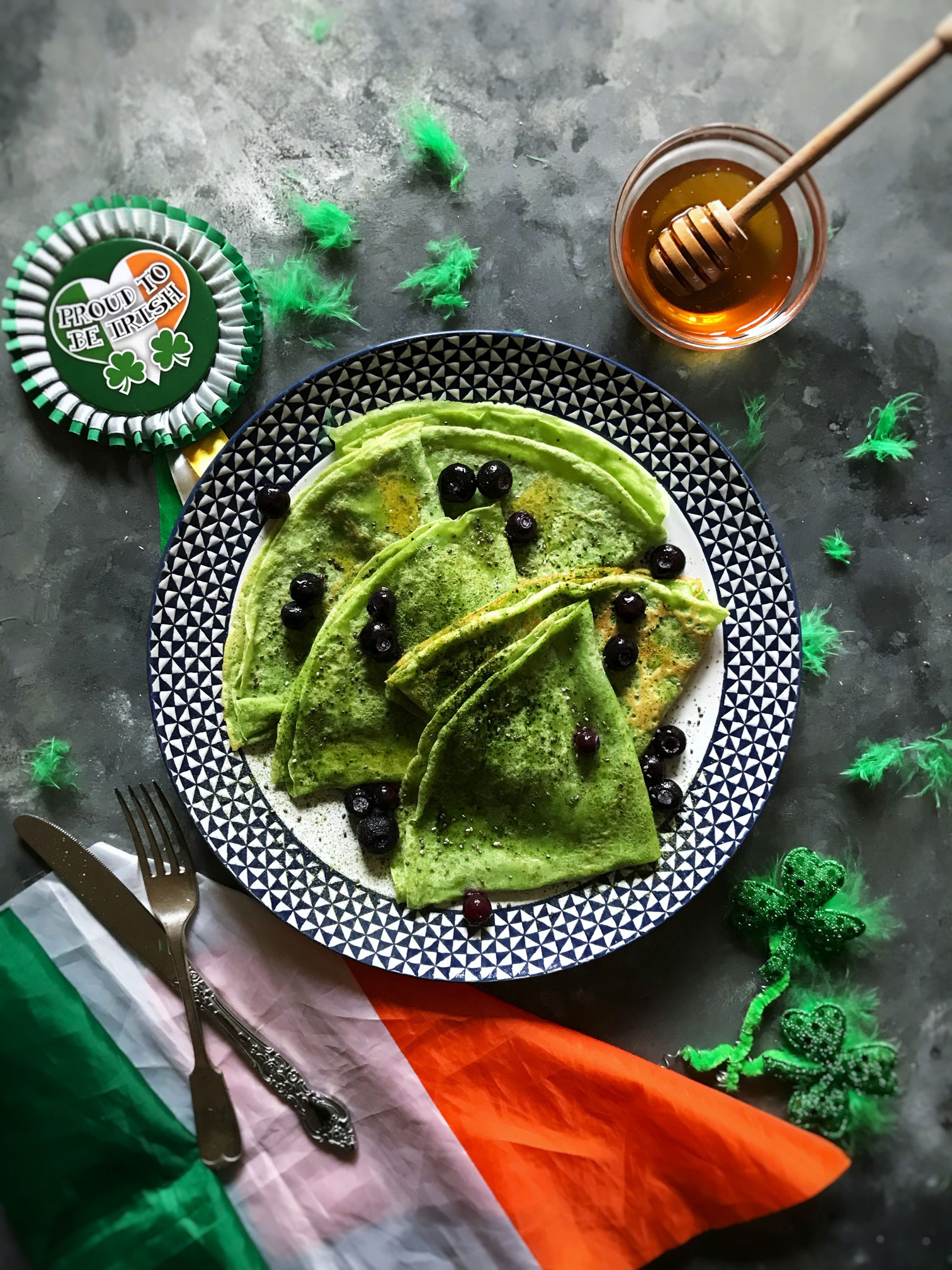 Ireland is my home now and Irish people are the most friendliest people I have ever known :) it's been six years for me here and I feel like I have been living here for a long time, our son is born in Dublin and he is a little Dubliner in every way, his favorite food he says is sausage and chips :D. I always wanted to visit Dublin many years ago and how the cliche goes 'life is full of surprises' it sure was for me, never ever thought in my craziest dream that Ireland would become my home forever :) they say home is where the heart is and for me Ireland stole my heart!! love everything about it <3
So these Green crepes are a way of showing my love to the beautiful Irish people who welcomed me with love :) If you haven't visited Ireland yet then you have to plan a trip here soon ;)
Now for the health benefits of Matcha has it has numerous, here is to name a few -
Matcha tea not only provides vitamins and minerals but it is very rich in antioxidants
Boots metabolism
Energy booster
Anti aging
All the more reason to start using this superfood everyday. I enjoy a cup of warm matcha latte with my breakfast or when I go out to to a coffee shop. Very happy to see a lot of coffee shops have started to serve matcha latte.
I have many other matcha recipes for you to try out
Hope you enjoy this recipe as much as we do at home.
I hope you enjoy it just as much as we did at home. If you try my recipe please do remember to use my hashtag #soulfulandhealthy on social media so I can see your beautiful creations.
If you love it please do share it with family and friends.
If you liked what you saw here, please free to share it with family and friends. You can find me on Facebook, Instagram, Twitter and Pinterest
Enjoy your Long Bank Holiday Weekend!️
Warm hugs
S.
Matcha crepes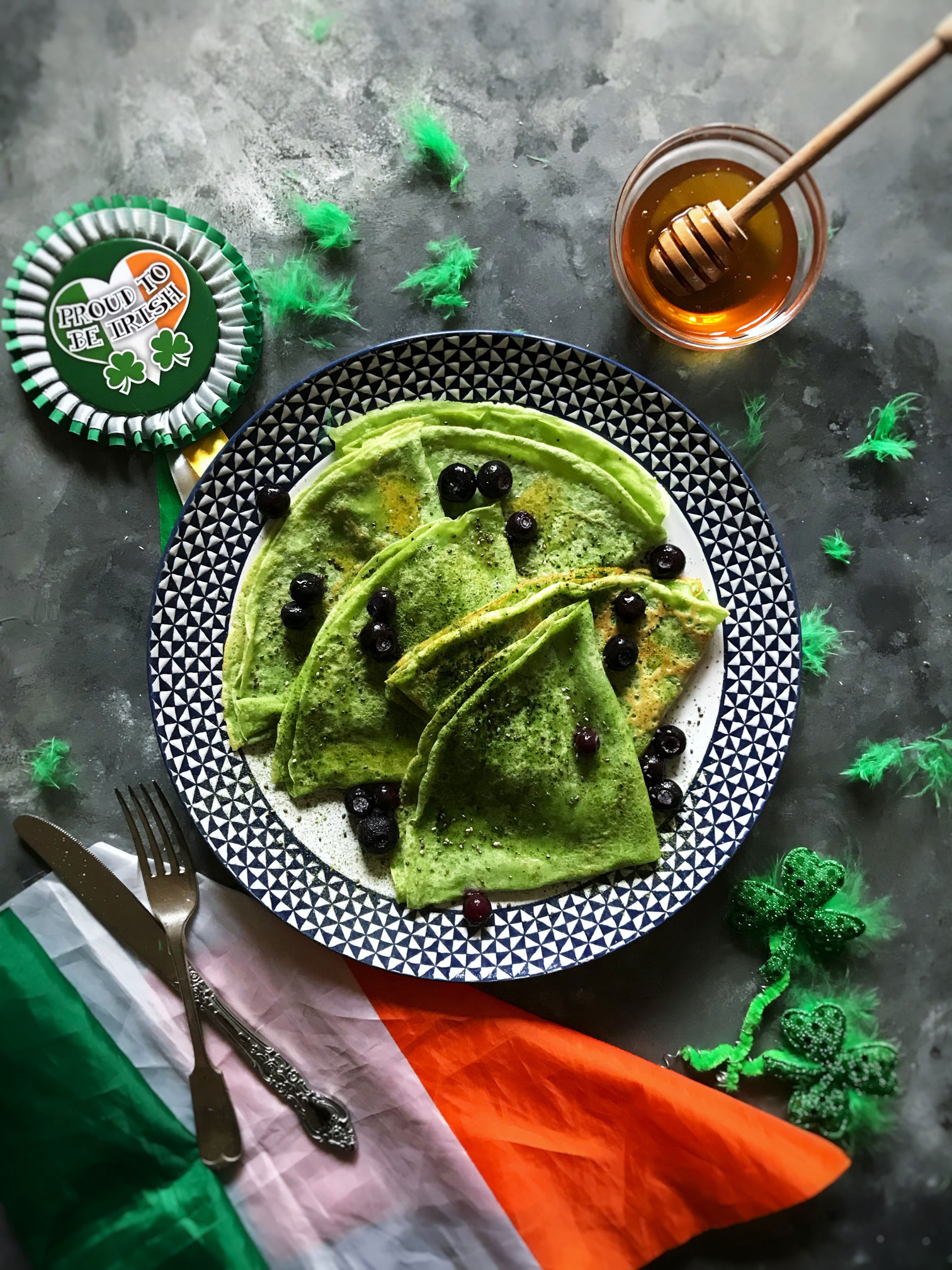 | | |
| --- | --- |
| Servings: | Makes about 6 crepes |
INGREDIENTS
1 cup plain flour -125 grams
2 eggs
200 ml milk of choice
1⁄4 tsp salt
2 tbsp melted butter
2 tsp organic Matcha powder
Pure honey to serve
Fresh berries to serve
instructions
In a large mixing bowl mix all the ingredients (except matcha), using a wire whisk mix well so there are no lumps.
Using a sieve sift the matcha powder, again mix well using a wire whisk.
Heat a crepe pan or a non-stick pan, add half tsp of melted butter, using a ladle pour the batter on to a pan and tilt the pan so it spreads evenly.
Let it cook for two mins on one side then flip and cook on the other side too.
Serve drizzled with pure honey and fresh berries of choice.