A traditional South Indian breakfast - a crispy dosa, stuffed with boiled potatoes and served with coconut chutney is a match made in food heaven!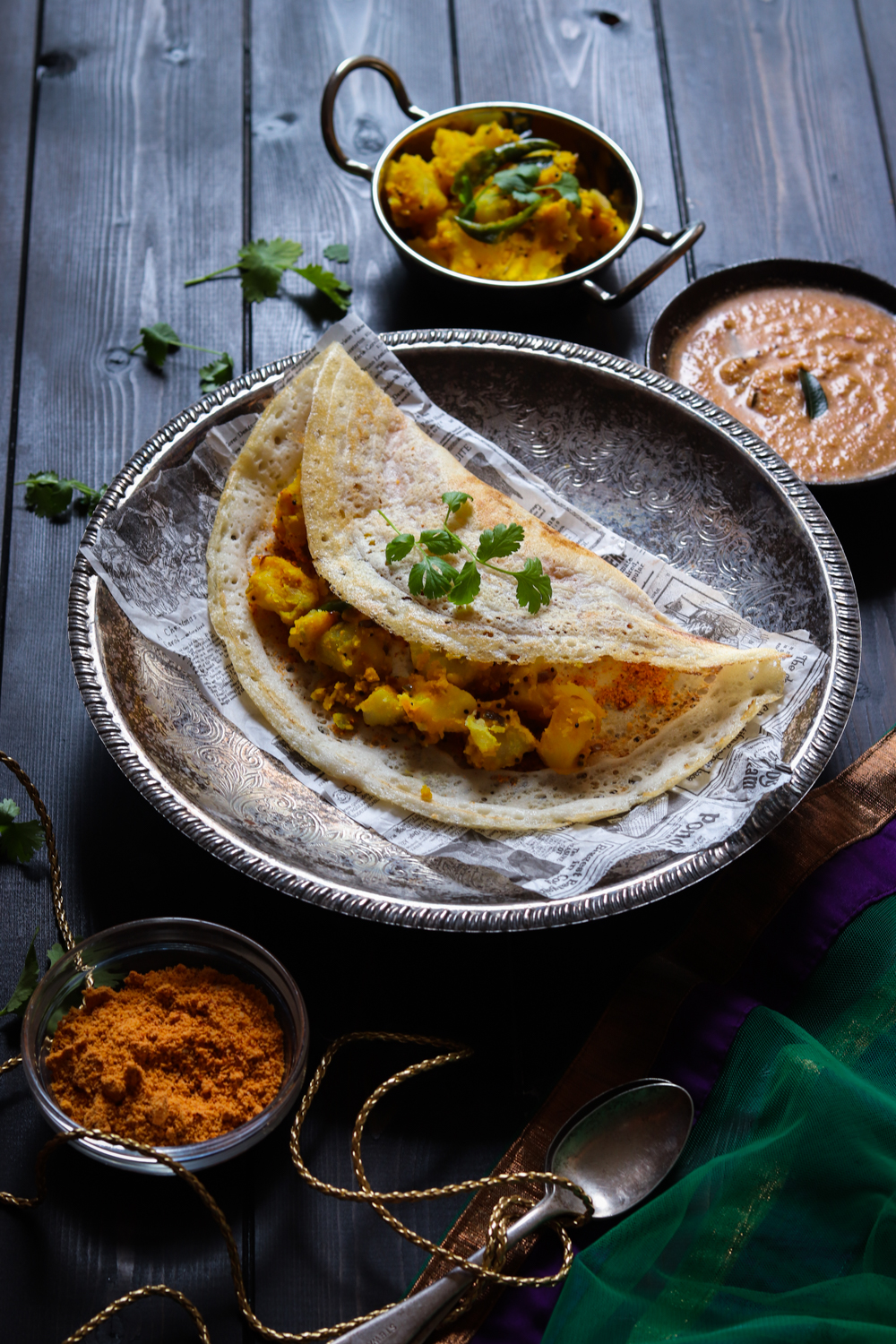 After all these years that I lived in Dublin I finally finally had the courage of making my own masala dosa. It was after I met my hometown friend who gave me the recipe and I tried it for the first time and it was absolutely delicious! I ate not one, not two but like three of them! Not even complaining or guilty ;) My Polish husband enjoyed it too, he ate it the traditional way by hands :D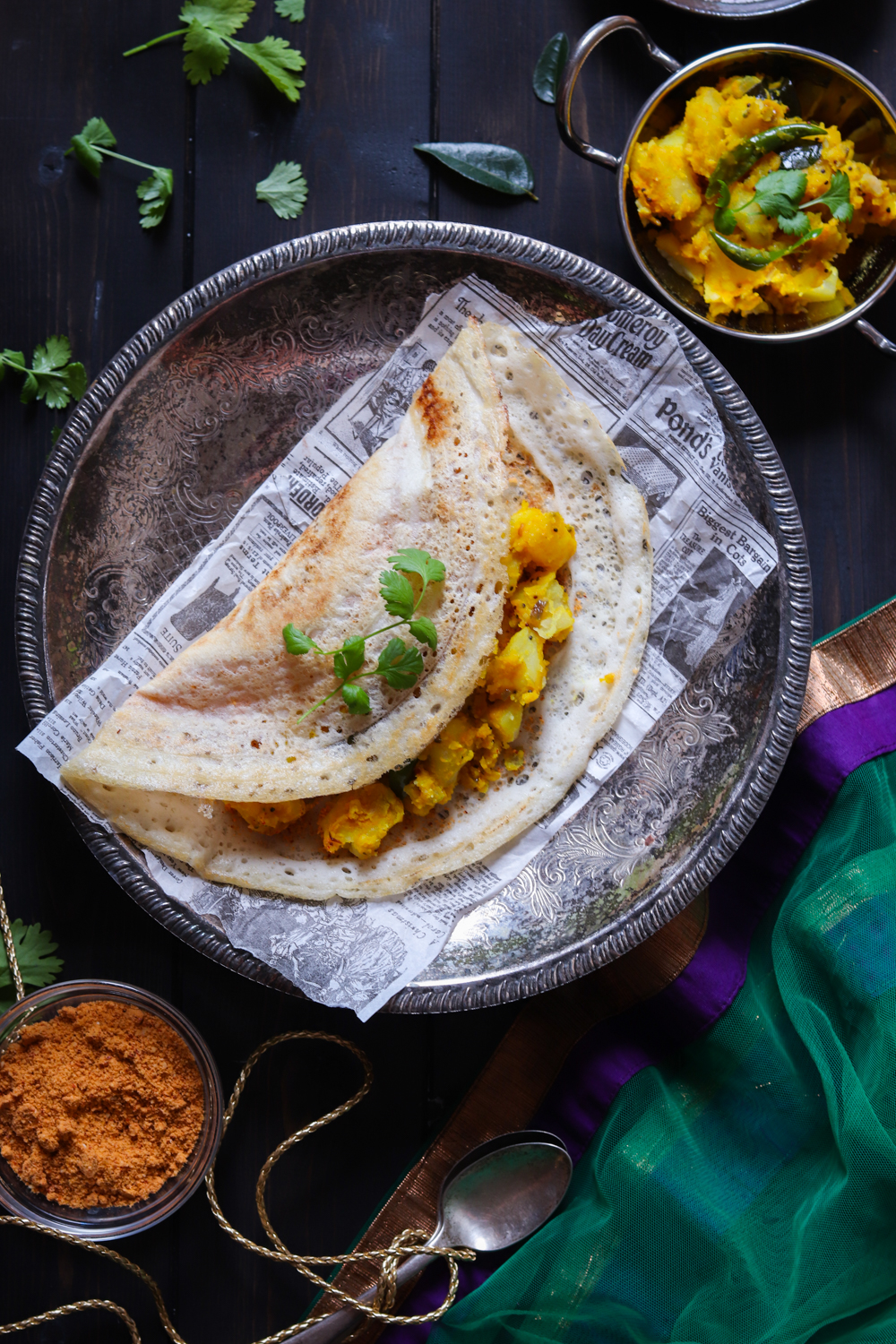 Dosa for my non-indian friends is something like pancakes, but the difference between the two is a dosa batter is fermented (without yeast) overnight. It is a mix of lentils and rice.
In south India we enjoy our dosas in many different ways, there is plain ones, butter ones, soft ones and the crispy one and then there is Masala Dosa which is the one with potatoes stuffed inside, which I think makes it the king of all Dosas ;)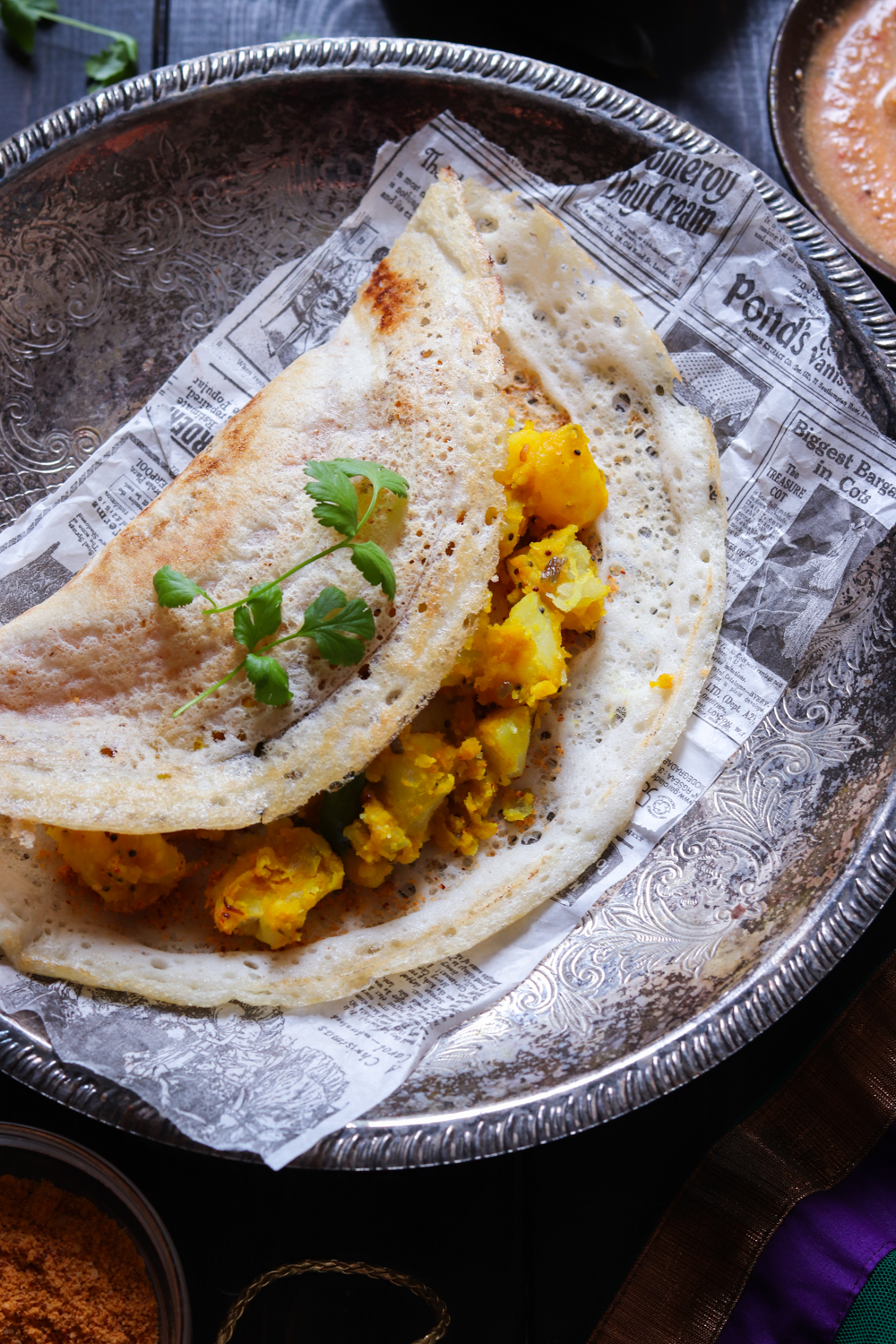 I was hesitant to even try it all this while thinking that I might not make it right, it is one such dish which for me has to be perfect otherwise it doesn't taste like it should. But when I finally decided to give it a try and it turned out so good I have already made it few times now!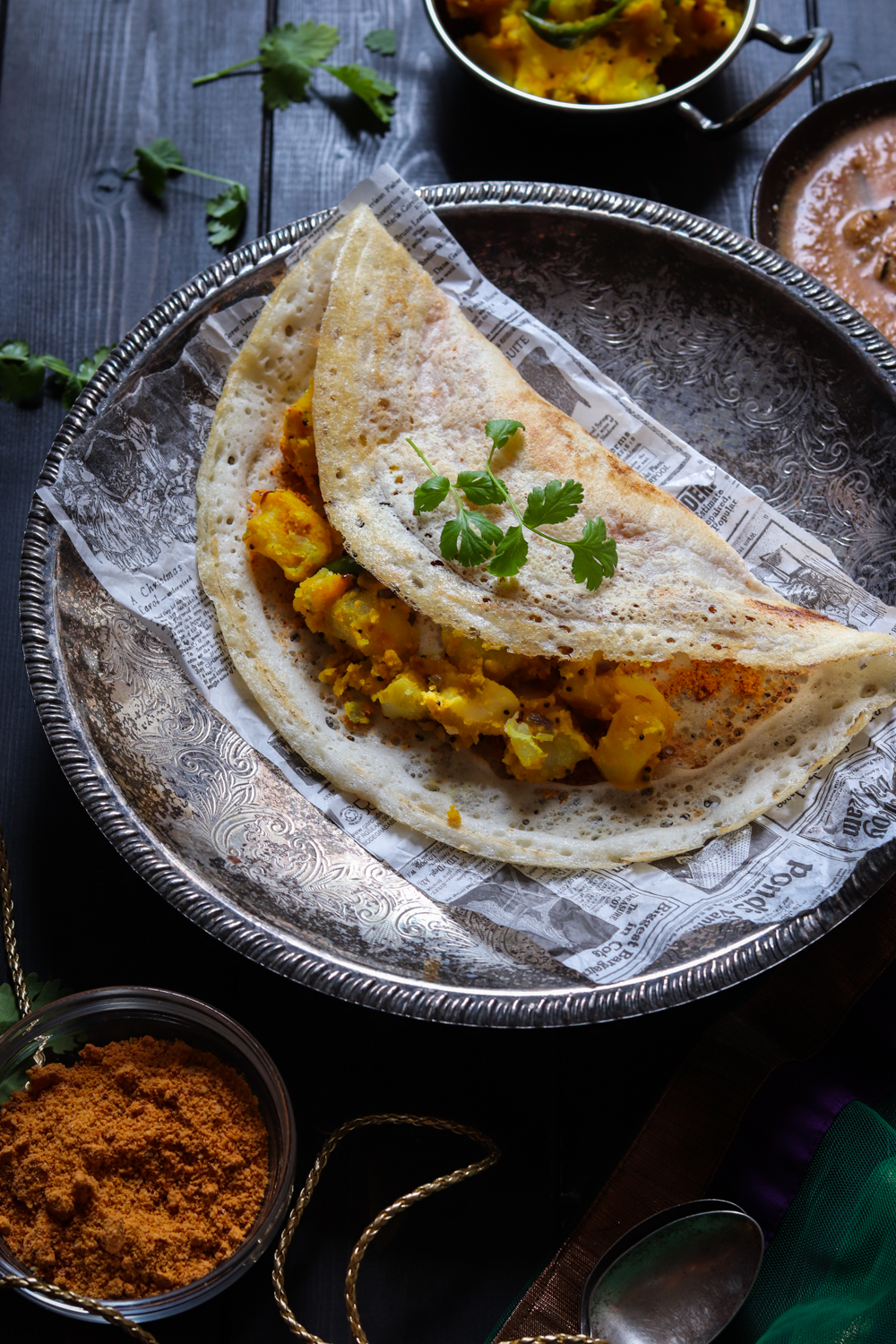 There are few key tip consider when making a dose batter -
Weather conditions - in winter the batter might not rise as it is supposed to, unlike summer when the weather is warmer. So you have to keep in mind the time required for it to ferment. I got a tip from my friend who gave me the recipe, to pre-heat the oven and turn it off when it warm and to leave the batter inside the warm oven overnight so the fermentation is better during winter.
I usually soak the rice and lentils in the morning and grind it in the evening and let it sit overnight in the kitchen and it is ready the next day.
The quality of the rice - I use basmati rice, but it could be any other rice too. I would prefer using basmati which is easily available for me here in any supermarket.
The pan - use a good quality non stick pan, remember the art of making dosa comes with practice. The more you do the better you get at it. So keep practicing ;)
Use the same cup to measure all the ingredients.
Serve the dosa with any of your favourite coconut chutney. Soo delicious! Once you make it at home, it also gives you the satisfaction that you mastered it.
I hope you like it, let me know if you try this and please do remember to use my hashtag #soulfulandhealthy and share it with family and friends.
If you liked what you saw here, please free to share it with family and friends. You can find me on Facebook, Instagram, Twitter and Pinterest
Big Hugs
S
Masala Dose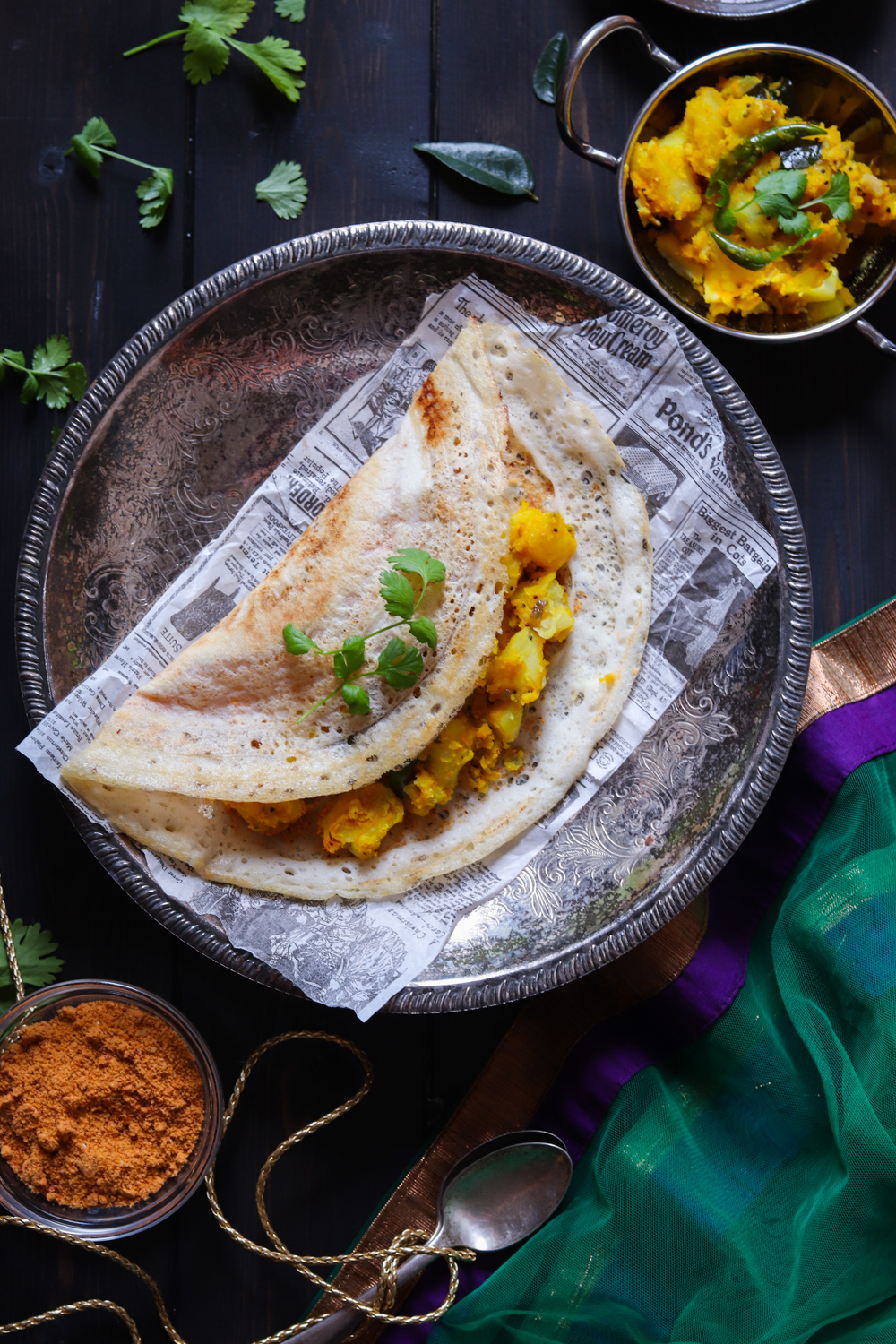 | | |
| --- | --- |
| Prep Time: | Under 30 mins - requires overnight fermentation |
| | |
| --- | --- |
| Servings: | Makes around 10 to 15 dosa |
INGREDIENTS
For dosa batter -

3 cups raw rice
1 cup black gram lentils split and dehusked (urad dal)
1/2 cup flattend rice (poha)
1/4 cup yello split peas (toor dal)
1 tsp Fenugreek (methi seeds)
salt to taste (add after fermentation only)
Ghee to fry

For potatoes filling -

500 grams potatoes (Mersis piper kind) - peeled, and boiled (retain the shape do not over boil)
1 small onion chopped
1 green chilli chopped
1 tsp mustard seeds
1 tsp black gram lentils
6 to 7 curry leaves
1 inch size ginger finely chopped
1/2 tsp turmeric powder
Salt to taste
1/2 cup water
1 tbsp sunflower oil
Fresh corriander leaves to garnish
instructions
For the dosa -

Soak the ingredients listed under dosa overnight (except the poha you can add 30 mins before you make the batter).
Blend all the ingredients in a powerful blender, I used Optimim vac2 Air Vacuum Blender . Pour the mixture into a large bowl, cover and let it sit in the kitchen counter overnight for fermentation.
To make the dosa heat few drops of ghee in a nonstick pan, take about one big laddle of the batter and pour at the center and move in circular motion and spread it around (Similar to crepes). Add a small tsp of ghee around and let it cook on medium low heat. Repeat for the rest. (See tips above on how to get the perfect batter).

For the potato filling -

Wash, peel and boil the potatoes, do not over boil them. set aside.
Heat oil or ghee in a pan add the mustard seeds, black gram lentils , curry leaves and let it sizzle and splatter. Add the onion, saute for two mins until translucent.
Add the boiled potatoes and rest of the spices, salt and add the water, stir well. Mash the potatoes with the spatula a little (do not over mash it). Garnish with chopped fresh corriander.

To serve the dosa -

Add the potato mixture about 2 tablespoons of it inside the dosa, serve with coconut chutney. Enjoy warm.

If you like to own an Optimim vac2 Air Vacuum Blender for yourself I have a special code for you all my lovely readers, you will also get free postage and packing and an exclusive €20 off at the moment just for you when you use my code. If you add this four digit code into the comment box when ordering, or mention it if you are ordering by phone. The delivery charge will be credited back to your card.

AMBASSARDOR CODE - 6540 + AMB20 and Free Delivery

Disclaimer - I get a small commission when you make a purchase using my exclusive code, with no extra cost to you. I would request and really appreciate it if you would use my discount code while making a purchase through the Froothie website. Thank you very much!