Grilled Halloumi couscous salad
Perfectly grilled cheese with fresh veggies and fruits this salad is just what you need on a warm summers day.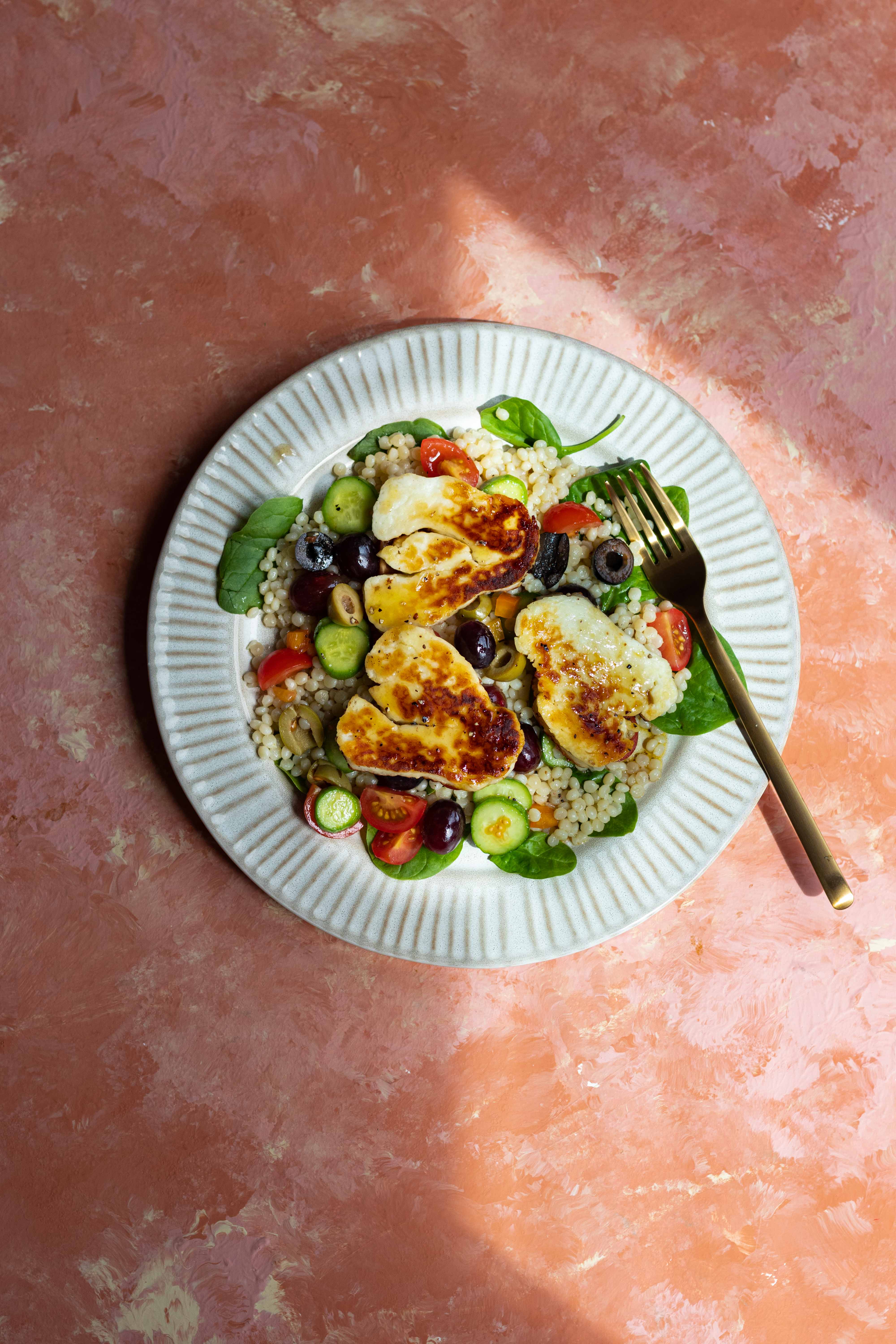 This was more of a throw in everything from the refrigerator kind of salad but when I put it together it all blended really well. You can do the same use whatever ingredients you have in the fridge into this salad and use the dressing recipe and it is gonna be so so delicious.
What is Halloumi?
Halloumi is a semi hard cheese made from mixture of sheep and goat milk and sometimes cows milk too. The texture is very different to other cheeses, it has a high melting point so it's easy to grill or fry. Read more here.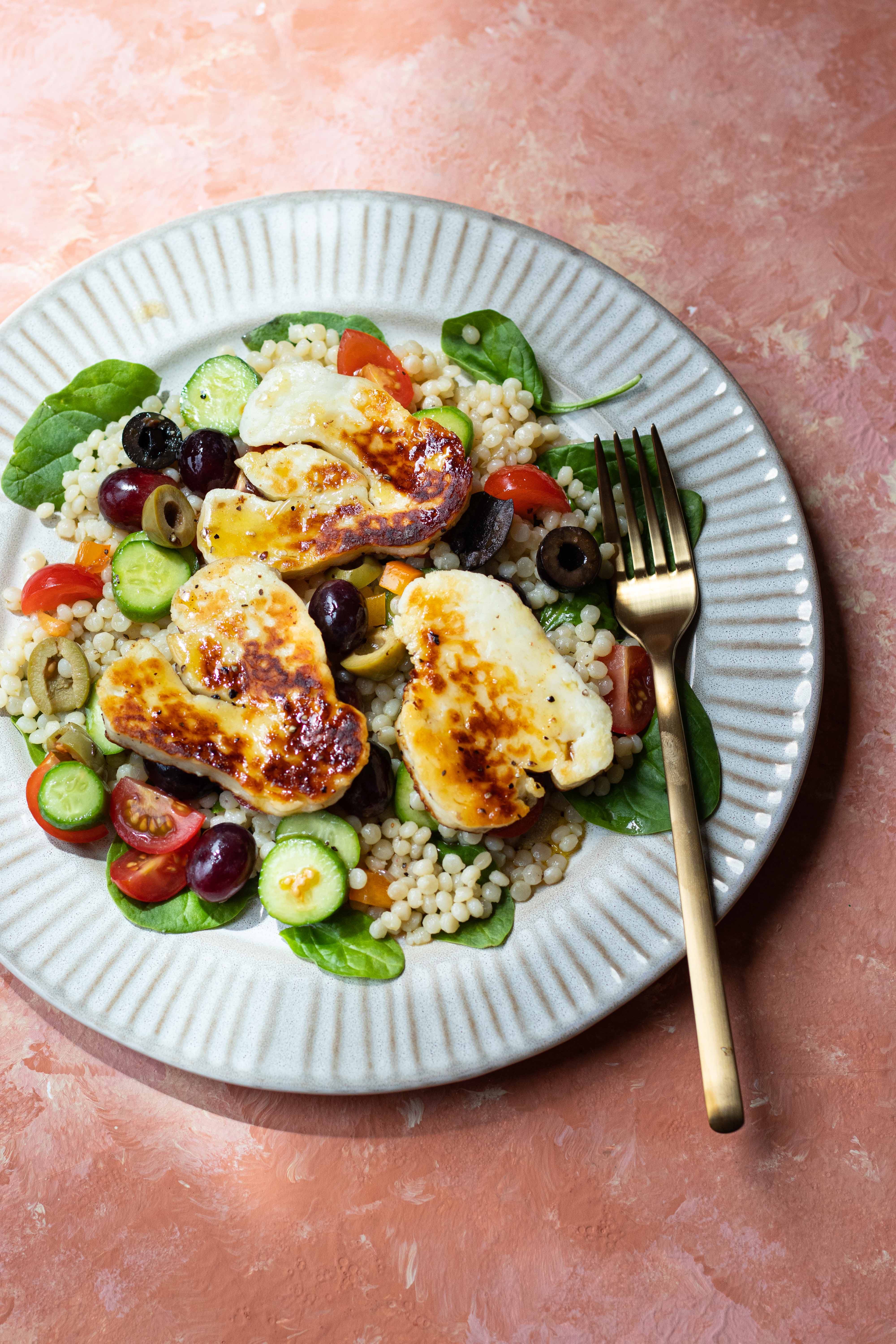 Why didn't I ever try Halloumi before!!!? It is so delicious and we all loved it at home. My little boy was so happy when he took the first bite he was like "ohh what's this chicken"!? :) I'm going to be using this beautiful cheese a lot in my kitchen from now on.
This salad is so easy to make and oh so very delicious, the dressing is very very simple ingredients but that's the beauty of this salad you don't need many fancy ingredients just simple, basic staple ones that everyone has at home. Only thing I recommend is using good quality ingredients especially something like olive oil it has to be the best quality because it gives so much depth and flavour to a simple salad.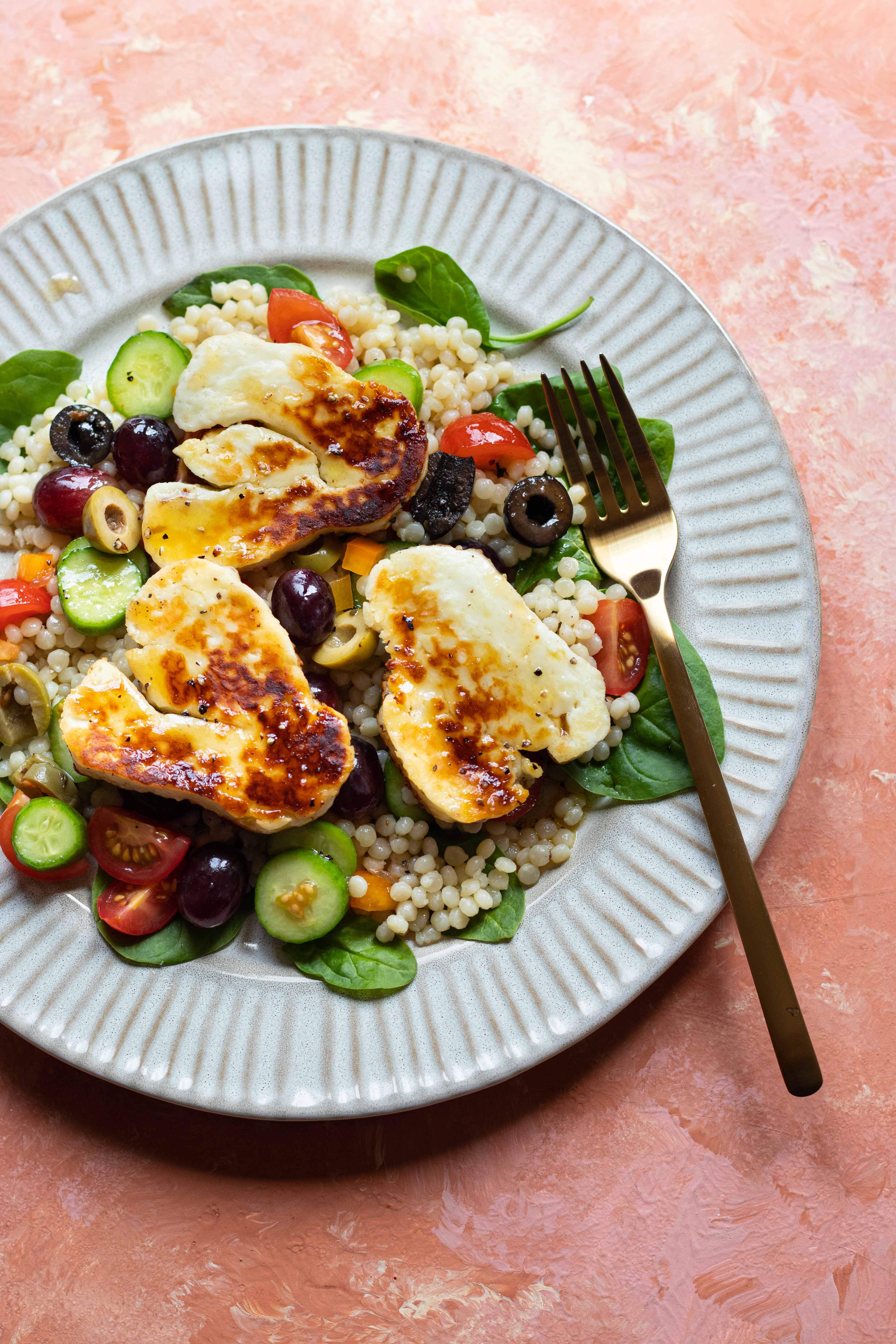 Grilled Halloumi couscous salad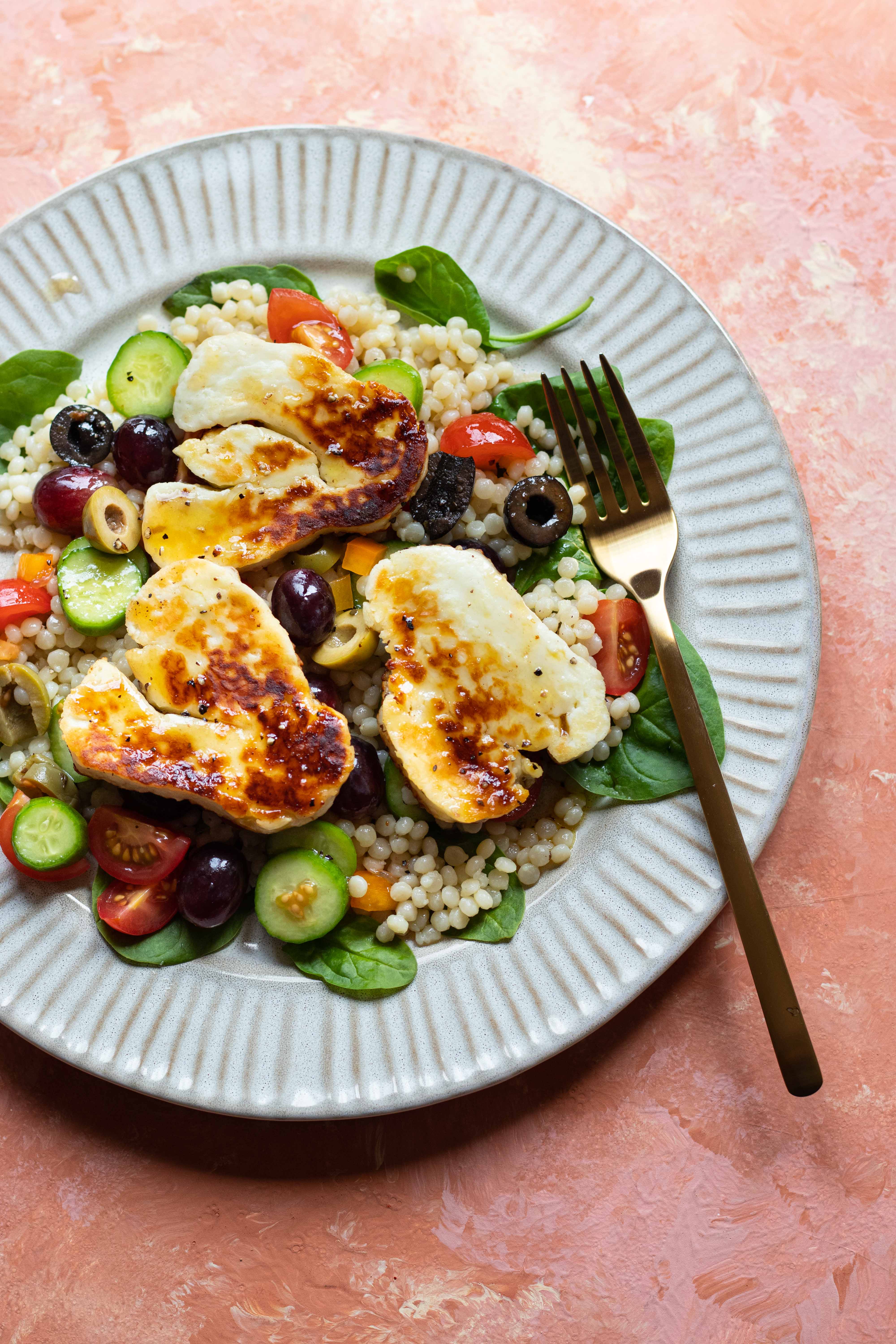 INGREDIENTS
1 pack Halloumi cut into 1 cm thick slices
1 tsp extra Virgin olive oil to fry

4 small cucumbers thinly sliced
10 cherry tomatoes halved
10 to 12 black and green olives sliced
100 grams fresh spinach leaves or salad leaves
1 Red or yellow pepper finely chopped
1 cup Israeli or Pearl couscous
1 and 1/4 cup chicken or vegetable stock to cook the couscous

For the dressing -

2 tbsp extra Virgin olive oil
1 tbsp honey
1 tsp balsamic vinegar
1 tbsp juice of fresh lemon
Sea salt and freshly ground pepper to taste
instructions
Heat a tsp of extra Virgin olive oil on a nonstick medium pan, in medium heat, fry the couscous until a little translucent, for about 3 to 4 mins. Then add the chicken or vegetable stock and cook the couscous for about 8 to 10 mins on low heat. Add 1/2 tsp of olive oil and fluff the couscous with a fork.
Chop all the veggies and add into a bowl and set aside.
Heat a tsp of extra Virgin olive oil on a nonstick medium pan, in medium heat and fry the Halloumi for 2 mins on each side, set aside.
Mix all the ingredients of the dressing in a bowl and set aside.
To arrange the salad - place the spinach leaves on the plate first, then add the couscous, top with the chopped veggies, then place the Halloumi slices on top, pour the dressing over just before serving. Enjoy!