Festive chia no bake cake pops (Vegan)
It's the most wonderful time of the year! It's Christmas, it's here finally! Even though it's freezing cold, the beautiful lights and decorations everywhere.. Ah! so Christmasy :) It is also the season to share and to give, also not to mention to eat :P So instead of eating loads of sugar, what if I tell you that you can indulge in these gorgeous treats without any guilt, Oh yeah!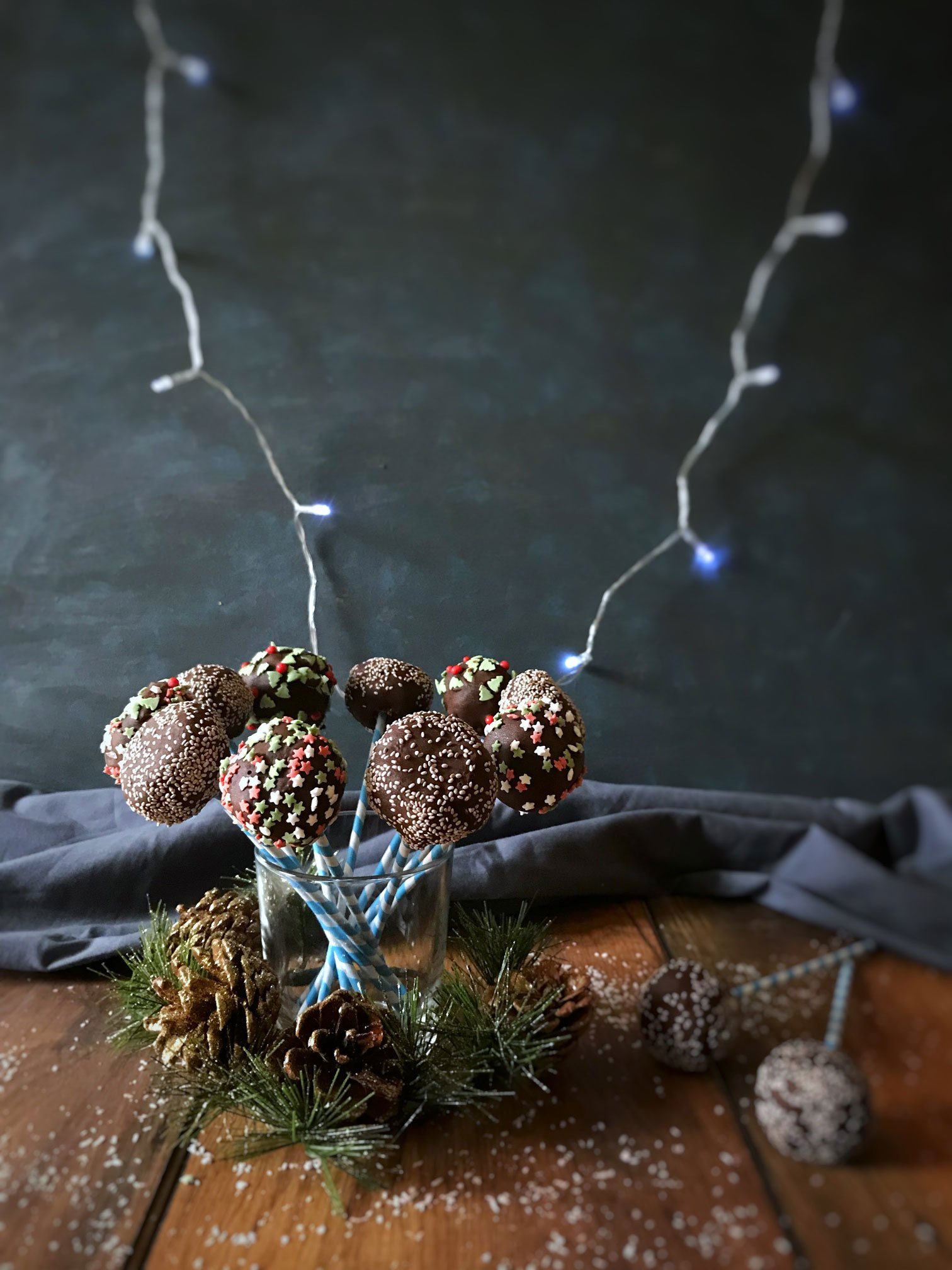 When the lovely Chiabia team approached me to create a Christmas theme treats, I was delighted. It was my husband's idea of making these cake pops. It fun, it is tasty and so so healthy. Only organic, wholesome ingredients used and guess what they are refined sugar free, gluten free, diary free and vegan. Told ya only the good stuff ;)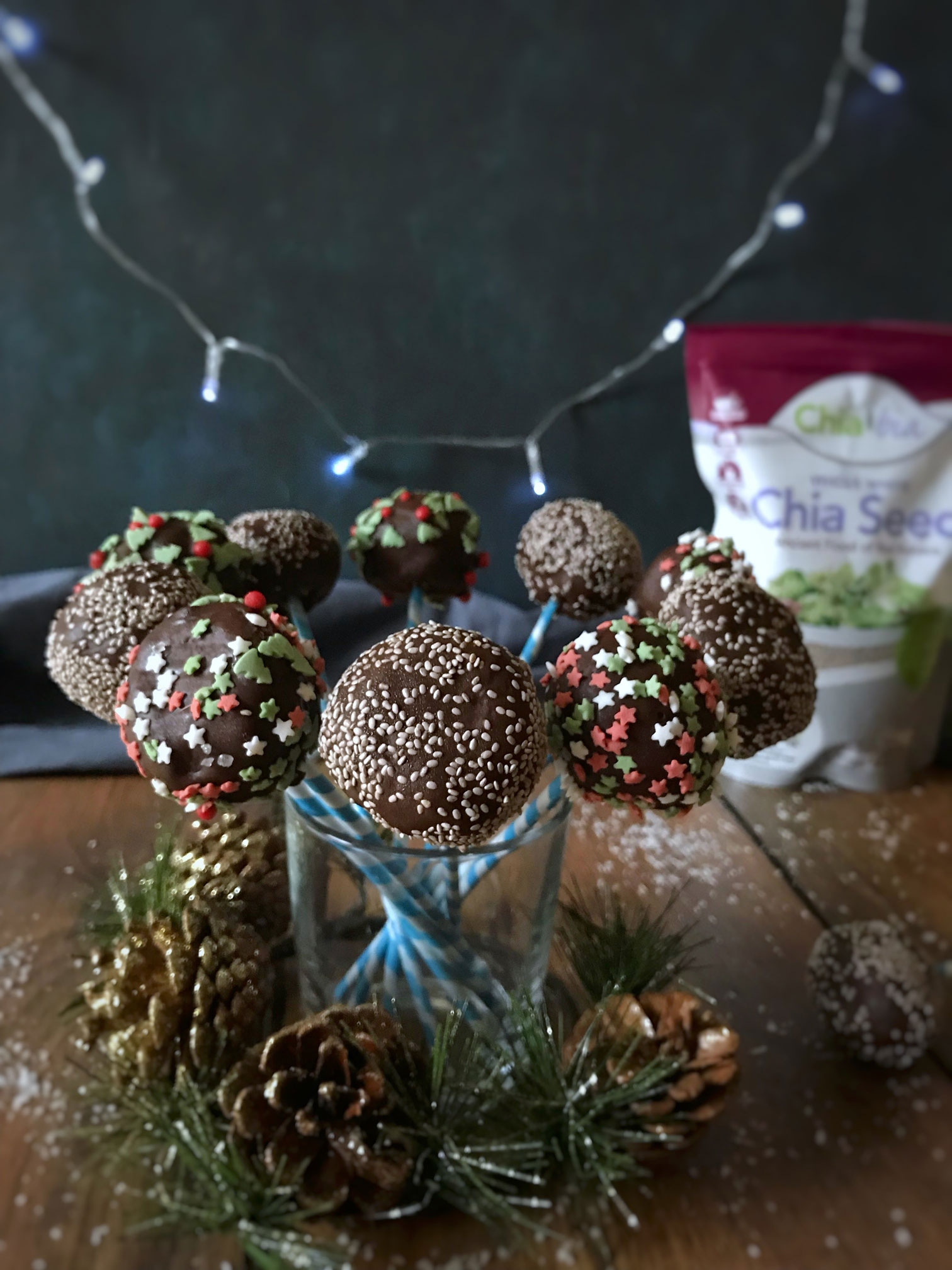 This can be made it two ways, shape them into balls and dip them in silky smooth melted dark chocolate and enjoy them as truffles, or add them to cake pop sticks and kids would love it, if you are a grown up kid like me then just go ahead and enjoy them in the form of cake pops. ;)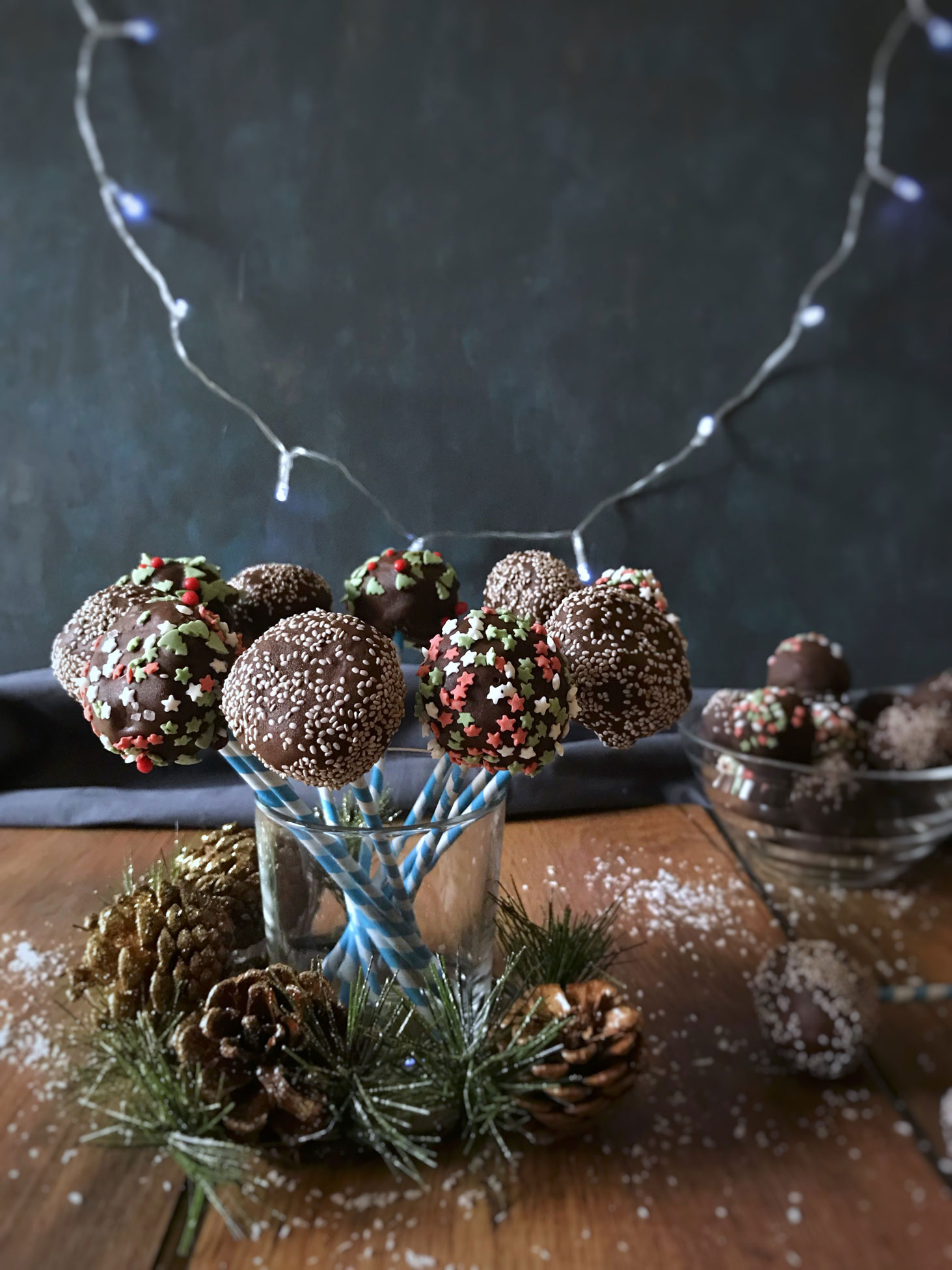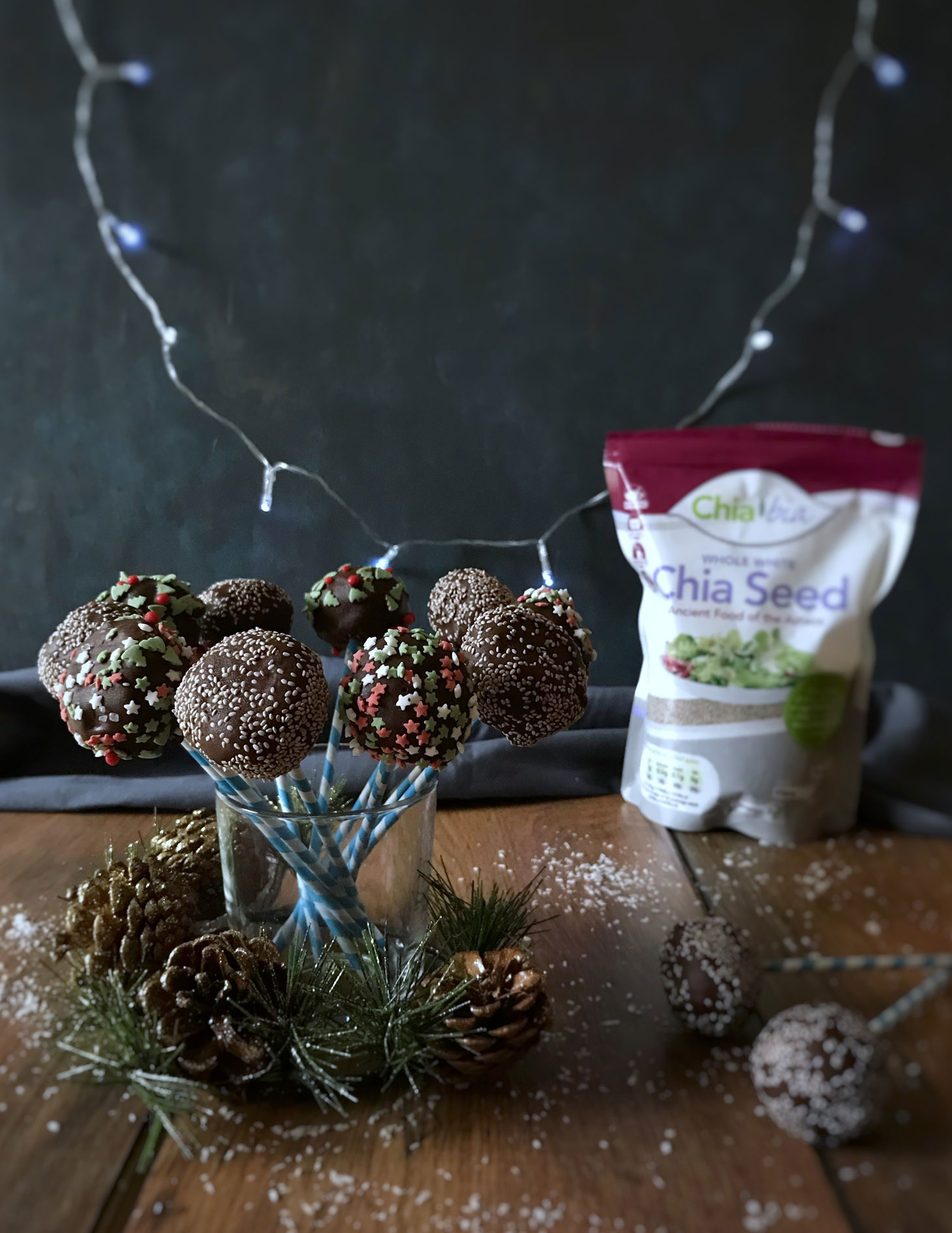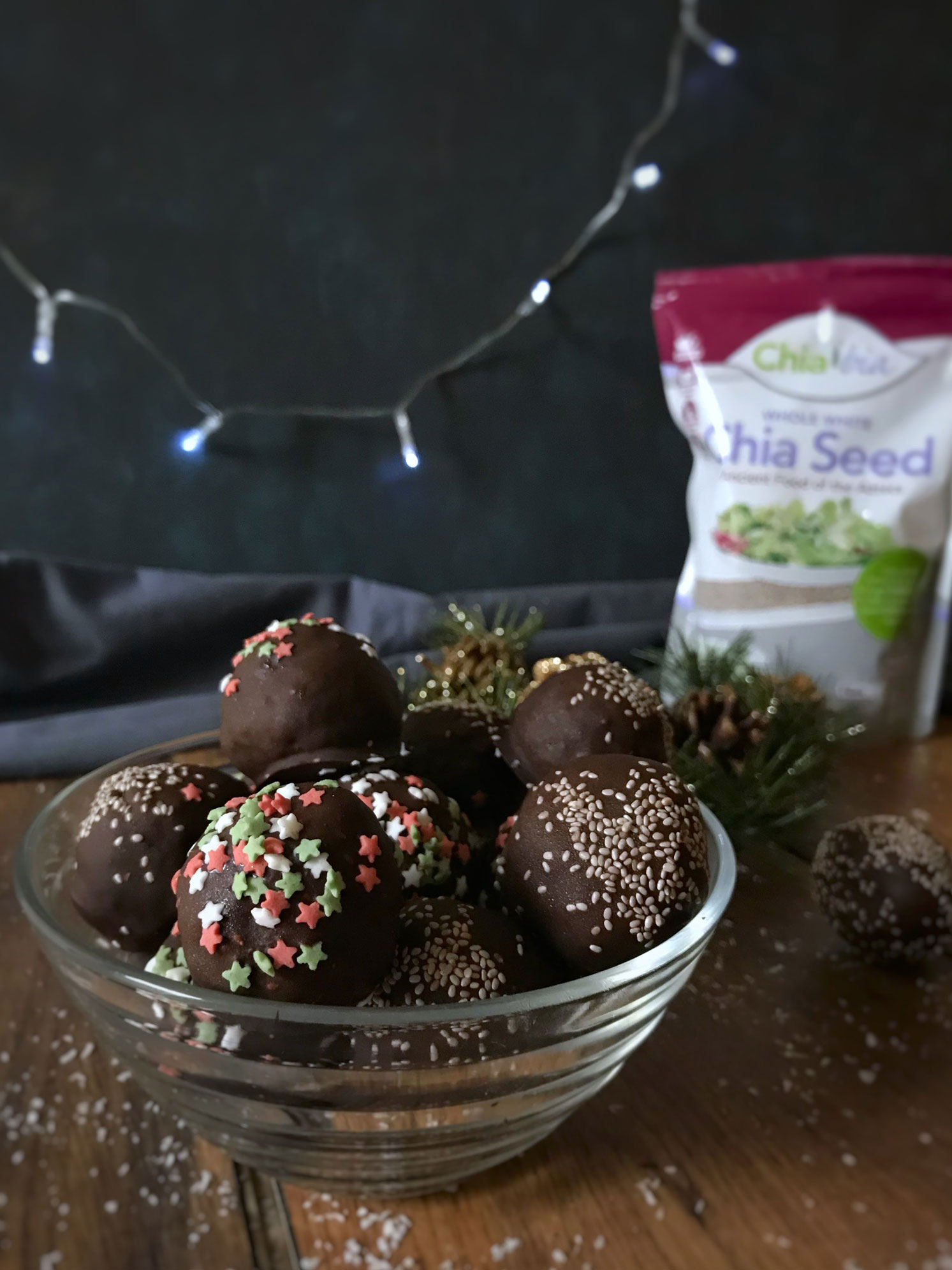 While inserting the cake pop sticks, it can be a bit challenging, as the mixture is not a regular cake mixture, might be difficult for it to hold on to the sticks, don't worry be patient and place them upside down on the plate or a lined tray and pop it into the refrigerator for couple of hours until set. Apologies for the dull picture below, I have bad lighting in the kitchen, just wanted to show you all :)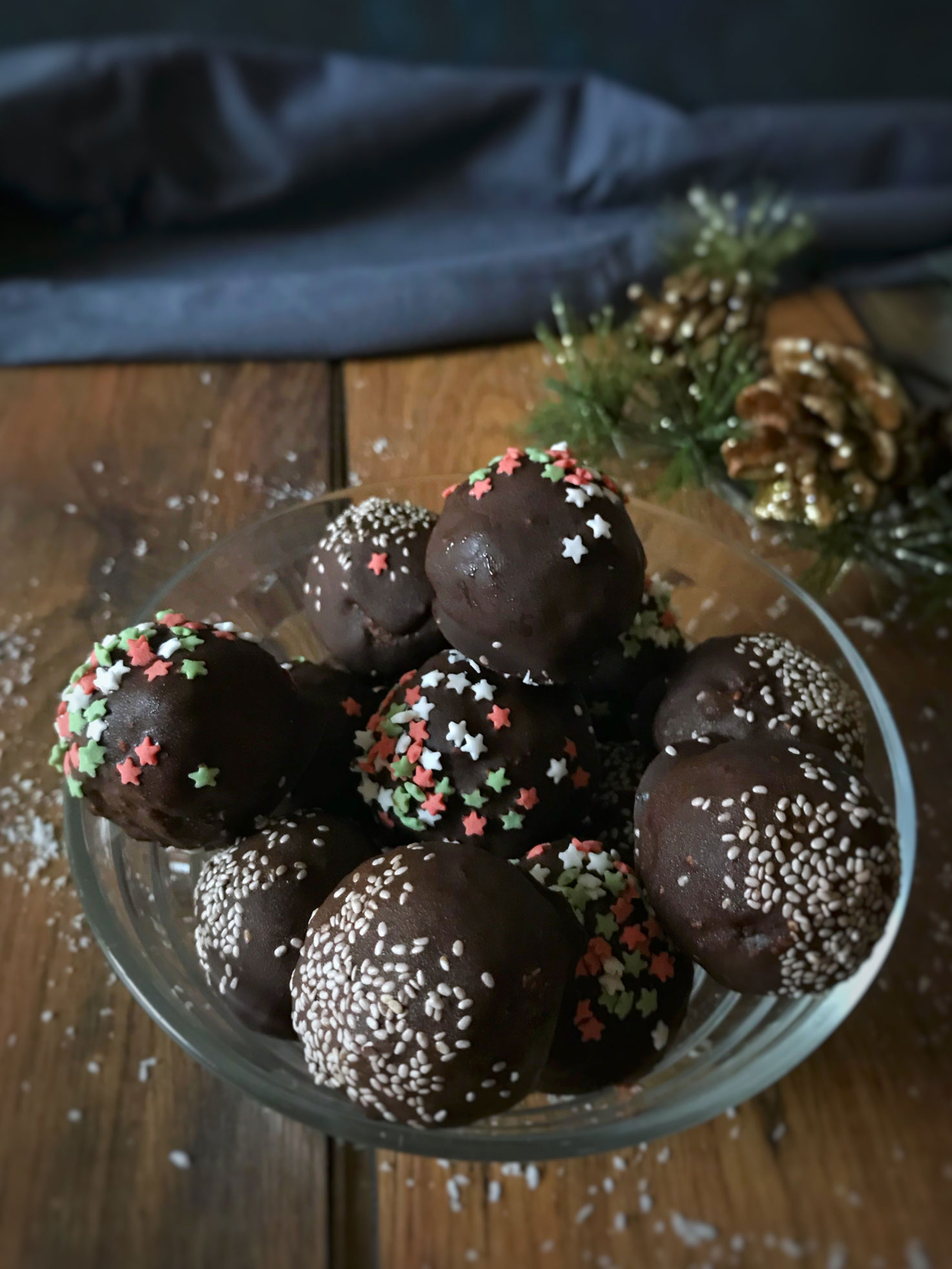 Enough talking, lets get down to the delicious part ;P
Festive chia no bake cake pops (Vegan)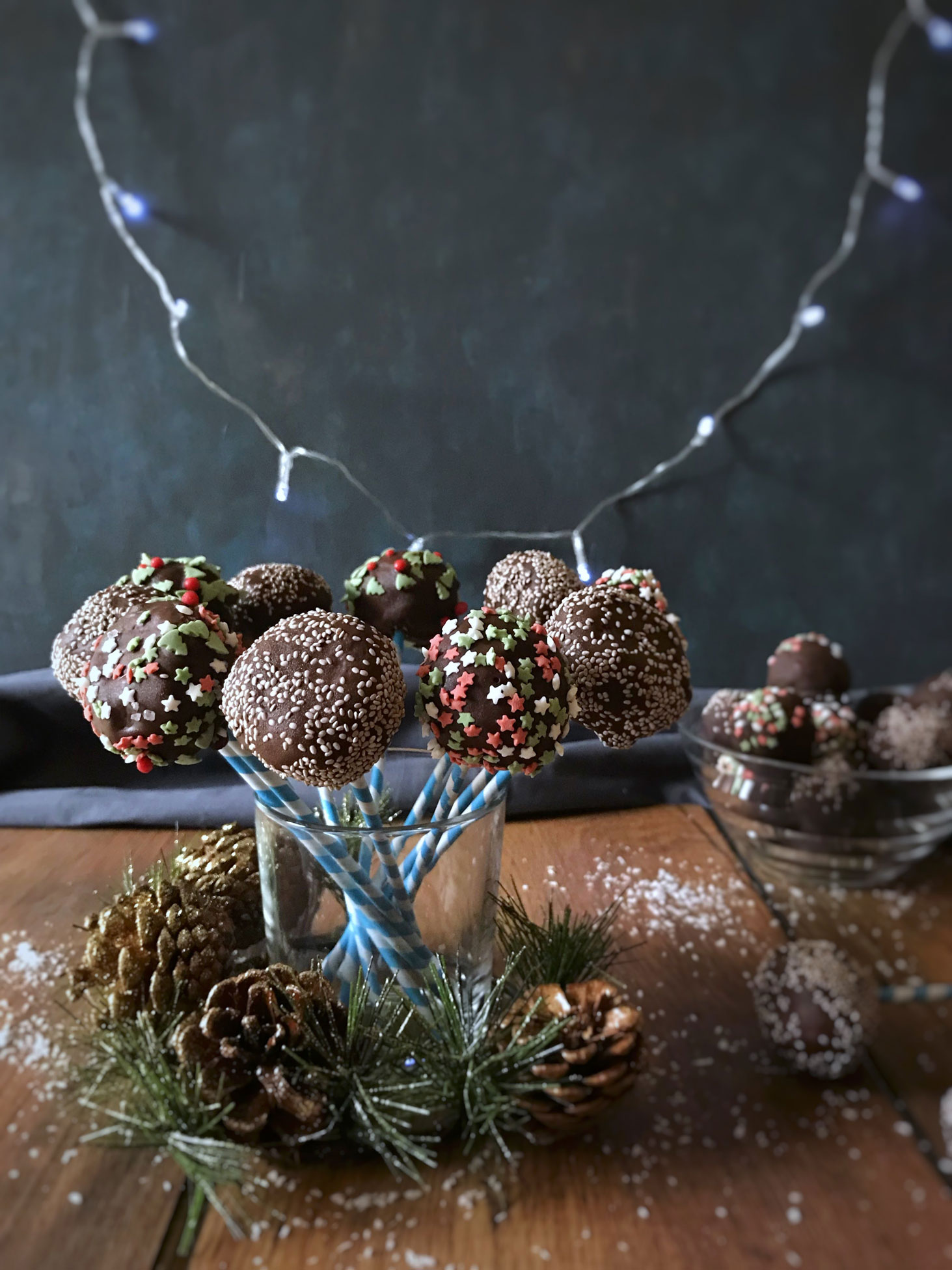 | | |
| --- | --- |
| Servings: | 15 cake pops/ 15 truffles |
INGREDIENTS
To blitz

To decorate

100 grams good quality 70 percent dark chocolate(use vegan chocolate chips for vegan option)
Christmas themed sprinklers for decorating
Cake pop sticks
instructions
Add all the ingredients to blitz into a food processor and blitz until well combined.
Take a tablespoon of the mixture and form balls If using cake pop sticks, carefully insert the stick into the balls, try not to break them.
If not using the cake pop sticks then make the balls and place them on a tray with parchment paper.
Refrigerate for an hour or two, this helps the balls to hold on to the sticks better.
Use a double boiler method and melt the chocolate.
Dip each cake pop into the melted chocolate
Make sure you cover all around, including where the sticks are attached.
If not using the cake pop sticks then using a fork dip the balls into melted chocolate and place on a tray with parchment paper.
Decorate each cake pop while still wet with desired sprinklers or white chia seeds.
Place them on a cake pop stand or into a glass tumbler, just make sure they don't stick to each other.
Refrigerate until set.
Enjoy guilt free!