Chicken Fajita corn tortilla wraps
So it is the official Football season! We are talking Worldcup 2018! So it is also going to be that time of the year for friends, football and lots of Food! This homemade Chicken Fajita wraps are just what you need to dig in and watch the match. ;)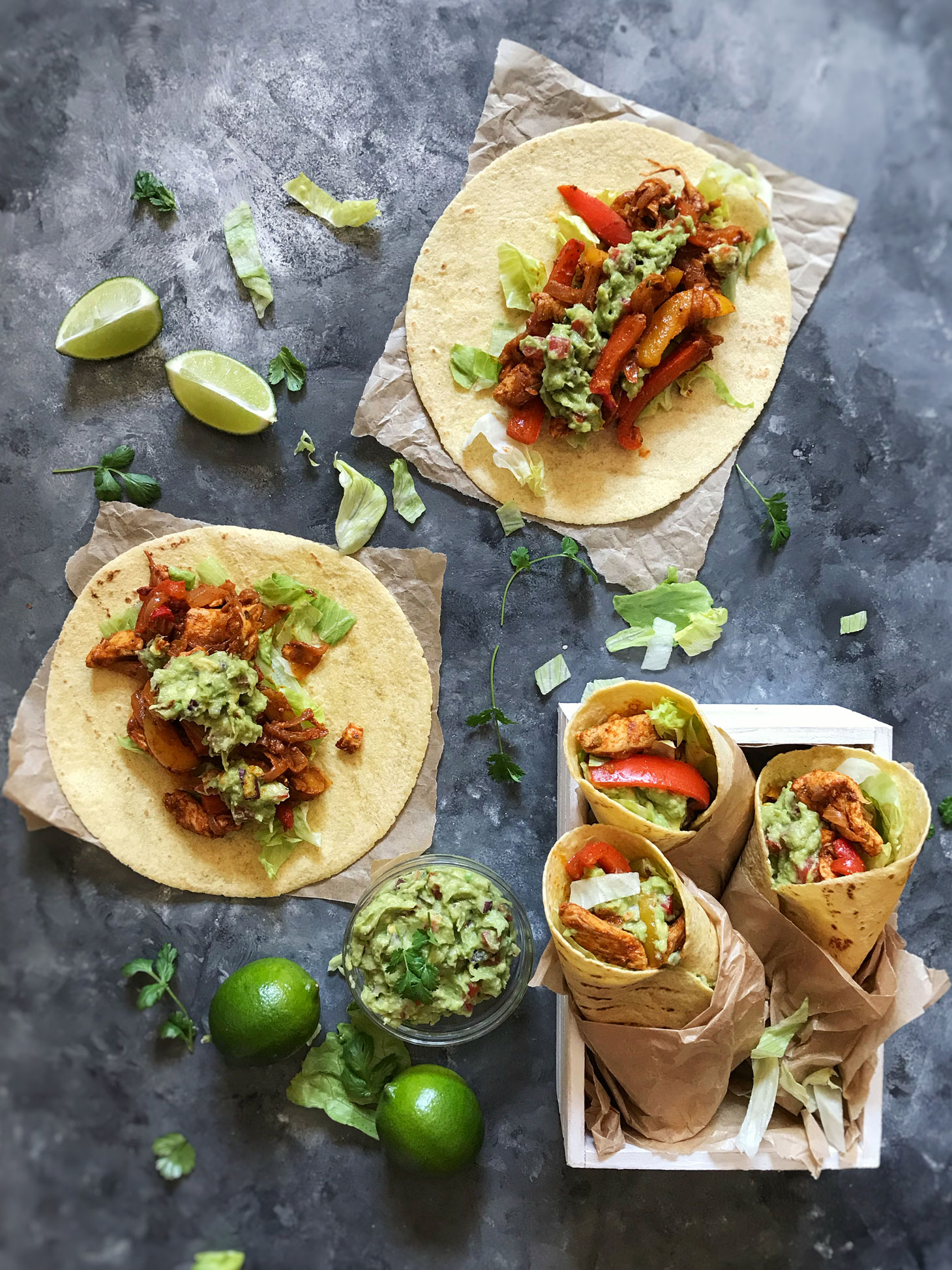 I could eat Mexican all day, everyday! If you make these once you are definitely going to add this to your menu. I used to buy the ready made kit before, when I tried this by myself, there was no looking back. I have already made it like few times and every single time it tastes amaaaazing!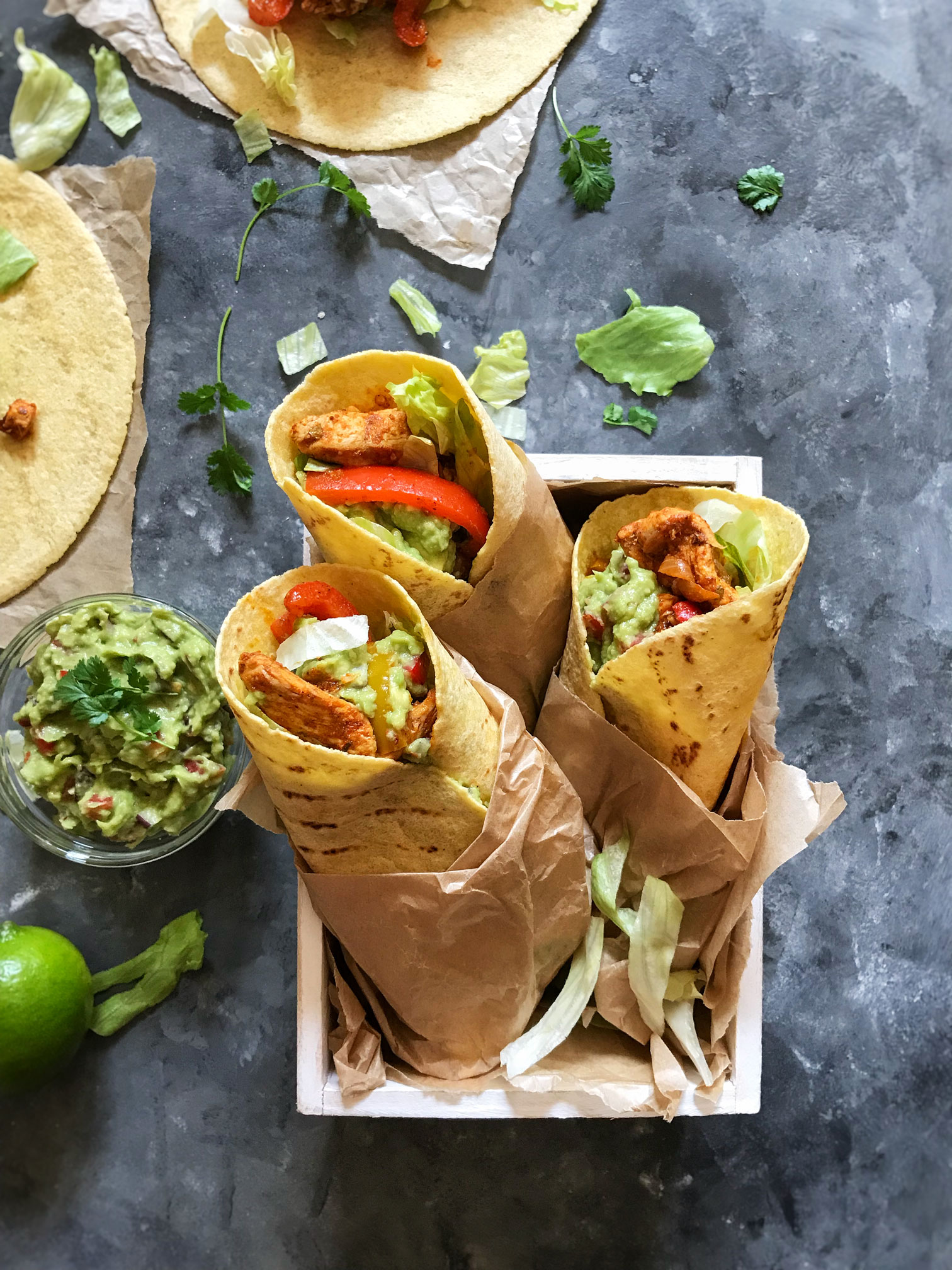 I wasn't into football at all before, born and raised in India we grew up worshiping cricket. I remember a match would be a war at times, and not a single person on the street. Local shops would shut down early, the shop which sell electronics would have the television sets on their display windows playing the match, and there would be a massive crowd gathered in front of it. The whole country would become one cricket frenzy nation. I enjoyed watching those world cup matches with my sister and brother and going ballistic every time India hit a 6 or a 4 run. I was eating and biting every single nail on my fingers :D Loved every bit of those days and miss them too.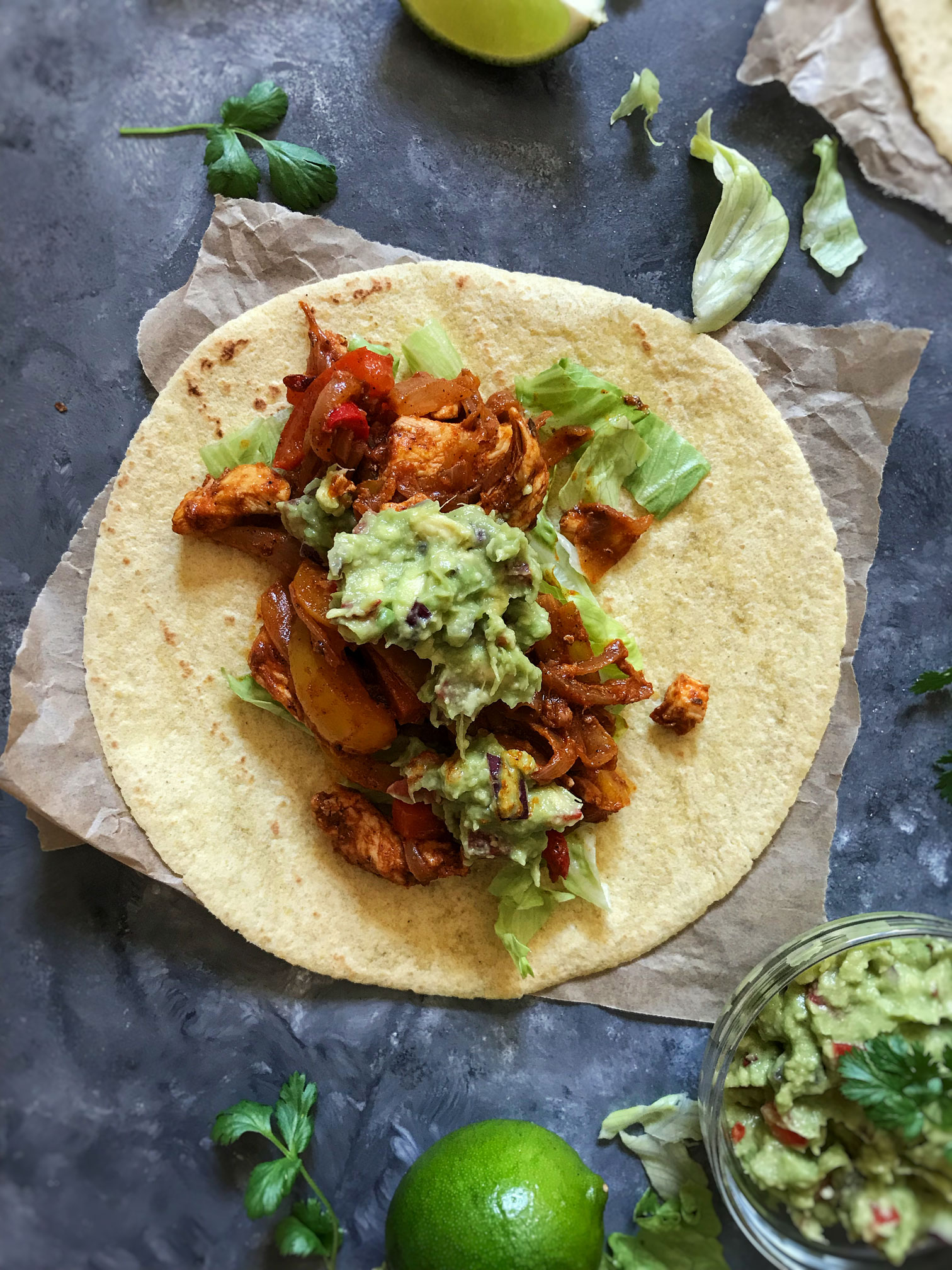 After marrying a Polish man I started watching football, now cheering for Poland and Ireland likewise ;) This year we bought a little t-shirt for our boy supporting his Daddy's home town. :)
Back to Fajitas, it is delicious when eaten with corn tortillas, get creative and can even try it out with lettuce wraps if you want. Add a generous amount of guacamole, or if you have no time just add chopped avocado still tastes great.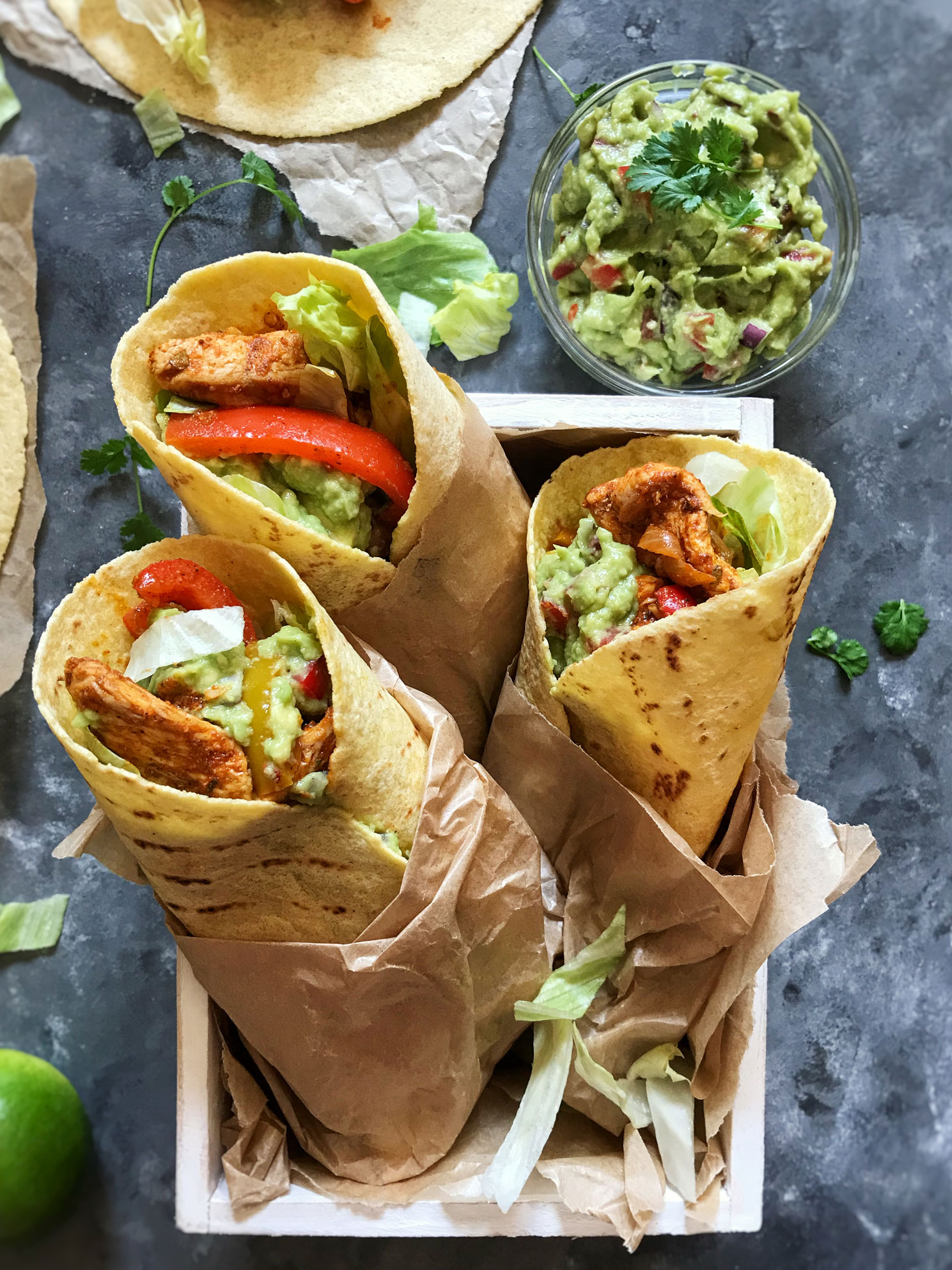 Let me know how you get along with it, if you have tried it please do share it with me on Instagram or Facebook using the hashtag soulfulandhealthy.
Chicken Fajita corn tortilla wraps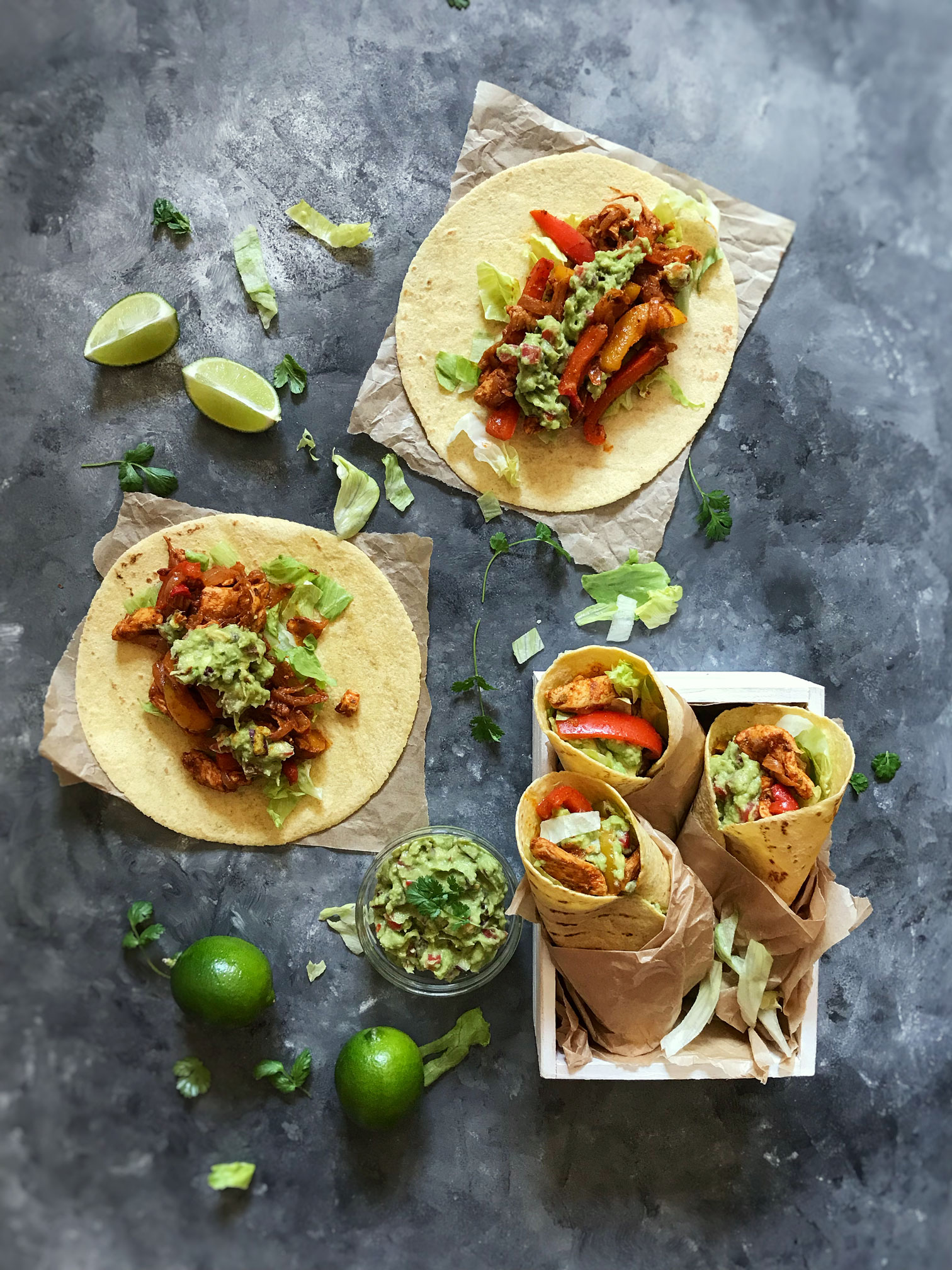 INGREDIENTS
3 chicken breasts cut into thin strips
1 red pepper cut into strips
1 yellow pepper cut into strips
1 red onion chopped into strips
Ready made corn tortillas to serve
Chopped iceberg lettuce to serve
Handful chopped coriander leaves to serve (optional)
1 tbsp extra virgin olive oil

Spices

1 heaping tsp of ground cumin powder
1 big tsp of paprika
1/2 chili powder (for extra heat fell free to add more)
1/2 tsp of smoked paprika
1/2 tsp ground pepper
1/2 tsp garlic powder
1/2 tsp onion powder
1/2 tsp dried oregano
Pink Himalayan salt to taste

Gaucamole

2 ripe avocados
one small tomato chopped (leave out the seeds and juice from the tomato)
1/2 red onion finely chopped
Pink Himalayan salt to taste
Ground pepper to taste
1/2 red pepper (optional)
squeeze juice of half lime
1/2 tsp of extra virgin olive oil
Chopped coriander leaves to garnish (optional)
instructions
Heat the oil on a non stick pan or a cast iron skillet. Add the chicken ad saute for few mins, until they change the color from pink to white, for about 5 mins.
Add the rest of the veggies and all the spices mentioned above, continue to fry everything, mixing all the spices well for about 7 to 8 mins.
Check if the chicken is done. Set it aside from the heat.
Using a griddle pan, heat up the tortillas on both sides just for a min or two.

For the Guacamole

Carefully remove the pit from the avocado and chop into small pieces.
Mix all the ingredients into a bowl.
Using a fork mash the avocado a little. If you like it chunky then do not over mash it.

To Serve

Add the chicken and veggies mixture on the heated tortillas, top with guacamole and Lettuce serve right away.

Make it a DIY fajita party by serving all of them in different bowls, so your friends can make their own. ;)