Delicate and very tasty is how I can describe these rice crepes or Neer Dosa! These originated from my parents hometown of Mangalore (Mangaluru), which is a city by the beautiful Arabian sea. A town not so small now in the state of Karnataka, famous for it's gorgeous beaches, authentic, traditional cuisine.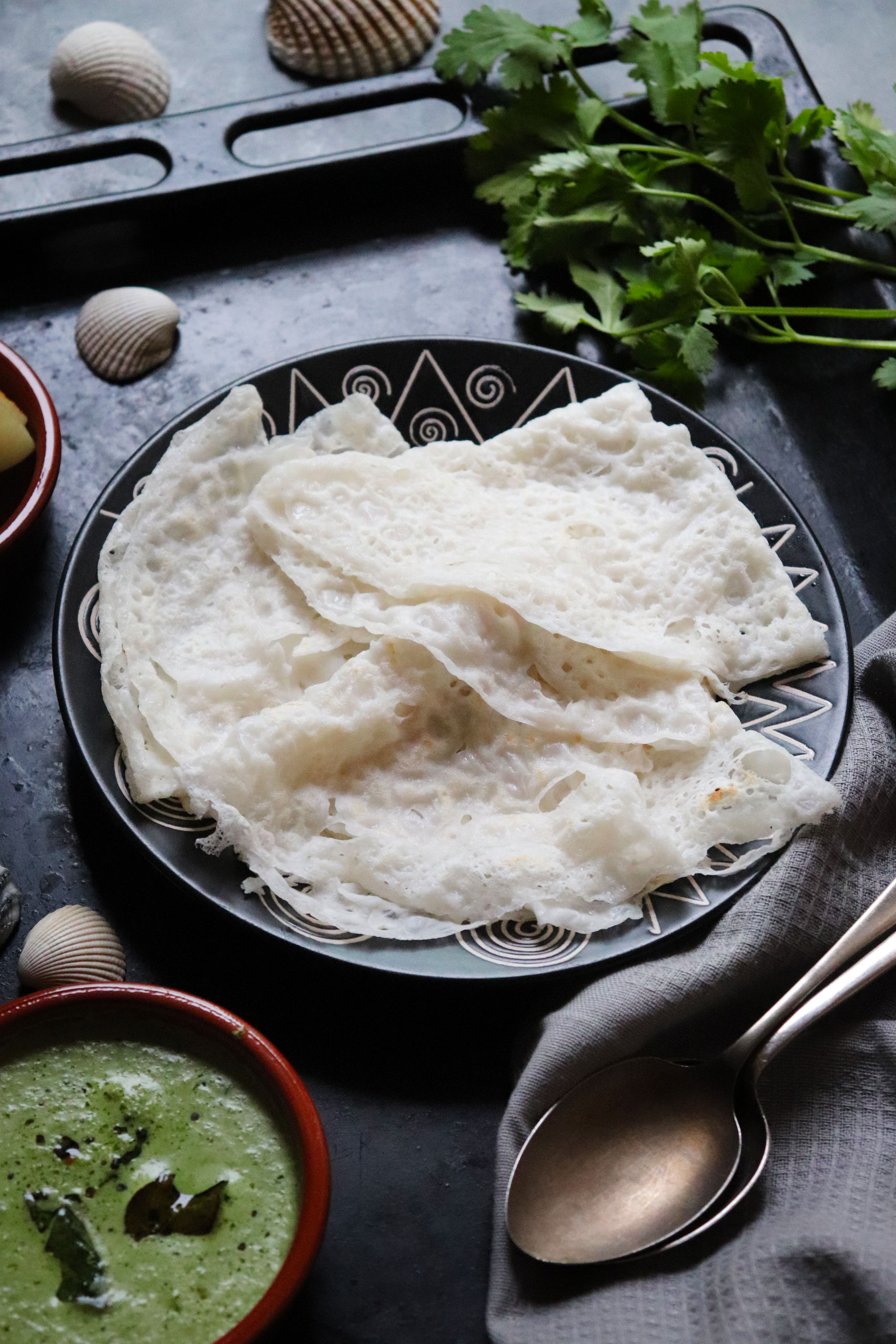 My parents are from Mangalore, but they moved to Bangalore (where I was born) many years before they got married. So at home we grew up talking Tulu - my mother tongue and eating delicious Mangalorean cuisine as well as Bangalorean. The word Neer - means water in my mother tongue Tulu ;) so it literally means watery dosa :D
My Mother being the best cook she is, whenever she made these neer dosa's for breakfast I would eat at least ten of them, please don't judge me :) I obviously can't eat that much now, but there was something special about it when my Mom used to make and I just couldn't stop eating! :D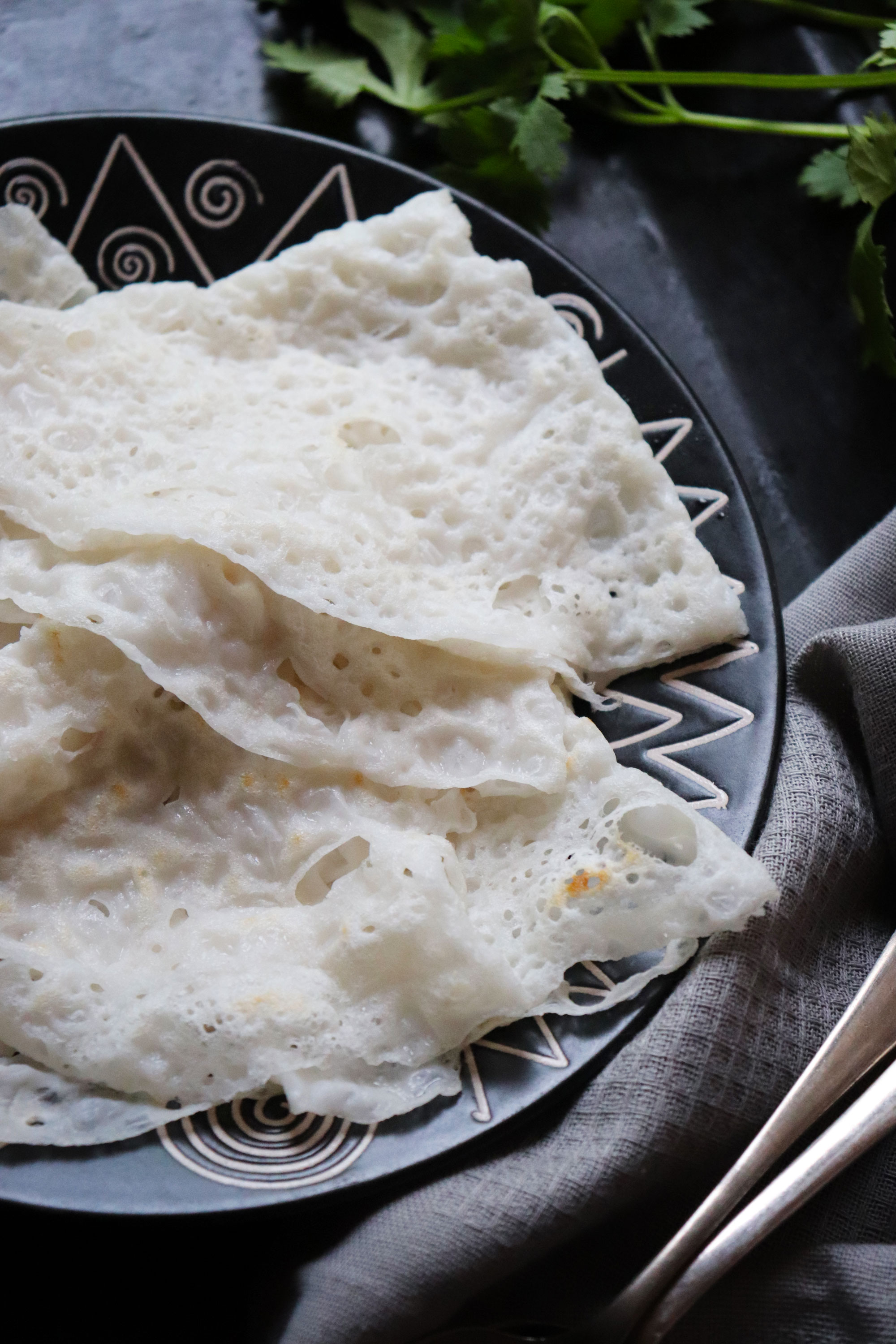 It is goes very well with any coconut chutney, or chicken curry, even by itself just with homemade ghee (Recipe linked) ! Oh so so good :) I am so glad that my half-Polish half-Indian boy loves this too :D He like it just with pure ghee, or a bit of jam some times. That's exactly how my I used to like it when I was his age. Makes me so so happy to see him enjoy it! Pure Bliss!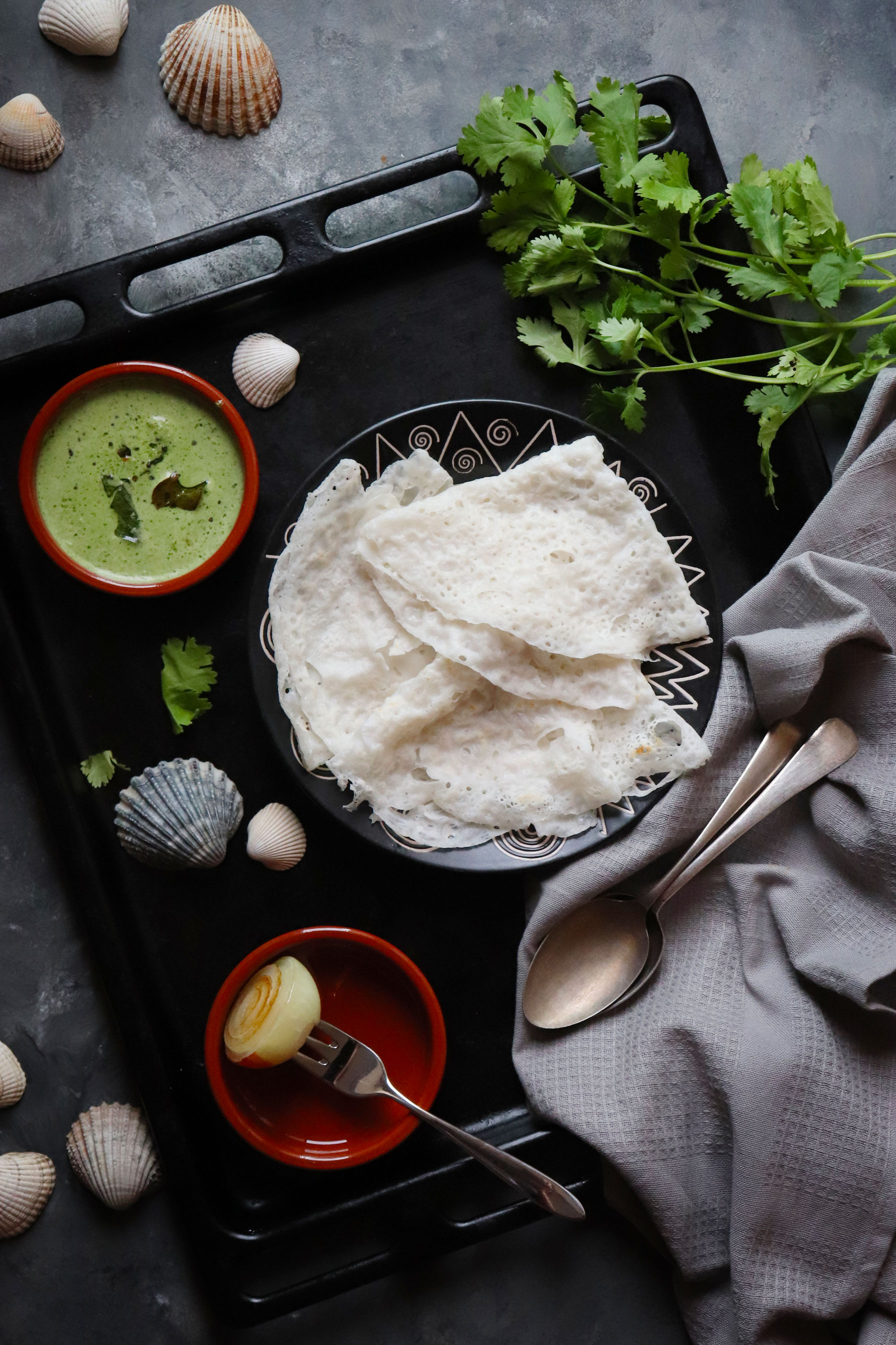 These neer dosa's are gluten free, perfect for those who are coeliac. There are so simple to make and doesn't require many ingredients. The batter can be refridgerated as well for a day or two.
The batter consistency for this dosa has to be very watery, then you will get very thin, almost lace like dosas. Once you have the batter ready, try frying a tiny portion of it to see, if it gets the tiny holes, then it is perfect, if not add little more water.
I used my Froothie Optimum Air Vac2 to make the batter, It turned out so smooth without any grains of rice.
If you like to own an Optimim vac2 Air Vacuum Blender for yourself I have a special code for you all my lovely readers, you will also get free postage and packing and an exclusive €20 off at the moment just for you when you use my code. If you add this four digit code into the comment box when ordering, or mention it if you are ordering by phone. The delivery charge will be credited back to your card.
AMBASSARDOR CODE - 6540 + AMB20 and Free Delivery
I hope you enjoy this recipe just as much as we did at home. If you try it please do remember to use my hashtag #soulfulandhealthy on social media so I can see your beautiful creations.
If you liked what you saw here, please free to share it with family and friends. Thank you! :)
You can find me on Facebook, Instagram, Twitter and Pinterest
Enjoy your cooking!️
Warm hugs
S.
Neer Dosa (Rice crepes)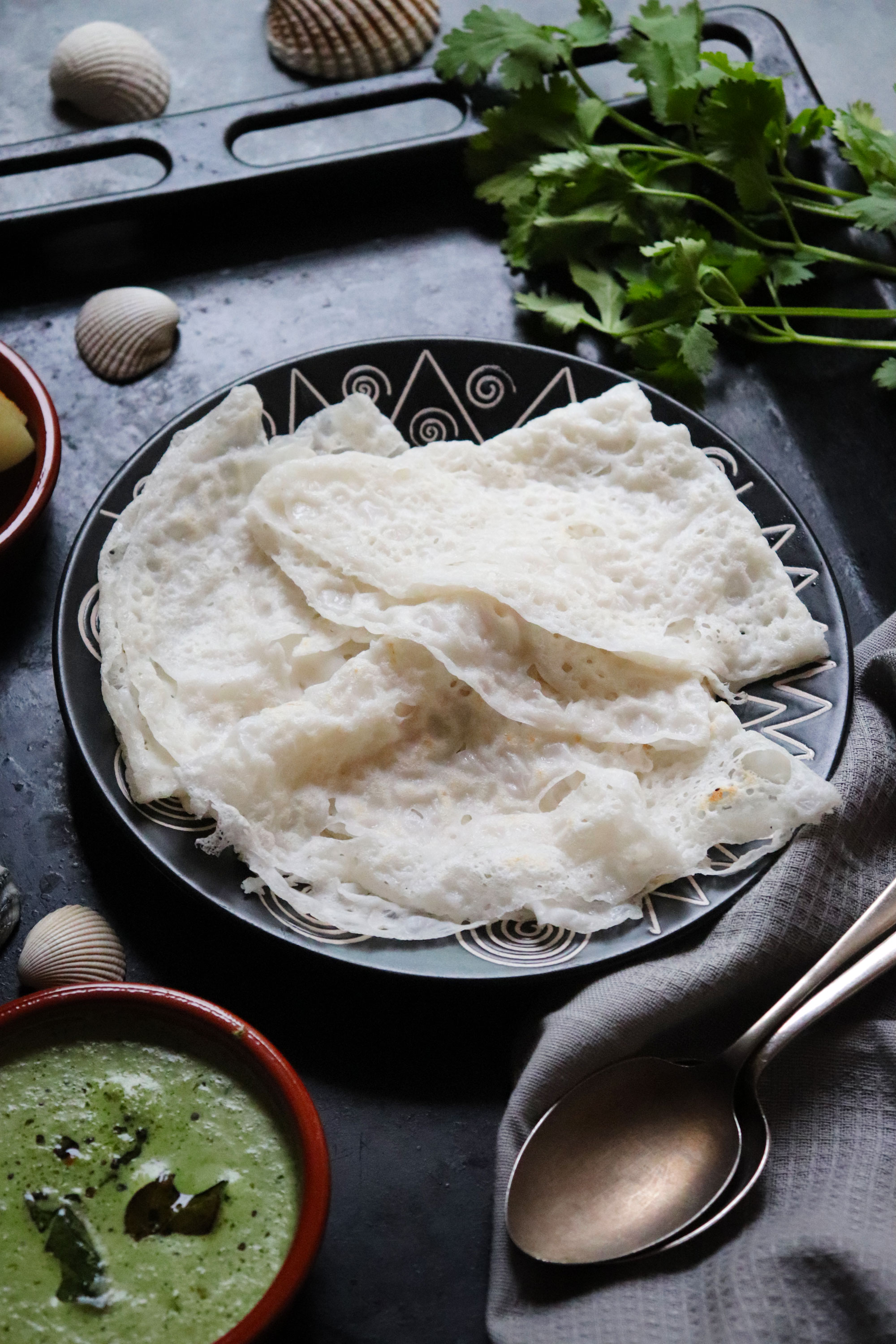 | | |
| --- | --- |
| Prep Time: | Under 15 mins - Overnight soaking required |
INGREDIENTS
1 cup basmati rice - soaked overnight or at least to 4 hours minumum
1 and 1/2 cups water
2 big tbsp of fresh grated coconut
1/2 cup coconut milk
salt to taste
2 tbsp coconut oil for frying
instructions
Soak the basmati rice overnight or at least 4 to 5 hours.
Add all the mixture into the Optimum Vac2 Air Vacuum Blender and blend until smooth.
Transfer to a bowl and using a ladle, stir well.
Heat about 1/2 tsp coconut oil in a non-stick pan and spread evenly, using the ladle pour the batter and immediately turn the pan around making sure you spread the batter all over.
Let it cook for about two to three mins on medium heat, no need to flip. once you see it all cooked make two folds and set aside (do not stack on top of each other they tend to stick). Repeat the same for the rest of the batter.

Tips -

Use half and onion on a piece of fork to spread the coconut oil on the pan. (see the picture above)
Keep stirring the batter in between every dosa, so it is even, they tend to separate from the water from time to time, this is normal.
If the batter is too thick it might give cracks on the dosa, it has to be watery, if your dosa forms cracks, then add more water to it.
Wait for it to cool down and then stack on each other, they might stick to each other while still warm.

Disclaimer - I get a small commission when you make a purchase using my exclusive code, with no extra cost to you. I would request and really appreciate it if you would use my discount code while making a purchase through the Froothie website. Thank you very much!