This is another most favorite family recipes. I make these so often and every single time my little boy says, Mummy it is yummy ;) That's all I can ask for. Unlike the traditional fish cakes where the fish used is raw, I bake the fish first and then add it to the rest of the ingredients and it still tastes absolutely delicious.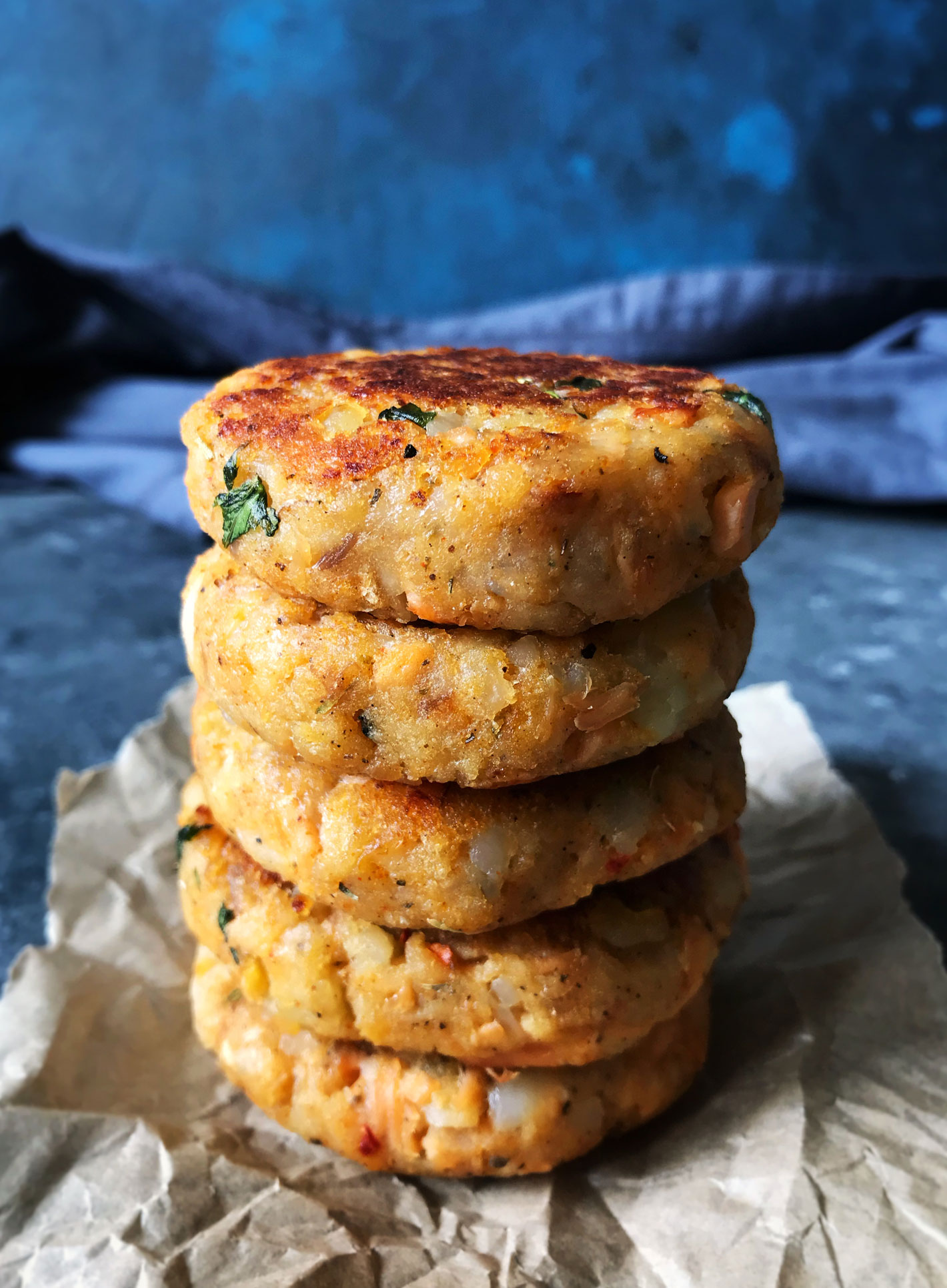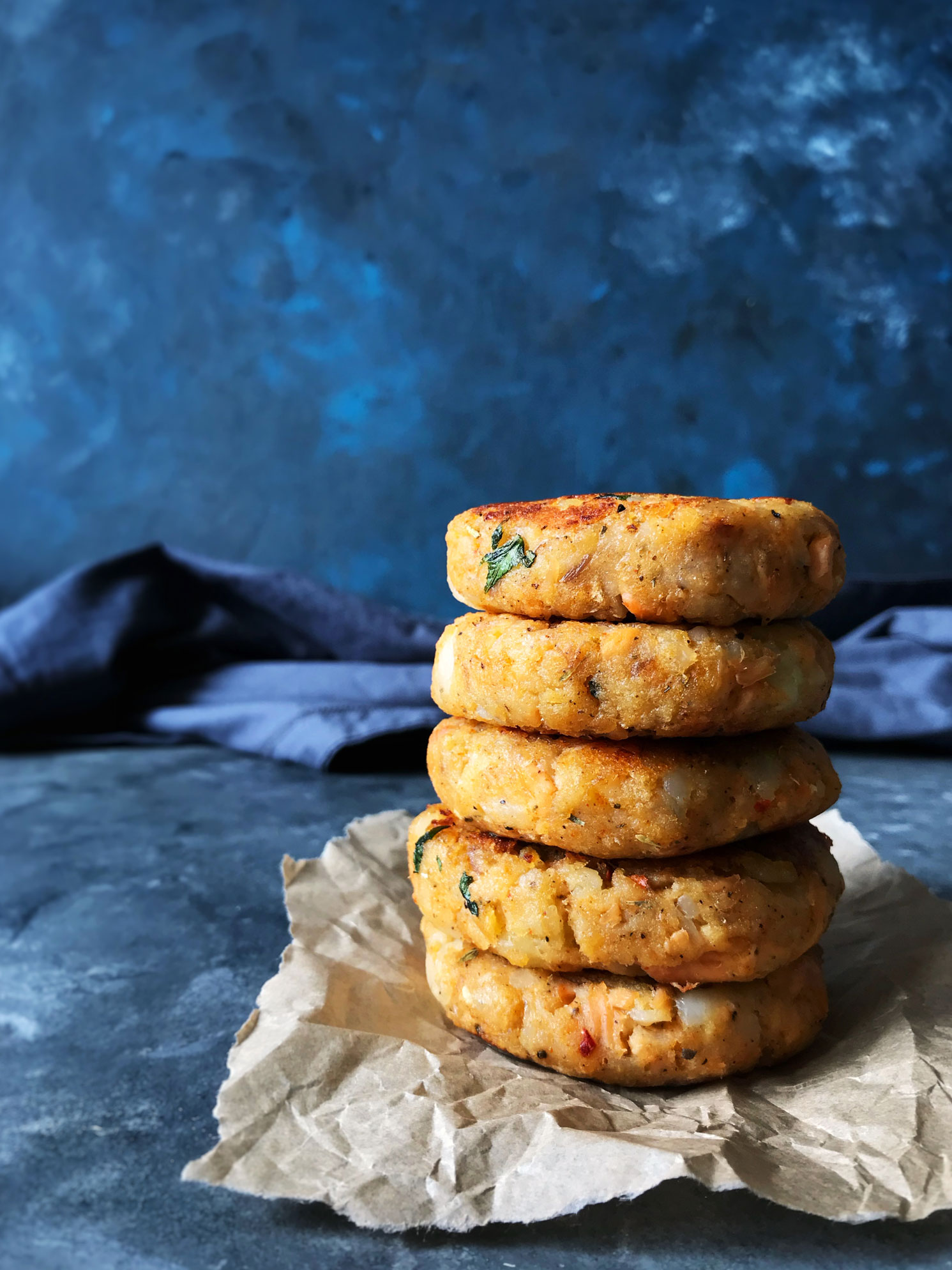 A very simple lunch, dinner or a great lunch box filler. Make them into bigger patties and you can make burgers too with them. It is all about getting creative in the kitchen. We like it simple just the way it is, dipped with some ketchup for the kids and hot sauce for the adults. Serve it with some fresh salad on the side, A perfectly well balanced meal ready in no time. I served these with sprouts salad, the combo was out of this world :)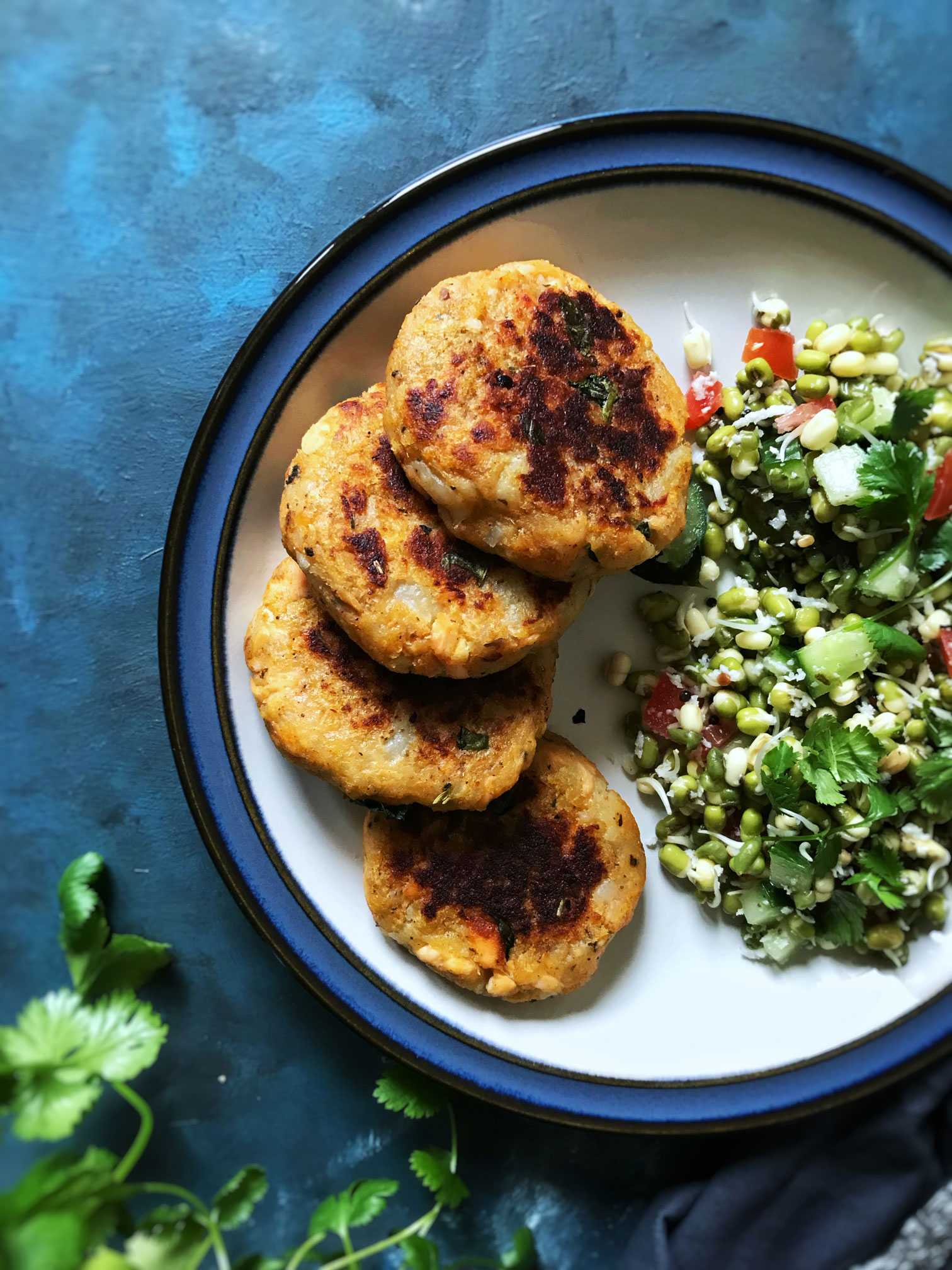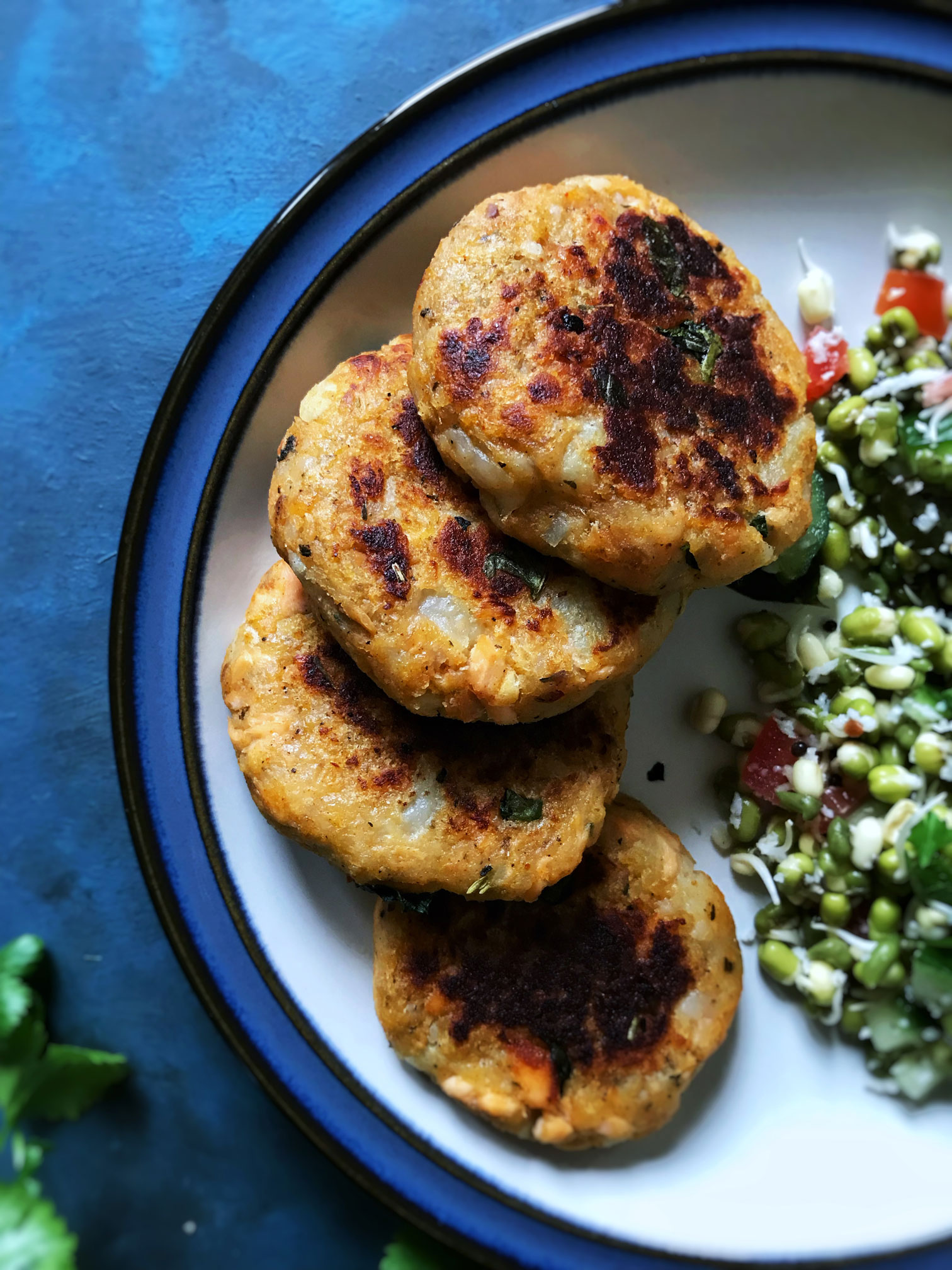 You can use any flaky fish instead of salmon for this recipe, like cod or hake, just make sure you do not have any bones in it. You can even add any other veggies of your choice, grated carrots, red or yellow pepper, mix and match the spices of your choice, this recipe is so versatile , but no matter what combinations you use or like it always turns out perfect.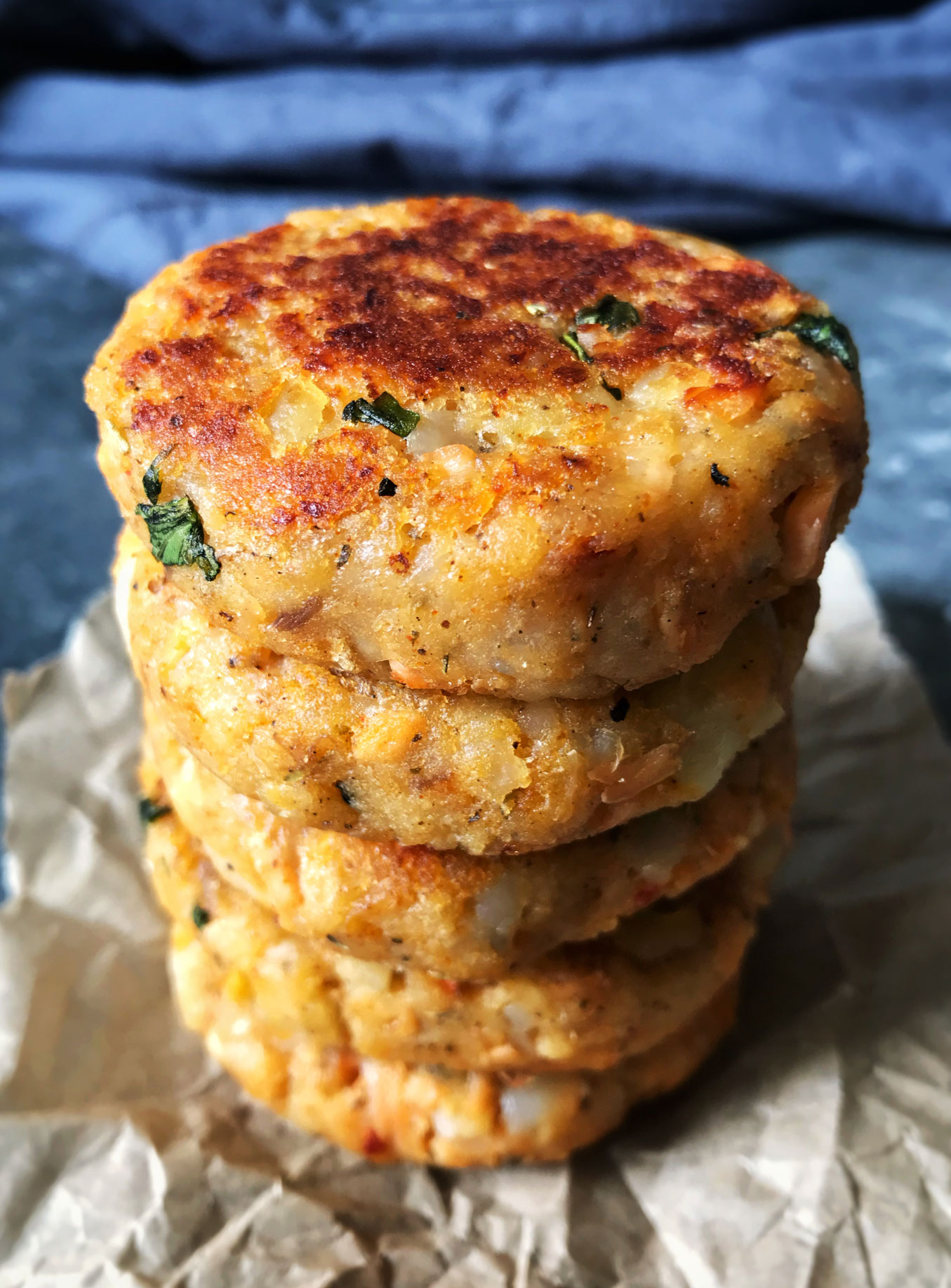 Salmon Fish Cakes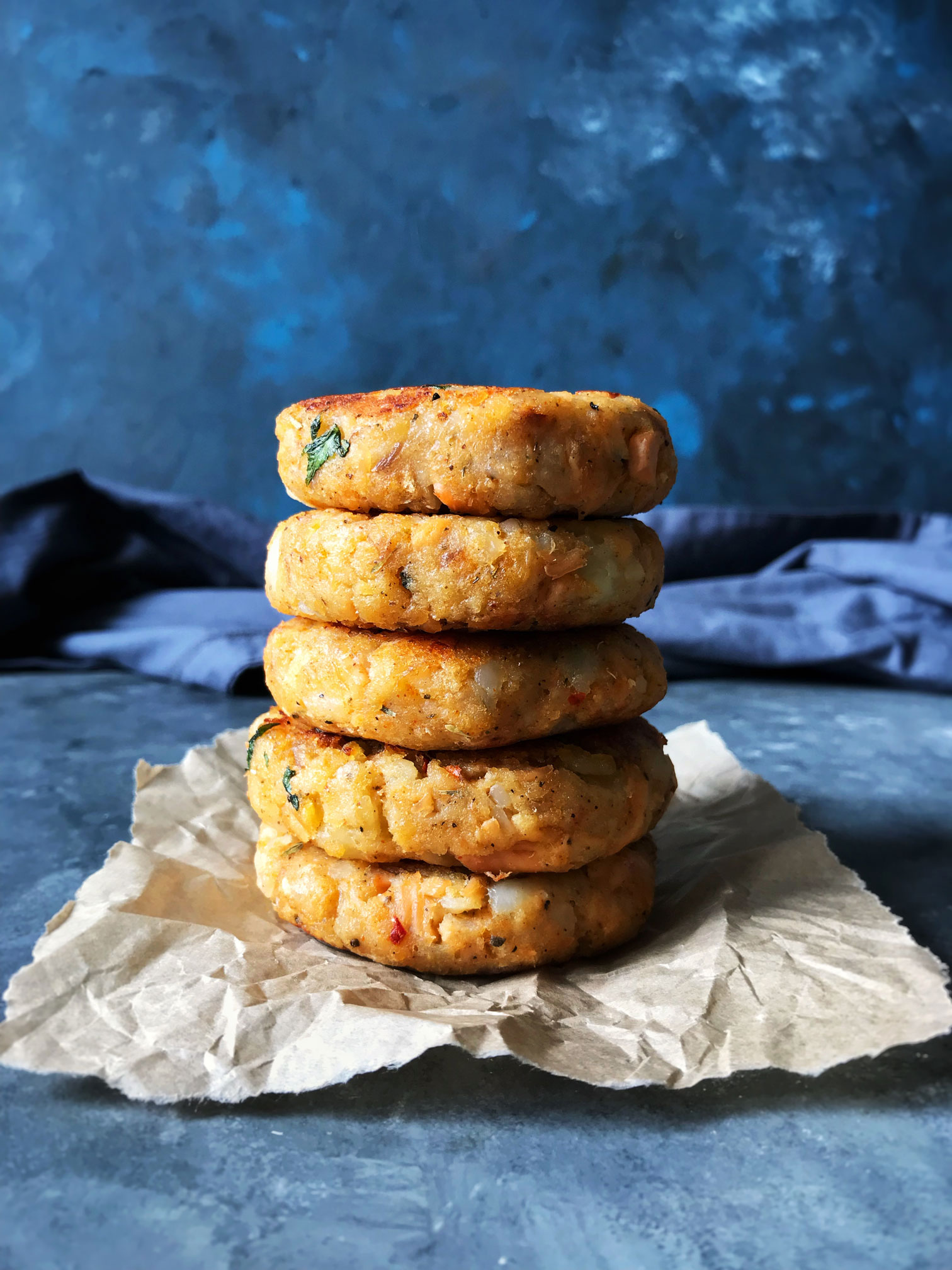 | | |
| --- | --- |
| Servings: | Makes 12 Fish cakes |
INGREDIENTS
2 fillets of salmon de-skinned
2 large white potatoes
1 cup breadcrumbs (use gluten-free)
2 tbps wholewheat flour (use gluten-free)
1 tsp paprika powder
1 tsp mixed dried Italian herbs
Pink Himalayan salt to taste
Ground pepper to taste
Handful of fresh basil leaves
1/2 cup fresh or frozen green peas
1 to 2 tbsp Extra virgin olive oil for frying
instructions
Pre-heat the oven to 180 degree C line a baking tray with kitchen foil.
Wash the fillets and pat dry it with a kitchen towel, season with salt and pepper and grill it in the oven for 18 to 20 mins, (depending on the oven).
While the fish is in the oven, simultaneously peel and roughly chop the potatoes and boil them in a small sauce pan, this will take anywhere between 15 to 20 mins.
Drain the water from the potatoes.
Once the fish is done, add it to a large mixing bowl, use a fork to shred it and add the potatoes and mash it well.
Add the rest of the ingredients and mix well.
Take about a large tbsp of the mixture and wet your palms a bit and form small patties.
Heat 1 tbsp of extra virgin olive oil on a non stick pan and shallow fry the patties, for about 4 to 5 mins by flipping once. Until nicely browned on both sides.
Repeat for all of them.
Serve with salad of choice with some ketchup. Enjoy.