Optimum Vac2 Air Vacuum Blender Review
I was over the the moon excited when I found out I that I will be part of the Froothie family on board as an Ambassador and I had the opportunity to fully test the Optimum Vac2 Air Vacuum Blender! With it's amazing feature of removing the air while making smoothies is something I have never heard of and I will talk about it in more detail later.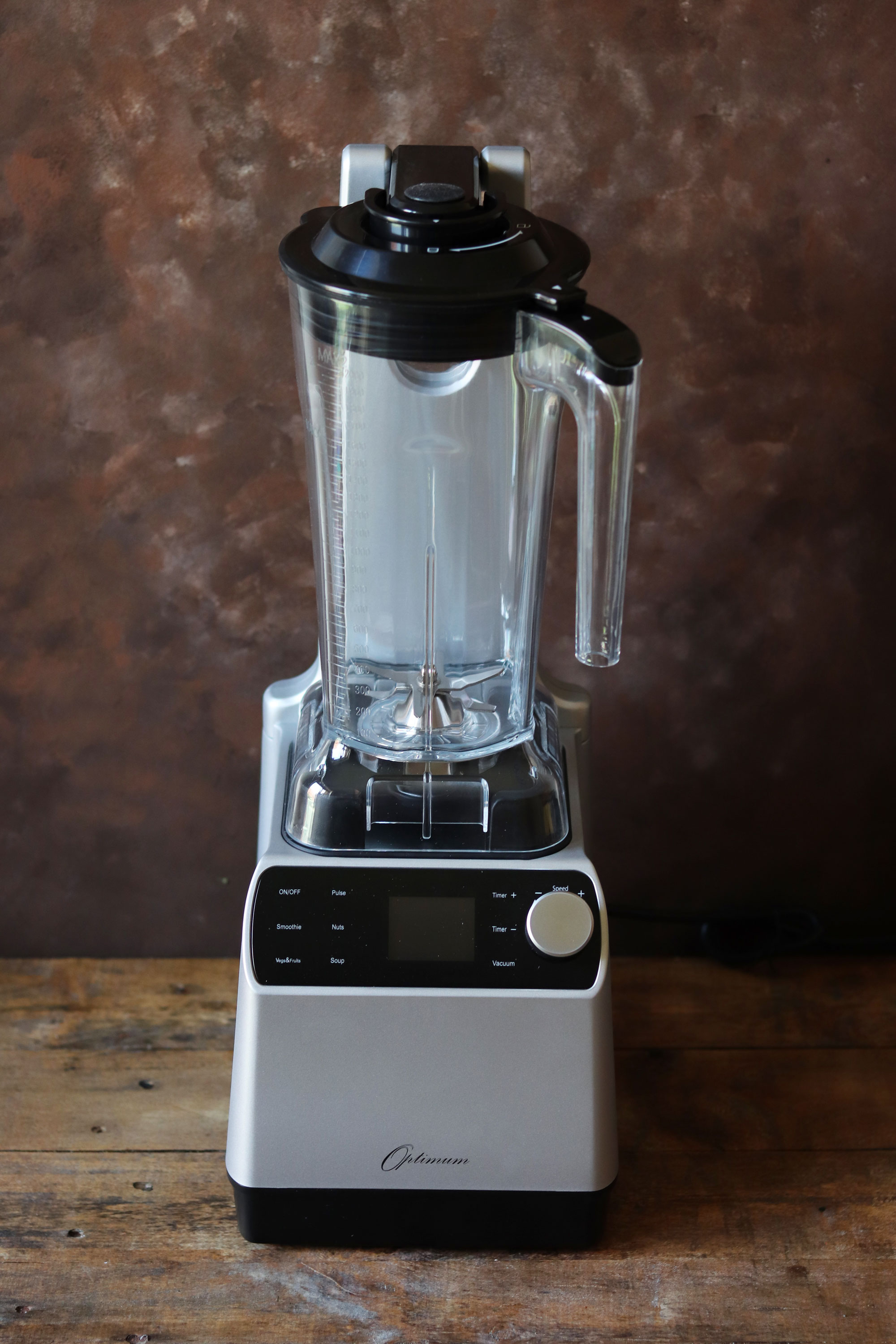 The Optimum Vac2 Air Vacuum Blender can make so many different wonderful things for you in matter of few minutes. Like super smooth smoothies, soups, nut butters, nut milks, dips these are just to name a few.
I have been using a Kenwood food processor for years now, it's a good processor and has an ordinary blended. This vacuum feature is quite impressive which no other blender has.
My first impression of the Blender
When the blender arrived in a huge box it was quite heavy, husband was at work and I had to carry this by myself :) I am
A strong woman :D while I was unboxing it looked quite sleek at the very first glance. I received a black beauty and I was impressed with it's look.
Comes with -
Instruction manual
Recipe book which has loads of different delicious, healthy recipes to try from.
Tamper very helpful while making nut butter and energy balls
Extra vacuum seals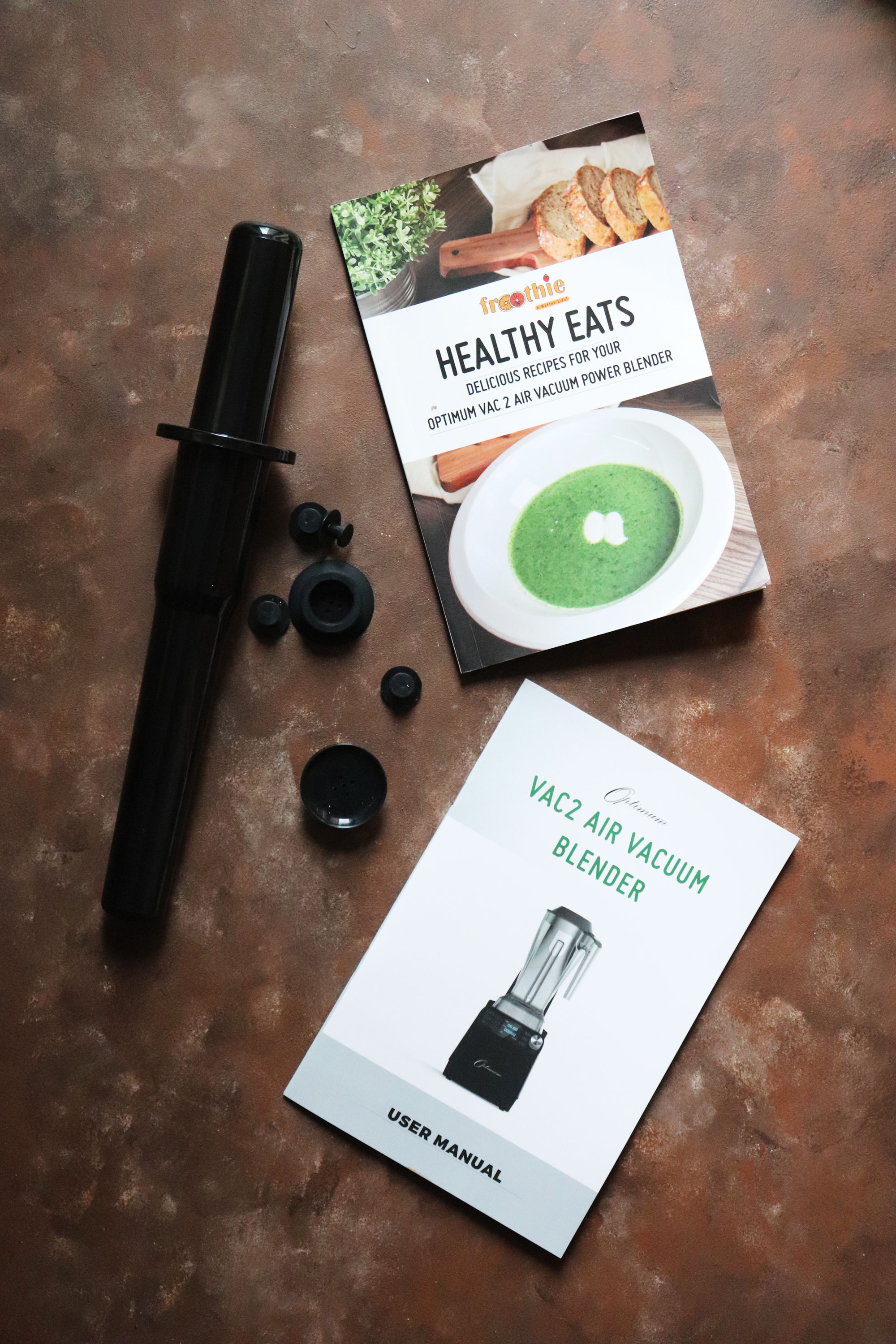 With digital display and various pre-set buttons like
Pulse
Vacuum
Smoothie
Soup
Fruit and veg
Nuts
Makes life all the more easy, it's a gorgeous addition to your kitchen. Also available in red and silver to choose from.
The Optimum Vac2 Air Vacuum Blender weighs 7.5 kilos quite heavy but that's a good feature so there is no movement and it stays put.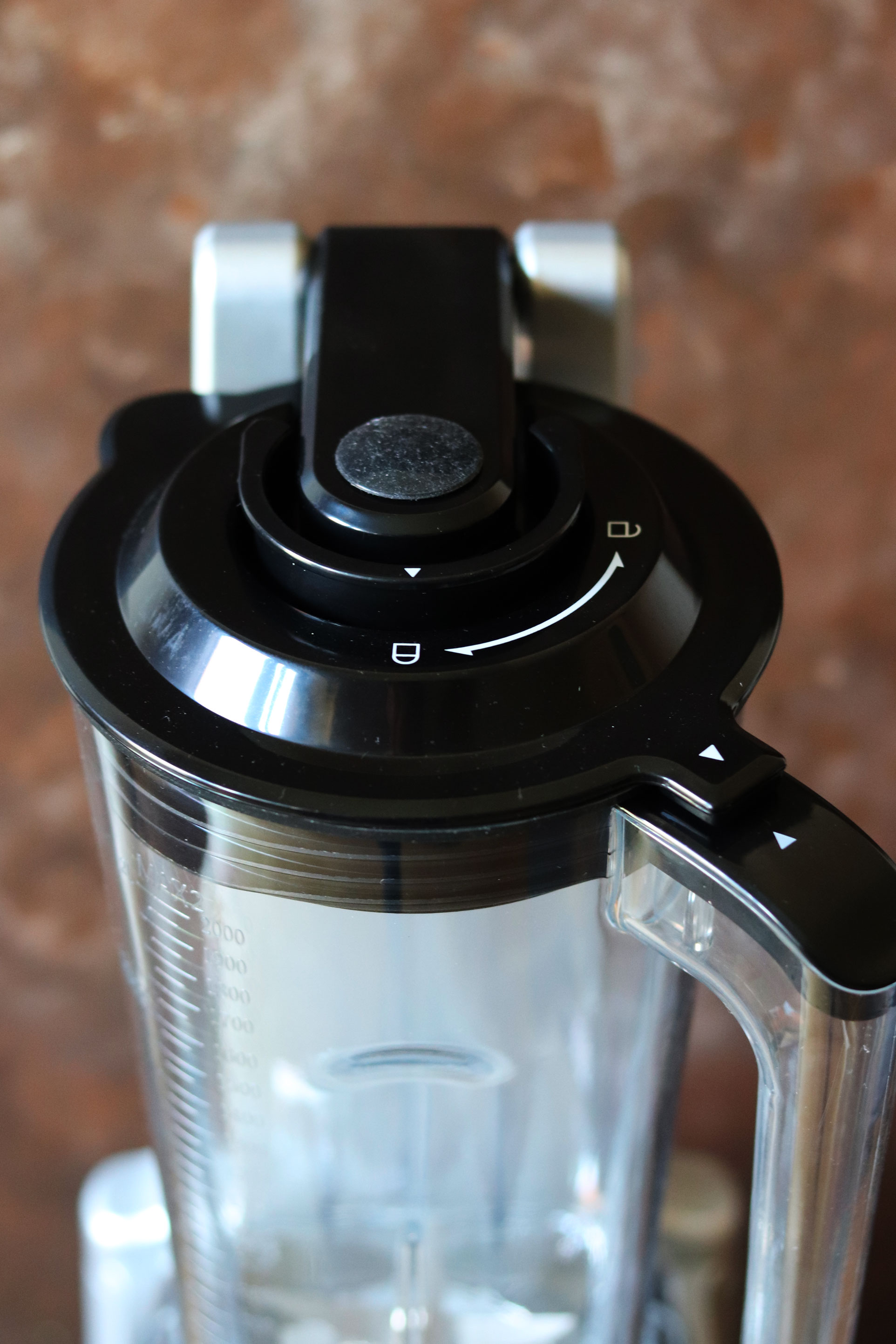 Let me first take you through its specifications
With a powerful 2238W motor it makes blending ever so smooth and ready in minutes.
Very high quality stainless blade made in Japan and 6 blade assembly makes blending quicker and hassle free.
Jug capacity is 2 litres, good to make a big batch.
Has safety features, the blender will not start if there is something not fit right.
With easy one touch buttons like soup, smoothies, nuts makes it user friendly.
Also comes with a Pulse function.
10 years warranty!
What more could you ask for!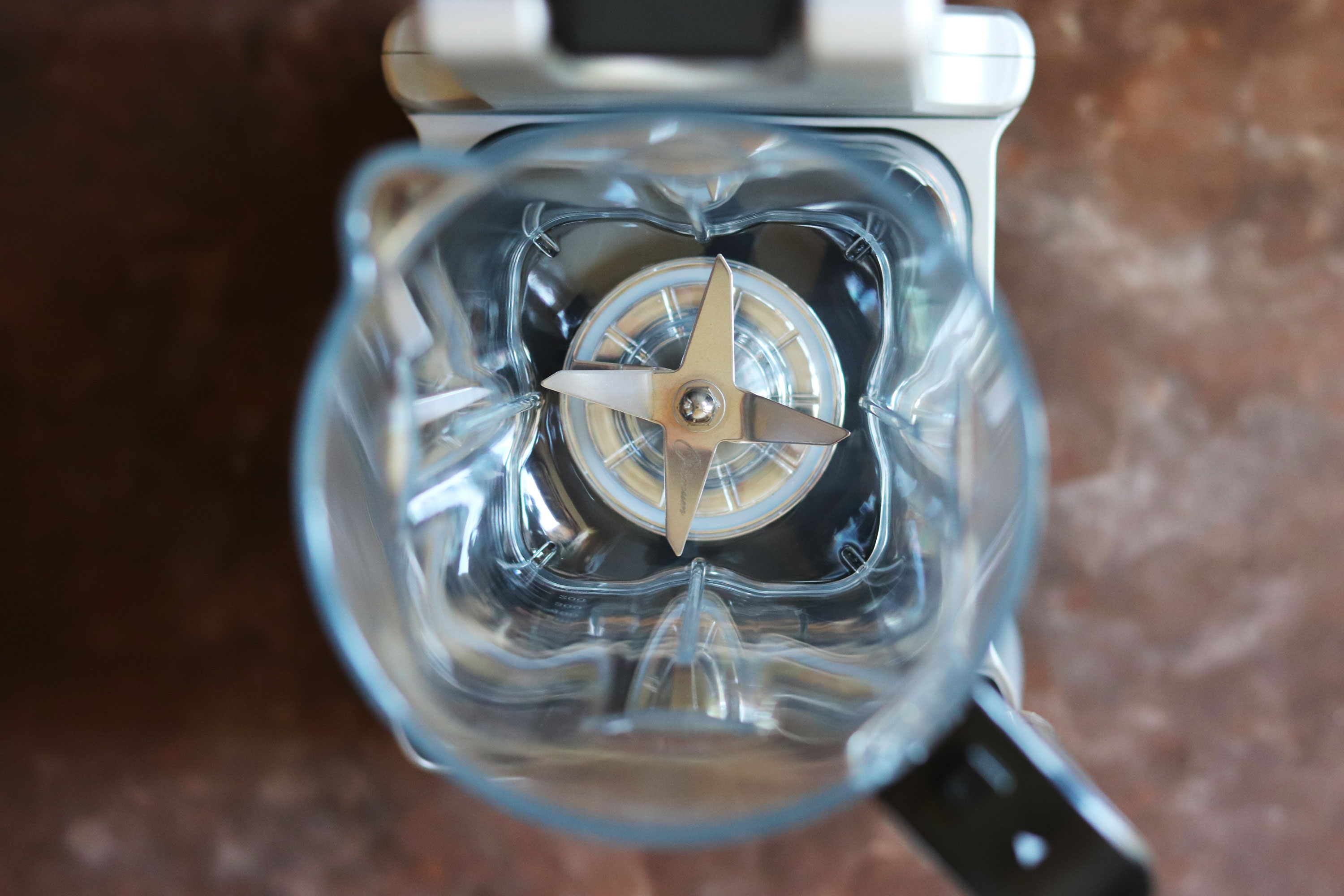 Will now tell you more about the most important feature of Optimum Vac2 Air Vacuum Blender-
The vacuum for smoothies
This feature is unique for a blender, why because it makes absolutely super smooth smoothies (without any air bubbles), reduces oxidation and retains the nutrients in the smoothies, as Froothie UK says.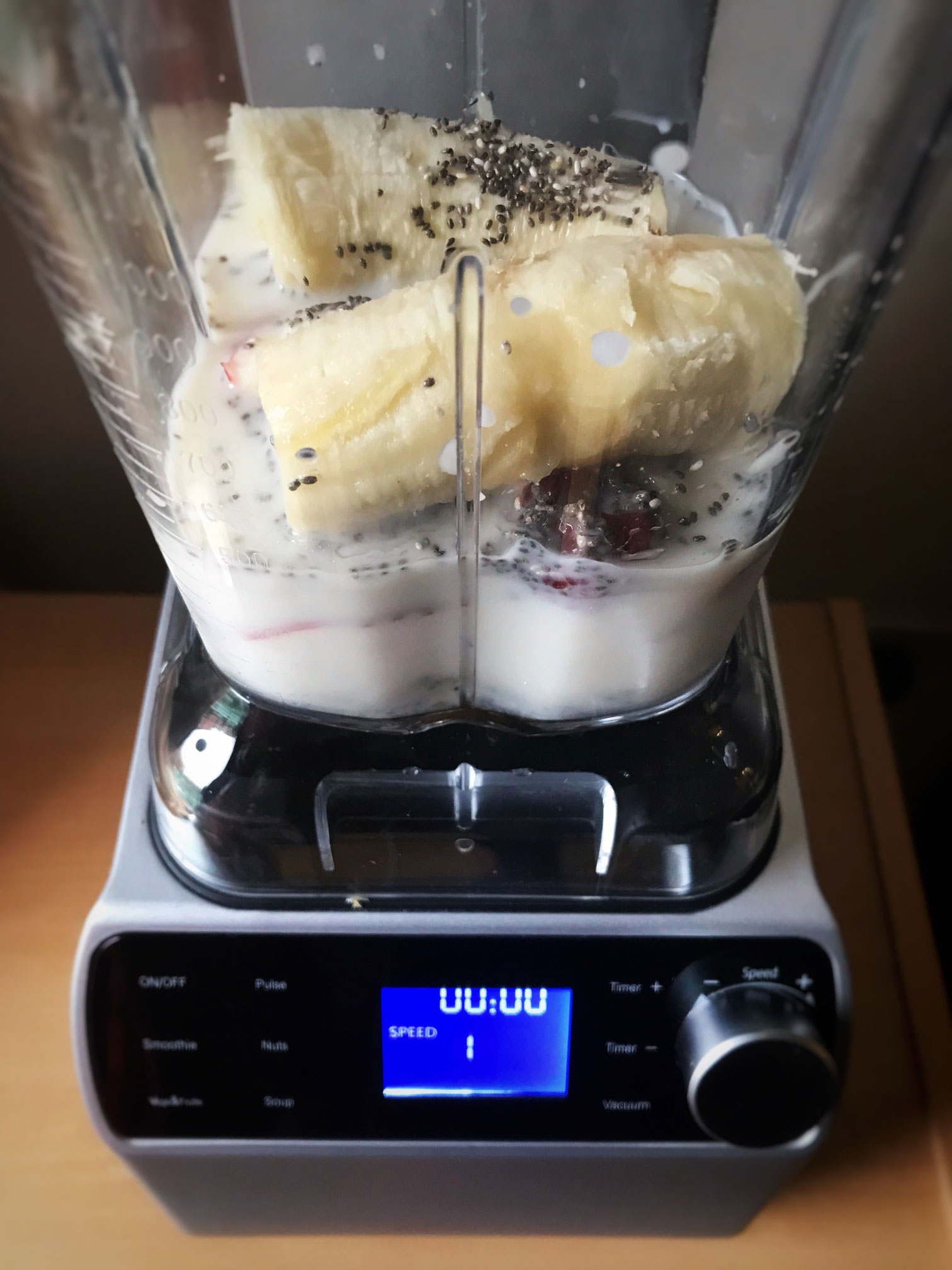 I tried this option myself. I made my apple and cinnamon smoothie.
Ingredients like
1 Apple
1 banana
1/2 tsp of cinnamon
1 tsp of chia seeds and
1 cup of unsweetened almond milk
At first I added all the ingredients into the jar and selected the vacuum option and then smoothie and in 1 minute it sucked all the air out of the jar.
I could see this happen and my five year old was watching it too and we both were at awe as to how the air bubbles were moving upwards and and upwards and then once the vacuum was done. It began to blend the smoothie for 2 minutes. It automatically stopped and I actually was struggling to get the jar out at first without releasing the vacuum seal on top, this was a bit of a hassle for me since I was using it for the first time and once I managed to release the seal there was a slight hiss and I could easily remove the jug.
When I poured the smoothie on to my glass it was sooo soo smooth! I was very much impressed. It did what it said! Like wow!
But but... I still wanted to see if it really does what it said, that the smoothie won't oxides after some time. So I left my smoothie sitting there for an hour and guess what, yes it was still the super smooth smoothie. You can see the pictures below, one on the left is when I just prepared it and the one on the right is after an hour. Still the same! And no change even in the taste. Yay!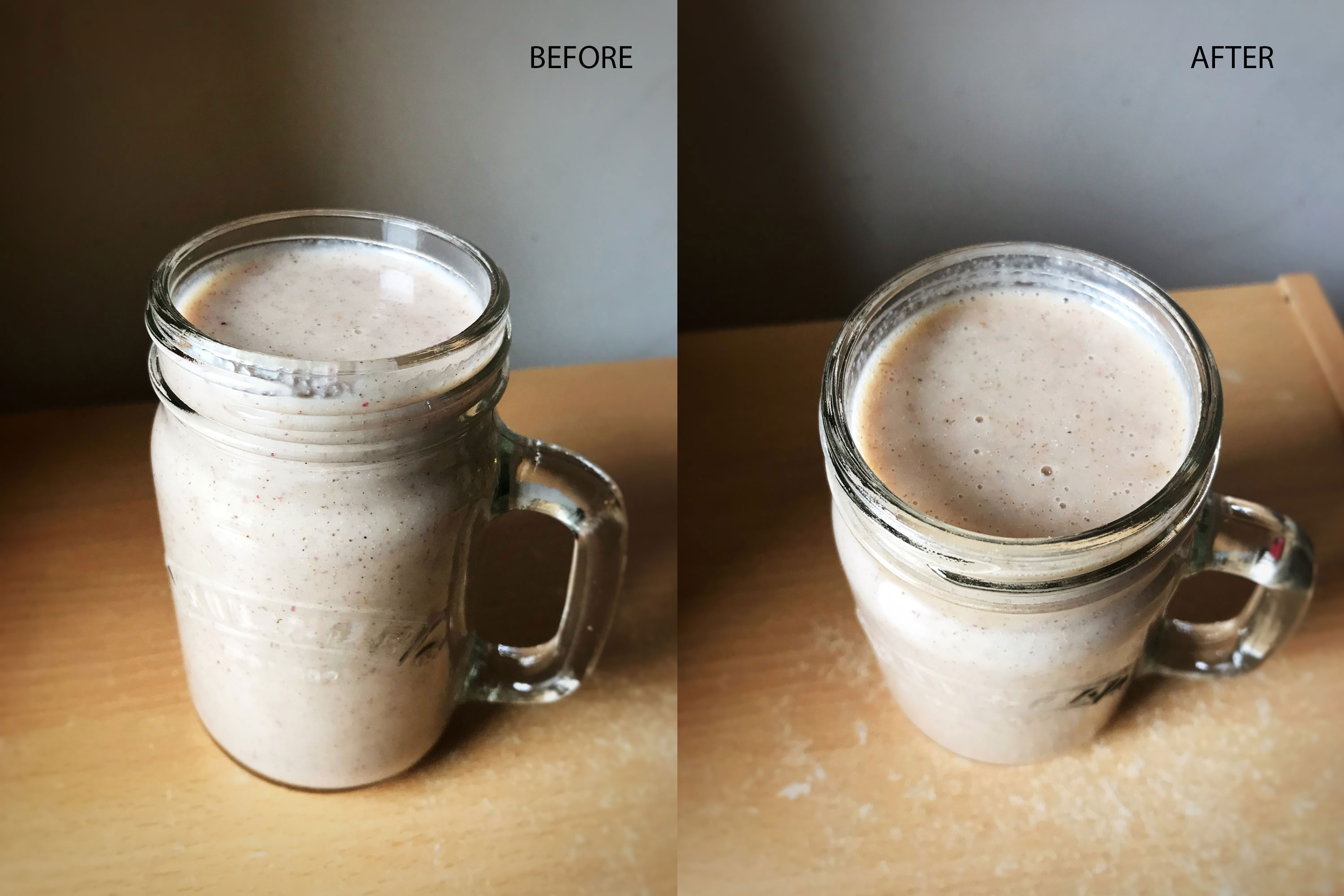 Making soups in less than 5 mins
This is another great feature I want to brag about. I was so happy that I got the Optimum Vac2 Air Vacuum Blender in Autumn and just when the weather started to get cold and chilly in Dublin. I made so many different kinds of soup.
The soup is so smooth and it's ready in 2 to 3 minutes. There is a preset button for soup, all you need to do is press the on/off button and then soup, normally the soup pre-set is for 6 mins, but I wanted a little bit of substance in this particular soup so I manually reduced the time to 3 mins, and absolutely gorgeous velvety soup is ready.
I made Roasted red pepper soup, you can find the recipe here. I made this like three times already and every time the same gorgeous results.
Blending Nuts
This comes so super handy when you want to make but butters or energy balls using nuts and seeds. I made Cardamom Raw Balls, a blend of dates, almond flour and few other ingredients, you can find the recipe here.
The dates I had were a bit dry, I added at first very little liquid ingredient, so the blender had difficulty in processing, but I add a little more of maple syrup and it came along together well, but I had to use the tamper to get everything mixed well. It was also a bit of a challenge to get the stuff out from the jug. As everything got stuck together under the blades too. This is something I found it a little easier with a food processor, because it is much wider and doesn't have a narrow jar. Nonetheless I was happy with the end results, it was very nicely blended.
Making Nut milk
I made almond milk using the blender and I was so happy with the results. All I had to do is soak the nuts overnight and add water along with the nuts and I used the nuts pre-set button, within a matter of few mins, my homemade almond milk was ready, I tasted it, it was so delicious and believe me this was the very first time in my life that I actually made a nut milk and I was so impressed with the quality of it. You can find the recipe here.
Cleaning the jar
Oh this part also I absolutely enjoyed the most. I hate washing dishes, that's something I never liked doing, but with the Optimum Vac2 Air Vacuum Blender that was so easy peasy! Add warm water along with some dish washing liquid and use the pulse mode for few minutes and it's done!! That simple.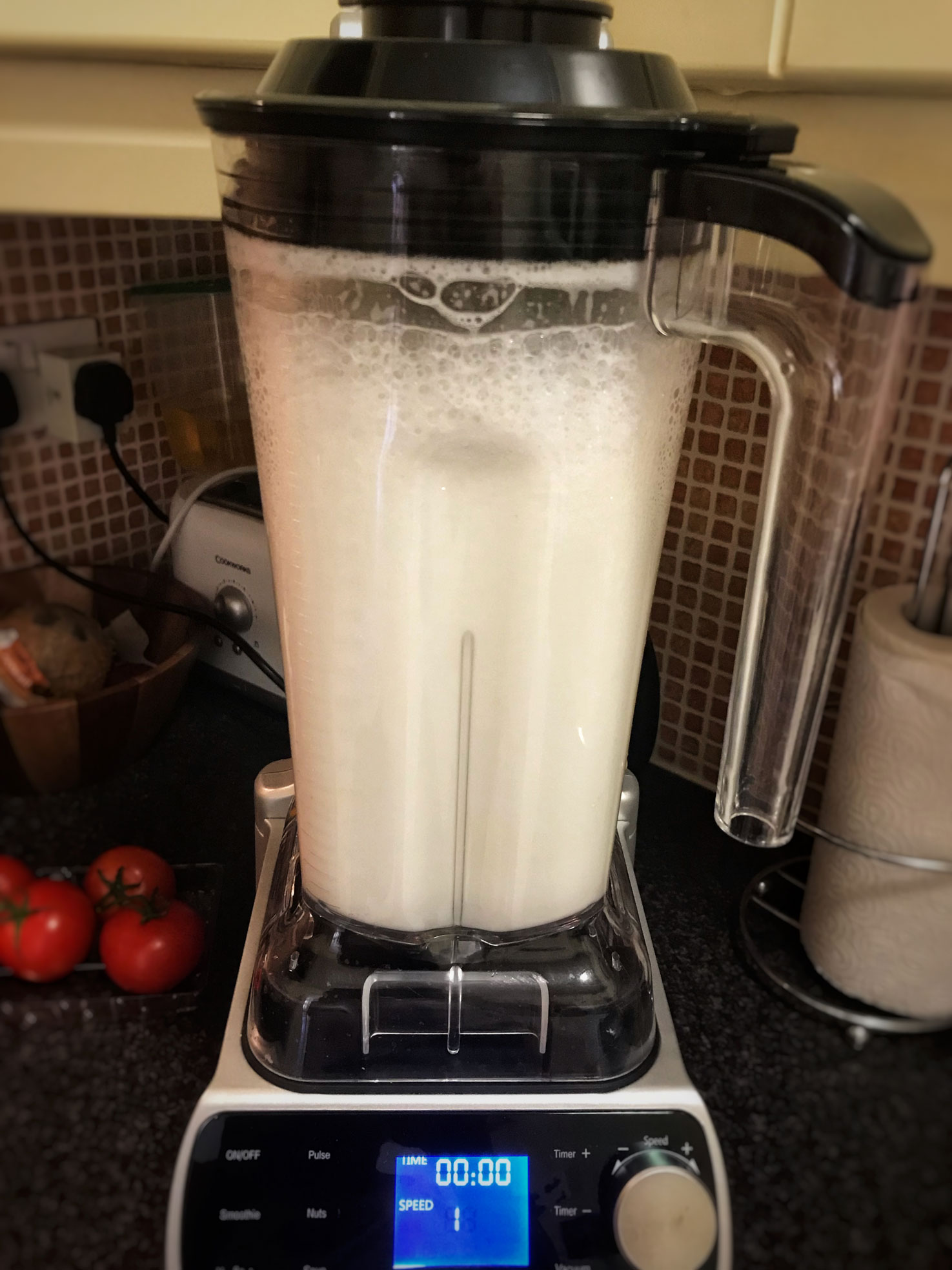 After I made the energy balls, I got engaged with so many other things that I actually forgot to clean the jar, I had added little water to it but completely forgot to clean it. So it sat there the entire night! The next day I added warm water and dish washing liquid and pulsed for maximum 2 mins and it came out so so clean from the inside. There was the mixture stuck underneath the blades, which obviously can't reach by hand. It was all gone. I did check thoroughly, it was fresh as new. However the outside of the jug you have to clean it by hand.
Now for the little cons
Until now I didn't really have any major issue with the Optimum Vac2 Air Vacuum Blender but the buttons make a beeping sound which is very annoying, for example if you have to reduce the time, it beeps for each and every single time you press the button. Wish it had an option of changing the time without the loud beep.
I personally felt the cord could have been a little more longer, in my kitchen the plug point is at the very end in a corner, so in this case a little longer chord would definitely help.
Final conclusion
I must say I am very much impressed with the Optimum Vac2 Air Vacuum Blender, all in all a wonderful addition to any kitchen and home. With its numerous tasks I think it comes handy for any body and every body.
For me I do make a lot of smoothies for breakfast and even for my little boy. The vacuum option that it has is so unique, not every blender comes with it. So I am very happy with the fact that I can retain the nutrition in smoothies for longer period of time without causing any changes to the taste.
I am so glad I had the opportunity to test it and try it out myself. With the numerous things that it can do I would say anyone would enjoy having a gadget like this in your home.
I still have to try making nut butters, it can even make dough! How cool is that!
Froothie Optimum Vac2 Air Vacuum Blender helps you with seasonal offers, warranties and financial support -
Froothie offers The 10 Year warranty which is only available for purchases at the full advertised price with the 10-Year Warranty option. Any discount vouchers will reduce the warranty to the standard 5 Year domestic warranty. Read more here.
Froothie finance offer - To help you with the cost of the purchase of Froothie products they offer financial assistance, to offer 6 months at 0% interest which you spend £299 or more with a minimum of 10% deposit up front, you can find out more here.
Froothie seasonal savings - There are seasonal promotion offers, keep an eye out you might be lucky and save a couple of euros on your favorite Optimim vac2 Air Vacuum Blender.
Froothie 24/7 support - Call a landline or a mobile, they offer 24/7 customer support to call and order.
If you like own an Optimim vac2 Air Vacuum Blender I have a special code for you all my lovely readers, you will also get free postage and packing and an exclusive €20 off at the moment just for you when you use my code. If you add this four digit code into the comment box when ordering, or mention it if you are ordering by phone. The delivery charge will be credited back to your card.
AMBASSARDOR CODE - 6540 + AMB20 and Free Delivery
Disclaimer - I get a small commission when you make a purchase using my exclusive code, with no extra cost to you. I would request and really appreciate it if you would use my discount code while making a purchase through the Froothie website. Thank you very much!
If you liked what you saw here, please free to share it with family and friends. You can find me on Facebook, Instagram, Twitter and Pinterest
Any questions, suggestions feel free to leave a comment below or drop me an email, I am more than happy to help :)