If you ask an Indian what does Biryani mean to you, then it's not just a dish it's an emotion! A Biryani is that one dish we Indians all over come together as one and enjoy it and celebrate it. It's a royal dish, the beautiful spices, the layers of basmati rice, fragrantly cooked to perfection, which each grain still intact. The meat so juicy and tender, coated with aromatic spices. Topped with saffron, it's like I said a royalty!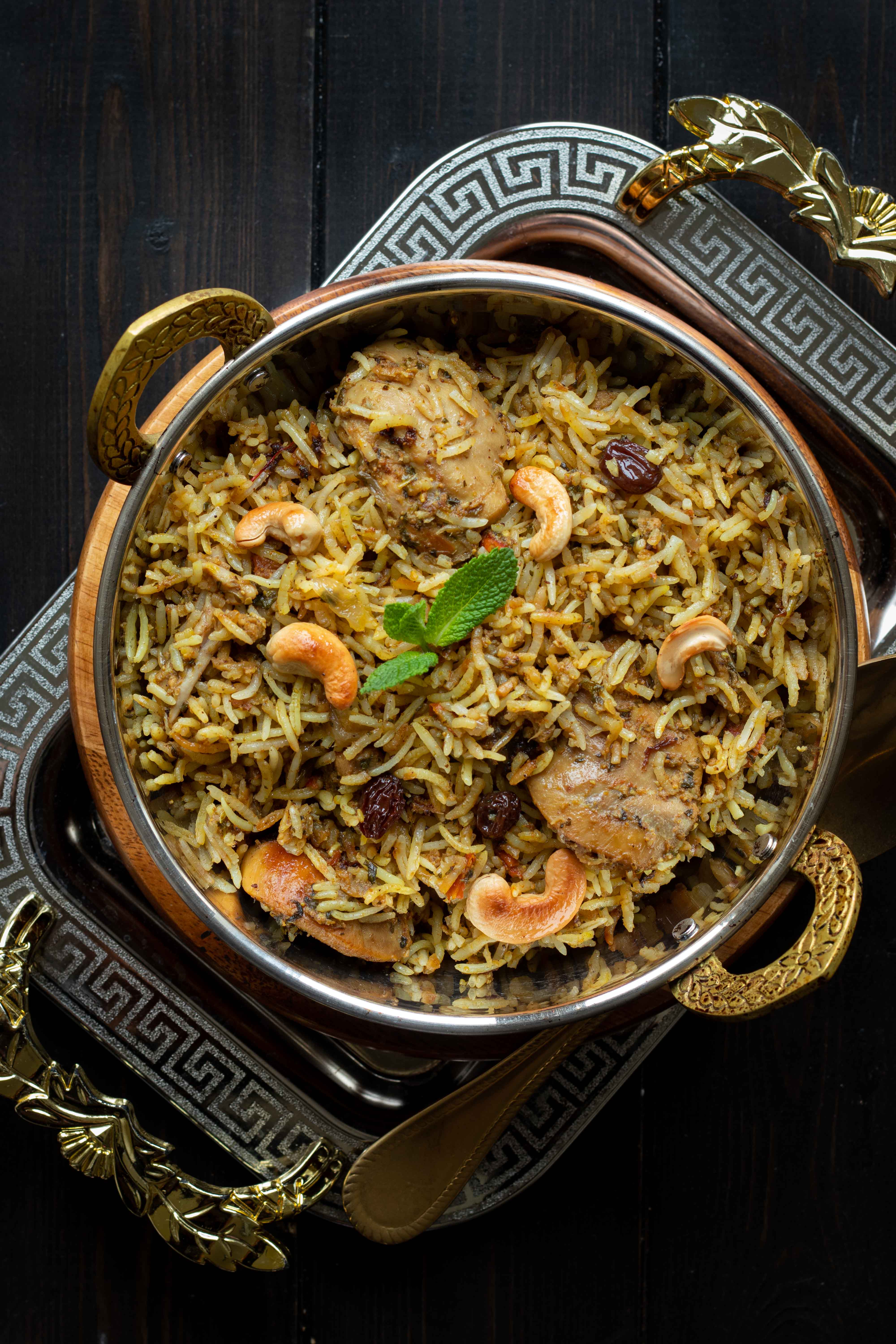 There are many different variations of a biryani, it can be made with mutton, lamb, chicken, vegetables or prawns. There are so many varieties of Biryani, like Hyderabadi Dum biryani, it's cooked by sealing the dish with a dough.. From Kerala, to Mumbai to Kolkata, they are all different and each are unique in its own way, but they are all absolutely amazing! We have a biryani that's exclusive to each state. Then there is Karnataka style Donne Biryani, where the masala is made by blending fresh coriander, mint, green chillies and ginger, I have shared that recipe on Kenwood website linked here. I can't tell which one I like the most because I am a big time biryani lover and I will eat and enjoy them all.
Biryani was introduced to India by the Mughal Empire, who got it from the Persian's. Well whoever did it I'm glad it was bought to India. Today a Biryani is the most ordered dish in the form of a takeaway!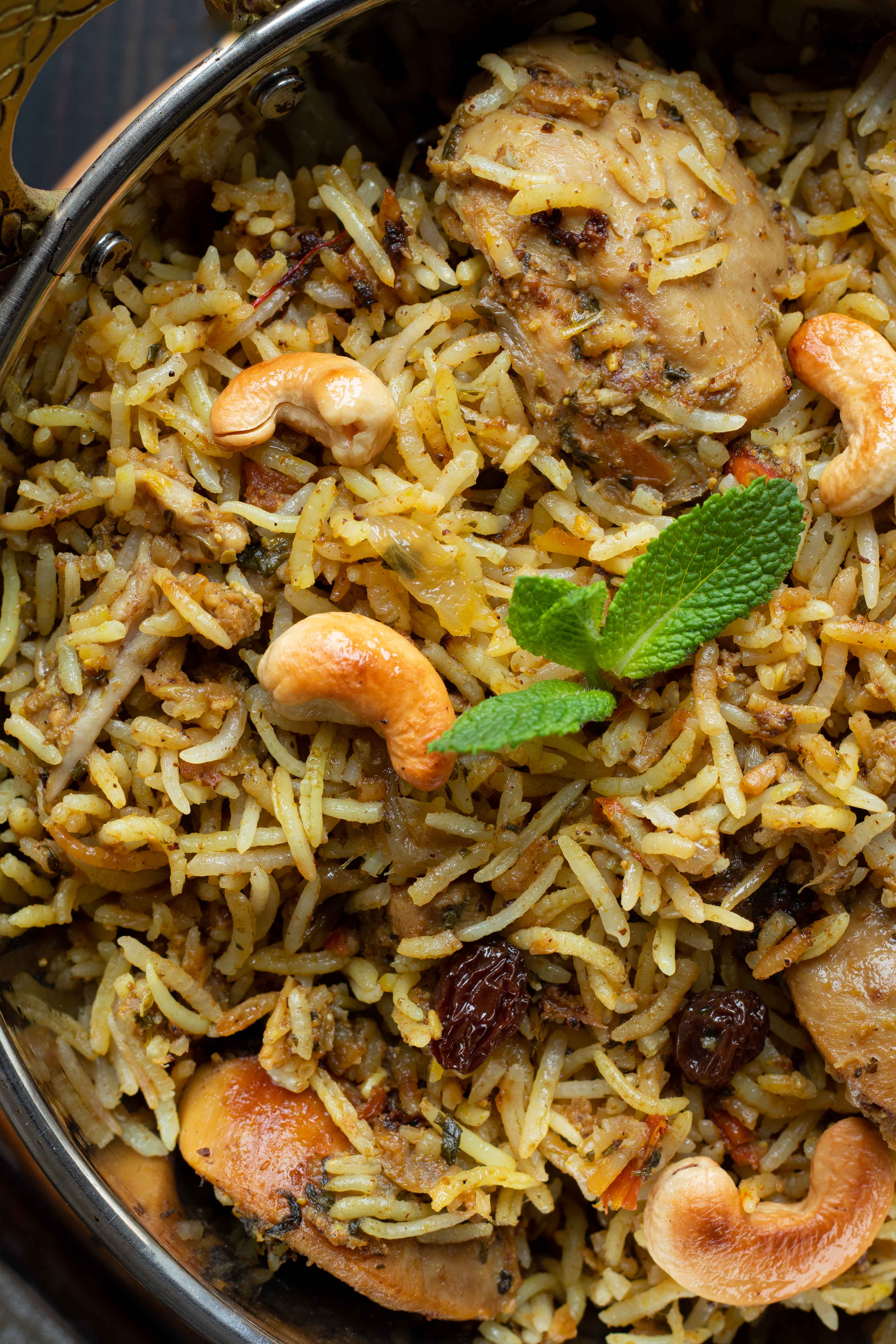 This chicken biryani is so delicious and it is easy to make, but it does take some time, once you taste it all the effort is so worth it. When I shared this chicken biryani on my Instagram stories I got so many replies asking for the recipe, so I decided I'll take quick photos and share it with you all. This is my way of making the chicken biryani, the taste is authentic and as traditional as can be and it's even more delicious the next day. Once you learnt to make it yourself you won't order it again, because it gives you that satisfaction of making something so special and authentic all by yourself.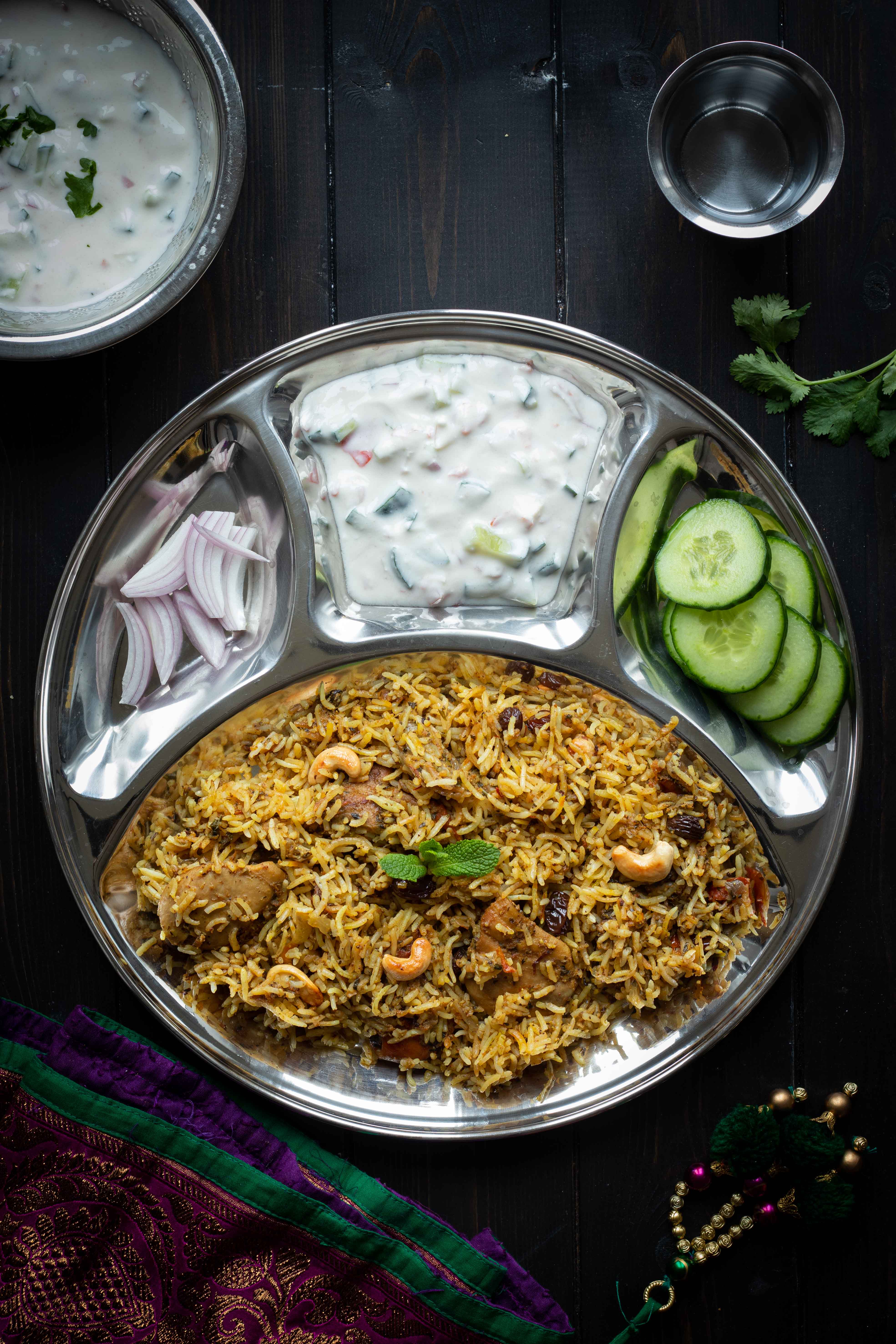 Here is the way I cook the Biryani, I use a flat non stick pan under, then place the heavy bottom biryani pot over it, so there is no direct heat and it doesn't burn from under. I have used a large pressure cooker and covered it with the pressure cooker lid along with the gasket but no whistle, this way the steam doesn't escape.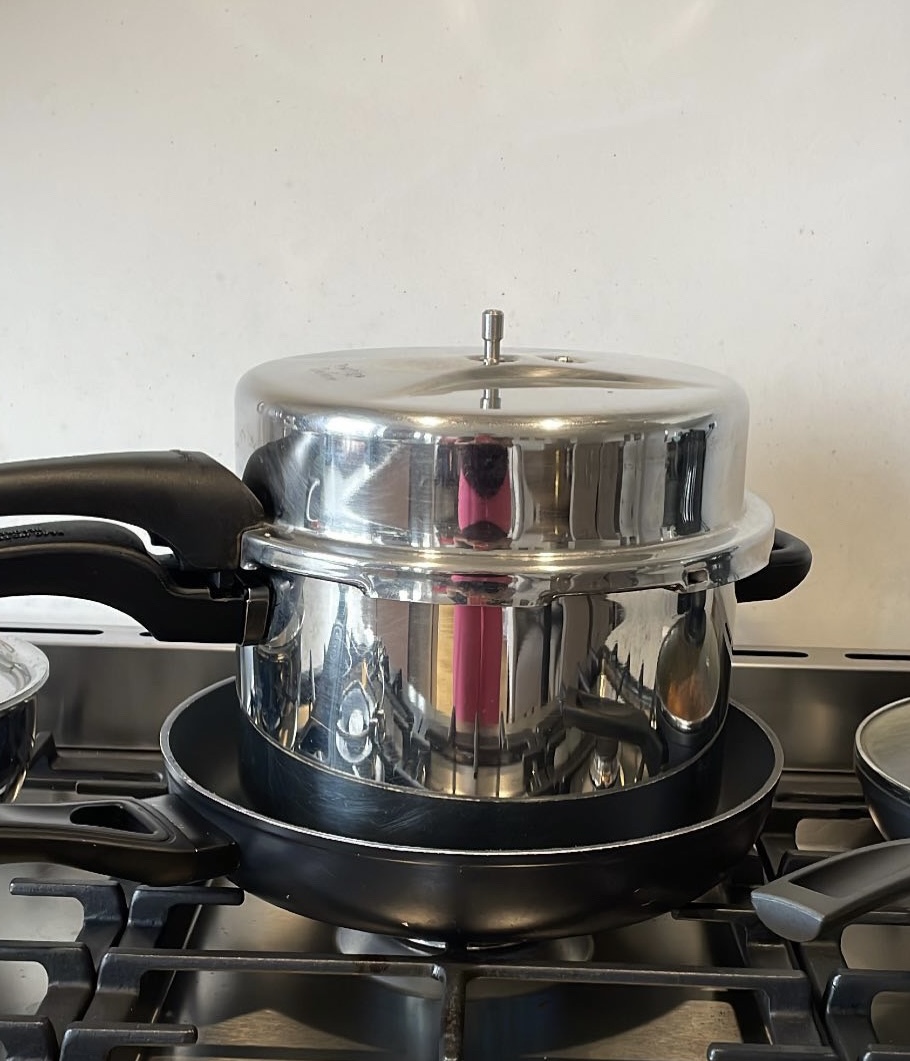 There are few tips to consider before making this recipe so please be patient and read through, if these points are kept in mind then any non Indian can also make this recipe. I won't bore you all with lots of stories I promise:)
Tips
THE MEAT - Use chicken thighs, drumsticks or whole chicken cut into pieces. These parts of the chicken will stay juicy and moist when cooked. If you use chicken breast it will turn out dry and chewy. Talking with prior experience here. I have made this mistake before and trust me chicken breasts won't work. Marinating the meat is important this will soften it and you will have nice juicy tender meat.
RICE - Use basmati rice only for this recipe not long grain or jasmine rice, it won't work. They are different types of rice will not work for a biryani. Basmati rice has its own beautiful fragrance and texture which is what you need for that perfect authentic biryani. You can find good quality Indian basmati rice in any Indian/ Asian shops all over Ireland. I buy mine from here too. This is the rice I used linked here. The more aged rice the better.
MASALA - A good biryani masala is what is needed for this recipe, again you can find them in any Indian/ Asian shops here. The particular masala I have used here was given by my aunty, who bought it from India, but I have made a biryani before using a masala from an Indian shop here in Ireland, it will say on the pack as "Biryani Masala"
COOKING METHOD - I normally make this in my large pressure cooker without pressure cooking it. I did close the lid of the pressure cooker with its rubber gasket so the steam stays inside while cooking. You can use any heavy bottom pan for this. I have made it in a large nonstick heavy bottom pan too. Even a cast iron pan will work for this. It's better to place another large pan under the biryani pot just so there is no direct heat, so it doesn't burn from under. I have attached the photo of how I cooked my biryani.
SPICES - I highly recommend buying the whole spices from an Indian shop because the ones that you get in the supermarkets are not the same. They don't have the same quality of spices that you can find in an Indian shop. Because spices are the heart of this dish.
GHEE - Ghee is the heart and soul of this biryani so I wouldn't recommend using anything else. It's easy to find ghee in Indian shops these days. Or you can make your own like I do, linked here.
That's all the most important things to keep in mind. Now let's get cooking that gorgeous biryani.
Hope you enjoy this as much as we did at home. Do not hesitate to leave a comment or tag me on social media if you make it, I would love to see your creations. Please remember to use my hashtag #soulfulandhealthy
If you liked what you see here, please feel free to share it with family and friends. You can find me on Facebook, Instagram, Twitter and Pinterest
Love and hugs
S
Chicken Biryani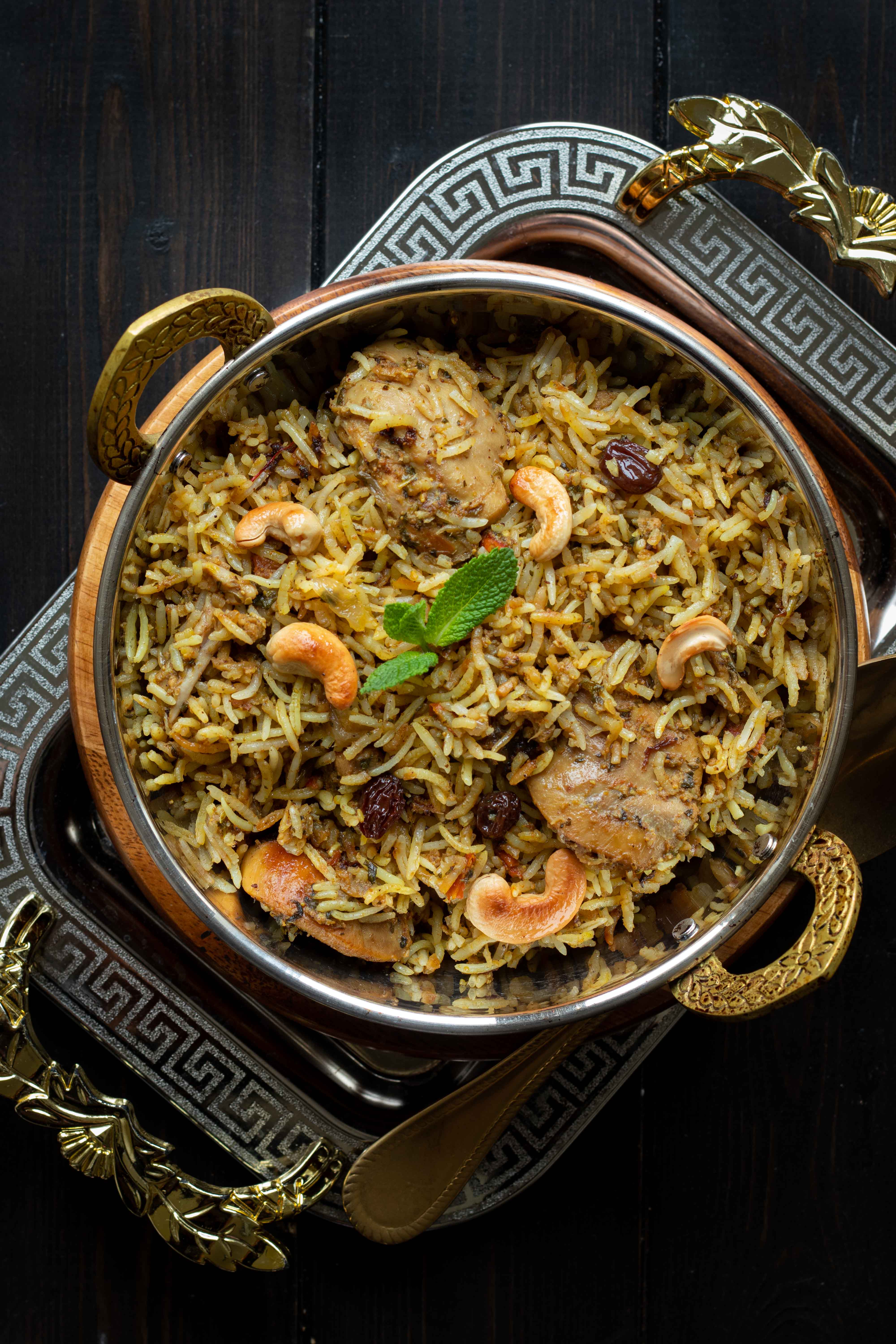 | | |
| --- | --- |
| Prep Time: | 1 hour 45 mins |
INGREDIENTS
To marinate the chicken

1/2 tsp turmeric powder
1/2 tsp Kashmiri red chilli powder
Juice of half lemon
1/4 tsp salt

For the biryani

Chicken thighs (skinless & boneless) or chicken drumsticks- approx - 500 grams
Basmati rice 350 grams
Ghee 150 grams or 5 heaping tablespoons
Onion 500 grams thinly sliced
Raisins 25 grams
Cashew nuts 25 grams
Garlic paste 25 grams
Ginger paste 25 grams
Green chilli 4 grind to paste (optional, reduce as per your heat preference)
Tomato 100 grams finely chopped
Lemon 1/2
Coriander leaves chopped approx 15 grams - Plus more for garnish in the end
Mint leaves chopped approx 15 grams - plus more for garnish
Saffron strands a pinch
Milk 1 tbsp to mix saffron
Salt to taste
Biryani masala 25 grams or as per taste

For rice

2 litres of boiling water
1 stick cinnamon
1 star anise
2 cloves
2 cardamoms
1 large bay leaf or 2 small
1 tsp salt
1/2 tsp ghee

For Raita

1/2 cucumber finely chopped
1 tomato finely chopped
1/2 onion finely chopped
1 tub natural yogurt beaten (not Greek)
Salt to taste
instructions
Marinate the chicken with the spices mentioned under marination, for at least an hour or overnight in the fridge.
To make the rice - Wash the basmati rice twice, rinse it and repeat again. In a large saucepan bring the water to boil, add basmati rice, whole spices, ghee, salt and boil until it's partially cooked or al dente, this will take about 5 to 6 mins, keep and eye on the rice, strain the water and place the rice on a large plate until needed.
Make the raita - Mix all of the ingredients mentioned and keep refrigerated until ready to serve.
Add 2 tablespoons of ghee in a heavy bottom large saucepan add half of the onion and fry until golden brown not burnt, for around 8 to 10 mins on medium low heat. Add the raisins and cashews and fry for a minute. Remove and put in on a plate and set aside.
In the same large pot, add 2 tbsp of ghee, add the rest of the onions, fry until golden brown for about 5 to 6 mins on medium heat, once the onions start to brown, add the ginger and garlic paste, sauté for a minute. Then add the chopped tomatoes, green chilli paste, juice of lemon and biryani masala and mix well.
Once you start to see the tomatoes get mushy and cooked, add the chicken, cover and let the chicken cook until done on medium heat, This process might take about 10 to 12 mins depending on the size of the chicken, if using boned chicken might take a bit longer. Add the chopped coriander and mint leaves.
Do not add water the chicken will leave out some of the moisture, if you see the gravy watery, let it simmer on low heat until some of the water evaporates and you can see it forming a think gravy. Remove from the heat while assembling the biryani.
Now add half of the rice as a layer on top of the cooked chicken, spread it evenly. Add half of the fried onions, raisins and cashews, sprinkle some of the chopped coriander and mint.
Next add another layer of the rice, sprinkle rest of the onions, raisins, cashews, coriander and mint. Mix the milk with the saffron and pour on top of the rice, drizzle a tsp of ghee all over. Cover with a foil, place the lid on top of the foil, so the heat doesn't escape. Place a larger flat pan under the biryani pot, there is no direct heat transfer, so that the chicken under doesn't burn. (See image for reference). Cook for 20 minutes on low heat. (I have also made this in a large pressure cooker and covered the lid of the pressure cooker without using the whistle. This works too. (Read notes please) )
When ready to serve, slowly remove the foil layer, and gently scoop the rice so you don't brake the grains. Add the chicken pieces from under. Enjoy with raita.